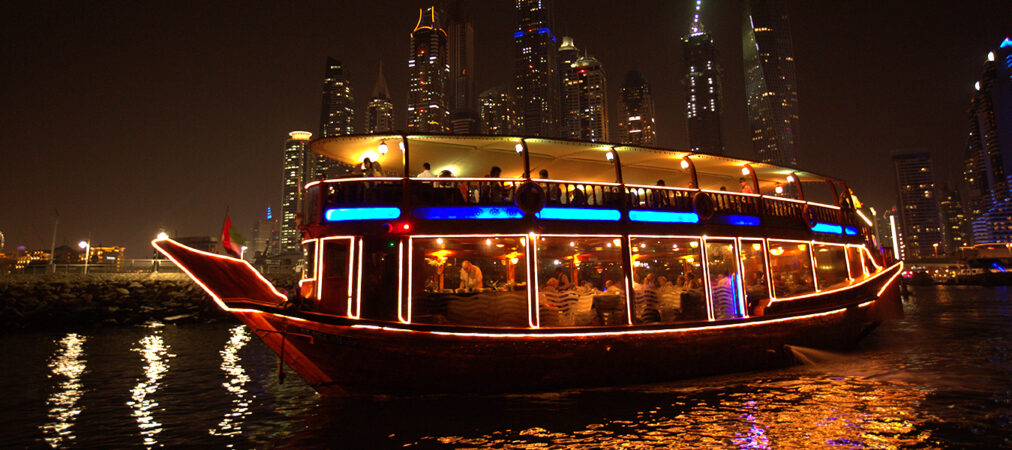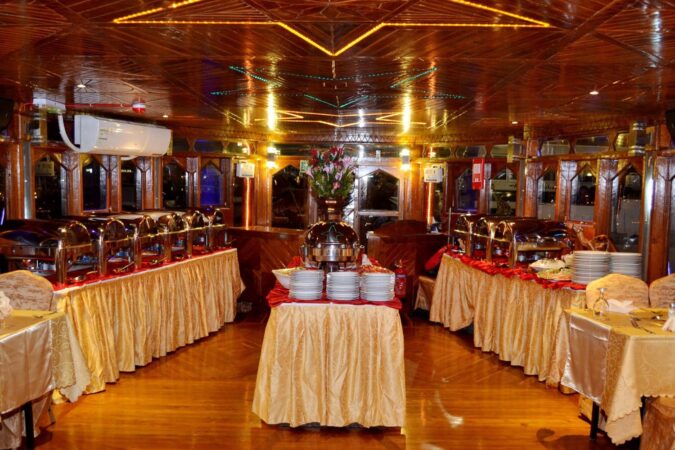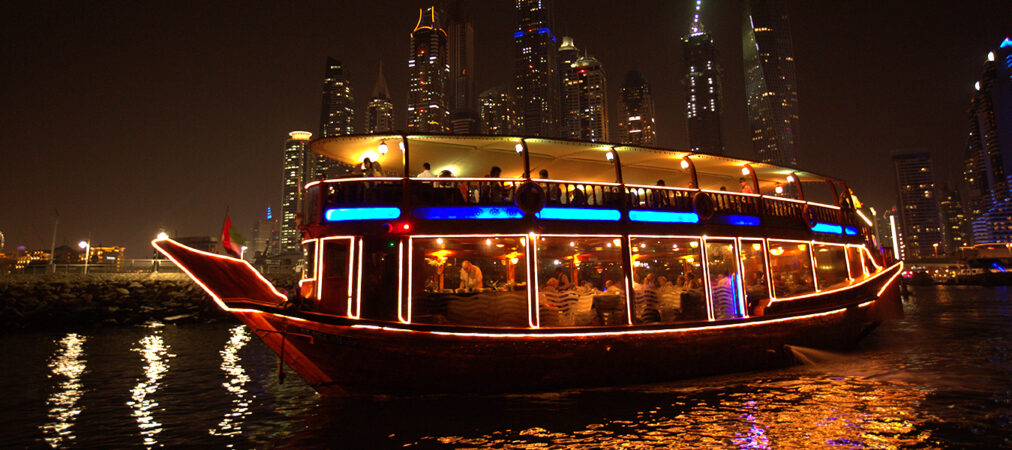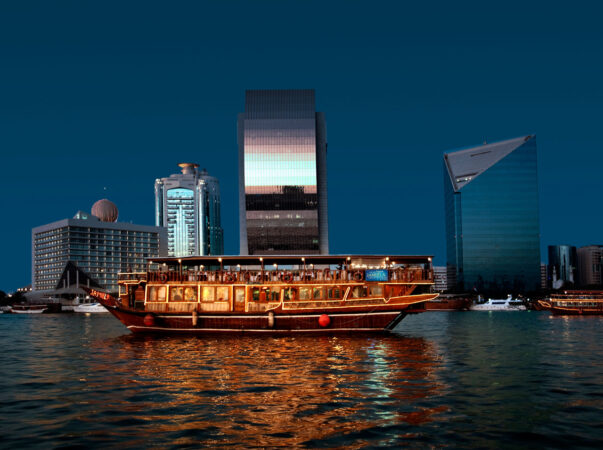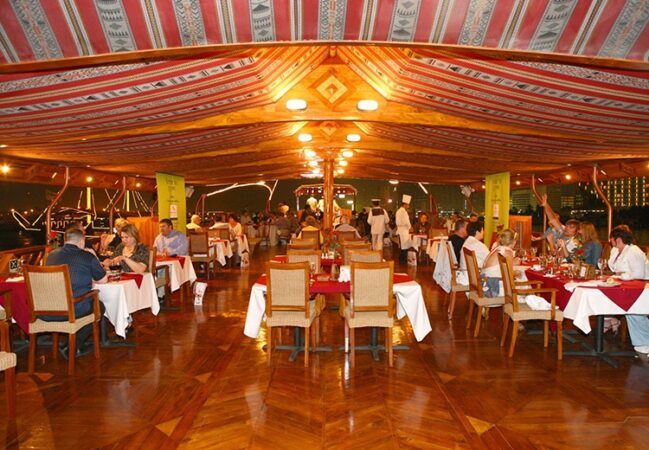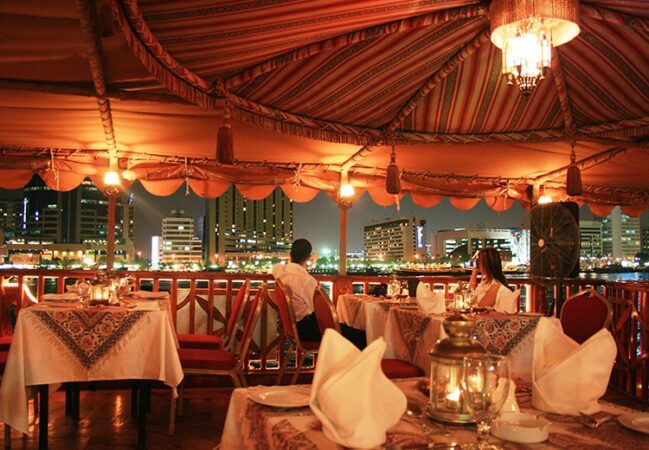 Dhow Cruise Dinner in Dubai Creek
Description
Itinerary
Reviews
Description
Spending a nice time exploring Dubai with your loved ones and friends should absolutely include a romantic dinner cruise along Dubai Creek. With Dhow Cruise Dinner, you just don't get to enjoy the lavish food but you will experience the relaxing ambiance and the scenic view under a beautiful moonlight, but you will also experience a great night of live music and captivating dance performance.
Your Dubai Dhow Cruise Dinner tour starts with pick-up from your hotel, taking you to an Arabic traditional dhow boat. As you go inside the deck you will be ushered to your table where you will be assisted by a friendly waiter. Just enjoy the cozy feel and the hospitality as you start indulging yourself in wide selection of cuisine served buffet style while some background music plays.
As you sail, you will be served a sumptuous continental buffet dinner, with unlimited soft drinks, water, tea, and coffee. A large selection of vegetarian and meat dishes can be enjoyed by everyone, whether you are on a romantic excursion or otherwise.
Itinerary
Reviews
6
Normal
General price:
Adult (11+ years)
$

55.00 / ticket
7
Normal
General price:
Adult (11+ years)
$

55.00 / ticket
8
Normal
General price:
Adult (11+ years)
$

55.00 / ticket
9
Normal
General price:
Adult (11+ years)
$

55.00 / ticket
10
Normal
General price:
Adult (11+ years)
$

55.00 / ticket
11
Normal
General price:
Adult (11+ years)
$

55.00 / ticket
12
Normal
General price:
Adult (11+ years)
$

55.00 / ticket
13
Normal
General price:
Adult (11+ years)
$

55.00 / ticket
14
Normal
General price:
Adult (11+ years)
$

55.00 / ticket
15
Normal
General price:
Adult (11+ years)
$

55.00 / ticket
16
Normal
General price:
Adult (11+ years)
$

55.00 / ticket
17
Normal
General price:
Adult (11+ years)
$

55.00 / ticket
18
Normal
General price:
Adult (11+ years)
$

55.00 / ticket
19
Normal
General price:
Adult (11+ years)
$

55.00 / ticket
20
Normal
General price:
Adult (11+ years)
$

55.00 / ticket
21
Normal
General price:
Adult (11+ years)
$

55.00 / ticket
22
Normal
General price:
Adult (11+ years)
$

55.00 / ticket
23
Normal
General price:
Adult (11+ years)
$

55.00 / ticket
24
Normal
General price:
Adult (11+ years)
$

55.00 / ticket
25
Normal
General price:
Adult (11+ years)
$

55.00 / ticket
26
Normal
General price:
Adult (11+ years)
$

55.00 / ticket
27
Normal
General price:
Adult (11+ years)
$

55.00 / ticket
28
Normal
General price:
Adult (11+ years)
$

55.00 / ticket
29
Normal
General price:
Adult (11+ years)
$

55.00 / ticket
30
Normal
General price:
Adult (11+ years)
$

55.00 / ticket
31
Normal
General price:
Adult (11+ years)
$

55.00 / ticket
1
Normal
General price:
Adult (11+ years)
$

55.00 / ticket
2
Normal
General price:
Adult (11+ years)
$

55.00 / ticket
3
Normal
General price:
Adult (11+ years)
$

55.00 / ticket
4
Normal
General price:
Adult (11+ years)
$

55.00 / ticket
5
Normal
General price:
Adult (11+ years)
$

55.00 / ticket
6
Normal
General price:
Adult (11+ years)
$

55.00 / ticket
7
Normal
General price:
Adult (11+ years)
$

55.00 / ticket
8
Normal
General price:
Adult (11+ years)
$

55.00 / ticket
9
Normal
General price:
Adult (11+ years)
$

55.00 / ticket
10
Normal
General price:
Adult (11+ years)
$

55.00 / ticket
11
Normal
General price:
Adult (11+ years)
$

55.00 / ticket
12
Normal
General price:
Adult (11+ years)
$

55.00 / ticket
13
Normal
General price:
Adult (11+ years)
$

55.00 / ticket
14
Normal
General price:
Adult (11+ years)
$

55.00 / ticket
15
Normal
General price:
Adult (11+ years)
$

55.00 / ticket
16
Normal
General price:
Adult (11+ years)
$

55.00 / ticket
17
Normal
General price:
Adult (11+ years)
$

55.00 / ticket
18
Normal
General price:
Adult (11+ years)
$

55.00 / ticket
19
Normal
General price:
Adult (11+ years)
$

55.00 / ticket
20
Normal
General price:
Adult (11+ years)
$

55.00 / ticket
21
Normal
General price:
Adult (11+ years)
$

55.00 / ticket
22
Normal
General price:
Adult (11+ years)
$

55.00 / ticket
23
Normal
General price:
Adult (11+ years)
$

55.00 / ticket
24
Normal
General price:
Adult (11+ years)
$

55.00 / ticket
25
Normal
General price:
Adult (11+ years)
$

55.00 / ticket
26
Normal
General price:
Adult (11+ years)
$

55.00 / ticket
27
Normal
General price:
Adult (11+ years)
$

55.00 / ticket
28
Normal
General price:
Adult (11+ years)
$

55.00 / ticket
29
Normal
General price:
Adult (11+ years)
$

55.00 / ticket
30
Normal
General price:
Adult (11+ years)
$

55.00 / ticket
31
Normal
General price:
Adult (11+ years)
$

55.00 / ticket
1
Normal
General price:
Adult (11+ years)
$

55.00 / ticket
2
Normal
General price:
Adult (11+ years)
$

55.00 / ticket
3
Normal
General price:
Adult (11+ years)
$

55.00 / ticket
4
Normal
General price:
Adult (11+ years)
$

55.00 / ticket
29
Normal
General price:
Adult (11+ years)
$

55.00 / ticket
30
Normal
General price:
Adult (11+ years)
$

55.00 / ticket
31
Normal
General price:
Adult (11+ years)
$

55.00 / ticket
1
Normal
General price:
Adult (11+ years)
$

55.00 / ticket
2
Normal
General price:
Adult (11+ years)
$

55.00 / ticket
3
Normal
General price:
Adult (11+ years)
$

55.00 / ticket
4
Normal
General price:
Adult (11+ years)
$

55.00 / ticket
5
Normal
General price:
Adult (11+ years)
$

55.00 / ticket
6
Normal
General price:
Adult (11+ years)
$

55.00 / ticket
7
Normal
General price:
Adult (11+ years)
$

55.00 / ticket
8
Normal
General price:
Adult (11+ years)
$

55.00 / ticket
9
Normal
General price:
Adult (11+ years)
$

55.00 / ticket
10
Normal
General price:
Adult (11+ years)
$

55.00 / ticket
11
Normal
General price:
Adult (11+ years)
$

55.00 / ticket
12
Normal
General price:
Adult (11+ years)
$

55.00 / ticket
13
Normal
General price:
Adult (11+ years)
$

55.00 / ticket
14
Normal
General price:
Adult (11+ years)
$

55.00 / ticket
15
Normal
General price:
Adult (11+ years)
$

55.00 / ticket
16
Normal
General price:
Adult (11+ years)
$

55.00 / ticket
17
Normal
General price:
Adult (11+ years)
$

55.00 / ticket
18
Normal
General price:
Adult (11+ years)
$

55.00 / ticket
19
Normal
General price:
Adult (11+ years)
$

55.00 / ticket
20
Normal
General price:
Adult (11+ years)
$

55.00 / ticket
21
Normal
General price:
Adult (11+ years)
$

55.00 / ticket
22
Normal
General price:
Adult (11+ years)
$

55.00 / ticket
23
Normal
General price:
Adult (11+ years)
$

55.00 / ticket
24
Normal
General price:
Adult (11+ years)
$

55.00 / ticket
25
Normal
General price:
Adult (11+ years)
$

55.00 / ticket
26
Normal
General price:
Adult (11+ years)
$

55.00 / ticket
27
Normal
General price:
Adult (11+ years)
$

55.00 / ticket
28
Normal
General price:
Adult (11+ years)
$

55.00 / ticket
29
Normal
General price:
Adult (11+ years)
$

55.00 / ticket
1
Normal
General price:
Adult (11+ years)
$

55.00 / ticket
2
Normal
General price:
Adult (11+ years)
$

55.00 / ticket
3
Normal
General price:
Adult (11+ years)
$

55.00 / ticket
26
Normal
General price:
Adult (11+ years)
$

55.00 / ticket
27
Normal
General price:
Adult (11+ years)
$

55.00 / ticket
28
Normal
General price:
Adult (11+ years)
$

55.00 / ticket
29
Normal
General price:
Adult (11+ years)
$

55.00 / ticket
1
Normal
General price:
Adult (11+ years)
$

55.00 / ticket
2
Normal
General price:
Adult (11+ years)
$

55.00 / ticket
3
Normal
General price:
Adult (11+ years)
$

55.00 / ticket
4
Normal
General price:
Adult (11+ years)
$

55.00 / ticket
5
Normal
General price:
Adult (11+ years)
$

55.00 / ticket
6
Normal
General price:
Adult (11+ years)
$

55.00 / ticket
7
Normal
General price:
Adult (11+ years)
$

55.00 / ticket
8
Normal
General price:
Adult (11+ years)
$

55.00 / ticket
9
Normal
General price:
Adult (11+ years)
$

55.00 / ticket
10
Normal
General price:
Adult (11+ years)
$

55.00 / ticket
11
Normal
General price:
Adult (11+ years)
$

55.00 / ticket
12
Normal
General price:
Adult (11+ years)
$

55.00 / ticket
13
Normal
General price:
Adult (11+ years)
$

55.00 / ticket
14
Normal
General price:
Adult (11+ years)
$

55.00 / ticket
15
Normal
General price:
Adult (11+ years)
$

55.00 / ticket
16
Normal
General price:
Adult (11+ years)
$

55.00 / ticket
17
Normal
General price:
Adult (11+ years)
$

55.00 / ticket
18
Normal
General price:
Adult (11+ years)
$

55.00 / ticket
19
Normal
General price:
Adult (11+ years)
$

55.00 / ticket
20
Normal
General price:
Adult (11+ years)
$

55.00 / ticket
21
Normal
General price:
Adult (11+ years)
$

55.00 / ticket
22
Normal
General price:
Adult (11+ years)
$

55.00 / ticket
23
Normal
General price:
Adult (11+ years)
$

55.00 / ticket
24
Normal
General price:
Adult (11+ years)
$

55.00 / ticket
25
Normal
General price:
Adult (11+ years)
$

55.00 / ticket
26
Normal
General price:
Adult (11+ years)
$

55.00 / ticket
27
Normal
General price:
Adult (11+ years)
$

55.00 / ticket
28
Normal
General price:
Adult (11+ years)
$

55.00 / ticket
29
Normal
General price:
Adult (11+ years)
$

55.00 / ticket
30
Normal
General price:
Adult (11+ years)
$

55.00 / ticket
31
Normal
General price:
Adult (11+ years)
$

55.00 / ticket
1
Normal
General price:
Adult (11+ years)
$

55.00 / ticket
2
Normal
General price:
Adult (11+ years)
$

55.00 / ticket
3
Normal
General price:
Adult (11+ years)
$

55.00 / ticket
4
Normal
General price:
Adult (11+ years)
$

55.00 / ticket
5
Normal
General price:
Adult (11+ years)
$

55.00 / ticket
6
Normal
General price:
Adult (11+ years)
$

55.00 / ticket
7
Normal
General price:
Adult (11+ years)
$

55.00 / ticket
8
Normal
General price:
Adult (11+ years)
$

55.00 / ticket
9
Normal
General price:
Adult (11+ years)
$

55.00 / ticket
10
Normal
General price:
Adult (11+ years)
$

55.00 / ticket
11
Normal
General price:
Adult (11+ years)
$

55.00 / ticket
12
Normal
General price:
Adult (11+ years)
$

55.00 / ticket
13
Normal
General price:
Adult (11+ years)
$

55.00 / ticket
14
Normal
General price:
Adult (11+ years)
$

55.00 / ticket
15
Normal
General price:
Adult (11+ years)
$

55.00 / ticket
16
Normal
General price:
Adult (11+ years)
$

55.00 / ticket
17
Normal
General price:
Adult (11+ years)
$

55.00 / ticket
18
Normal
General price:
Adult (11+ years)
$

55.00 / ticket
19
Normal
General price:
Adult (11+ years)
$

55.00 / ticket
20
Normal
General price:
Adult (11+ years)
$

55.00 / ticket
21
Normal
General price:
Adult (11+ years)
$

55.00 / ticket
22
Normal
General price:
Adult (11+ years)
$

55.00 / ticket
23
Normal
General price:
Adult (11+ years)
$

55.00 / ticket
24
Normal
General price:
Adult (11+ years)
$

55.00 / ticket
25
Normal
General price:
Adult (11+ years)
$

55.00 / ticket
26
Normal
General price:
Adult (11+ years)
$

55.00 / ticket
27
Normal
General price:
Adult (11+ years)
$

55.00 / ticket
28
Normal
General price:
Adult (11+ years)
$

55.00 / ticket
29
Normal
General price:
Adult (11+ years)
$

55.00 / ticket
30
Normal
General price:
Adult (11+ years)
$

55.00 / ticket
1
Normal
General price:
Adult (11+ years)
$

55.00 / ticket
2
Normal
General price:
Adult (11+ years)
$

55.00 / ticket
3
Normal
General price:
Adult (11+ years)
$

55.00 / ticket
4
Normal
General price:
Adult (11+ years)
$

55.00 / ticket
5
Normal
General price:
Adult (11+ years)
$

55.00 / ticket
29
Normal
General price:
Adult (11+ years)
$

55.00 / ticket
30
Normal
General price:
Adult (11+ years)
$

55.00 / ticket
1
Normal
General price:
Adult (11+ years)
$

55.00 / ticket
2
Normal
General price:
Adult (11+ years)
$

55.00 / ticket
3
Normal
General price:
Adult (11+ years)
$

55.00 / ticket
4
Normal
General price:
Adult (11+ years)
$

55.00 / ticket
5
Normal
General price:
Adult (11+ years)
$

55.00 / ticket
6
Normal
General price:
Adult (11+ years)
$

55.00 / ticket
7
Normal
General price:
Adult (11+ years)
$

55.00 / ticket
8
Normal
General price:
Adult (11+ years)
$

55.00 / ticket
9
Normal
General price:
Adult (11+ years)
$

55.00 / ticket
10
Normal
General price:
Adult (11+ years)
$

55.00 / ticket
11
Normal
General price:
Adult (11+ years)
$

55.00 / ticket
12
Normal
General price:
Adult (11+ years)
$

55.00 / ticket
13
Normal
General price:
Adult (11+ years)
$

55.00 / ticket
14
Normal
General price:
Adult (11+ years)
$

55.00 / ticket
15
Normal
General price:
Adult (11+ years)
$

55.00 / ticket
16
Normal
General price:
Adult (11+ years)
$

55.00 / ticket
17
Normal
General price:
Adult (11+ years)
$

55.00 / ticket
18
Normal
General price:
Adult (11+ years)
$

55.00 / ticket
19
Normal
General price:
Adult (11+ years)
$

55.00 / ticket
20
Normal
General price:
Adult (11+ years)
$

55.00 / ticket
21
Normal
General price:
Adult (11+ years)
$

55.00 / ticket
22
Normal
General price:
Adult (11+ years)
$

55.00 / ticket
23
Normal
General price:
Adult (11+ years)
$

55.00 / ticket
24
Normal
General price:
Adult (11+ years)
$

55.00 / ticket
25
Normal
General price:
Adult (11+ years)
$

55.00 / ticket
26
Normal
General price:
Adult (11+ years)
$

55.00 / ticket
27
Normal
General price:
Adult (11+ years)
$

55.00 / ticket
28
Normal
General price:
Adult (11+ years)
$

55.00 / ticket
29
Normal
General price:
Adult (11+ years)
$

55.00 / ticket
30
Normal
General price:
Adult (11+ years)
$

55.00 / ticket
31
Normal
General price:
Adult (11+ years)
$

55.00 / ticket
1
Normal
General price:
Adult (11+ years)
$

55.00 / ticket
2
Normal
General price:
Adult (11+ years)
$

55.00 / ticket
27
Normal
General price:
Adult (11+ years)
$

55.00 / ticket
28
Normal
General price:
Adult (11+ years)
$

55.00 / ticket
29
Normal
General price:
Adult (11+ years)
$

55.00 / ticket
30
Normal
General price:
Adult (11+ years)
$

55.00 / ticket
31
Normal
General price:
Adult (11+ years)
$

55.00 / ticket
1
Normal
General price:
Adult (11+ years)
$

55.00 / ticket
2
Normal
General price:
Adult (11+ years)
$

55.00 / ticket
3
Normal
General price:
Adult (11+ years)
$

55.00 / ticket
4
Normal
General price:
Adult (11+ years)
$

55.00 / ticket
5
Normal
General price:
Adult (11+ years)
$

55.00 / ticket
6
Normal
General price:
Adult (11+ years)
$

55.00 / ticket
7
Normal
General price:
Adult (11+ years)
$

55.00 / ticket
8
Normal
General price:
Adult (11+ years)
$

55.00 / ticket
9
Normal
General price:
Adult (11+ years)
$

55.00 / ticket
10
Normal
General price:
Adult (11+ years)
$

55.00 / ticket
11
Normal
General price:
Adult (11+ years)
$

55.00 / ticket
12
Normal
General price:
Adult (11+ years)
$

55.00 / ticket
13
Normal
General price:
Adult (11+ years)
$

55.00 / ticket
14
Normal
General price:
Adult (11+ years)
$

55.00 / ticket
15
Normal
General price:
Adult (11+ years)
$

55.00 / ticket
16
Normal
General price:
Adult (11+ years)
$

55.00 / ticket
17
Normal
General price:
Adult (11+ years)
$

55.00 / ticket
18
Normal
General price:
Adult (11+ years)
$

55.00 / ticket
19
Normal
General price:
Adult (11+ years)
$

55.00 / ticket
20
Normal
General price:
Adult (11+ years)
$

55.00 / ticket
21
Normal
General price:
Adult (11+ years)
$

55.00 / ticket
22
Normal
General price:
Adult (11+ years)
$

55.00 / ticket
23
Normal
General price:
Adult (11+ years)
$

55.00 / ticket
24
Normal
General price:
Adult (11+ years)
$

55.00 / ticket
25
Normal
General price:
Adult (11+ years)
$

55.00 / ticket
26
Normal
General price:
Adult (11+ years)
$

55.00 / ticket
27
Normal
General price:
Adult (11+ years)
$

55.00 / ticket
28
Normal
General price:
Adult (11+ years)
$

55.00 / ticket
29
Normal
General price:
Adult (11+ years)
$

55.00 / ticket
30
Normal
General price:
Adult (11+ years)
$

55.00 / ticket
1
Normal
General price:
Adult (11+ years)
$

55.00 / ticket
2
Normal
General price:
Adult (11+ years)
$

55.00 / ticket
3
Normal
General price:
Adult (11+ years)
$

55.00 / ticket
4
Normal
General price:
Adult (11+ years)
$

55.00 / ticket
5
Normal
General price:
Adult (11+ years)
$

55.00 / ticket
6
Normal
General price:
Adult (11+ years)
$

55.00 / ticket
7
Normal
General price:
Adult (11+ years)
$

55.00 / ticket
8
Normal
General price:
Adult (11+ years)
$

55.00 / ticket
9
Normal
General price:
Adult (11+ years)
$

55.00 / ticket
10
Normal
General price:
Adult (11+ years)
$

55.00 / ticket
11
Normal
General price:
Adult (11+ years)
$

55.00 / ticket
12
Normal
General price:
Adult (11+ years)
$

55.00 / ticket
13
Normal
General price:
Adult (11+ years)
$

55.00 / ticket
14
Normal
General price:
Adult (11+ years)
$

55.00 / ticket
15
Normal
General price:
Adult (11+ years)
$

55.00 / ticket
16
Normal
General price:
Adult (11+ years)
$

55.00 / ticket
17
Normal
General price:
Adult (11+ years)
$

55.00 / ticket
18
Normal
General price:
Adult (11+ years)
$

55.00 / ticket
19
Normal
General price:
Adult (11+ years)
$

55.00 / ticket
20
Normal
General price:
Adult (11+ years)
$

55.00 / ticket
21
Normal
General price:
Adult (11+ years)
$

55.00 / ticket
22
Normal
General price:
Adult (11+ years)
$

55.00 / ticket
23
Normal
General price:
Adult (11+ years)
$

55.00 / ticket
24
Normal
General price:
Adult (11+ years)
$

55.00 / ticket
25
Normal
General price:
Adult (11+ years)
$

55.00 / ticket
26
Normal
General price:
Adult (11+ years)
$

55.00 / ticket
27
Normal
General price:
Adult (11+ years)
$

55.00 / ticket
28
Normal
General price:
Adult (11+ years)
$

55.00 / ticket
29
Normal
General price:
Adult (11+ years)
$

55.00 / ticket
30
Normal
General price:
Adult (11+ years)
$

55.00 / ticket
31
Normal
General price:
Adult (11+ years)
$

55.00 / ticket
1
Normal
General price:
Adult (11+ years)
$

55.00 / ticket
2
Normal
General price:
Adult (11+ years)
$

55.00 / ticket
3
Normal
General price:
Adult (11+ years)
$

55.00 / ticket
4
Normal
General price:
Adult (11+ years)
$

55.00 / ticket
29
Normal
General price:
Adult (11+ years)
$

55.00 / ticket
30
Normal
General price:
Adult (11+ years)
$

55.00 / ticket
31
Normal
General price:
Adult (11+ years)
$

55.00 / ticket
1
Normal
General price:
Adult (11+ years)
$

55.00 / ticket
2
Normal
General price:
Adult (11+ years)
$

55.00 / ticket
3
Normal
General price:
Adult (11+ years)
$

55.00 / ticket
4
Normal
General price:
Adult (11+ years)
$

55.00 / ticket
5
Normal
General price:
Adult (11+ years)
$

55.00 / ticket
6
Normal
General price:
Adult (11+ years)
$

55.00 / ticket
7
Normal
General price:
Adult (11+ years)
$

55.00 / ticket
8
Normal
General price:
Adult (11+ years)
$

55.00 / ticket
9
Normal
General price:
Adult (11+ years)
$

55.00 / ticket
10
Normal
General price:
Adult (11+ years)
$

55.00 / ticket
11
Normal
General price:
Adult (11+ years)
$

55.00 / ticket
12
Normal
General price:
Adult (11+ years)
$

55.00 / ticket
13
Normal
General price:
Adult (11+ years)
$

55.00 / ticket
14
Normal
General price:
Adult (11+ years)
$

55.00 / ticket
15
Normal
General price:
Adult (11+ years)
$

55.00 / ticket
16
Normal
General price:
Adult (11+ years)
$

55.00 / ticket
17
Normal
General price:
Adult (11+ years)
$

55.00 / ticket
18
Normal
General price:
Adult (11+ years)
$

55.00 / ticket
19
Normal
General price:
Adult (11+ years)
$

55.00 / ticket
20
Normal
General price:
Adult (11+ years)
$

55.00 / ticket
21
Normal
General price:
Adult (11+ years)
$

55.00 / ticket
22
Normal
General price:
Adult (11+ years)
$

55.00 / ticket
23
Normal
General price:
Adult (11+ years)
$

55.00 / ticket
24
Normal
General price:
Adult (11+ years)
$

55.00 / ticket
25
Normal
General price:
Adult (11+ years)
$

55.00 / ticket
26
Normal
General price:
Adult (11+ years)
$

55.00 / ticket
27
Normal
General price:
Adult (11+ years)
$

55.00 / ticket
28
Normal
General price:
Adult (11+ years)
$

55.00 / ticket
29
Normal
General price:
Adult (11+ years)
$

55.00 / ticket
30
Normal
General price:
Adult (11+ years)
$

55.00 / ticket
31
Normal
General price:
Adult (11+ years)
$

55.00 / ticket
1
Normal
General price:
Adult (11+ years)
$

55.00 / ticket
26
Normal
General price:
Adult (11+ years)
$

55.00 / ticket
27
Normal
General price:
Adult (11+ years)
$

55.00 / ticket
28
Normal
General price:
Adult (11+ years)
$

55.00 / ticket
29
Normal
General price:
Adult (11+ years)
$

55.00 / ticket
30
Normal
General price:
Adult (11+ years)
$

55.00 / ticket
31
Normal
General price:
Adult (11+ years)
$

55.00 / ticket
1
Normal
General price:
Adult (11+ years)
$

55.00 / ticket
2
Normal
General price:
Adult (11+ years)
$

55.00 / ticket
3
Normal
General price:
Adult (11+ years)
$

55.00 / ticket
4
Normal
General price:
Adult (11+ years)
$

55.00 / ticket
5
Normal
General price:
Adult (11+ years)
$

55.00 / ticket
6
Normal
General price:
Adult (11+ years)
$

55.00 / ticket
7
Normal
General price:
Adult (11+ years)
$

55.00 / ticket
8
Normal
General price:
Adult (11+ years)
$

55.00 / ticket
9
Normal
General price:
Adult (11+ years)
$

55.00 / ticket
10
Normal
General price:
Adult (11+ years)
$

55.00 / ticket
11
Normal
General price:
Adult (11+ years)
$

55.00 / ticket
12
Normal
General price:
Adult (11+ years)
$

55.00 / ticket
13
Normal
General price:
Adult (11+ years)
$

55.00 / ticket
14
Normal
General price:
Adult (11+ years)
$

55.00 / ticket
15
Normal
General price:
Adult (11+ years)
$

55.00 / ticket
16
Normal
General price:
Adult (11+ years)
$

55.00 / ticket
17
Normal
General price:
Adult (11+ years)
$

55.00 / ticket
18
Normal
General price:
Adult (11+ years)
$

55.00 / ticket
19
Normal
General price:
Adult (11+ years)
$

55.00 / ticket
20
Normal
General price:
Adult (11+ years)
$

55.00 / ticket
21
Normal
General price:
Adult (11+ years)
$

55.00 / ticket
22
Normal
General price:
Adult (11+ years)
$

55.00 / ticket
23
Normal
General price:
Adult (11+ years)
$

55.00 / ticket
24
Normal
General price:
Adult (11+ years)
$

55.00 / ticket
25
Normal
General price:
Adult (11+ years)
$

55.00 / ticket
26
Normal
General price:
Adult (11+ years)
$

55.00 / ticket
27
Normal
General price:
Adult (11+ years)
$

55.00 / ticket
28
Normal
General price:
Adult (11+ years)
$

55.00 / ticket
29
Normal
General price:
Adult (11+ years)
$

55.00 / ticket
30
Normal
General price:
Adult (11+ years)
$

55.00 / ticket
1
Normal
General price:
Adult (11+ years)
$

55.00 / ticket
2
Normal
General price:
Adult (11+ years)
$

55.00 / ticket
3
Normal
General price:
Adult (11+ years)
$

55.00 / ticket
4
Normal
General price:
Adult (11+ years)
$

55.00 / ticket
5
Normal
General price:
Adult (11+ years)
$

55.00 / ticket
6
Normal
General price:
Adult (11+ years)
$

55.00 / ticket
30
Normal
General price:
Adult (11+ years)
$

55.00 / ticket
1
Normal
General price:
Adult (11+ years)
$

55.00 / ticket
2
Normal
General price:
Adult (11+ years)
$

55.00 / ticket
3
Normal
General price:
Adult (11+ years)
$

55.00 / ticket
4
Normal
General price:
Adult (11+ years)
$

55.00 / ticket
5
Normal
General price:
Adult (11+ years)
$

55.00 / ticket
6
Normal
General price:
Adult (11+ years)
$

55.00 / ticket
7
Normal
General price:
Adult (11+ years)
$

55.00 / ticket
8
Normal
General price:
Adult (11+ years)
$

55.00 / ticket
9
Normal
General price:
Adult (11+ years)
$

55.00 / ticket
10
Normal
General price:
Adult (11+ years)
$

55.00 / ticket
11
Normal
General price:
Adult (11+ years)
$

55.00 / ticket
12
Normal
General price:
Adult (11+ years)
$

55.00 / ticket
13
Normal
General price:
Adult (11+ years)
$

55.00 / ticket
14
Normal
General price:
Adult (11+ years)
$

55.00 / ticket
15
Normal
General price:
Adult (11+ years)
$

55.00 / ticket
16
Normal
General price:
Adult (11+ years)
$

55.00 / ticket
17
Normal
General price:
Adult (11+ years)
$

55.00 / ticket
18
Normal
General price:
Adult (11+ years)
$

55.00 / ticket
19
Normal
General price:
Adult (11+ years)
$

55.00 / ticket
20
Normal
General price:
Adult (11+ years)
$

55.00 / ticket
21
Normal
General price:
Adult (11+ years)
$

55.00 / ticket
22
Normal
General price:
Adult (11+ years)
$

55.00 / ticket
23
Normal
General price:
Adult (11+ years)
$

55.00 / ticket
24
Normal
General price:
Adult (11+ years)
$

55.00 / ticket
25
Normal
General price:
Adult (11+ years)
$

55.00 / ticket
26
Normal
General price:
Adult (11+ years)
$

55.00 / ticket
27
Normal
General price:
Adult (11+ years)
$

55.00 / ticket
28
Normal
General price:
Adult (11+ years)
$

55.00 / ticket
29
Normal
General price:
Adult (11+ years)
$

55.00 / ticket
30
Normal
General price:
Adult (11+ years)
$

55.00 / ticket
31
Normal
General price:
Adult (11+ years)
$

55.00 / ticket
1
Normal
General price:
Adult (11+ years)
$

55.00 / ticket
2
Normal
General price:
Adult (11+ years)
$

55.00 / ticket
3
Normal
General price:
Adult (11+ years)
$

55.00 / ticket
28
Normal
General price:
Adult (11+ years)
$

55.00 / ticket
29
Normal
General price:
Adult (11+ years)
$

55.00 / ticket
30
Normal
General price:
Adult (11+ years)
$

55.00 / ticket
31
Normal
General price:
Adult (11+ years)
$

55.00 / ticket
1
Normal
General price:
Adult (11+ years)
$

55.00 / ticket
2
Normal
General price:
Adult (11+ years)
$

55.00 / ticket
3
Normal
General price:
Adult (11+ years)
$

55.00 / ticket
4
Normal
General price:
Adult (11+ years)
$

55.00 / ticket
5
Normal
General price:
Adult (11+ years)
$

55.00 / ticket
6
Normal
General price:
Adult (11+ years)
$

55.00 / ticket
7
Normal
General price:
Adult (11+ years)
$

55.00 / ticket
8
Normal
General price:
Adult (11+ years)
$

55.00 / ticket
9
Normal
General price:
Adult (11+ years)
$

55.00 / ticket
10
Normal
General price:
Adult (11+ years)
$

55.00 / ticket
11
Normal
General price:
Adult (11+ years)
$

55.00 / ticket
12
Normal
General price:
Adult (11+ years)
$

55.00 / ticket
13
Normal
General price:
Adult (11+ years)
$

55.00 / ticket
14
Normal
General price:
Adult (11+ years)
$

55.00 / ticket
15
Normal
General price:
Adult (11+ years)
$

55.00 / ticket
16
Normal
General price:
Adult (11+ years)
$

55.00 / ticket
17
Normal
General price:
Adult (11+ years)
$

55.00 / ticket
18
Normal
General price:
Adult (11+ years)
$

55.00 / ticket
19
Normal
General price:
Adult (11+ years)
$

55.00 / ticket
20
Normal
General price:
Adult (11+ years)
$

55.00 / ticket
21
Normal
General price:
Adult (11+ years)
$

55.00 / ticket
22
Normal
General price:
Adult (11+ years)
$

55.00 / ticket
23
Normal
General price:
Adult (11+ years)
$

55.00 / ticket
24
Normal
General price:
Adult (11+ years)
$

55.00 / ticket
25
Normal
General price:
Adult (11+ years)
$

55.00 / ticket
26
Normal
General price:
Adult (11+ years)
$

55.00 / ticket
27
Normal
General price:
Adult (11+ years)
$

55.00 / ticket
28
Normal
General price:
Adult (11+ years)
$

55.00 / ticket
29
Normal
General price:
Adult (11+ years)
$

55.00 / ticket
30
Normal
General price:
Adult (11+ years)
$

55.00 / ticket
1
Normal
General price:
Adult (11+ years)
$

55.00 / ticket
25
Normal
General price:
Adult (11+ years)
$

55.00 / ticket
26
Normal
General price:
Adult (11+ years)
$

55.00 / ticket
27
Normal
General price:
Adult (11+ years)
$

55.00 / ticket
28
Normal
General price:
Adult (11+ years)
$

55.00 / ticket
29
Normal
General price:
Adult (11+ years)
$

55.00 / ticket
30
Normal
General price:
Adult (11+ years)
$

55.00 / ticket
1
Normal
General price:
Adult (11+ years)
$

55.00 / ticket
2
Normal
General price:
Adult (11+ years)
$

55.00 / ticket
3
Normal
General price:
Adult (11+ years)
$

55.00 / ticket
4
Normal
General price:
Adult (11+ years)
$

55.00 / ticket
5
Normal
General price:
Adult (11+ years)
$

55.00 / ticket
6
Normal
General price:
Adult (11+ years)
$

55.00 / ticket
7
Normal
General price:
Adult (11+ years)
$

55.00 / ticket
8
Normal
General price:
Adult (11+ years)
$

55.00 / ticket
9
Normal
General price:
Adult (11+ years)
$

55.00 / ticket
10
Normal
General price:
Adult (11+ years)
$

55.00 / ticket
11
Normal
General price:
Adult (11+ years)
$

55.00 / ticket
12
Normal
General price:
Adult (11+ years)
$

55.00 / ticket
13
Normal
General price:
Adult (11+ years)
$

55.00 / ticket
14
Normal
General price:
Adult (11+ years)
$

55.00 / ticket
15
Normal
General price:
Adult (11+ years)
$

55.00 / ticket
16
Normal
General price:
Adult (11+ years)
$

55.00 / ticket
17
Normal
General price:
Adult (11+ years)
$

55.00 / ticket
18
Normal
General price:
Adult (11+ years)
$

55.00 / ticket
19
Normal
General price:
Adult (11+ years)
$

55.00 / ticket
20
Normal
General price:
Adult (11+ years)
$

55.00 / ticket
21
Normal
General price:
Adult (11+ years)
$

55.00 / ticket
22
Normal
General price:
Adult (11+ years)
$

55.00 / ticket
23
Normal
General price:
Adult (11+ years)
$

55.00 / ticket
24
Normal
General price:
Adult (11+ years)
$

55.00 / ticket
25
Normal
General price:
Adult (11+ years)
$

55.00 / ticket
26
Normal
General price:
Adult (11+ years)
$

55.00 / ticket
27
Normal
General price:
Adult (11+ years)
$

55.00 / ticket
28
Normal
General price:
Adult (11+ years)
$

55.00 / ticket
29
Normal
General price:
Adult (11+ years)
$

55.00 / ticket
30
Normal
General price:
Adult (11+ years)
$

55.00 / ticket
31
Normal
General price:
Adult (11+ years)
$

55.00 / ticket
1
Normal
General price:
Adult (11+ years)
$

55.00 / ticket
2
Normal
General price:
Adult (11+ years)
$

55.00 / ticket
3
Normal
General price:
Adult (11+ years)
$

55.00 / ticket
4
Normal
General price:
Adult (11+ years)
$

55.00 / ticket
5
Normal
General price:
Adult (11+ years)
$

55.00 / ticket
30
Normal
General price:
Adult (11+ years)
$

55.00 / ticket
31
Normal
General price:
Adult (11+ years)
$

55.00 / ticket
1
Normal
General price:
Adult (11+ years)
$

55.00 / ticket
2
Normal
General price:
Adult (11+ years)
$

55.00 / ticket
3
Normal
General price:
Adult (11+ years)
$

55.00 / ticket
4
Normal
General price:
Adult (11+ years)
$

55.00 / ticket
5
Normal
General price:
Adult (11+ years)
$

55.00 / ticket
6
Normal
General price:
Adult (11+ years)
$

55.00 / ticket
7
Normal
General price:
Adult (11+ years)
$

55.00 / ticket
8
Normal
General price:
Adult (11+ years)
$

55.00 / ticket
9
Normal
General price:
Adult (11+ years)
$

55.00 / ticket
10
Normal
General price:
Adult (11+ years)
$

55.00 / ticket
11
Normal
General price:
Adult (11+ years)
$

55.00 / ticket
12
Normal
General price:
Adult (11+ years)
$

55.00 / ticket
13
Normal
General price:
Adult (11+ years)
$

55.00 / ticket
14
Normal
General price:
Adult (11+ years)
$

55.00 / ticket
15
Normal
General price:
Adult (11+ years)
$

55.00 / ticket
16
Normal
General price:
Adult (11+ years)
$

55.00 / ticket
17
Normal
General price:
Adult (11+ years)
$

55.00 / ticket
18
Normal
General price:
Adult (11+ years)
$

55.00 / ticket
19
Normal
General price:
Adult (11+ years)
$

55.00 / ticket
20
Normal
General price:
Adult (11+ years)
$

55.00 / ticket
21
Normal
General price:
Adult (11+ years)
$

55.00 / ticket
22
Normal
General price:
Adult (11+ years)
$

55.00 / ticket
23
Normal
General price:
Adult (11+ years)
$

55.00 / ticket
24
Normal
General price:
Adult (11+ years)
$

55.00 / ticket
25
Normal
General price:
Adult (11+ years)
$

55.00 / ticket
26
Normal
General price:
Adult (11+ years)
$

55.00 / ticket
27
Normal
General price:
Adult (11+ years)
$

55.00 / ticket
28
Normal
General price:
Adult (11+ years)
$

55.00 / ticket
29
Normal
General price:
Adult (11+ years)
$

55.00 / ticket
30
Normal
General price:
Adult (11+ years)
$

55.00 / ticket
31
Normal
General price:
Adult (11+ years)
$

55.00 / ticket
27
Normal
General price:
Adult (11+ years)
$

55.00 / ticket
28
Normal
General price:
Adult (11+ years)
$

55.00 / ticket
29
Normal
General price:
Adult (11+ years)
$

55.00 / ticket
30
Normal
General price:
Adult (11+ years)
$

55.00 / ticket
31
Normal
General price:
Adult (11+ years)
$

55.00 / ticket