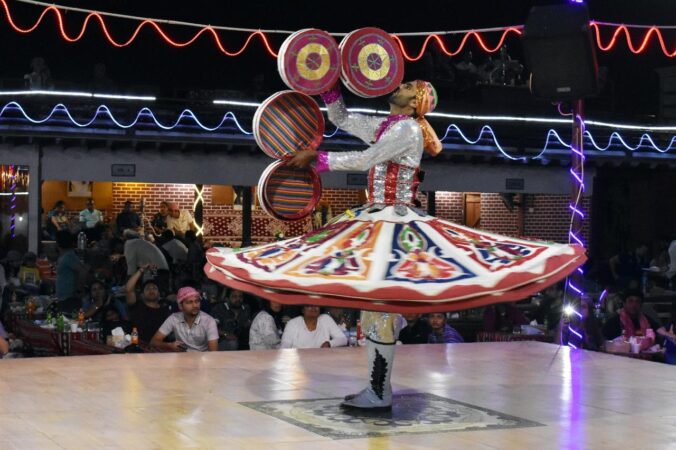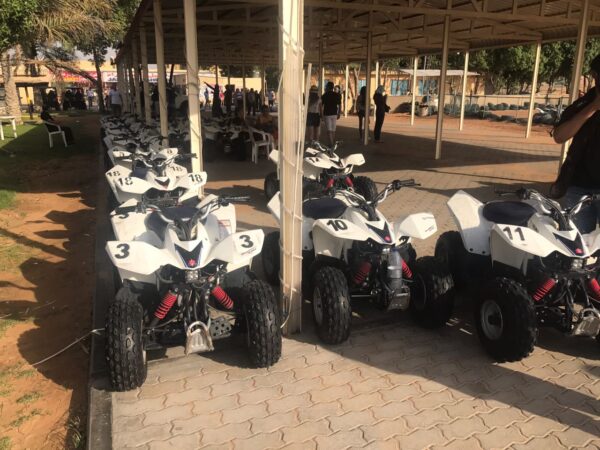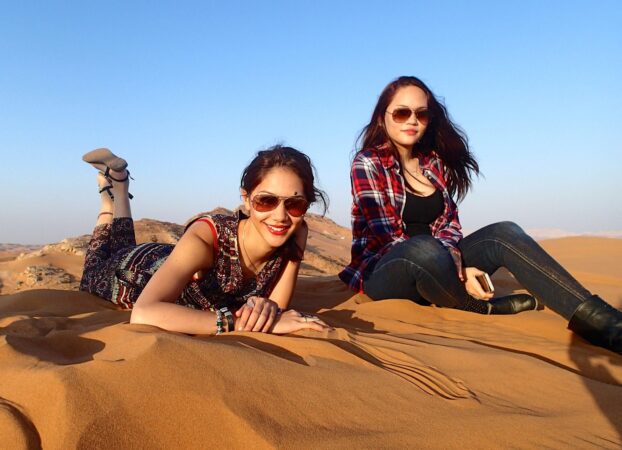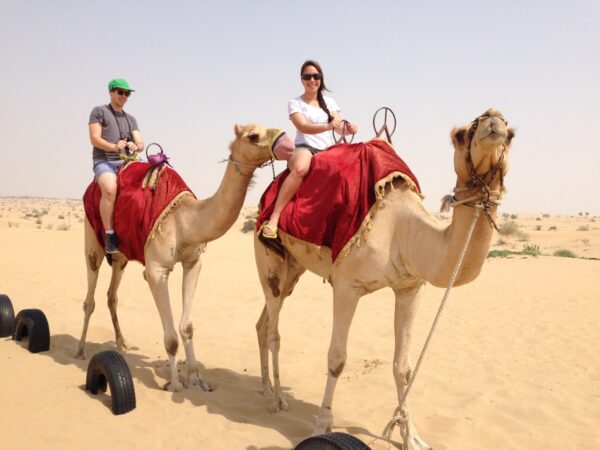 Dubai Desert Safari with 30 mins Quad Bike Ride
Description
Itinerary
Reviews
Description
In this thrilling Desert Safari Dubai  tour, discover the beautiful landscape of the Golden Dubai Desert. Your 6-7 hour Dubai Desert Safari with Quad Bike ride tour will start with the pick-up from your hotel/ accommodation in a sharing 4WD Air-Conditioned Land Cruiser. Then headed to the middle of the desert on approximately 45 mins drive to the first destination. Upon arrival, there will be a short stopover for about 45 mins. Freshen up yourself while your safari driver will deflate tires to get ready for desert ride. Take a rest room break while our team are waiting to catch up the convoy. After getting instructions put on your safety gear and enjoy Quad Bike Ride for 30 mins.
Then experience Dune Bashing and explore landscape of Dubai Desert in a 4WD. Then have a stop over and enjoy the panoramic view of the Sunset meantime you can enjoy Sand boarding.
Experience a traditional Arabic welcome of coffee, fresh dates, falafel and shawarma upon arrival at the camp site. Take a short camel ride (you can repeat it). Relax in the traditional Bedouin desert camp. Take a photo in local costume. Get a traditional henna painting/Tattoo on your body. Enjoy aromatic shisha pipe. Then enjoy Arabian Buffet Dinner (veg and non-veg) under the stars followed by Live Entertainment including Tanura dance show, Exotic Belly Dance and Fire show.
Itinerary
Reviews
7
Normail
General price:
Adult (11+ years)
$

105.00 / ticket
|
Children (2-10 Years)
$

105.00 / ticket
8
Normail
General price:
Adult (11+ years)
$

105.00 / ticket
|
Children (2-10 Years)
$

105.00 / ticket
9
Normail
General price:
Adult (11+ years)
$

105.00 / ticket
|
Children (2-10 Years)
$

105.00 / ticket
10
Normail
General price:
Adult (11+ years)
$

105.00 / ticket
|
Children (2-10 Years)
$

105.00 / ticket
11
Normail
General price:
Adult (11+ years)
$

105.00 / ticket
|
Children (2-10 Years)
$

105.00 / ticket
12
Normail
General price:
Adult (11+ years)
$

105.00 / ticket
|
Children (2-10 Years)
$

105.00 / ticket
13
Normail
General price:
Adult (11+ years)
$

105.00 / ticket
|
Children (2-10 Years)
$

105.00 / ticket
14
Normail
General price:
Adult (11+ years)
$

105.00 / ticket
|
Children (2-10 Years)
$

105.00 / ticket
15
Normail
General price:
Adult (11+ years)
$

105.00 / ticket
|
Children (2-10 Years)
$

105.00 / ticket
16
Normail
General price:
Adult (11+ years)
$

105.00 / ticket
|
Children (2-10 Years)
$

105.00 / ticket
17
Normail
General price:
Adult (11+ years)
$

105.00 / ticket
|
Children (2-10 Years)
$

105.00 / ticket
18
Normail
General price:
Adult (11+ years)
$

105.00 / ticket
|
Children (2-10 Years)
$

105.00 / ticket
19
Normail
General price:
Adult (11+ years)
$

105.00 / ticket
|
Children (2-10 Years)
$

105.00 / ticket
20
Normail
General price:
Adult (11+ years)
$

105.00 / ticket
|
Children (2-10 Years)
$

105.00 / ticket
21
Normail
General price:
Adult (11+ years)
$

105.00 / ticket
|
Children (2-10 Years)
$

105.00 / ticket
22
Normail
General price:
Adult (11+ years)
$

105.00 / ticket
|
Children (2-10 Years)
$

105.00 / ticket
23
Normail
General price:
Adult (11+ years)
$

105.00 / ticket
|
Children (2-10 Years)
$

105.00 / ticket
24
Normail
General price:
Adult (11+ years)
$

105.00 / ticket
|
Children (2-10 Years)
$

105.00 / ticket
25
Normail
General price:
Adult (11+ years)
$

105.00 / ticket
|
Children (2-10 Years)
$

105.00 / ticket
26
Normail
General price:
Adult (11+ years)
$

105.00 / ticket
|
Children (2-10 Years)
$

105.00 / ticket
27
Normail
General price:
Adult (11+ years)
$

105.00 / ticket
|
Children (2-10 Years)
$

105.00 / ticket
28
Normail
General price:
Adult (11+ years)
$

105.00 / ticket
|
Children (2-10 Years)
$

105.00 / ticket
29
Normail
General price:
Adult (11+ years)
$

105.00 / ticket
|
Children (2-10 Years)
$

105.00 / ticket
30
Normail
General price:
Adult (11+ years)
$

105.00 / ticket
|
Children (2-10 Years)
$

105.00 / ticket
31
Normail
General price:
Adult (11+ years)
$

105.00 / ticket
|
Children (2-10 Years)
$

105.00 / ticket
1
Normail
General price:
Adult (11+ years)
$

105.00 / ticket
|
Children (2-10 Years)
$

105.00 / ticket
2
Normail
General price:
Adult (11+ years)
$

105.00 / ticket
|
Children (2-10 Years)
$

105.00 / ticket
3
Normail
General price:
Adult (11+ years)
$

105.00 / ticket
|
Children (2-10 Years)
$

105.00 / ticket
4
Normail
General price:
Adult (11+ years)
$

105.00 / ticket
|
Children (2-10 Years)
$

105.00 / ticket
5
Normail
General price:
Adult (11+ years)
$

105.00 / ticket
|
Children (2-10 Years)
$

105.00 / ticket
6
Normail
General price:
Adult (11+ years)
$

105.00 / ticket
|
Children (2-10 Years)
$

105.00 / ticket
7
Normail
General price:
Adult (11+ years)
$

105.00 / ticket
|
Children (2-10 Years)
$

105.00 / ticket
8
Normail
General price:
Adult (11+ years)
$

105.00 / ticket
|
Children (2-10 Years)
$

105.00 / ticket
9
Normail
General price:
Adult (11+ years)
$

105.00 / ticket
|
Children (2-10 Years)
$

105.00 / ticket
10
Normail
General price:
Adult (11+ years)
$

105.00 / ticket
|
Children (2-10 Years)
$

105.00 / ticket
11
Normail
General price:
Adult (11+ years)
$

105.00 / ticket
|
Children (2-10 Years)
$

105.00 / ticket
12
Normail
General price:
Adult (11+ years)
$

105.00 / ticket
|
Children (2-10 Years)
$

105.00 / ticket
13
Normail
General price:
Adult (11+ years)
$

105.00 / ticket
|
Children (2-10 Years)
$

105.00 / ticket
14
Normail
General price:
Adult (11+ years)
$

105.00 / ticket
|
Children (2-10 Years)
$

105.00 / ticket
15
Normail
General price:
Adult (11+ years)
$

105.00 / ticket
|
Children (2-10 Years)
$

105.00 / ticket
16
Normail
General price:
Adult (11+ years)
$

105.00 / ticket
|
Children (2-10 Years)
$

105.00 / ticket
17
Normail
General price:
Adult (11+ years)
$

105.00 / ticket
|
Children (2-10 Years)
$

105.00 / ticket
18
Normail
General price:
Adult (11+ years)
$

105.00 / ticket
|
Children (2-10 Years)
$

105.00 / ticket
19
Normail
General price:
Adult (11+ years)
$

105.00 / ticket
|
Children (2-10 Years)
$

105.00 / ticket
20
Normail
General price:
Adult (11+ years)
$

105.00 / ticket
|
Children (2-10 Years)
$

105.00 / ticket
21
Normail
General price:
Adult (11+ years)
$

105.00 / ticket
|
Children (2-10 Years)
$

105.00 / ticket
22
Normail
General price:
Adult (11+ years)
$

105.00 / ticket
|
Children (2-10 Years)
$

105.00 / ticket
23
Normail
General price:
Adult (11+ years)
$

105.00 / ticket
|
Children (2-10 Years)
$

105.00 / ticket
24
Normail
General price:
Adult (11+ years)
$

105.00 / ticket
|
Children (2-10 Years)
$

105.00 / ticket
25
Normail
General price:
Adult (11+ years)
$

105.00 / ticket
|
Children (2-10 Years)
$

105.00 / ticket
26
Normail
General price:
Adult (11+ years)
$

105.00 / ticket
|
Children (2-10 Years)
$

105.00 / ticket
27
Normail
General price:
Adult (11+ years)
$

105.00 / ticket
|
Children (2-10 Years)
$

105.00 / ticket
28
Normail
General price:
Adult (11+ years)
$

105.00 / ticket
|
Children (2-10 Years)
$

105.00 / ticket
29
Normail
General price:
Adult (11+ years)
$

105.00 / ticket
|
Children (2-10 Years)
$

105.00 / ticket
30
Normail
General price:
Adult (11+ years)
$

105.00 / ticket
|
Children (2-10 Years)
$

105.00 / ticket
31
Normail
General price:
Adult (11+ years)
$

105.00 / ticket
|
Children (2-10 Years)
$

105.00 / ticket
1
Normail
General price:
Adult (11+ years)
$

105.00 / ticket
|
Children (2-10 Years)
$

105.00 / ticket
2
Normail
General price:
Adult (11+ years)
$

105.00 / ticket
|
Children (2-10 Years)
$

105.00 / ticket
3
Normail
General price:
Adult (11+ years)
$

105.00 / ticket
|
Children (2-10 Years)
$

105.00 / ticket
4
Normail
General price:
Adult (11+ years)
$

105.00 / ticket
|
Children (2-10 Years)
$

105.00 / ticket
29
Normail
General price:
Adult (11+ years)
$

105.00 / ticket
|
Children (2-10 Years)
$

105.00 / ticket
30
Normail
General price:
Adult (11+ years)
$

105.00 / ticket
|
Children (2-10 Years)
$

105.00 / ticket
31
Normail
General price:
Adult (11+ years)
$

105.00 / ticket
|
Children (2-10 Years)
$

105.00 / ticket
1
Normail
General price:
Adult (11+ years)
$

105.00 / ticket
|
Children (2-10 Years)
$

105.00 / ticket
2
Normail
General price:
Adult (11+ years)
$

105.00 / ticket
|
Children (2-10 Years)
$

105.00 / ticket
3
Normail
General price:
Adult (11+ years)
$

105.00 / ticket
|
Children (2-10 Years)
$

105.00 / ticket
4
Normail
General price:
Adult (11+ years)
$

105.00 / ticket
|
Children (2-10 Years)
$

105.00 / ticket
5
Normail
General price:
Adult (11+ years)
$

105.00 / ticket
|
Children (2-10 Years)
$

105.00 / ticket
6
Normail
General price:
Adult (11+ years)
$

105.00 / ticket
|
Children (2-10 Years)
$

105.00 / ticket
7
Normail
General price:
Adult (11+ years)
$

105.00 / ticket
|
Children (2-10 Years)
$

105.00 / ticket
8
Normail
General price:
Adult (11+ years)
$

105.00 / ticket
|
Children (2-10 Years)
$

105.00 / ticket
9
Normail
General price:
Adult (11+ years)
$

105.00 / ticket
|
Children (2-10 Years)
$

105.00 / ticket
10
Normail
General price:
Adult (11+ years)
$

105.00 / ticket
|
Children (2-10 Years)
$

105.00 / ticket
11
Normail
General price:
Adult (11+ years)
$

105.00 / ticket
|
Children (2-10 Years)
$

105.00 / ticket
12
Normail
General price:
Adult (11+ years)
$

105.00 / ticket
|
Children (2-10 Years)
$

105.00 / ticket
13
Normail
General price:
Adult (11+ years)
$

105.00 / ticket
|
Children (2-10 Years)
$

105.00 / ticket
14
Normail
General price:
Adult (11+ years)
$

105.00 / ticket
|
Children (2-10 Years)
$

105.00 / ticket
15
Normail
General price:
Adult (11+ years)
$

105.00 / ticket
|
Children (2-10 Years)
$

105.00 / ticket
16
Normail
General price:
Adult (11+ years)
$

105.00 / ticket
|
Children (2-10 Years)
$

105.00 / ticket
17
Normail
General price:
Adult (11+ years)
$

105.00 / ticket
|
Children (2-10 Years)
$

105.00 / ticket
18
Normail
General price:
Adult (11+ years)
$

105.00 / ticket
|
Children (2-10 Years)
$

105.00 / ticket
19
Normail
General price:
Adult (11+ years)
$

105.00 / ticket
|
Children (2-10 Years)
$

105.00 / ticket
20
Normail
General price:
Adult (11+ years)
$

105.00 / ticket
|
Children (2-10 Years)
$

105.00 / ticket
21
Normail
General price:
Adult (11+ years)
$

105.00 / ticket
|
Children (2-10 Years)
$

105.00 / ticket
22
Normail
General price:
Adult (11+ years)
$

105.00 / ticket
|
Children (2-10 Years)
$

105.00 / ticket
23
Normail
General price:
Adult (11+ years)
$

105.00 / ticket
|
Children (2-10 Years)
$

105.00 / ticket
24
Normail
General price:
Adult (11+ years)
$

105.00 / ticket
|
Children (2-10 Years)
$

105.00 / ticket
25
Normail
General price:
Adult (11+ years)
$

105.00 / ticket
|
Children (2-10 Years)
$

105.00 / ticket
26
Normail
General price:
Adult (11+ years)
$

105.00 / ticket
|
Children (2-10 Years)
$

105.00 / ticket
27
Normail
General price:
Adult (11+ years)
$

105.00 / ticket
|
Children (2-10 Years)
$

105.00 / ticket
28
Normail
General price:
Adult (11+ years)
$

105.00 / ticket
|
Children (2-10 Years)
$

105.00 / ticket
29
Normail
General price:
Adult (11+ years)
$

105.00 / ticket
|
Children (2-10 Years)
$

105.00 / ticket
1
Normail
General price:
Adult (11+ years)
$

105.00 / ticket
|
Children (2-10 Years)
$

105.00 / ticket
2
Normail
General price:
Adult (11+ years)
$

105.00 / ticket
|
Children (2-10 Years)
$

105.00 / ticket
3
Normail
General price:
Adult (11+ years)
$

105.00 / ticket
|
Children (2-10 Years)
$

105.00 / ticket
26
Normail
General price:
Adult (11+ years)
$

105.00 / ticket
|
Children (2-10 Years)
$

105.00 / ticket
27
Normail
General price:
Adult (11+ years)
$

105.00 / ticket
|
Children (2-10 Years)
$

105.00 / ticket
28
Normail
General price:
Adult (11+ years)
$

105.00 / ticket
|
Children (2-10 Years)
$

105.00 / ticket
29
Normail
General price:
Adult (11+ years)
$

105.00 / ticket
|
Children (2-10 Years)
$

105.00 / ticket
1
Normail
General price:
Adult (11+ years)
$

105.00 / ticket
|
Children (2-10 Years)
$

105.00 / ticket
2
Normail
General price:
Adult (11+ years)
$

105.00 / ticket
|
Children (2-10 Years)
$

105.00 / ticket
3
Normail
General price:
Adult (11+ years)
$

105.00 / ticket
|
Children (2-10 Years)
$

105.00 / ticket
4
Normail
General price:
Adult (11+ years)
$

105.00 / ticket
|
Children (2-10 Years)
$

105.00 / ticket
5
Normail
General price:
Adult (11+ years)
$

105.00 / ticket
|
Children (2-10 Years)
$

105.00 / ticket
6
Normail
General price:
Adult (11+ years)
$

105.00 / ticket
|
Children (2-10 Years)
$

105.00 / ticket
7
Normail
General price:
Adult (11+ years)
$

105.00 / ticket
|
Children (2-10 Years)
$

105.00 / ticket
8
Normail
General price:
Adult (11+ years)
$

105.00 / ticket
|
Children (2-10 Years)
$

105.00 / ticket
9
Normail
General price:
Adult (11+ years)
$

105.00 / ticket
|
Children (2-10 Years)
$

105.00 / ticket
10
Normail
General price:
Adult (11+ years)
$

105.00 / ticket
|
Children (2-10 Years)
$

105.00 / ticket
11
Normail
General price:
Adult (11+ years)
$

105.00 / ticket
|
Children (2-10 Years)
$

105.00 / ticket
12
Normail
General price:
Adult (11+ years)
$

105.00 / ticket
|
Children (2-10 Years)
$

105.00 / ticket
13
Normail
General price:
Adult (11+ years)
$

105.00 / ticket
|
Children (2-10 Years)
$

105.00 / ticket
14
Normail
General price:
Adult (11+ years)
$

105.00 / ticket
|
Children (2-10 Years)
$

105.00 / ticket
15
Normail
General price:
Adult (11+ years)
$

105.00 / ticket
|
Children (2-10 Years)
$

105.00 / ticket
16
Normail
General price:
Adult (11+ years)
$

105.00 / ticket
|
Children (2-10 Years)
$

105.00 / ticket
17
Normail
General price:
Adult (11+ years)
$

105.00 / ticket
|
Children (2-10 Years)
$

105.00 / ticket
18
Normail
General price:
Adult (11+ years)
$

105.00 / ticket
|
Children (2-10 Years)
$

105.00 / ticket
19
Normail
General price:
Adult (11+ years)
$

105.00 / ticket
|
Children (2-10 Years)
$

105.00 / ticket
20
Normail
General price:
Adult (11+ years)
$

105.00 / ticket
|
Children (2-10 Years)
$

105.00 / ticket
21
Normail
General price:
Adult (11+ years)
$

105.00 / ticket
|
Children (2-10 Years)
$

105.00 / ticket
22
Normail
General price:
Adult (11+ years)
$

105.00 / ticket
|
Children (2-10 Years)
$

105.00 / ticket
23
Normail
General price:
Adult (11+ years)
$

105.00 / ticket
|
Children (2-10 Years)
$

105.00 / ticket
24
Normail
General price:
Adult (11+ years)
$

105.00 / ticket
|
Children (2-10 Years)
$

105.00 / ticket
25
Normail
General price:
Adult (11+ years)
$

105.00 / ticket
|
Children (2-10 Years)
$

105.00 / ticket
26
Normail
General price:
Adult (11+ years)
$

105.00 / ticket
|
Children (2-10 Years)
$

105.00 / ticket
27
Normail
General price:
Adult (11+ years)
$

105.00 / ticket
|
Children (2-10 Years)
$

105.00 / ticket
28
Normail
General price:
Adult (11+ years)
$

105.00 / ticket
|
Children (2-10 Years)
$

105.00 / ticket
29
Normail
General price:
Adult (11+ years)
$

105.00 / ticket
|
Children (2-10 Years)
$

105.00 / ticket
30
Normail
General price:
Adult (11+ years)
$

105.00 / ticket
|
Children (2-10 Years)
$

105.00 / ticket
31
Normail
General price:
Adult (11+ years)
$

105.00 / ticket
|
Children (2-10 Years)
$

105.00 / ticket
1
Normail
General price:
Adult (11+ years)
$

105.00 / ticket
|
Children (2-10 Years)
$

105.00 / ticket
2
Normail
General price:
Adult (11+ years)
$

105.00 / ticket
|
Children (2-10 Years)
$

105.00 / ticket
3
Normail
General price:
Adult (11+ years)
$

105.00 / ticket
|
Children (2-10 Years)
$

105.00 / ticket
4
Normail
General price:
Adult (11+ years)
$

105.00 / ticket
|
Children (2-10 Years)
$

105.00 / ticket
5
Normail
General price:
Adult (11+ years)
$

105.00 / ticket
|
Children (2-10 Years)
$

105.00 / ticket
6
Normail
General price:
Adult (11+ years)
$

105.00 / ticket
|
Children (2-10 Years)
$

105.00 / ticket
7
Normail
General price:
Adult (11+ years)
$

105.00 / ticket
|
Children (2-10 Years)
$

105.00 / ticket
8
Normail
General price:
Adult (11+ years)
$

105.00 / ticket
|
Children (2-10 Years)
$

105.00 / ticket
9
Normail
General price:
Adult (11+ years)
$

105.00 / ticket
|
Children (2-10 Years)
$

105.00 / ticket
10
Normail
General price:
Adult (11+ years)
$

105.00 / ticket
|
Children (2-10 Years)
$

105.00 / ticket
11
Normail
General price:
Adult (11+ years)
$

105.00 / ticket
|
Children (2-10 Years)
$

105.00 / ticket
12
Normail
General price:
Adult (11+ years)
$

105.00 / ticket
|
Children (2-10 Years)
$

105.00 / ticket
13
Normail
General price:
Adult (11+ years)
$

105.00 / ticket
|
Children (2-10 Years)
$

105.00 / ticket
14
Normail
General price:
Adult (11+ years)
$

105.00 / ticket
|
Children (2-10 Years)
$

105.00 / ticket
15
Normail
General price:
Adult (11+ years)
$

105.00 / ticket
|
Children (2-10 Years)
$

105.00 / ticket
16
Normail
General price:
Adult (11+ years)
$

105.00 / ticket
|
Children (2-10 Years)
$

105.00 / ticket
17
Normail
General price:
Adult (11+ years)
$

105.00 / ticket
|
Children (2-10 Years)
$

105.00 / ticket
18
Normail
General price:
Adult (11+ years)
$

105.00 / ticket
|
Children (2-10 Years)
$

105.00 / ticket
19
Normail
General price:
Adult (11+ years)
$

105.00 / ticket
|
Children (2-10 Years)
$

105.00 / ticket
20
Normail
General price:
Adult (11+ years)
$

105.00 / ticket
|
Children (2-10 Years)
$

105.00 / ticket
21
Normail
General price:
Adult (11+ years)
$

105.00 / ticket
|
Children (2-10 Years)
$

105.00 / ticket
22
Normail
General price:
Adult (11+ years)
$

105.00 / ticket
|
Children (2-10 Years)
$

105.00 / ticket
23
Normail
General price:
Adult (11+ years)
$

105.00 / ticket
|
Children (2-10 Years)
$

105.00 / ticket
24
Normail
General price:
Adult (11+ years)
$

105.00 / ticket
|
Children (2-10 Years)
$

105.00 / ticket
25
Normail
General price:
Adult (11+ years)
$

105.00 / ticket
|
Children (2-10 Years)
$

105.00 / ticket
26
Normail
General price:
Adult (11+ years)
$

105.00 / ticket
|
Children (2-10 Years)
$

105.00 / ticket
27
Normail
General price:
Adult (11+ years)
$

105.00 / ticket
|
Children (2-10 Years)
$

105.00 / ticket
28
Normail
General price:
Adult (11+ years)
$

105.00 / ticket
|
Children (2-10 Years)
$

105.00 / ticket
29
Normail
General price:
Adult (11+ years)
$

105.00 / ticket
|
Children (2-10 Years)
$

105.00 / ticket
30
Normail
General price:
Adult (11+ years)
$

105.00 / ticket
|
Children (2-10 Years)
$

105.00 / ticket
1
Normail
General price:
Adult (11+ years)
$

105.00 / ticket
|
Children (2-10 Years)
$

105.00 / ticket
2
Normail
General price:
Adult (11+ years)
$

105.00 / ticket
|
Children (2-10 Years)
$

105.00 / ticket
3
Normail
General price:
Adult (11+ years)
$

105.00 / ticket
|
Children (2-10 Years)
$

105.00 / ticket
4
Normail
General price:
Adult (11+ years)
$

105.00 / ticket
|
Children (2-10 Years)
$

105.00 / ticket
5
Normail
General price:
Adult (11+ years)
$

105.00 / ticket
|
Children (2-10 Years)
$

105.00 / ticket
29
Normail
General price:
Adult (11+ years)
$

105.00 / ticket
|
Children (2-10 Years)
$

105.00 / ticket
30
Normail
General price:
Adult (11+ years)
$

105.00 / ticket
|
Children (2-10 Years)
$

105.00 / ticket
1
Normail
General price:
Adult (11+ years)
$

105.00 / ticket
|
Children (2-10 Years)
$

105.00 / ticket
2
Normail
General price:
Adult (11+ years)
$

105.00 / ticket
|
Children (2-10 Years)
$

105.00 / ticket
3
Normail
General price:
Adult (11+ years)
$

105.00 / ticket
|
Children (2-10 Years)
$

105.00 / ticket
4
Normail
General price:
Adult (11+ years)
$

105.00 / ticket
|
Children (2-10 Years)
$

105.00 / ticket
5
Normail
General price:
Adult (11+ years)
$

105.00 / ticket
|
Children (2-10 Years)
$

105.00 / ticket
6
Normail
General price:
Adult (11+ years)
$

105.00 / ticket
|
Children (2-10 Years)
$

105.00 / ticket
7
Normail
General price:
Adult (11+ years)
$

105.00 / ticket
|
Children (2-10 Years)
$

105.00 / ticket
8
Normail
General price:
Adult (11+ years)
$

105.00 / ticket
|
Children (2-10 Years)
$

105.00 / ticket
9
Normail
General price:
Adult (11+ years)
$

105.00 / ticket
|
Children (2-10 Years)
$

105.00 / ticket
10
Normail
General price:
Adult (11+ years)
$

105.00 / ticket
|
Children (2-10 Years)
$

105.00 / ticket
11
Normail
General price:
Adult (11+ years)
$

105.00 / ticket
|
Children (2-10 Years)
$

105.00 / ticket
12
Normail
General price:
Adult (11+ years)
$

105.00 / ticket
|
Children (2-10 Years)
$

105.00 / ticket
13
Normail
General price:
Adult (11+ years)
$

105.00 / ticket
|
Children (2-10 Years)
$

105.00 / ticket
14
Normail
General price:
Adult (11+ years)
$

105.00 / ticket
|
Children (2-10 Years)
$

105.00 / ticket
15
Normail
General price:
Adult (11+ years)
$

105.00 / ticket
|
Children (2-10 Years)
$

105.00 / ticket
16
Normail
General price:
Adult (11+ years)
$

105.00 / ticket
|
Children (2-10 Years)
$

105.00 / ticket
17
Normail
General price:
Adult (11+ years)
$

105.00 / ticket
|
Children (2-10 Years)
$

105.00 / ticket
18
Normail
General price:
Adult (11+ years)
$

105.00 / ticket
|
Children (2-10 Years)
$

105.00 / ticket
19
Normail
General price:
Adult (11+ years)
$

105.00 / ticket
|
Children (2-10 Years)
$

105.00 / ticket
20
Normail
General price:
Adult (11+ years)
$

105.00 / ticket
|
Children (2-10 Years)
$

105.00 / ticket
21
Normail
General price:
Adult (11+ years)
$

105.00 / ticket
|
Children (2-10 Years)
$

105.00 / ticket
22
Normail
General price:
Adult (11+ years)
$

105.00 / ticket
|
Children (2-10 Years)
$

105.00 / ticket
23
Normail
General price:
Adult (11+ years)
$

105.00 / ticket
|
Children (2-10 Years)
$

105.00 / ticket
24
Normail
General price:
Adult (11+ years)
$

105.00 / ticket
|
Children (2-10 Years)
$

105.00 / ticket
25
Normail
General price:
Adult (11+ years)
$

105.00 / ticket
|
Children (2-10 Years)
$

105.00 / ticket
26
Normail
General price:
Adult (11+ years)
$

105.00 / ticket
|
Children (2-10 Years)
$

105.00 / ticket
27
Normail
General price:
Adult (11+ years)
$

105.00 / ticket
|
Children (2-10 Years)
$

105.00 / ticket
28
Normail
General price:
Adult (11+ years)
$

105.00 / ticket
|
Children (2-10 Years)
$

105.00 / ticket
29
Normail
General price:
Adult (11+ years)
$

105.00 / ticket
|
Children (2-10 Years)
$

105.00 / ticket
30
Normail
General price:
Adult (11+ years)
$

105.00 / ticket
|
Children (2-10 Years)
$

105.00 / ticket
31
Normail
General price:
Adult (11+ years)
$

105.00 / ticket
|
Children (2-10 Years)
$

105.00 / ticket
1
Normail
General price:
Adult (11+ years)
$

105.00 / ticket
|
Children (2-10 Years)
$

105.00 / ticket
2
Normail
General price:
Adult (11+ years)
$

105.00 / ticket
|
Children (2-10 Years)
$

105.00 / ticket
27
Normail
General price:
Adult (11+ years)
$

105.00 / ticket
|
Children (2-10 Years)
$

105.00 / ticket
28
Normail
General price:
Adult (11+ years)
$

105.00 / ticket
|
Children (2-10 Years)
$

105.00 / ticket
29
Normail
General price:
Adult (11+ years)
$

105.00 / ticket
|
Children (2-10 Years)
$

105.00 / ticket
30
Normail
General price:
Adult (11+ years)
$

105.00 / ticket
|
Children (2-10 Years)
$

105.00 / ticket
31
Normail
General price:
Adult (11+ years)
$

105.00 / ticket
|
Children (2-10 Years)
$

105.00 / ticket
1
Normail
General price:
Adult (11+ years)
$

105.00 / ticket
|
Children (2-10 Years)
$

105.00 / ticket
2
Normail
General price:
Adult (11+ years)
$

105.00 / ticket
|
Children (2-10 Years)
$

105.00 / ticket
3
Normail
General price:
Adult (11+ years)
$

105.00 / ticket
|
Children (2-10 Years)
$

105.00 / ticket
4
Normail
General price:
Adult (11+ years)
$

105.00 / ticket
|
Children (2-10 Years)
$

105.00 / ticket
5
Normail
General price:
Adult (11+ years)
$

105.00 / ticket
|
Children (2-10 Years)
$

105.00 / ticket
6
Normail
General price:
Adult (11+ years)
$

105.00 / ticket
|
Children (2-10 Years)
$

105.00 / ticket
7
Normail
General price:
Adult (11+ years)
$

105.00 / ticket
|
Children (2-10 Years)
$

105.00 / ticket
8
Normail
General price:
Adult (11+ years)
$

105.00 / ticket
|
Children (2-10 Years)
$

105.00 / ticket
9
Normail
General price:
Adult (11+ years)
$

105.00 / ticket
|
Children (2-10 Years)
$

105.00 / ticket
10
Normail
General price:
Adult (11+ years)
$

105.00 / ticket
|
Children (2-10 Years)
$

105.00 / ticket
11
Normail
General price:
Adult (11+ years)
$

105.00 / ticket
|
Children (2-10 Years)
$

105.00 / ticket
12
Normail
General price:
Adult (11+ years)
$

105.00 / ticket
|
Children (2-10 Years)
$

105.00 / ticket
13
Normail
General price:
Adult (11+ years)
$

105.00 / ticket
|
Children (2-10 Years)
$

105.00 / ticket
14
Normail
General price:
Adult (11+ years)
$

105.00 / ticket
|
Children (2-10 Years)
$

105.00 / ticket
15
Normail
General price:
Adult (11+ years)
$

105.00 / ticket
|
Children (2-10 Years)
$

105.00 / ticket
16
Normail
General price:
Adult (11+ years)
$

105.00 / ticket
|
Children (2-10 Years)
$

105.00 / ticket
17
Normail
General price:
Adult (11+ years)
$

105.00 / ticket
|
Children (2-10 Years)
$

105.00 / ticket
18
Normail
General price:
Adult (11+ years)
$

105.00 / ticket
|
Children (2-10 Years)
$

105.00 / ticket
19
Normail
General price:
Adult (11+ years)
$

105.00 / ticket
|
Children (2-10 Years)
$

105.00 / ticket
20
Normail
General price:
Adult (11+ years)
$

105.00 / ticket
|
Children (2-10 Years)
$

105.00 / ticket
21
Normail
General price:
Adult (11+ years)
$

105.00 / ticket
|
Children (2-10 Years)
$

105.00 / ticket
22
Normail
General price:
Adult (11+ years)
$

105.00 / ticket
|
Children (2-10 Years)
$

105.00 / ticket
23
Normail
General price:
Adult (11+ years)
$

105.00 / ticket
|
Children (2-10 Years)
$

105.00 / ticket
24
Normail
General price:
Adult (11+ years)
$

105.00 / ticket
|
Children (2-10 Years)
$

105.00 / ticket
25
Normail
General price:
Adult (11+ years)
$

105.00 / ticket
|
Children (2-10 Years)
$

105.00 / ticket
26
Normail
General price:
Adult (11+ years)
$

105.00 / ticket
|
Children (2-10 Years)
$

105.00 / ticket
27
Normail
General price:
Adult (11+ years)
$

105.00 / ticket
|
Children (2-10 Years)
$

105.00 / ticket
28
Normail
General price:
Adult (11+ years)
$

105.00 / ticket
|
Children (2-10 Years)
$

105.00 / ticket
29
Normail
General price:
Adult (11+ years)
$

105.00 / ticket
|
Children (2-10 Years)
$

105.00 / ticket
30
Normail
General price:
Adult (11+ years)
$

105.00 / ticket
|
Children (2-10 Years)
$

105.00 / ticket
1
Normail
General price:
Adult (11+ years)
$

105.00 / ticket
|
Children (2-10 Years)
$

105.00 / ticket
2
Normail
General price:
Adult (11+ years)
$

105.00 / ticket
|
Children (2-10 Years)
$

105.00 / ticket
3
Normail
General price:
Adult (11+ years)
$

105.00 / ticket
|
Children (2-10 Years)
$

105.00 / ticket
4
Normail
General price:
Adult (11+ years)
$

105.00 / ticket
|
Children (2-10 Years)
$

105.00 / ticket
5
Normail
General price:
Adult (11+ years)
$

105.00 / ticket
|
Children (2-10 Years)
$

105.00 / ticket
6
Normail
General price:
Adult (11+ years)
$

105.00 / ticket
|
Children (2-10 Years)
$

105.00 / ticket
7
Normail
General price:
Adult (11+ years)
$

105.00 / ticket
|
Children (2-10 Years)
$

105.00 / ticket
8
Normail
General price:
Adult (11+ years)
$

105.00 / ticket
|
Children (2-10 Years)
$

105.00 / ticket
9
Normail
General price:
Adult (11+ years)
$

105.00 / ticket
|
Children (2-10 Years)
$

105.00 / ticket
10
Normail
General price:
Adult (11+ years)
$

105.00 / ticket
|
Children (2-10 Years)
$

105.00 / ticket
11
Normail
General price:
Adult (11+ years)
$

105.00 / ticket
|
Children (2-10 Years)
$

105.00 / ticket
12
Normail
General price:
Adult (11+ years)
$

105.00 / ticket
|
Children (2-10 Years)
$

105.00 / ticket
13
Normail
General price:
Adult (11+ years)
$

105.00 / ticket
|
Children (2-10 Years)
$

105.00 / ticket
14
Normail
General price:
Adult (11+ years)
$

105.00 / ticket
|
Children (2-10 Years)
$

105.00 / ticket
15
Normail
General price:
Adult (11+ years)
$

105.00 / ticket
|
Children (2-10 Years)
$

105.00 / ticket
16
Normail
General price:
Adult (11+ years)
$

105.00 / ticket
|
Children (2-10 Years)
$

105.00 / ticket
17
Normail
General price:
Adult (11+ years)
$

105.00 / ticket
|
Children (2-10 Years)
$

105.00 / ticket
18
Normail
General price:
Adult (11+ years)
$

105.00 / ticket
|
Children (2-10 Years)
$

105.00 / ticket
19
Normail
General price:
Adult (11+ years)
$

105.00 / ticket
|
Children (2-10 Years)
$

105.00 / ticket
20
Normail
General price:
Adult (11+ years)
$

105.00 / ticket
|
Children (2-10 Years)
$

105.00 / ticket
21
Normail
General price:
Adult (11+ years)
$

105.00 / ticket
|
Children (2-10 Years)
$

105.00 / ticket
22
Normail
General price:
Adult (11+ years)
$

105.00 / ticket
|
Children (2-10 Years)
$

105.00 / ticket
23
Normail
General price:
Adult (11+ years)
$

105.00 / ticket
|
Children (2-10 Years)
$

105.00 / ticket
24
Normail
General price:
Adult (11+ years)
$

105.00 / ticket
|
Children (2-10 Years)
$

105.00 / ticket
25
Normail
General price:
Adult (11+ years)
$

105.00 / ticket
|
Children (2-10 Years)
$

105.00 / ticket
26
Normail
General price:
Adult (11+ years)
$

105.00 / ticket
|
Children (2-10 Years)
$

105.00 / ticket
27
Normail
General price:
Adult (11+ years)
$

105.00 / ticket
|
Children (2-10 Years)
$

105.00 / ticket
28
Normail
General price:
Adult (11+ years)
$

105.00 / ticket
|
Children (2-10 Years)
$

105.00 / ticket
29
Normail
General price:
Adult (11+ years)
$

105.00 / ticket
|
Children (2-10 Years)
$

105.00 / ticket
30
Normail
General price:
Adult (11+ years)
$

105.00 / ticket
|
Children (2-10 Years)
$

105.00 / ticket
31
Normail
General price:
Adult (11+ years)
$

105.00 / ticket
|
Children (2-10 Years)
$

105.00 / ticket
1
Normail
General price:
Adult (11+ years)
$

105.00 / ticket
|
Children (2-10 Years)
$

105.00 / ticket
2
Normail
General price:
Adult (11+ years)
$

105.00 / ticket
|
Children (2-10 Years)
$

105.00 / ticket
3
Normail
General price:
Adult (11+ years)
$

105.00 / ticket
|
Children (2-10 Years)
$

105.00 / ticket
4
Normail
General price:
Adult (11+ years)
$

105.00 / ticket
|
Children (2-10 Years)
$

105.00 / ticket
29
Normail
General price:
Adult (11+ years)
$

105.00 / ticket
|
Children (2-10 Years)
$

105.00 / ticket
30
Normail
General price:
Adult (11+ years)
$

105.00 / ticket
|
Children (2-10 Years)
$

105.00 / ticket
31
Normail
General price:
Adult (11+ years)
$

105.00 / ticket
|
Children (2-10 Years)
$

105.00 / ticket
1
Normail
General price:
Adult (11+ years)
$

105.00 / ticket
|
Children (2-10 Years)
$

105.00 / ticket
2
Normail
General price:
Adult (11+ years)
$

105.00 / ticket
|
Children (2-10 Years)
$

105.00 / ticket
3
Normail
General price:
Adult (11+ years)
$

105.00 / ticket
|
Children (2-10 Years)
$

105.00 / ticket
4
Normail
General price:
Adult (11+ years)
$

105.00 / ticket
|
Children (2-10 Years)
$

105.00 / ticket
5
Normail
General price:
Adult (11+ years)
$

105.00 / ticket
|
Children (2-10 Years)
$

105.00 / ticket
6
Normail
General price:
Adult (11+ years)
$

105.00 / ticket
|
Children (2-10 Years)
$

105.00 / ticket
7
Normail
General price:
Adult (11+ years)
$

105.00 / ticket
|
Children (2-10 Years)
$

105.00 / ticket
8
Normail
General price:
Adult (11+ years)
$

105.00 / ticket
|
Children (2-10 Years)
$

105.00 / ticket
9
Normail
General price:
Adult (11+ years)
$

105.00 / ticket
|
Children (2-10 Years)
$

105.00 / ticket
10
Normail
General price:
Adult (11+ years)
$

105.00 / ticket
|
Children (2-10 Years)
$

105.00 / ticket
11
Normail
General price:
Adult (11+ years)
$

105.00 / ticket
|
Children (2-10 Years)
$

105.00 / ticket
12
Normail
General price:
Adult (11+ years)
$

105.00 / ticket
|
Children (2-10 Years)
$

105.00 / ticket
13
Normail
General price:
Adult (11+ years)
$

105.00 / ticket
|
Children (2-10 Years)
$

105.00 / ticket
14
Normail
General price:
Adult (11+ years)
$

105.00 / ticket
|
Children (2-10 Years)
$

105.00 / ticket
15
Normail
General price:
Adult (11+ years)
$

105.00 / ticket
|
Children (2-10 Years)
$

105.00 / ticket
16
Normail
General price:
Adult (11+ years)
$

105.00 / ticket
|
Children (2-10 Years)
$

105.00 / ticket
17
Normail
General price:
Adult (11+ years)
$

105.00 / ticket
|
Children (2-10 Years)
$

105.00 / ticket
18
Normail
General price:
Adult (11+ years)
$

105.00 / ticket
|
Children (2-10 Years)
$

105.00 / ticket
19
Normail
General price:
Adult (11+ years)
$

105.00 / ticket
|
Children (2-10 Years)
$

105.00 / ticket
20
Normail
General price:
Adult (11+ years)
$

105.00 / ticket
|
Children (2-10 Years)
$

105.00 / ticket
21
Normail
General price:
Adult (11+ years)
$

105.00 / ticket
|
Children (2-10 Years)
$

105.00 / ticket
22
Normail
General price:
Adult (11+ years)
$

105.00 / ticket
|
Children (2-10 Years)
$

105.00 / ticket
23
Normail
General price:
Adult (11+ years)
$

105.00 / ticket
|
Children (2-10 Years)
$

105.00 / ticket
24
Normail
General price:
Adult (11+ years)
$

105.00 / ticket
|
Children (2-10 Years)
$

105.00 / ticket
25
Normail
General price:
Adult (11+ years)
$

105.00 / ticket
|
Children (2-10 Years)
$

105.00 / ticket
26
Normail
General price:
Adult (11+ years)
$

105.00 / ticket
|
Children (2-10 Years)
$

105.00 / ticket
27
Normail
General price:
Adult (11+ years)
$

105.00 / ticket
|
Children (2-10 Years)
$

105.00 / ticket
28
Normail
General price:
Adult (11+ years)
$

105.00 / ticket
|
Children (2-10 Years)
$

105.00 / ticket
29
Normail
General price:
Adult (11+ years)
$

105.00 / ticket
|
Children (2-10 Years)
$

105.00 / ticket
30
Normail
General price:
Adult (11+ years)
$

105.00 / ticket
|
Children (2-10 Years)
$

105.00 / ticket
31
Normail
General price:
Adult (11+ years)
$

105.00 / ticket
|
Children (2-10 Years)
$

105.00 / ticket
1
Normail
General price:
Adult (11+ years)
$

105.00 / ticket
|
Children (2-10 Years)
$

105.00 / ticket
26
Normail
General price:
Adult (11+ years)
$

105.00 / ticket
|
Children (2-10 Years)
$

105.00 / ticket
27
Normail
General price:
Adult (11+ years)
$

105.00 / ticket
|
Children (2-10 Years)
$

105.00 / ticket
28
Normail
General price:
Adult (11+ years)
$

105.00 / ticket
|
Children (2-10 Years)
$

105.00 / ticket
29
Normail
General price:
Adult (11+ years)
$

105.00 / ticket
|
Children (2-10 Years)
$

105.00 / ticket
30
Normail
General price:
Adult (11+ years)
$

105.00 / ticket
|
Children (2-10 Years)
$

105.00 / ticket
31
Normail
General price:
Adult (11+ years)
$

105.00 / ticket
|
Children (2-10 Years)
$

105.00 / ticket
1
Normail
General price:
Adult (11+ years)
$

105.00 / ticket
|
Children (2-10 Years)
$

105.00 / ticket
2
Normail
General price:
Adult (11+ years)
$

105.00 / ticket
|
Children (2-10 Years)
$

105.00 / ticket
3
Normail
General price:
Adult (11+ years)
$

105.00 / ticket
|
Children (2-10 Years)
$

105.00 / ticket
4
Normail
General price:
Adult (11+ years)
$

105.00 / ticket
|
Children (2-10 Years)
$

105.00 / ticket
5
Normail
General price:
Adult (11+ years)
$

105.00 / ticket
|
Children (2-10 Years)
$

105.00 / ticket
6
Normail
General price:
Adult (11+ years)
$

105.00 / ticket
|
Children (2-10 Years)
$

105.00 / ticket
7
Normail
General price:
Adult (11+ years)
$

105.00 / ticket
|
Children (2-10 Years)
$

105.00 / ticket
8
Normail
General price:
Adult (11+ years)
$

105.00 / ticket
|
Children (2-10 Years)
$

105.00 / ticket
9
Normail
General price:
Adult (11+ years)
$

105.00 / ticket
|
Children (2-10 Years)
$

105.00 / ticket
10
Normail
General price:
Adult (11+ years)
$

105.00 / ticket
|
Children (2-10 Years)
$

105.00 / ticket
11
Normail
General price:
Adult (11+ years)
$

105.00 / ticket
|
Children (2-10 Years)
$

105.00 / ticket
12
Normail
General price:
Adult (11+ years)
$

105.00 / ticket
|
Children (2-10 Years)
$

105.00 / ticket
13
Normail
General price:
Adult (11+ years)
$

105.00 / ticket
|
Children (2-10 Years)
$

105.00 / ticket
14
Normail
General price:
Adult (11+ years)
$

105.00 / ticket
|
Children (2-10 Years)
$

105.00 / ticket
15
Normail
General price:
Adult (11+ years)
$

105.00 / ticket
|
Children (2-10 Years)
$

105.00 / ticket
16
Normail
General price:
Adult (11+ years)
$

105.00 / ticket
|
Children (2-10 Years)
$

105.00 / ticket
17
Normail
General price:
Adult (11+ years)
$

105.00 / ticket
|
Children (2-10 Years)
$

105.00 / ticket
18
Normail
General price:
Adult (11+ years)
$

105.00 / ticket
|
Children (2-10 Years)
$

105.00 / ticket
19
Normail
General price:
Adult (11+ years)
$

105.00 / ticket
|
Children (2-10 Years)
$

105.00 / ticket
20
Normail
General price:
Adult (11+ years)
$

105.00 / ticket
|
Children (2-10 Years)
$

105.00 / ticket
21
Normail
General price:
Adult (11+ years)
$

105.00 / ticket
|
Children (2-10 Years)
$

105.00 / ticket
22
Normail
General price:
Adult (11+ years)
$

105.00 / ticket
|
Children (2-10 Years)
$

105.00 / ticket
23
Normail
General price:
Adult (11+ years)
$

105.00 / ticket
|
Children (2-10 Years)
$

105.00 / ticket
24
Normail
General price:
Adult (11+ years)
$

105.00 / ticket
|
Children (2-10 Years)
$

105.00 / ticket
25
Normail
General price:
Adult (11+ years)
$

105.00 / ticket
|
Children (2-10 Years)
$

105.00 / ticket
26
Normail
General price:
Adult (11+ years)
$

105.00 / ticket
|
Children (2-10 Years)
$

105.00 / ticket
27
Normail
General price:
Adult (11+ years)
$

105.00 / ticket
|
Children (2-10 Years)
$

105.00 / ticket
28
Normail
General price:
Adult (11+ years)
$

105.00 / ticket
|
Children (2-10 Years)
$

105.00 / ticket
29
Normail
General price:
Adult (11+ years)
$

105.00 / ticket
|
Children (2-10 Years)
$

105.00 / ticket
30
Normail
General price:
Adult (11+ years)
$

105.00 / ticket
|
Children (2-10 Years)
$

105.00 / ticket
1
Normail
General price:
Adult (11+ years)
$

105.00 / ticket
|
Children (2-10 Years)
$

105.00 / ticket
2
Normail
General price:
Adult (11+ years)
$

105.00 / ticket
|
Children (2-10 Years)
$

105.00 / ticket
3
Normail
General price:
Adult (11+ years)
$

105.00 / ticket
|
Children (2-10 Years)
$

105.00 / ticket
4
Normail
General price:
Adult (11+ years)
$

105.00 / ticket
|
Children (2-10 Years)
$

105.00 / ticket
5
Normail
General price:
Adult (11+ years)
$

105.00 / ticket
|
Children (2-10 Years)
$

105.00 / ticket
6
Normail
General price:
Adult (11+ years)
$

105.00 / ticket
|
Children (2-10 Years)
$

105.00 / ticket
30
Normail
General price:
Adult (11+ years)
$

105.00 / ticket
|
Children (2-10 Years)
$

105.00 / ticket
1
Normail
General price:
Adult (11+ years)
$

105.00 / ticket
|
Children (2-10 Years)
$

105.00 / ticket
2
Normail
General price:
Adult (11+ years)
$

105.00 / ticket
|
Children (2-10 Years)
$

105.00 / ticket
3
Normail
General price:
Adult (11+ years)
$

105.00 / ticket
|
Children (2-10 Years)
$

105.00 / ticket
4
Normail
General price:
Adult (11+ years)
$

105.00 / ticket
|
Children (2-10 Years)
$

105.00 / ticket
5
Normail
General price:
Adult (11+ years)
$

105.00 / ticket
|
Children (2-10 Years)
$

105.00 / ticket
6
Normail
General price:
Adult (11+ years)
$

105.00 / ticket
|
Children (2-10 Years)
$

105.00 / ticket
7
Normail
General price:
Adult (11+ years)
$

105.00 / ticket
|
Children (2-10 Years)
$

105.00 / ticket
8
Normail
General price:
Adult (11+ years)
$

105.00 / ticket
|
Children (2-10 Years)
$

105.00 / ticket
9
Normail
General price:
Adult (11+ years)
$

105.00 / ticket
|
Children (2-10 Years)
$

105.00 / ticket
10
Normail
General price:
Adult (11+ years)
$

105.00 / ticket
|
Children (2-10 Years)
$

105.00 / ticket
11
Normail
General price:
Adult (11+ years)
$

105.00 / ticket
|
Children (2-10 Years)
$

105.00 / ticket
12
Normail
General price:
Adult (11+ years)
$

105.00 / ticket
|
Children (2-10 Years)
$

105.00 / ticket
13
Normail
General price:
Adult (11+ years)
$

105.00 / ticket
|
Children (2-10 Years)
$

105.00 / ticket
14
Normail
General price:
Adult (11+ years)
$

105.00 / ticket
|
Children (2-10 Years)
$

105.00 / ticket
15
Normail
General price:
Adult (11+ years)
$

105.00 / ticket
|
Children (2-10 Years)
$

105.00 / ticket
16
Normail
General price:
Adult (11+ years)
$

105.00 / ticket
|
Children (2-10 Years)
$

105.00 / ticket
17
Normail
General price:
Adult (11+ years)
$

105.00 / ticket
|
Children (2-10 Years)
$

105.00 / ticket
18
Normail
General price:
Adult (11+ years)
$

105.00 / ticket
|
Children (2-10 Years)
$

105.00 / ticket
19
Normail
General price:
Adult (11+ years)
$

105.00 / ticket
|
Children (2-10 Years)
$

105.00 / ticket
20
Normail
General price:
Adult (11+ years)
$

105.00 / ticket
|
Children (2-10 Years)
$

105.00 / ticket
21
Normail
General price:
Adult (11+ years)
$

105.00 / ticket
|
Children (2-10 Years)
$

105.00 / ticket
22
Normail
General price:
Adult (11+ years)
$

105.00 / ticket
|
Children (2-10 Years)
$

105.00 / ticket
23
Normail
General price:
Adult (11+ years)
$

105.00 / ticket
|
Children (2-10 Years)
$

105.00 / ticket
24
Normail
General price:
Adult (11+ years)
$

105.00 / ticket
|
Children (2-10 Years)
$

105.00 / ticket
25
Normail
General price:
Adult (11+ years)
$

105.00 / ticket
|
Children (2-10 Years)
$

105.00 / ticket
26
Normail
General price:
Adult (11+ years)
$

105.00 / ticket
|
Children (2-10 Years)
$

105.00 / ticket
27
Normail
General price:
Adult (11+ years)
$

105.00 / ticket
|
Children (2-10 Years)
$

105.00 / ticket
28
Normail
General price:
Adult (11+ years)
$

105.00 / ticket
|
Children (2-10 Years)
$

105.00 / ticket
29
Normail
General price:
Adult (11+ years)
$

105.00 / ticket
|
Children (2-10 Years)
$

105.00 / ticket
30
Normail
General price:
Adult (11+ years)
$

105.00 / ticket
|
Children (2-10 Years)
$

105.00 / ticket
31
Normail
General price:
Adult (11+ years)
$

105.00 / ticket
|
Children (2-10 Years)
$

105.00 / ticket
1
Normail
General price:
Adult (11+ years)
$

105.00 / ticket
|
Children (2-10 Years)
$

105.00 / ticket
2
Normail
General price:
Adult (11+ years)
$

105.00 / ticket
|
Children (2-10 Years)
$

105.00 / ticket
3
Normail
General price:
Adult (11+ years)
$

105.00 / ticket
|
Children (2-10 Years)
$

105.00 / ticket
28
Normail
General price:
Adult (11+ years)
$

105.00 / ticket
|
Children (2-10 Years)
$

105.00 / ticket
29
Normail
General price:
Adult (11+ years)
$

105.00 / ticket
|
Children (2-10 Years)
$

105.00 / ticket
30
Normail
General price:
Adult (11+ years)
$

105.00 / ticket
|
Children (2-10 Years)
$

105.00 / ticket
31
Normail
General price:
Adult (11+ years)
$

105.00 / ticket
|
Children (2-10 Years)
$

105.00 / ticket
1
Normail
General price:
Adult (11+ years)
$

105.00 / ticket
|
Children (2-10 Years)
$

105.00 / ticket
2
Normail
General price:
Adult (11+ years)
$

105.00 / ticket
|
Children (2-10 Years)
$

105.00 / ticket
3
Normail
General price:
Adult (11+ years)
$

105.00 / ticket
|
Children (2-10 Years)
$

105.00 / ticket
4
Normail
General price:
Adult (11+ years)
$

105.00 / ticket
|
Children (2-10 Years)
$

105.00 / ticket
5
Normail
General price:
Adult (11+ years)
$

105.00 / ticket
|
Children (2-10 Years)
$

105.00 / ticket
6
Normail
General price:
Adult (11+ years)
$

105.00 / ticket
|
Children (2-10 Years)
$

105.00 / ticket
7
Normail
General price:
Adult (11+ years)
$

105.00 / ticket
|
Children (2-10 Years)
$

105.00 / ticket
8
Normail
General price:
Adult (11+ years)
$

105.00 / ticket
|
Children (2-10 Years)
$

105.00 / ticket
9
Normail
General price:
Adult (11+ years)
$

105.00 / ticket
|
Children (2-10 Years)
$

105.00 / ticket
10
Normail
General price:
Adult (11+ years)
$

105.00 / ticket
|
Children (2-10 Years)
$

105.00 / ticket
11
Normail
General price:
Adult (11+ years)
$

105.00 / ticket
|
Children (2-10 Years)
$

105.00 / ticket
12
Normail
General price:
Adult (11+ years)
$

105.00 / ticket
|
Children (2-10 Years)
$

105.00 / ticket
13
Normail
General price:
Adult (11+ years)
$

105.00 / ticket
|
Children (2-10 Years)
$

105.00 / ticket
14
Normail
General price:
Adult (11+ years)
$

105.00 / ticket
|
Children (2-10 Years)
$

105.00 / ticket
15
Normail
General price:
Adult (11+ years)
$

105.00 / ticket
|
Children (2-10 Years)
$

105.00 / ticket
16
Normail
General price:
Adult (11+ years)
$

105.00 / ticket
|
Children (2-10 Years)
$

105.00 / ticket
17
Normail
General price:
Adult (11+ years)
$

105.00 / ticket
|
Children (2-10 Years)
$

105.00 / ticket
18
Normail
General price:
Adult (11+ years)
$

105.00 / ticket
|
Children (2-10 Years)
$

105.00 / ticket
19
Normail
General price:
Adult (11+ years)
$

105.00 / ticket
|
Children (2-10 Years)
$

105.00 / ticket
20
Normail
General price:
Adult (11+ years)
$

105.00 / ticket
|
Children (2-10 Years)
$

105.00 / ticket
21
Normail
General price:
Adult (11+ years)
$

105.00 / ticket
|
Children (2-10 Years)
$

105.00 / ticket
22
Normail
General price:
Adult (11+ years)
$

105.00 / ticket
|
Children (2-10 Years)
$

105.00 / ticket
23
Normail
General price:
Adult (11+ years)
$

105.00 / ticket
|
Children (2-10 Years)
$

105.00 / ticket
24
Normail
General price:
Adult (11+ years)
$

105.00 / ticket
|
Children (2-10 Years)
$

105.00 / ticket
25
Normail
General price:
Adult (11+ years)
$

105.00 / ticket
|
Children (2-10 Years)
$

105.00 / ticket
26
Normail
General price:
Adult (11+ years)
$

105.00 / ticket
|
Children (2-10 Years)
$

105.00 / ticket
27
Normail
General price:
Adult (11+ years)
$

105.00 / ticket
|
Children (2-10 Years)
$

105.00 / ticket
28
Normail
General price:
Adult (11+ years)
$

105.00 / ticket
|
Children (2-10 Years)
$

105.00 / ticket
29
Normail
General price:
Adult (11+ years)
$

105.00 / ticket
|
Children (2-10 Years)
$

105.00 / ticket
30
Normail
General price:
Adult (11+ years)
$

105.00 / ticket
|
Children (2-10 Years)
$

105.00 / ticket
1
Normail
General price:
Adult (11+ years)
$

105.00 / ticket
|
Children (2-10 Years)
$

105.00 / ticket
25
Normail
General price:
Adult (11+ years)
$

105.00 / ticket
|
Children (2-10 Years)
$

105.00 / ticket
26
Normail
General price:
Adult (11+ years)
$

105.00 / ticket
|
Children (2-10 Years)
$

105.00 / ticket
27
Normail
General price:
Adult (11+ years)
$

105.00 / ticket
|
Children (2-10 Years)
$

105.00 / ticket
28
Normail
General price:
Adult (11+ years)
$

105.00 / ticket
|
Children (2-10 Years)
$

105.00 / ticket
29
Normail
General price:
Adult (11+ years)
$

105.00 / ticket
|
Children (2-10 Years)
$

105.00 / ticket
30
Normail
General price:
Adult (11+ years)
$

105.00 / ticket
|
Children (2-10 Years)
$

105.00 / ticket
1
Normail
General price:
Adult (11+ years)
$

105.00 / ticket
|
Children (2-10 Years)
$

105.00 / ticket
2
Normail
General price:
Adult (11+ years)
$

105.00 / ticket
|
Children (2-10 Years)
$

105.00 / ticket
3
Normail
General price:
Adult (11+ years)
$

105.00 / ticket
|
Children (2-10 Years)
$

105.00 / ticket
4
Normail
General price:
Adult (11+ years)
$

105.00 / ticket
|
Children (2-10 Years)
$

105.00 / ticket
5
Normail
General price:
Adult (11+ years)
$

105.00 / ticket
|
Children (2-10 Years)
$

105.00 / ticket
6
Normail
General price:
Adult (11+ years)
$

105.00 / ticket
|
Children (2-10 Years)
$

105.00 / ticket
7
Normail
General price:
Adult (11+ years)
$

105.00 / ticket
|
Children (2-10 Years)
$

105.00 / ticket
8
Normail
General price:
Adult (11+ years)
$

105.00 / ticket
|
Children (2-10 Years)
$

105.00 / ticket
9
Normail
General price:
Adult (11+ years)
$

105.00 / ticket
|
Children (2-10 Years)
$

105.00 / ticket
10
Normail
General price:
Adult (11+ years)
$

105.00 / ticket
|
Children (2-10 Years)
$

105.00 / ticket
11
Normail
General price:
Adult (11+ years)
$

105.00 / ticket
|
Children (2-10 Years)
$

105.00 / ticket
12
Normail
General price:
Adult (11+ years)
$

105.00 / ticket
|
Children (2-10 Years)
$

105.00 / ticket
13
Normail
General price:
Adult (11+ years)
$

105.00 / ticket
|
Children (2-10 Years)
$

105.00 / ticket
14
Normail
General price:
Adult (11+ years)
$

105.00 / ticket
|
Children (2-10 Years)
$

105.00 / ticket
15
Normail
General price:
Adult (11+ years)
$

105.00 / ticket
|
Children (2-10 Years)
$

105.00 / ticket
16
Normail
General price:
Adult (11+ years)
$

105.00 / ticket
|
Children (2-10 Years)
$

105.00 / ticket
17
Normail
General price:
Adult (11+ years)
$

105.00 / ticket
|
Children (2-10 Years)
$

105.00 / ticket
18
Normail
General price:
Adult (11+ years)
$

105.00 / ticket
|
Children (2-10 Years)
$

105.00 / ticket
19
Normail
General price:
Adult (11+ years)
$

105.00 / ticket
|
Children (2-10 Years)
$

105.00 / ticket
20
Normail
General price:
Adult (11+ years)
$

105.00 / ticket
|
Children (2-10 Years)
$

105.00 / ticket
21
Normail
General price:
Adult (11+ years)
$

105.00 / ticket
|
Children (2-10 Years)
$

105.00 / ticket
22
Normail
General price:
Adult (11+ years)
$

105.00 / ticket
|
Children (2-10 Years)
$

105.00 / ticket
23
Normail
General price:
Adult (11+ years)
$

105.00 / ticket
|
Children (2-10 Years)
$

105.00 / ticket
24
Normail
General price:
Adult (11+ years)
$

105.00 / ticket
|
Children (2-10 Years)
$

105.00 / ticket
25
Normail
General price:
Adult (11+ years)
$

105.00 / ticket
|
Children (2-10 Years)
$

105.00 / ticket
26
Normail
General price:
Adult (11+ years)
$

105.00 / ticket
|
Children (2-10 Years)
$

105.00 / ticket
27
Normail
General price:
Adult (11+ years)
$

105.00 / ticket
|
Children (2-10 Years)
$

105.00 / ticket
28
Normail
General price:
Adult (11+ years)
$

105.00 / ticket
|
Children (2-10 Years)
$

105.00 / ticket
29
Normail
General price:
Adult (11+ years)
$

105.00 / ticket
|
Children (2-10 Years)
$

105.00 / ticket
30
Normail
General price:
Adult (11+ years)
$

105.00 / ticket
|
Children (2-10 Years)
$

105.00 / ticket
31
Normail
General price:
Adult (11+ years)
$

105.00 / ticket
|
Children (2-10 Years)
$

105.00 / ticket
1
Normail
General price:
Adult (11+ years)
$

105.00 / ticket
|
Children (2-10 Years)
$

105.00 / ticket
2
Normail
General price:
Adult (11+ years)
$

105.00 / ticket
|
Children (2-10 Years)
$

105.00 / ticket
3
Normail
General price:
Adult (11+ years)
$

105.00 / ticket
|
Children (2-10 Years)
$

105.00 / ticket
4
Normail
General price:
Adult (11+ years)
$

105.00 / ticket
|
Children (2-10 Years)
$

105.00 / ticket
5
Normail
General price:
Adult (11+ years)
$

105.00 / ticket
|
Children (2-10 Years)
$

105.00 / ticket
30
Normail
General price:
Adult (11+ years)
$

105.00 / ticket
|
Children (2-10 Years)
$

105.00 / ticket
31
Normail
General price:
Adult (11+ years)
$

105.00 / ticket
|
Children (2-10 Years)
$

105.00 / ticket
1
Normail
General price:
Adult (11+ years)
$

105.00 / ticket
|
Children (2-10 Years)
$

105.00 / ticket
2
Normail
General price:
Adult (11+ years)
$

105.00 / ticket
|
Children (2-10 Years)
$

105.00 / ticket
3
Normail
General price:
Adult (11+ years)
$

105.00 / ticket
|
Children (2-10 Years)
$

105.00 / ticket
4
Normail
General price:
Adult (11+ years)
$

105.00 / ticket
|
Children (2-10 Years)
$

105.00 / ticket
5
Normail
General price:
Adult (11+ years)
$

105.00 / ticket
|
Children (2-10 Years)
$

105.00 / ticket
6
Normail
General price:
Adult (11+ years)
$

105.00 / ticket
|
Children (2-10 Years)
$

105.00 / ticket
7
Normail
General price:
Adult (11+ years)
$

105.00 / ticket
|
Children (2-10 Years)
$

105.00 / ticket
8
Normail
General price:
Adult (11+ years)
$

105.00 / ticket
|
Children (2-10 Years)
$

105.00 / ticket
9
Normail
General price:
Adult (11+ years)
$

105.00 / ticket
|
Children (2-10 Years)
$

105.00 / ticket
10
Normail
General price:
Adult (11+ years)
$

105.00 / ticket
|
Children (2-10 Years)
$

105.00 / ticket
11
Normail
General price:
Adult (11+ years)
$

105.00 / ticket
|
Children (2-10 Years)
$

105.00 / ticket
12
Normail
General price:
Adult (11+ years)
$

105.00 / ticket
|
Children (2-10 Years)
$

105.00 / ticket
13
Normail
General price:
Adult (11+ years)
$

105.00 / ticket
|
Children (2-10 Years)
$

105.00 / ticket
14
Normail
General price:
Adult (11+ years)
$

105.00 / ticket
|
Children (2-10 Years)
$

105.00 / ticket
15
Normail
General price:
Adult (11+ years)
$

105.00 / ticket
|
Children (2-10 Years)
$

105.00 / ticket
16
Normail
General price:
Adult (11+ years)
$

105.00 / ticket
|
Children (2-10 Years)
$

105.00 / ticket
17
Normail
General price:
Adult (11+ years)
$

105.00 / ticket
|
Children (2-10 Years)
$

105.00 / ticket
18
Normail
General price:
Adult (11+ years)
$

105.00 / ticket
|
Children (2-10 Years)
$

105.00 / ticket
19
Normail
General price:
Adult (11+ years)
$

105.00 / ticket
|
Children (2-10 Years)
$

105.00 / ticket
20
Normail
General price:
Adult (11+ years)
$

105.00 / ticket
|
Children (2-10 Years)
$

105.00 / ticket
21
Normail
General price:
Adult (11+ years)
$

105.00 / ticket
|
Children (2-10 Years)
$

105.00 / ticket
22
Normail
General price:
Adult (11+ years)
$

105.00 / ticket
|
Children (2-10 Years)
$

105.00 / ticket
23
Normail
General price:
Adult (11+ years)
$

105.00 / ticket
|
Children (2-10 Years)
$

105.00 / ticket
24
Normail
General price:
Adult (11+ years)
$

105.00 / ticket
|
Children (2-10 Years)
$

105.00 / ticket
25
Normail
General price:
Adult (11+ years)
$

105.00 / ticket
|
Children (2-10 Years)
$

105.00 / ticket
26
Normail
General price:
Adult (11+ years)
$

105.00 / ticket
|
Children (2-10 Years)
$

105.00 / ticket
27
Normail
General price:
Adult (11+ years)
$

105.00 / ticket
|
Children (2-10 Years)
$

105.00 / ticket
28
Normail
General price:
Adult (11+ years)
$

105.00 / ticket
|
Children (2-10 Years)
$

105.00 / ticket
29
Normail
General price:
Adult (11+ years)
$

105.00 / ticket
|
Children (2-10 Years)
$

105.00 / ticket
30
Normail
General price:
Adult (11+ years)
$

105.00 / ticket
|
Children (2-10 Years)
$

105.00 / ticket
31
Normail
General price:
Adult (11+ years)
$

105.00 / ticket
|
Children (2-10 Years)
$

105.00 / ticket
1
Normail
General price:
Adult (11+ years)
$

105.00 / ticket
|
Children (2-10 Years)
$

105.00 / ticket
2
Normail
General price:
Adult (11+ years)
$

105.00 / ticket
|
Children (2-10 Years)
$

105.00 / ticket
27
Normail
General price:
Adult (11+ years)
$

105.00 / ticket
|
Children (2-10 Years)
$

105.00 / ticket
28
Normail
General price:
Adult (11+ years)
$

105.00 / ticket
|
Children (2-10 Years)
$

105.00 / ticket
29
Normail
General price:
Adult (11+ years)
$

105.00 / ticket
|
Children (2-10 Years)
$

105.00 / ticket
30
Normail
General price:
Adult (11+ years)
$

105.00 / ticket
|
Children (2-10 Years)
$

105.00 / ticket
31
Normail
General price:
Adult (11+ years)
$

105.00 / ticket
|
Children (2-10 Years)
$

105.00 / ticket
1
Normail
General price:
Adult (11+ years)
$

105.00 / ticket
|
Children (2-10 Years)
$

105.00 / ticket
2
Normail
General price:
Adult (11+ years)
$

105.00 / ticket
|
Children (2-10 Years)
$

105.00 / ticket
3
Normail
General price:
Adult (11+ years)
$

105.00 / ticket
|
Children (2-10 Years)
$

105.00 / ticket
4
Normail
General price:
Adult (11+ years)
$

105.00 / ticket
|
Children (2-10 Years)
$

105.00 / ticket
5
Normail
General price:
Adult (11+ years)
$

105.00 / ticket
|
Children (2-10 Years)
$

105.00 / ticket
6
Normail
General price:
Adult (11+ years)
$

105.00 / ticket
|
Children (2-10 Years)
$

105.00 / ticket
7
Normail
General price:
Adult (11+ years)
$

105.00 / ticket
|
Children (2-10 Years)
$

105.00 / ticket
8
Normail
General price:
Adult (11+ years)
$

105.00 / ticket
|
Children (2-10 Years)
$

105.00 / ticket
9
Normail
General price:
Adult (11+ years)
$

105.00 / ticket
|
Children (2-10 Years)
$

105.00 / ticket
10
Normail
General price:
Adult (11+ years)
$

105.00 / ticket
|
Children (2-10 Years)
$

105.00 / ticket
11
Normail
General price:
Adult (11+ years)
$

105.00 / ticket
|
Children (2-10 Years)
$

105.00 / ticket
12
Normail
General price:
Adult (11+ years)
$

105.00 / ticket
|
Children (2-10 Years)
$

105.00 / ticket
13
Normail
General price:
Adult (11+ years)
$

105.00 / ticket
|
Children (2-10 Years)
$

105.00 / ticket
14
Normail
General price:
Adult (11+ years)
$

105.00 / ticket
|
Children (2-10 Years)
$

105.00 / ticket
15
Normail
General price:
Adult (11+ years)
$

105.00 / ticket
|
Children (2-10 Years)
$

105.00 / ticket
16
Normail
General price:
Adult (11+ years)
$

105.00 / ticket
|
Children (2-10 Years)
$

105.00 / ticket
17
Normail
General price:
Adult (11+ years)
$

105.00 / ticket
|
Children (2-10 Years)
$

105.00 / ticket
18
Normail
General price:
Adult (11+ years)
$

105.00 / ticket
|
Children (2-10 Years)
$

105.00 / ticket
19
Normail
General price:
Adult (11+ years)
$

105.00 / ticket
|
Children (2-10 Years)
$

105.00 / ticket
20
Normail
General price:
Adult (11+ years)
$

105.00 / ticket
|
Children (2-10 Years)
$

105.00 / ticket
21
Normail
General price:
Adult (11+ years)
$

105.00 / ticket
|
Children (2-10 Years)
$

105.00 / ticket
22
Normail
General price:
Adult (11+ years)
$

105.00 / ticket
|
Children (2-10 Years)
$

105.00 / ticket
23
Normail
General price:
Adult (11+ years)
$

105.00 / ticket
|
Children (2-10 Years)
$

105.00 / ticket
24
Normail
General price:
Adult (11+ years)
$

105.00 / ticket
|
Children (2-10 Years)
$

105.00 / ticket
25
Normail
General price:
Adult (11+ years)
$

105.00 / ticket
|
Children (2-10 Years)
$

105.00 / ticket
26
Normail
General price:
Adult (11+ years)
$

105.00 / ticket
|
Children (2-10 Years)
$

105.00 / ticket
27
Normail
General price:
Adult (11+ years)
$

105.00 / ticket
|
Children (2-10 Years)
$

105.00 / ticket
28
Normail
General price:
Adult (11+ years)
$

105.00 / ticket
|
Children (2-10 Years)
$

105.00 / ticket
1
Normail
General price:
Adult (11+ years)
$

105.00 / ticket
|
Children (2-10 Years)
$

105.00 / ticket
2
Normail
General price:
Adult (11+ years)
$

105.00 / ticket
|
Children (2-10 Years)
$

105.00 / ticket
24
Normail
General price:
Adult (11+ years)
$

105.00 / ticket
|
Children (2-10 Years)
$

105.00 / ticket
25
Normail
General price:
Adult (11+ years)
$

105.00 / ticket
|
Children (2-10 Years)
$

105.00 / ticket
26
Normail
General price:
Adult (11+ years)
$

105.00 / ticket
|
Children (2-10 Years)
$

105.00 / ticket
27
Normail
General price:
Adult (11+ years)
$

105.00 / ticket
|
Children (2-10 Years)
$

105.00 / ticket
28
Normail
General price:
Adult (11+ years)
$

105.00 / ticket
|
Children (2-10 Years)
$

105.00 / ticket
1
Normail
General price:
Adult (11+ years)
$

105.00 / ticket
|
Children (2-10 Years)
$

105.00 / ticket
2
Normail
General price:
Adult (11+ years)
$

105.00 / ticket
|
Children (2-10 Years)
$

105.00 / ticket
3
Normail
General price:
Adult (11+ years)
$

105.00 / ticket
|
Children (2-10 Years)
$

105.00 / ticket
4
Normail
General price:
Adult (11+ years)
$

105.00 / ticket
|
Children (2-10 Years)
$

105.00 / ticket
5
Normail
General price:
Adult (11+ years)
$

105.00 / ticket
|
Children (2-10 Years)
$

105.00 / ticket
6
Normail
General price:
Adult (11+ years)
$

105.00 / ticket
|
Children (2-10 Years)
$

105.00 / ticket
7
Normail
General price:
Adult (11+ years)
$

105.00 / ticket
|
Children (2-10 Years)
$

105.00 / ticket
8
Normail
General price:
Adult (11+ years)
$

105.00 / ticket
|
Children (2-10 Years)
$

105.00 / ticket
9
Normail
General price:
Adult (11+ years)
$

105.00 / ticket
|
Children (2-10 Years)
$

105.00 / ticket
10
Normail
General price:
Adult (11+ years)
$

105.00 / ticket
|
Children (2-10 Years)
$

105.00 / ticket
11
Normail
General price:
Adult (11+ years)
$

105.00 / ticket
|
Children (2-10 Years)
$

105.00 / ticket
12
Normail
General price:
Adult (11+ years)
$

105.00 / ticket
|
Children (2-10 Years)
$

105.00 / ticket
13
Normail
General price:
Adult (11+ years)
$

105.00 / ticket
|
Children (2-10 Years)
$

105.00 / ticket
14
Normail
General price:
Adult (11+ years)
$

105.00 / ticket
|
Children (2-10 Years)
$

105.00 / ticket
15
Normail
General price:
Adult (11+ years)
$

105.00 / ticket
|
Children (2-10 Years)
$

105.00 / ticket
16
Normail
General price:
Adult (11+ years)
$

105.00 / ticket
|
Children (2-10 Years)
$

105.00 / ticket
17
Normail
General price:
Adult (11+ years)
$

105.00 / ticket
|
Children (2-10 Years)
$

105.00 / ticket
18
Normail
General price:
Adult (11+ years)
$

105.00 / ticket
|
Children (2-10 Years)
$

105.00 / ticket
19
Normail
General price:
Adult (11+ years)
$

105.00 / ticket
|
Children (2-10 Years)
$

105.00 / ticket
20
Normail
General price:
Adult (11+ years)
$

105.00 / ticket
|
Children (2-10 Years)
$

105.00 / ticket
21
Normail
General price:
Adult (11+ years)
$

105.00 / ticket
|
Children (2-10 Years)
$

105.00 / ticket
22
Normail
General price:
Adult (11+ years)
$

105.00 / ticket
|
Children (2-10 Years)
$

105.00 / ticket
23
Normail
General price:
Adult (11+ years)
$

105.00 / ticket
|
Children (2-10 Years)
$

105.00 / ticket
24
Normail
General price:
Adult (11+ years)
$

105.00 / ticket
|
Children (2-10 Years)
$

105.00 / ticket
25
Normail
General price:
Adult (11+ years)
$

105.00 / ticket
|
Children (2-10 Years)
$

105.00 / ticket
26
Normail
General price:
Adult (11+ years)
$

105.00 / ticket
|
Children (2-10 Years)
$

105.00 / ticket
27
Normail
General price:
Adult (11+ years)
$

105.00 / ticket
|
Children (2-10 Years)
$

105.00 / ticket
28
Normail
General price:
Adult (11+ years)
$

105.00 / ticket
|
Children (2-10 Years)
$

105.00 / ticket
29
Normail
General price:
Adult (11+ years)
$

105.00 / ticket
|
Children (2-10 Years)
$

105.00 / ticket
30
Normail
General price:
Adult (11+ years)
$

105.00 / ticket
|
Children (2-10 Years)
$

105.00 / ticket
31
Normail
General price:
Adult (11+ years)
$

105.00 / ticket
|
Children (2-10 Years)
$

105.00 / ticket
1
Normail
General price:
Adult (11+ years)
$

105.00 / ticket
|
Children (2-10 Years)
$

105.00 / ticket
2
Normail
General price:
Adult (11+ years)
$

105.00 / ticket
|
Children (2-10 Years)
$

105.00 / ticket
3
Normail
General price:
Adult (11+ years)
$

105.00 / ticket
|
Children (2-10 Years)
$

105.00 / ticket
4
Normail
General price:
Adult (11+ years)
$

105.00 / ticket
|
Children (2-10 Years)
$

105.00 / ticket
5
Normail
General price:
Adult (11+ years)
$

105.00 / ticket
|
Children (2-10 Years)
$

105.00 / ticket
6
Normail
General price:
Adult (11+ years)
$

105.00 / ticket
|
Children (2-10 Years)
$

105.00 / ticket
31
Normail
General price:
Adult (11+ years)
$

105.00 / ticket
|
Children (2-10 Years)
$

105.00 / ticket
1
Normail
General price:
Adult (11+ years)
$

105.00 / ticket
|
Children (2-10 Years)
$

105.00 / ticket
2
Normail
General price:
Adult (11+ years)
$

105.00 / ticket
|
Children (2-10 Years)
$

105.00 / ticket
3
Normail
General price:
Adult (11+ years)
$

105.00 / ticket
|
Children (2-10 Years)
$

105.00 / ticket
4
Normail
General price:
Adult (11+ years)
$

105.00 / ticket
|
Children (2-10 Years)
$

105.00 / ticket
5
Normail
General price:
Adult (11+ years)
$

105.00 / ticket
|
Children (2-10 Years)
$

105.00 / ticket
6
Normail
General price:
Adult (11+ years)
$

105.00 / ticket
|
Children (2-10 Years)
$

105.00 / ticket
7
Normail
General price:
Adult (11+ years)
$

105.00 / ticket
|
Children (2-10 Years)
$

105.00 / ticket
8
Normail
General price:
Adult (11+ years)
$

105.00 / ticket
|
Children (2-10 Years)
$

105.00 / ticket
9
Normail
General price:
Adult (11+ years)
$

105.00 / ticket
|
Children (2-10 Years)
$

105.00 / ticket
10
Normail
General price:
Adult (11+ years)
$

105.00 / ticket
|
Children (2-10 Years)
$

105.00 / ticket
11
Normail
General price:
Adult (11+ years)
$

105.00 / ticket
|
Children (2-10 Years)
$

105.00 / ticket
12
Normail
General price:
Adult (11+ years)
$

105.00 / ticket
|
Children (2-10 Years)
$

105.00 / ticket
13
Normail
General price:
Adult (11+ years)
$

105.00 / ticket
|
Children (2-10 Years)
$

105.00 / ticket
14
Normail
General price:
Adult (11+ years)
$

105.00 / ticket
|
Children (2-10 Years)
$

105.00 / ticket
15
Normail
General price:
Adult (11+ years)
$

105.00 / ticket
|
Children (2-10 Years)
$

105.00 / ticket
16
Normail
General price:
Adult (11+ years)
$

105.00 / ticket
|
Children (2-10 Years)
$

105.00 / ticket
17
Normail
General price:
Adult (11+ years)
$

105.00 / ticket
|
Children (2-10 Years)
$

105.00 / ticket
18
Normail
General price:
Adult (11+ years)
$

105.00 / ticket
|
Children (2-10 Years)
$

105.00 / ticket
19
Normail
General price:
Adult (11+ years)
$

105.00 / ticket
|
Children (2-10 Years)
$

105.00 / ticket
20
Normail
General price:
Adult (11+ years)
$

105.00 / ticket
|
Children (2-10 Years)
$

105.00 / ticket
21
Normail
General price:
Adult (11+ years)
$

105.00 / ticket
|
Children (2-10 Years)
$

105.00 / ticket
22
Normail
General price:
Adult (11+ years)
$

105.00 / ticket
|
Children (2-10 Years)
$

105.00 / ticket
23
Normail
General price:
Adult (11+ years)
$

105.00 / ticket
|
Children (2-10 Years)
$

105.00 / ticket
24
Normail
General price:
Adult (11+ years)
$

105.00 / ticket
|
Children (2-10 Years)
$

105.00 / ticket
25
Normail
General price:
Adult (11+ years)
$

105.00 / ticket
|
Children (2-10 Years)
$

105.00 / ticket
26
Normail
General price:
Adult (11+ years)
$

105.00 / ticket
|
Children (2-10 Years)
$

105.00 / ticket
27
Normail
General price:
Adult (11+ years)
$

105.00 / ticket
|
Children (2-10 Years)
$

105.00 / ticket
28
Normail
General price:
Adult (11+ years)
$

105.00 / ticket
|
Children (2-10 Years)
$

105.00 / ticket
29
Normail
General price:
Adult (11+ years)
$

105.00 / ticket
|
Children (2-10 Years)
$

105.00 / ticket
30
Normail
General price:
Adult (11+ years)
$

105.00 / ticket
|
Children (2-10 Years)
$

105.00 / ticket
1
Normail
General price:
Adult (11+ years)
$

105.00 / ticket
|
Children (2-10 Years)
$

105.00 / ticket
2
Normail
General price:
Adult (11+ years)
$

105.00 / ticket
|
Children (2-10 Years)
$

105.00 / ticket
3
Normail
General price:
Adult (11+ years)
$

105.00 / ticket
|
Children (2-10 Years)
$

105.00 / ticket
4
Normail
General price:
Adult (11+ years)
$

105.00 / ticket
|
Children (2-10 Years)
$

105.00 / ticket
28
Normail
General price:
Adult (11+ years)
$

105.00 / ticket
|
Children (2-10 Years)
$

105.00 / ticket
29
Normail
General price:
Adult (11+ years)
$

105.00 / ticket
|
Children (2-10 Years)
$

105.00 / ticket
30
Normail
General price:
Adult (11+ years)
$

105.00 / ticket
|
Children (2-10 Years)
$

105.00 / ticket
1
Normail
General price:
Adult (11+ years)
$

105.00 / ticket
|
Children (2-10 Years)
$

105.00 / ticket
2
Normail
General price:
Adult (11+ years)
$

105.00 / ticket
|
Children (2-10 Years)
$

105.00 / ticket
3
Normail
General price:
Adult (11+ years)
$

105.00 / ticket
|
Children (2-10 Years)
$

105.00 / ticket
4
Normail
General price:
Adult (11+ years)
$

105.00 / ticket
|
Children (2-10 Years)
$

105.00 / ticket
5
Normail
General price:
Adult (11+ years)
$

105.00 / ticket
|
Children (2-10 Years)
$

105.00 / ticket
6
Normail
General price:
Adult (11+ years)
$

105.00 / ticket
|
Children (2-10 Years)
$

105.00 / ticket
7
Normail
General price:
Adult (11+ years)
$

105.00 / ticket
|
Children (2-10 Years)
$

105.00 / ticket
8
Normail
General price:
Adult (11+ years)
$

105.00 / ticket
|
Children (2-10 Years)
$

105.00 / ticket
9
Normail
General price:
Adult (11+ years)
$

105.00 / ticket
|
Children (2-10 Years)
$

105.00 / ticket
10
Normail
General price:
Adult (11+ years)
$

105.00 / ticket
|
Children (2-10 Years)
$

105.00 / ticket
11
Normail
General price:
Adult (11+ years)
$

105.00 / ticket
|
Children (2-10 Years)
$

105.00 / ticket
12
Normail
General price:
Adult (11+ years)
$

105.00 / ticket
|
Children (2-10 Years)
$

105.00 / ticket
13
Normail
General price:
Adult (11+ years)
$

105.00 / ticket
|
Children (2-10 Years)
$

105.00 / ticket
14
Normail
General price:
Adult (11+ years)
$

105.00 / ticket
|
Children (2-10 Years)
$

105.00 / ticket
15
Normail
General price:
Adult (11+ years)
$

105.00 / ticket
|
Children (2-10 Years)
$

105.00 / ticket
16
Normail
General price:
Adult (11+ years)
$

105.00 / ticket
|
Children (2-10 Years)
$

105.00 / ticket
17
Normail
General price:
Adult (11+ years)
$

105.00 / ticket
|
Children (2-10 Years)
$

105.00 / ticket
18
Normail
General price:
Adult (11+ years)
$

105.00 / ticket
|
Children (2-10 Years)
$

105.00 / ticket
19
Normail
General price:
Adult (11+ years)
$

105.00 / ticket
|
Children (2-10 Years)
$

105.00 / ticket
20
Normail
General price:
Adult (11+ years)
$

105.00 / ticket
|
Children (2-10 Years)
$

105.00 / ticket
21
Normail
General price:
Adult (11+ years)
$

105.00 / ticket
|
Children (2-10 Years)
$

105.00 / ticket
22
Normail
General price:
Adult (11+ years)
$

105.00 / ticket
|
Children (2-10 Years)
$

105.00 / ticket
23
Normail
General price:
Adult (11+ years)
$

105.00 / ticket
|
Children (2-10 Years)
$

105.00 / ticket
24
Normail
General price:
Adult (11+ years)
$

105.00 / ticket
|
Children (2-10 Years)
$

105.00 / ticket
25
Normail
General price:
Adult (11+ years)
$

105.00 / ticket
|
Children (2-10 Years)
$

105.00 / ticket
26
Normail
General price:
Adult (11+ years)
$

105.00 / ticket
|
Children (2-10 Years)
$

105.00 / ticket
27
Normail
General price:
Adult (11+ years)
$

105.00 / ticket
|
Children (2-10 Years)
$

105.00 / ticket
28
Normail
General price:
Adult (11+ years)
$

105.00 / ticket
|
Children (2-10 Years)
$

105.00 / ticket
29
Normail
General price:
Adult (11+ years)
$

105.00 / ticket
|
Children (2-10 Years)
$

105.00 / ticket
30
Normail
General price:
Adult (11+ years)
$

105.00 / ticket
|
Children (2-10 Years)
$

105.00 / ticket
31
Normail
General price:
Adult (11+ years)
$

105.00 / ticket
|
Children (2-10 Years)
$

105.00 / ticket
1
Normail
General price:
Adult (11+ years)
$

105.00 / ticket
|
Children (2-10 Years)
$

105.00 / ticket
26
Normail
General price:
Adult (11+ years)
$

105.00 / ticket
|
Children (2-10 Years)
$

105.00 / ticket
27
Normail
General price:
Adult (11+ years)
$

105.00 / ticket
|
Children (2-10 Years)
$

105.00 / ticket
28
Normail
General price:
Adult (11+ years)
$

105.00 / ticket
|
Children (2-10 Years)
$

105.00 / ticket
29
Normail
General price:
Adult (11+ years)
$

105.00 / ticket
|
Children (2-10 Years)
$

105.00 / ticket
30
Normail
General price:
Adult (11+ years)
$

105.00 / ticket
|
Children (2-10 Years)
$

105.00 / ticket
31
Normail
General price:
Adult (11+ years)
$

105.00 / ticket
|
Children (2-10 Years)
$

105.00 / ticket
1
Normail
General price:
Adult (11+ years)
$

105.00 / ticket
|
Children (2-10 Years)
$

105.00 / ticket
2
Normail
General price:
Adult (11+ years)
$

105.00 / ticket
|
Children (2-10 Years)
$

105.00 / ticket
3
Normail
General price:
Adult (11+ years)
$

105.00 / ticket
|
Children (2-10 Years)
$

105.00 / ticket
4
Normail
General price:
Adult (11+ years)
$

105.00 / ticket
|
Children (2-10 Years)
$

105.00 / ticket
5
Normail
General price:
Adult (11+ years)
$

105.00 / ticket
|
Children (2-10 Years)
$

105.00 / ticket
6
Normail
General price:
Adult (11+ years)
$

105.00 / ticket
|
Children (2-10 Years)
$

105.00 / ticket
7
Normail
General price:
Adult (11+ years)
$

105.00 / ticket
|
Children (2-10 Years)
$

105.00 / ticket
8
Normail
General price:
Adult (11+ years)
$

105.00 / ticket
|
Children (2-10 Years)
$

105.00 / ticket
9
Normail
General price:
Adult (11+ years)
$

105.00 / ticket
|
Children (2-10 Years)
$

105.00 / ticket
10
Normail
General price:
Adult (11+ years)
$

105.00 / ticket
|
Children (2-10 Years)
$

105.00 / ticket
11
Normail
General price:
Adult (11+ years)
$

105.00 / ticket
|
Children (2-10 Years)
$

105.00 / ticket
12
Normail
General price:
Adult (11+ years)
$

105.00 / ticket
|
Children (2-10 Years)
$

105.00 / ticket
13
Normail
General price:
Adult (11+ years)
$

105.00 / ticket
|
Children (2-10 Years)
$

105.00 / ticket
14
Normail
General price:
Adult (11+ years)
$

105.00 / ticket
|
Children (2-10 Years)
$

105.00 / ticket
15
Normail
General price:
Adult (11+ years)
$

105.00 / ticket
|
Children (2-10 Years)
$

105.00 / ticket
16
Normail
General price:
Adult (11+ years)
$

105.00 / ticket
|
Children (2-10 Years)
$

105.00 / ticket
17
Normail
General price:
Adult (11+ years)
$

105.00 / ticket
|
Children (2-10 Years)
$

105.00 / ticket
18
Normail
General price:
Adult (11+ years)
$

105.00 / ticket
|
Children (2-10 Years)
$

105.00 / ticket
19
Normail
General price:
Adult (11+ years)
$

105.00 / ticket
|
Children (2-10 Years)
$

105.00 / ticket
20
Normail
General price:
Adult (11+ years)
$

105.00 / ticket
|
Children (2-10 Years)
$

105.00 / ticket
21
Normail
General price:
Adult (11+ years)
$

105.00 / ticket
|
Children (2-10 Years)
$

105.00 / ticket
22
Normail
General price:
Adult (11+ years)
$

105.00 / ticket
|
Children (2-10 Years)
$

105.00 / ticket
23
Normail
General price:
Adult (11+ years)
$

105.00 / ticket
|
Children (2-10 Years)
$

105.00 / ticket
24
Normail
General price:
Adult (11+ years)
$

105.00 / ticket
|
Children (2-10 Years)
$

105.00 / ticket
25
Normail
General price:
Adult (11+ years)
$

105.00 / ticket
|
Children (2-10 Years)
$

105.00 / ticket
26
Normail
General price:
Adult (11+ years)
$

105.00 / ticket
|
Children (2-10 Years)
$

105.00 / ticket
27
Normail
General price:
Adult (11+ years)
$

105.00 / ticket
|
Children (2-10 Years)
$

105.00 / ticket
28
Normail
General price:
Adult (11+ years)
$

105.00 / ticket
|
Children (2-10 Years)
$

105.00 / ticket
29
Normail
General price:
Adult (11+ years)
$

105.00 / ticket
|
Children (2-10 Years)
$

105.00 / ticket
30
Normail
General price:
Adult (11+ years)
$

105.00 / ticket
|
Children (2-10 Years)
$

105.00 / ticket
1
Normail
General price:
Adult (11+ years)
$

105.00 / ticket
|
Children (2-10 Years)
$

105.00 / ticket
2
Normail
General price:
Adult (11+ years)
$

105.00 / ticket
|
Children (2-10 Years)
$

105.00 / ticket
3
Normail
General price:
Adult (11+ years)
$

105.00 / ticket
|
Children (2-10 Years)
$

105.00 / ticket
4
Normail
General price:
Adult (11+ years)
$

105.00 / ticket
|
Children (2-10 Years)
$

105.00 / ticket
5
Normail
General price:
Adult (11+ years)
$

105.00 / ticket
|
Children (2-10 Years)
$

105.00 / ticket
6
Normail
General price:
Adult (11+ years)
$

105.00 / ticket
|
Children (2-10 Years)
$

105.00 / ticket
30
Normail
General price:
Adult (11+ years)
$

105.00 / ticket
|
Children (2-10 Years)
$

105.00 / ticket
1
Normail
General price:
Adult (11+ years)
$

105.00 / ticket
|
Children (2-10 Years)
$

105.00 / ticket
2
Normail
General price:
Adult (11+ years)
$

105.00 / ticket
|
Children (2-10 Years)
$

105.00 / ticket
3
Normail
General price:
Adult (11+ years)
$

105.00 / ticket
|
Children (2-10 Years)
$

105.00 / ticket
4
Normail
General price:
Adult (11+ years)
$

105.00 / ticket
|
Children (2-10 Years)
$

105.00 / ticket
5
Normail
General price:
Adult (11+ years)
$

105.00 / ticket
|
Children (2-10 Years)
$

105.00 / ticket
6
Normail
General price:
Adult (11+ years)
$

105.00 / ticket
|
Children (2-10 Years)
$

105.00 / ticket
7
Normail
General price:
Adult (11+ years)
$

105.00 / ticket
|
Children (2-10 Years)
$

105.00 / ticket
8
Normail
General price:
Adult (11+ years)
$

105.00 / ticket
|
Children (2-10 Years)
$

105.00 / ticket
9
Normail
General price:
Adult (11+ years)
$

105.00 / ticket
|
Children (2-10 Years)
$

105.00 / ticket
10
Normail
General price:
Adult (11+ years)
$

105.00 / ticket
|
Children (2-10 Years)
$

105.00 / ticket
11
Normail
General price:
Adult (11+ years)
$

105.00 / ticket
|
Children (2-10 Years)
$

105.00 / ticket
12
Normail
General price:
Adult (11+ years)
$

105.00 / ticket
|
Children (2-10 Years)
$

105.00 / ticket
13
Normail
General price:
Adult (11+ years)
$

105.00 / ticket
|
Children (2-10 Years)
$

105.00 / ticket
14
Normail
General price:
Adult (11+ years)
$

105.00 / ticket
|
Children (2-10 Years)
$

105.00 / ticket
15
Normail
General price:
Adult (11+ years)
$

105.00 / ticket
|
Children (2-10 Years)
$

105.00 / ticket
16
Normail
General price:
Adult (11+ years)
$

105.00 / ticket
|
Children (2-10 Years)
$

105.00 / ticket
17
Normail
General price:
Adult (11+ years)
$

105.00 / ticket
|
Children (2-10 Years)
$

105.00 / ticket
18
Normail
General price:
Adult (11+ years)
$

105.00 / ticket
|
Children (2-10 Years)
$

105.00 / ticket
19
Normail
General price:
Adult (11+ years)
$

105.00 / ticket
|
Children (2-10 Years)
$

105.00 / ticket
20
Normail
General price:
Adult (11+ years)
$

105.00 / ticket
|
Children (2-10 Years)
$

105.00 / ticket
21
Normail
General price:
Adult (11+ years)
$

105.00 / ticket
|
Children (2-10 Years)
$

105.00 / ticket
22
Normail
General price:
Adult (11+ years)
$

105.00 / ticket
|
Children (2-10 Years)
$

105.00 / ticket
23
Normail
General price:
Adult (11+ years)
$

105.00 / ticket
|
Children (2-10 Years)
$

105.00 / ticket
24
Normail
General price:
Adult (11+ years)
$

105.00 / ticket
|
Children (2-10 Years)
$

105.00 / ticket
25
Normail
General price:
Adult (11+ years)
$

105.00 / ticket
|
Children (2-10 Years)
$

105.00 / ticket
26
Normail
General price:
Adult (11+ years)
$

105.00 / ticket
|
Children (2-10 Years)
$

105.00 / ticket
27
Normail
General price:
Adult (11+ years)
$

105.00 / ticket
|
Children (2-10 Years)
$

105.00 / ticket
28
Normail
General price:
Adult (11+ years)
$

105.00 / ticket
|
Children (2-10 Years)
$

105.00 / ticket
29
Normail
General price:
Adult (11+ years)
$

105.00 / ticket
|
Children (2-10 Years)
$

105.00 / ticket
30
Normail
General price:
Adult (11+ years)
$

105.00 / ticket
|
Children (2-10 Years)
$

105.00 / ticket
31
Normail
General price:
Adult (11+ years)
$

105.00 / ticket
|
Children (2-10 Years)
$

105.00 / ticket
1
Normail
General price:
Adult (11+ years)
$

105.00 / ticket
|
Children (2-10 Years)
$

105.00 / ticket
2
Normail
General price:
Adult (11+ years)
$

105.00 / ticket
|
Children (2-10 Years)
$

105.00 / ticket
3
Normail
General price:
Adult (11+ years)
$

105.00 / ticket
|
Children (2-10 Years)
$

105.00 / ticket
28
Normail
General price:
Adult (11+ years)
$

105.00 / ticket
|
Children (2-10 Years)
$

105.00 / ticket
29
Normail
General price:
Adult (11+ years)
$

105.00 / ticket
|
Children (2-10 Years)
$

105.00 / ticket
30
Normail
General price:
Adult (11+ years)
$

105.00 / ticket
|
Children (2-10 Years)
$

105.00 / ticket
31
Normail
General price:
Adult (11+ years)
$

105.00 / ticket
|
Children (2-10 Years)
$

105.00 / ticket
1
Normail
General price:
Adult (11+ years)
$

105.00 / ticket
|
Children (2-10 Years)
$

105.00 / ticket
2
Normail
General price:
Adult (11+ years)
$

105.00 / ticket
|
Children (2-10 Years)
$

105.00 / ticket
3
Normail
General price:
Adult (11+ years)
$

105.00 / ticket
|
Children (2-10 Years)
$

105.00 / ticket
4
Normail
General price:
Adult (11+ years)
$

105.00 / ticket
|
Children (2-10 Years)
$

105.00 / ticket
5
Normail
General price:
Adult (11+ years)
$

105.00 / ticket
|
Children (2-10 Years)
$

105.00 / ticket
6
Normail
General price:
Adult (11+ years)
$

105.00 / ticket
|
Children (2-10 Years)
$

105.00 / ticket
7
Normail
General price:
Adult (11+ years)
$

105.00 / ticket
|
Children (2-10 Years)
$

105.00 / ticket
8
Normail
General price:
Adult (11+ years)
$

105.00 / ticket
|
Children (2-10 Years)
$

105.00 / ticket
9
Normail
General price:
Adult (11+ years)
$

105.00 / ticket
|
Children (2-10 Years)
$

105.00 / ticket
10
Normail
General price:
Adult (11+ years)
$

105.00 / ticket
|
Children (2-10 Years)
$

105.00 / ticket
11
Normail
General price:
Adult (11+ years)
$

105.00 / ticket
|
Children (2-10 Years)
$

105.00 / ticket
12
Normail
General price:
Adult (11+ years)
$

105.00 / ticket
|
Children (2-10 Years)
$

105.00 / ticket
13
Normail
General price:
Adult (11+ years)
$

105.00 / ticket
|
Children (2-10 Years)
$

105.00 / ticket
14
Normail
General price:
Adult (11+ years)
$

105.00 / ticket
|
Children (2-10 Years)
$

105.00 / ticket
15
Normail
General price:
Adult (11+ years)
$

105.00 / ticket
|
Children (2-10 Years)
$

105.00 / ticket
16
Normail
General price:
Adult (11+ years)
$

105.00 / ticket
|
Children (2-10 Years)
$

105.00 / ticket
17
Normail
General price:
Adult (11+ years)
$

105.00 / ticket
|
Children (2-10 Years)
$

105.00 / ticket
18
Normail
General price:
Adult (11+ years)
$

105.00 / ticket
|
Children (2-10 Years)
$

105.00 / ticket
19
Normail
General price:
Adult (11+ years)
$

105.00 / ticket
|
Children (2-10 Years)
$

105.00 / ticket
20
Normail
General price:
Adult (11+ years)
$

105.00 / ticket
|
Children (2-10 Years)
$

105.00 / ticket
21
Normail
General price:
Adult (11+ years)
$

105.00 / ticket
|
Children (2-10 Years)
$

105.00 / ticket
22
Normail
General price:
Adult (11+ years)
$

105.00 / ticket
|
Children (2-10 Years)
$

105.00 / ticket
23
Normail
General price:
Adult (11+ years)
$

105.00 / ticket
|
Children (2-10 Years)
$

105.00 / ticket
24
Normail
General price:
Adult (11+ years)
$

105.00 / ticket
|
Children (2-10 Years)
$

105.00 / ticket
25
Normail
General price:
Adult (11+ years)
$

105.00 / ticket
|
Children (2-10 Years)
$

105.00 / ticket
26
Normail
General price:
Adult (11+ years)
$

105.00 / ticket
|
Children (2-10 Years)
$

105.00 / ticket
27
Normail
General price:
Adult (11+ years)
$

105.00 / ticket
|
Children (2-10 Years)
$

105.00 / ticket
28
Normail
General price:
Adult (11+ years)
$

105.00 / ticket
|
Children (2-10 Years)
$

105.00 / ticket
29
Normail
General price:
Adult (11+ years)
$

105.00 / ticket
|
Children (2-10 Years)
$

105.00 / ticket
30
Normail
General price:
Adult (11+ years)
$

105.00 / ticket
|
Children (2-10 Years)
$

105.00 / ticket
31
Normail
General price:
Adult (11+ years)
$

105.00 / ticket
|
Children (2-10 Years)
$

105.00 / ticket
1
Normail
General price:
Adult (11+ years)
$

105.00 / ticket
|
Children (2-10 Years)
$

105.00 / ticket
2
Normail
General price:
Adult (11+ years)
$

105.00 / ticket
|
Children (2-10 Years)
$

105.00 / ticket
3
Normail
General price:
Adult (11+ years)
$

105.00 / ticket
|
Children (2-10 Years)
$

105.00 / ticket
4
Normail
General price:
Adult (11+ years)
$

105.00 / ticket
|
Children (2-10 Years)
$

105.00 / ticket
5
Normail
General price:
Adult (11+ years)
$

105.00 / ticket
|
Children (2-10 Years)
$

105.00 / ticket
6
Normail
General price:
Adult (11+ years)
$

105.00 / ticket
|
Children (2-10 Years)
$

105.00 / ticket
7
Normail
General price:
Adult (11+ years)
$

105.00 / ticket
|
Children (2-10 Years)
$

105.00 / ticket
8
Normail
General price:
Adult (11+ years)
$

105.00 / ticket
|
Children (2-10 Years)
$

105.00 / ticket
9
Normail
General price:
Adult (11+ years)
$

105.00 / ticket
|
Children (2-10 Years)
$

105.00 / ticket
10
Normail
General price:
Adult (11+ years)
$

105.00 / ticket
|
Children (2-10 Years)
$

105.00 / ticket
11
Normail
General price:
Adult (11+ years)
$

105.00 / ticket
|
Children (2-10 Years)
$

105.00 / ticket
12
Normail
General price:
Adult (11+ years)
$

105.00 / ticket
|
Children (2-10 Years)
$

105.00 / ticket
13
Normail
General price:
Adult (11+ years)
$

105.00 / ticket
|
Children (2-10 Years)
$

105.00 / ticket
14
Normail
General price:
Adult (11+ years)
$

105.00 / ticket
|
Children (2-10 Years)
$

105.00 / ticket
15
Normail
General price:
Adult (11+ years)
$

105.00 / ticket
|
Children (2-10 Years)
$

105.00 / ticket
16
Normail
General price:
Adult (11+ years)
$

105.00 / ticket
|
Children (2-10 Years)
$

105.00 / ticket
17
Normail
General price:
Adult (11+ years)
$

105.00 / ticket
|
Children (2-10 Years)
$

105.00 / ticket
18
Normail
General price:
Adult (11+ years)
$

105.00 / ticket
|
Children (2-10 Years)
$

105.00 / ticket
19
Normail
General price:
Adult (11+ years)
$

105.00 / ticket
|
Children (2-10 Years)
$

105.00 / ticket
20
Normail
General price:
Adult (11+ years)
$

105.00 / ticket
|
Children (2-10 Years)
$

105.00 / ticket
21
Normail
General price:
Adult (11+ years)
$

105.00 / ticket
|
Children (2-10 Years)
$

105.00 / ticket
22
Normail
General price:
Adult (11+ years)
$

105.00 / ticket
|
Children (2-10 Years)
$

105.00 / ticket
23
Normail
General price:
Adult (11+ years)
$

105.00 / ticket
|
Children (2-10 Years)
$

105.00 / ticket
24
Normail
General price:
Adult (11+ years)
$

105.00 / ticket
|
Children (2-10 Years)
$

105.00 / ticket
25
Normail
General price:
Adult (11+ years)
$

105.00 / ticket
|
Children (2-10 Years)
$

105.00 / ticket
26
Normail
General price:
Adult (11+ years)
$

105.00 / ticket
|
Children (2-10 Years)
$

105.00 / ticket
27
Normail
General price:
Adult (11+ years)
$

105.00 / ticket
|
Children (2-10 Years)
$

105.00 / ticket
28
Normail
General price:
Adult (11+ years)
$

105.00 / ticket
|
Children (2-10 Years)
$

105.00 / ticket
29
Normail
General price:
Adult (11+ years)
$

105.00 / ticket
|
Children (2-10 Years)
$

105.00 / ticket
30
Normail
General price:
Adult (11+ years)
$

105.00 / ticket
|
Children (2-10 Years)
$

105.00 / ticket
1
Normail
General price:
Adult (11+ years)
$

105.00 / ticket
|
Children (2-10 Years)
$

105.00 / ticket
2
Normail
General price:
Adult (11+ years)
$

105.00 / ticket
|
Children (2-10 Years)
$

105.00 / ticket
3
Normail
General price:
Adult (11+ years)
$

105.00 / ticket
|
Children (2-10 Years)
$

105.00 / ticket
4
Normail
General price:
Adult (11+ years)
$

105.00 / ticket
|
Children (2-10 Years)
$

105.00 / ticket
5
Normail
General price:
Adult (11+ years)
$

105.00 / ticket
|
Children (2-10 Years)
$

105.00 / ticket
29
Normail
General price:
Adult (11+ years)
$

105.00 / ticket
|
Children (2-10 Years)
$

105.00 / ticket
30
Normail
General price:
Adult (11+ years)
$

105.00 / ticket
|
Children (2-10 Years)
$

105.00 / ticket
1
Normail
General price:
Adult (11+ years)
$

105.00 / ticket
|
Children (2-10 Years)
$

105.00 / ticket
2
Normail
General price:
Adult (11+ years)
$

105.00 / ticket
|
Children (2-10 Years)
$

105.00 / ticket
3
Normail
General price:
Adult (11+ years)
$

105.00 / ticket
|
Children (2-10 Years)
$

105.00 / ticket
4
Normail
General price:
Adult (11+ years)
$

105.00 / ticket
|
Children (2-10 Years)
$

105.00 / ticket
5
Normail
General price:
Adult (11+ years)
$

105.00 / ticket
|
Children (2-10 Years)
$

105.00 / ticket
6
Normail
General price:
Adult (11+ years)
$

105.00 / ticket
|
Children (2-10 Years)
$

105.00 / ticket
7
Normail
General price:
Adult (11+ years)
$

105.00 / ticket
|
Children (2-10 Years)
$

105.00 / ticket
8
Normail
General price:
Adult (11+ years)
$

105.00 / ticket
|
Children (2-10 Years)
$

105.00 / ticket
9
Normail
General price:
Adult (11+ years)
$

105.00 / ticket
|
Children (2-10 Years)
$

105.00 / ticket
10
Normail
General price:
Adult (11+ years)
$

105.00 / ticket
|
Children (2-10 Years)
$

105.00 / ticket
11
Normail
General price:
Adult (11+ years)
$

105.00 / ticket
|
Children (2-10 Years)
$

105.00 / ticket
12
Normail
General price:
Adult (11+ years)
$

105.00 / ticket
|
Children (2-10 Years)
$

105.00 / ticket
13
Normail
General price:
Adult (11+ years)
$

105.00 / ticket
|
Children (2-10 Years)
$

105.00 / ticket
14
Normail
General price:
Adult (11+ years)
$

105.00 / ticket
|
Children (2-10 Years)
$

105.00 / ticket
15
Normail
General price:
Adult (11+ years)
$

105.00 / ticket
|
Children (2-10 Years)
$

105.00 / ticket
16
Normail
General price:
Adult (11+ years)
$

105.00 / ticket
|
Children (2-10 Years)
$

105.00 / ticket
17
Normail
General price:
Adult (11+ years)
$

105.00 / ticket
|
Children (2-10 Years)
$

105.00 / ticket
18
Normail
General price:
Adult (11+ years)
$

105.00 / ticket
|
Children (2-10 Years)
$

105.00 / ticket
19
Normail
General price:
Adult (11+ years)
$

105.00 / ticket
|
Children (2-10 Years)
$

105.00 / ticket
20
Normail
General price:
Adult (11+ years)
$

105.00 / ticket
|
Children (2-10 Years)
$

105.00 / ticket
21
Normail
General price:
Adult (11+ years)
$

105.00 / ticket
|
Children (2-10 Years)
$

105.00 / ticket
22
Normail
General price:
Adult (11+ years)
$

105.00 / ticket
|
Children (2-10 Years)
$

105.00 / ticket
23
Normail
General price:
Adult (11+ years)
$

105.00 / ticket
|
Children (2-10 Years)
$

105.00 / ticket
24
Normail
General price:
Adult (11+ years)
$

105.00 / ticket
|
Children (2-10 Years)
$

105.00 / ticket
25
Normail
General price:
Adult (11+ years)
$

105.00 / ticket
|
Children (2-10 Years)
$

105.00 / ticket
26
Normail
General price:
Adult (11+ years)
$

105.00 / ticket
|
Children (2-10 Years)
$

105.00 / ticket
27
Normail
General price:
Adult (11+ years)
$

105.00 / ticket
|
Children (2-10 Years)
$

105.00 / ticket
28
Normail
General price:
Adult (11+ years)
$

105.00 / ticket
|
Children (2-10 Years)
$

105.00 / ticket
29
Normail
General price:
Adult (11+ years)
$

105.00 / ticket
|
Children (2-10 Years)
$

105.00 / ticket
30
Normail
General price:
Adult (11+ years)
$

105.00 / ticket
|
Children (2-10 Years)
$

105.00 / ticket
31
Normail
General price:
Adult (11+ years)
$

105.00 / ticket
|
Children (2-10 Years)
$

105.00 / ticket
1
Normail
General price:
Adult (11+ years)
$

105.00 / ticket
|
Children (2-10 Years)
$

105.00 / ticket
2
Normail
General price:
Adult (11+ years)
$

105.00 / ticket
|
Children (2-10 Years)
$

105.00 / ticket
27
Normail
General price:
Adult (11+ years)
$

105.00 / ticket
|
Children (2-10 Years)
$

105.00 / ticket
28
Normail
General price:
Adult (11+ years)
$

105.00 / ticket
|
Children (2-10 Years)
$

105.00 / ticket
29
Normail
General price:
Adult (11+ years)
$

105.00 / ticket
|
Children (2-10 Years)
$

105.00 / ticket
30
Normail
General price:
Adult (11+ years)
$

105.00 / ticket
|
Children (2-10 Years)
$

105.00 / ticket
31
Normail
General price:
Adult (11+ years)
$

105.00 / ticket
|
Children (2-10 Years)
$

105.00 / ticket
1
Normail
General price:
Adult (11+ years)
$

105.00 / ticket
|
Children (2-10 Years)
$

105.00 / ticket
2
Normail
General price:
Adult (11+ years)
$

105.00 / ticket
|
Children (2-10 Years)
$

105.00 / ticket
3
Normail
General price:
Adult (11+ years)
$

105.00 / ticket
|
Children (2-10 Years)
$

105.00 / ticket
4
Normail
General price:
Adult (11+ years)
$

105.00 / ticket
|
Children (2-10 Years)
$

105.00 / ticket
5
Normail
General price:
Adult (11+ years)
$

105.00 / ticket
|
Children (2-10 Years)
$

105.00 / ticket
6
Normail
General price:
Adult (11+ years)
$

105.00 / ticket
|
Children (2-10 Years)
$

105.00 / ticket
7
Normail
General price:
Adult (11+ years)
$

105.00 / ticket
|
Children (2-10 Years)
$

105.00 / ticket
8
Normail
General price:
Adult (11+ years)
$

105.00 / ticket
|
Children (2-10 Years)
$

105.00 / ticket
9
Normail
General price:
Adult (11+ years)
$

105.00 / ticket
|
Children (2-10 Years)
$

105.00 / ticket
10
Normail
General price:
Adult (11+ years)
$

105.00 / ticket
|
Children (2-10 Years)
$

105.00 / ticket
11
Normail
General price:
Adult (11+ years)
$

105.00 / ticket
|
Children (2-10 Years)
$

105.00 / ticket
12
Normail
General price:
Adult (11+ years)
$

105.00 / ticket
|
Children (2-10 Years)
$

105.00 / ticket
13
Normail
General price:
Adult (11+ years)
$

105.00 / ticket
|
Children (2-10 Years)
$

105.00 / ticket
14
Normail
General price:
Adult (11+ years)
$

105.00 / ticket
|
Children (2-10 Years)
$

105.00 / ticket
15
Normail
General price:
Adult (11+ years)
$

105.00 / ticket
|
Children (2-10 Years)
$

105.00 / ticket
16
Normail
General price:
Adult (11+ years)
$

105.00 / ticket
|
Children (2-10 Years)
$

105.00 / ticket
17
Normail
General price:
Adult (11+ years)
$

105.00 / ticket
|
Children (2-10 Years)
$

105.00 / ticket
18
Normail
General price:
Adult (11+ years)
$

105.00 / ticket
|
Children (2-10 Years)
$

105.00 / ticket
19
Normail
General price:
Adult (11+ years)
$

105.00 / ticket
|
Children (2-10 Years)
$

105.00 / ticket
20
Normail
General price:
Adult (11+ years)
$

105.00 / ticket
|
Children (2-10 Years)
$

105.00 / ticket
21
Normail
General price:
Adult (11+ years)
$

105.00 / ticket
|
Children (2-10 Years)
$

105.00 / ticket
22
Normail
General price:
Adult (11+ years)
$

105.00 / ticket
|
Children (2-10 Years)
$

105.00 / ticket
23
Normail
General price:
Adult (11+ years)
$

105.00 / ticket
|
Children (2-10 Years)
$

105.00 / ticket
24
Normail
General price:
Adult (11+ years)
$

105.00 / ticket
|
Children (2-10 Years)
$

105.00 / ticket
25
Normail
General price:
Adult (11+ years)
$

105.00 / ticket
|
Children (2-10 Years)
$

105.00 / ticket
26
Normail
General price:
Adult (11+ years)
$

105.00 / ticket
|
Children (2-10 Years)
$

105.00 / ticket
27
Normail
General price:
Adult (11+ years)
$

105.00 / ticket
|
Children (2-10 Years)
$

105.00 / ticket
28
Normail
General price:
Adult (11+ years)
$

105.00 / ticket
|
Children (2-10 Years)
$

105.00 / ticket
29
Normail
General price:
Adult (11+ years)
$

105.00 / ticket
|
Children (2-10 Years)
$

105.00 / ticket
30
Normail
General price:
Adult (11+ years)
$

105.00 / ticket
|
Children (2-10 Years)
$

105.00 / ticket
1
Normail
General price:
Adult (11+ years)
$

105.00 / ticket
|
Children (2-10 Years)
$

105.00 / ticket
2
Normail
General price:
Adult (11+ years)
$

105.00 / ticket
|
Children (2-10 Years)
$

105.00 / ticket
3
Normail
General price:
Adult (11+ years)
$

105.00 / ticket
|
Children (2-10 Years)
$

105.00 / ticket
4
Normail
General price:
Adult (11+ years)
$

105.00 / ticket
|
Children (2-10 Years)
$

105.00 / ticket
5
Normail
General price:
Adult (11+ years)
$

105.00 / ticket
|
Children (2-10 Years)
$

105.00 / ticket
6
Normail
General price:
Adult (11+ years)
$

105.00 / ticket
|
Children (2-10 Years)
$

105.00 / ticket
7
Normail
General price:
Adult (11+ years)
$

105.00 / ticket
|
Children (2-10 Years)
$

105.00 / ticket
8
Normail
General price:
Adult (11+ years)
$

105.00 / ticket
|
Children (2-10 Years)
$

105.00 / ticket
9
Normail
General price:
Adult (11+ years)
$

105.00 / ticket
|
Children (2-10 Years)
$

105.00 / ticket
10
Normail
General price:
Adult (11+ years)
$

105.00 / ticket
|
Children (2-10 Years)
$

105.00 / ticket
11
Normail
General price:
Adult (11+ years)
$

105.00 / ticket
|
Children (2-10 Years)
$

105.00 / ticket
12
Normail
General price:
Adult (11+ years)
$

105.00 / ticket
|
Children (2-10 Years)
$

105.00 / ticket
13
Normail
General price:
Adult (11+ years)
$

105.00 / ticket
|
Children (2-10 Years)
$

105.00 / ticket
14
Normail
General price:
Adult (11+ years)
$

105.00 / ticket
|
Children (2-10 Years)
$

105.00 / ticket
15
Normail
General price:
Adult (11+ years)
$

105.00 / ticket
|
Children (2-10 Years)
$

105.00 / ticket
16
Normail
General price:
Adult (11+ years)
$

105.00 / ticket
|
Children (2-10 Years)
$

105.00 / ticket
17
Normail
General price:
Adult (11+ years)
$

105.00 / ticket
|
Children (2-10 Years)
$

105.00 / ticket
18
Normail
General price:
Adult (11+ years)
$

105.00 / ticket
|
Children (2-10 Years)
$

105.00 / ticket
19
Normail
General price:
Adult (11+ years)
$

105.00 / ticket
|
Children (2-10 Years)
$

105.00 / ticket
20
Normail
General price:
Adult (11+ years)
$

105.00 / ticket
|
Children (2-10 Years)
$

105.00 / ticket
21
Normail
General price:
Adult (11+ years)
$

105.00 / ticket
|
Children (2-10 Years)
$

105.00 / ticket
22
Normail
General price:
Adult (11+ years)
$

105.00 / ticket
|
Children (2-10 Years)
$

105.00 / ticket
23
Normail
General price:
Adult (11+ years)
$

105.00 / ticket
|
Children (2-10 Years)
$

105.00 / ticket
24
Normail
General price:
Adult (11+ years)
$

105.00 / ticket
|
Children (2-10 Years)
$

105.00 / ticket
25
Normail
General price:
Adult (11+ years)
$

105.00 / ticket
|
Children (2-10 Years)
$

105.00 / ticket
26
Normail
General price:
Adult (11+ years)
$

105.00 / ticket
|
Children (2-10 Years)
$

105.00 / ticket
27
Normail
General price:
Adult (11+ years)
$

105.00 / ticket
|
Children (2-10 Years)
$

105.00 / ticket
28
Normail
General price:
Adult (11+ years)
$

105.00 / ticket
|
Children (2-10 Years)
$

105.00 / ticket
29
Normail
General price:
Adult (11+ years)
$

105.00 / ticket
|
Children (2-10 Years)
$

105.00 / ticket
30
Normail
General price:
Adult (11+ years)
$

105.00 / ticket
|
Children (2-10 Years)
$

105.00 / ticket
31
Normail
General price:
Adult (11+ years)
$

105.00 / ticket
|
Children (2-10 Years)
$

105.00 / ticket
1
Normail
General price:
Adult (11+ years)
$

105.00 / ticket
|
Children (2-10 Years)
$

105.00 / ticket
2
Normail
General price:
Adult (11+ years)
$

105.00 / ticket
|
Children (2-10 Years)
$

105.00 / ticket
3
Normail
General price:
Adult (11+ years)
$

105.00 / ticket
|
Children (2-10 Years)
$

105.00 / ticket
4
Normail
General price:
Adult (11+ years)
$

105.00 / ticket
|
Children (2-10 Years)
$

105.00 / ticket
29
Normail
General price:
Adult (11+ years)
$

105.00 / ticket
|
Children (2-10 Years)
$

105.00 / ticket
30
Normail
General price:
Adult (11+ years)
$

105.00 / ticket
|
Children (2-10 Years)
$

105.00 / ticket
31
Normail
General price:
Adult (11+ years)
$

105.00 / ticket
|
Children (2-10 Years)
$

105.00 / ticket
1
Normail
General price:
Adult (11+ years)
$

105.00 / ticket
|
Children (2-10 Years)
$

105.00 / ticket
2
Normail
General price:
Adult (11+ years)
$

105.00 / ticket
|
Children (2-10 Years)
$

105.00 / ticket
3
Normail
General price:
Adult (11+ years)
$

105.00 / ticket
|
Children (2-10 Years)
$

105.00 / ticket
4
Normail
General price:
Adult (11+ years)
$

105.00 / ticket
|
Children (2-10 Years)
$

105.00 / ticket
5
Normail
General price:
Adult (11+ years)
$

105.00 / ticket
|
Children (2-10 Years)
$

105.00 / ticket
6
Normail
General price:
Adult (11+ years)
$

105.00 / ticket
|
Children (2-10 Years)
$

105.00 / ticket
7
Normail
General price:
Adult (11+ years)
$

105.00 / ticket
|
Children (2-10 Years)
$

105.00 / ticket
8
Normail
General price:
Adult (11+ years)
$

105.00 / ticket
|
Children (2-10 Years)
$

105.00 / ticket
9
Normail
General price:
Adult (11+ years)
$

105.00 / ticket
|
Children (2-10 Years)
$

105.00 / ticket
10
Normail
General price:
Adult (11+ years)
$

105.00 / ticket
|
Children (2-10 Years)
$

105.00 / ticket
11
Normail
General price:
Adult (11+ years)
$

105.00 / ticket
|
Children (2-10 Years)
$

105.00 / ticket
12
Normail
General price:
Adult (11+ years)
$

105.00 / ticket
|
Children (2-10 Years)
$

105.00 / ticket
13
Normail
General price:
Adult (11+ years)
$

105.00 / ticket
|
Children (2-10 Years)