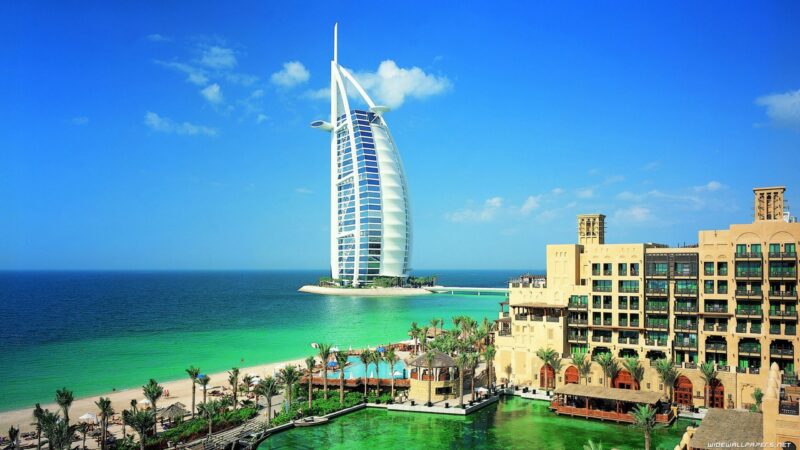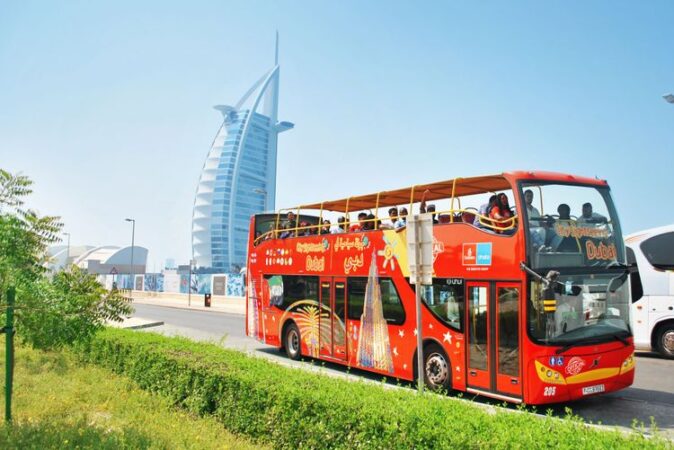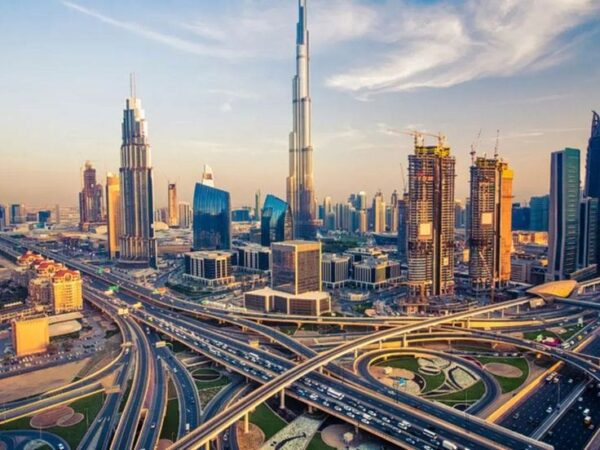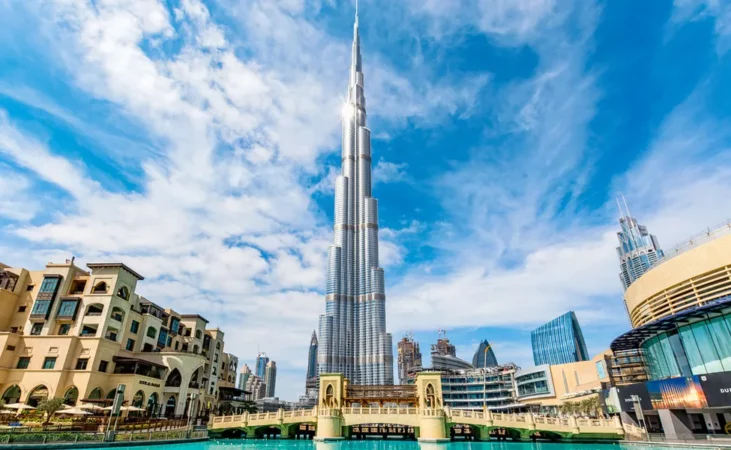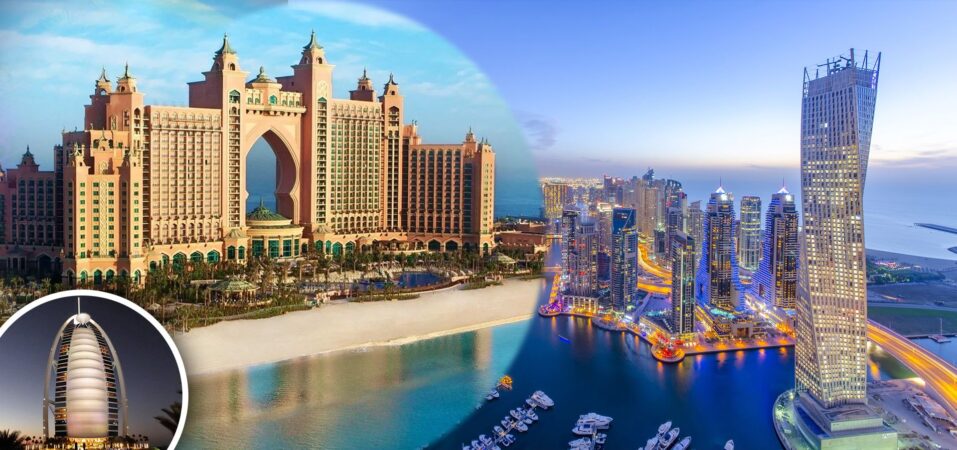 Dubai City Tour (4 Hours)
Description
Itinerary
Reviews
Description
The four-hour Dubai city tour package is one of the best ways to explore both the historic and glittering side of Dubai. Starting from Dubai Creek, the tour includes a visit to Dubai Museum. It has on display arts and artifacts reflecting the ancient history and lifestyle of traditional Arabs. An ideal illustration of a blend of outstanding Islamic and contemporary architecture. Jumeirah Mosque is another popular point of interest covered in the itinerary.
For a peep into the glitzy side of Dubai, our Dubai city tour itinerary further comprises a tour to such phenomenal attractions of the city as Burj Al Arab Hotel – the world's only seven-star hotel. That is especially noted for its distinctive silhouette resembling a billowing sail, the Palm Island – the crescent shaped man-made island, Atlantis Hotel and Burj Khalifa – the towering building that is one of its kind in the whole world. Equally noteworthy is Dubai's scenic attractions, and a visit to well-maintained Jumeirah Beach will provide you with a unique opportunity to immerse in the city's natural beauty.
The journey ends with a drive through Sheik Zayed Road that has imposing skyscrapers lined on its either side and a shopping at one of the city's prominent shopping malls. Whether you're history buff, shopping freak or just here to have a glimpse of city's significant tourist attractions, we assures to cover all your unique requirements.
Itinerary
Reviews
7
Normal
General price:
Adult (11+ years)
$

45.00 / ticket
8
Normal
General price:
Adult (11+ years)
$

45.00 / ticket
9
Normal
General price:
Adult (11+ years)
$

45.00 / ticket
10
Normal
General price:
Adult (11+ years)
$

45.00 / ticket
11
Normal
General price:
Adult (11+ years)
$

45.00 / ticket
12
Normal
General price:
Adult (11+ years)
$

45.00 / ticket
13
Normal
General price:
Adult (11+ years)
$

45.00 / ticket
14
Normal
General price:
Adult (11+ years)
$

45.00 / ticket
15
Normal
General price:
Adult (11+ years)
$

45.00 / ticket
16
Normal
General price:
Adult (11+ years)
$

45.00 / ticket
17
Normal
General price:
Adult (11+ years)
$

45.00 / ticket
18
Normal
General price:
Adult (11+ years)
$

45.00 / ticket
19
Normal
General price:
Adult (11+ years)
$

45.00 / ticket
20
Normal
General price:
Adult (11+ years)
$

45.00 / ticket
21
Normal
General price:
Adult (11+ years)
$

45.00 / ticket
22
Normal
General price:
Adult (11+ years)
$

45.00 / ticket
23
Normal
General price:
Adult (11+ years)
$

45.00 / ticket
24
Normal
General price:
Adult (11+ years)
$

45.00 / ticket
25
Normal
General price:
Adult (11+ years)
$

45.00 / ticket
26
Normal
General price:
Adult (11+ years)
$

45.00 / ticket
27
Normal
General price:
Adult (11+ years)
$

45.00 / ticket
28
Normal
General price:
Adult (11+ years)
$

45.00 / ticket
29
Normal
General price:
Adult (11+ years)
$

45.00 / ticket
30
Normal
General price:
Adult (11+ years)
$

45.00 / ticket
31
Normal
General price:
Adult (11+ years)
$

45.00 / ticket
1
Normal
General price:
Adult (11+ years)
$

45.00 / ticket
2
Normal
General price:
Adult (11+ years)
$

45.00 / ticket
3
Normal
General price:
Adult (11+ years)
$

45.00 / ticket
4
Normal
General price:
Adult (11+ years)
$

45.00 / ticket
5
Normal
General price:
Adult (11+ years)
$

45.00 / ticket
6
Normal
General price:
Adult (11+ years)
$

45.00 / ticket
7
Normal
General price:
Adult (11+ years)
$

45.00 / ticket
8
Normal
General price:
Adult (11+ years)
$

45.00 / ticket
9
Normal
General price:
Adult (11+ years)
$

45.00 / ticket
10
Normal
General price:
Adult (11+ years)
$

45.00 / ticket
11
Normal
General price:
Adult (11+ years)
$

45.00 / ticket
12
Normal
General price:
Adult (11+ years)
$

45.00 / ticket
13
Normal
General price:
Adult (11+ years)
$

45.00 / ticket
14
Normal
General price:
Adult (11+ years)
$

45.00 / ticket
15
Normal
General price:
Adult (11+ years)
$

45.00 / ticket
16
Normal
General price:
Adult (11+ years)
$

45.00 / ticket
17
Normal
General price:
Adult (11+ years)
$

45.00 / ticket
18
Normal
General price:
Adult (11+ years)
$

45.00 / ticket
19
Normal
General price:
Adult (11+ years)
$

45.00 / ticket
20
Normal
General price:
Adult (11+ years)
$

45.00 / ticket
21
Normal
General price:
Adult (11+ years)
$

45.00 / ticket
22
Normal
General price:
Adult (11+ years)
$

45.00 / ticket
23
Normal
General price:
Adult (11+ years)
$

45.00 / ticket
24
Normal
General price:
Adult (11+ years)
$

45.00 / ticket
25
Normal
General price:
Adult (11+ years)
$

45.00 / ticket
26
Normal
General price:
Adult (11+ years)
$

45.00 / ticket
27
Normal
General price:
Adult (11+ years)
$

45.00 / ticket
28
Normal
General price:
Adult (11+ years)
$

45.00 / ticket
29
Normal
General price:
Adult (11+ years)
$

45.00 / ticket
30
Normal
General price:
Adult (11+ years)
$

45.00 / ticket
31
Normal
General price:
Adult (11+ years)
$

45.00 / ticket
1
Normal
General price:
Adult (11+ years)
$

45.00 / ticket
2
Normal
General price:
Adult (11+ years)
$

45.00 / ticket
3
Normal
General price:
Adult (11+ years)
$

45.00 / ticket
4
Normal
General price:
Adult (11+ years)
$

45.00 / ticket
29
Normal
General price:
Adult (11+ years)
$

45.00 / ticket
30
Normal
General price:
Adult (11+ years)
$

45.00 / ticket
31
Normal
General price:
Adult (11+ years)
$

45.00 / ticket
1
Normal
General price:
Adult (11+ years)
$

45.00 / ticket
2
Normal
General price:
Adult (11+ years)
$

45.00 / ticket
3
Normal
General price:
Adult (11+ years)
$

45.00 / ticket
4
Normal
General price:
Adult (11+ years)
$

45.00 / ticket
5
Normal
General price:
Adult (11+ years)
$

45.00 / ticket
6
Normal
General price:
Adult (11+ years)
$

45.00 / ticket
7
Normal
General price:
Adult (11+ years)
$

45.00 / ticket
8
Normal
General price:
Adult (11+ years)
$

45.00 / ticket
9
Normal
General price:
Adult (11+ years)
$

45.00 / ticket
10
Normal
General price:
Adult (11+ years)
$

45.00 / ticket
11
Normal
General price:
Adult (11+ years)
$

45.00 / ticket
12
Normal
General price:
Adult (11+ years)
$

45.00 / ticket
13
Normal
General price:
Adult (11+ years)
$

45.00 / ticket
14
Normal
General price:
Adult (11+ years)
$

45.00 / ticket
15
Normal
General price:
Adult (11+ years)
$

45.00 / ticket
16
Normal
General price:
Adult (11+ years)
$

45.00 / ticket
17
Normal
General price:
Adult (11+ years)
$

45.00 / ticket
18
Normal
General price:
Adult (11+ years)
$

45.00 / ticket
19
Normal
General price:
Adult (11+ years)
$

45.00 / ticket
20
Normal
General price:
Adult (11+ years)
$

45.00 / ticket
21
Normal
General price:
Adult (11+ years)
$

45.00 / ticket
22
Normal
General price:
Adult (11+ years)
$

45.00 / ticket
23
Normal
General price:
Adult (11+ years)
$

45.00 / ticket
24
Normal
General price:
Adult (11+ years)
$

45.00 / ticket
25
Normal
General price:
Adult (11+ years)
$

45.00 / ticket
26
Normal
General price:
Adult (11+ years)
$

45.00 / ticket
27
Normal
General price:
Adult (11+ years)
$

45.00 / ticket
28
Normal
General price:
Adult (11+ years)
$

45.00 / ticket
29
Normal
General price:
Adult (11+ years)
$

45.00 / ticket
1
Normal
General price:
Adult (11+ years)
$

45.00 / ticket
2
Normal
General price:
Adult (11+ years)
$

45.00 / ticket
3
Normal
General price:
Adult (11+ years)
$

45.00 / ticket
26
Normal
General price:
Adult (11+ years)
$

45.00 / ticket
27
Normal
General price:
Adult (11+ years)
$

45.00 / ticket
28
Normal
General price:
Adult (11+ years)
$

45.00 / ticket
29
Normal
General price:
Adult (11+ years)
$

45.00 / ticket
1
Normal
General price:
Adult (11+ years)
$

45.00 / ticket
2
Normal
General price:
Adult (11+ years)
$

45.00 / ticket
3
Normal
General price:
Adult (11+ years)
$

45.00 / ticket
4
Normal
General price:
Adult (11+ years)
$

45.00 / ticket
5
Normal
General price:
Adult (11+ years)
$

45.00 / ticket
6
Normal
General price:
Adult (11+ years)
$

45.00 / ticket
7
Normal
General price:
Adult (11+ years)
$

45.00 / ticket
8
Normal
General price:
Adult (11+ years)
$

45.00 / ticket
9
Normal
General price:
Adult (11+ years)
$

45.00 / ticket
10
Normal
General price:
Adult (11+ years)
$

45.00 / ticket
11
Normal
General price:
Adult (11+ years)
$

45.00 / ticket
12
Normal
General price:
Adult (11+ years)
$

45.00 / ticket
13
Normal
General price:
Adult (11+ years)
$

45.00 / ticket
14
Normal
General price:
Adult (11+ years)
$

45.00 / ticket
15
Normal
General price:
Adult (11+ years)
$

45.00 / ticket
16
Normal
General price:
Adult (11+ years)
$

45.00 / ticket
17
Normal
General price:
Adult (11+ years)
$

45.00 / ticket
18
Normal
General price:
Adult (11+ years)
$

45.00 / ticket
19
Normal
General price:
Adult (11+ years)
$

45.00 / ticket
20
Normal
General price:
Adult (11+ years)
$

45.00 / ticket
21
Normal
General price:
Adult (11+ years)
$

45.00 / ticket
22
Normal
General price:
Adult (11+ years)
$

45.00 / ticket
23
Normal
General price:
Adult (11+ years)
$

45.00 / ticket
24
Normal
General price:
Adult (11+ years)
$

45.00 / ticket
25
Normal
General price:
Adult (11+ years)
$

45.00 / ticket
26
Normal
General price:
Adult (11+ years)
$

45.00 / ticket
27
Normal
General price:
Adult (11+ years)
$

45.00 / ticket
28
Normal
General price:
Adult (11+ years)
$

45.00 / ticket
29
Normal
General price:
Adult (11+ years)
$

45.00 / ticket
30
Normal
General price:
Adult (11+ years)
$

45.00 / ticket
31
Normal
General price:
Adult (11+ years)
$

45.00 / ticket
1
Normal
General price:
Adult (11+ years)
$

45.00 / ticket
2
Normal
General price:
Adult (11+ years)
$

45.00 / ticket
3
Normal
General price:
Adult (11+ years)
$

45.00 / ticket
4
Normal
General price:
Adult (11+ years)
$

45.00 / ticket
5
Normal
General price:
Adult (11+ years)
$

45.00 / ticket
6
Normal
General price:
Adult (11+ years)
$

45.00 / ticket
7
Normal
General price:
Adult (11+ years)
$

45.00 / ticket
8
Normal
General price:
Adult (11+ years)
$

45.00 / ticket
9
Normal
General price:
Adult (11+ years)
$

45.00 / ticket
10
Normal
General price:
Adult (11+ years)
$

45.00 / ticket
11
Normal
General price:
Adult (11+ years)
$

45.00 / ticket
12
Normal
General price:
Adult (11+ years)
$

45.00 / ticket
13
Normal
General price:
Adult (11+ years)
$

45.00 / ticket
14
Normal
General price:
Adult (11+ years)
$

45.00 / ticket
15
Normal
General price:
Adult (11+ years)
$

45.00 / ticket
16
Normal
General price:
Adult (11+ years)
$

45.00 / ticket
17
Normal
General price:
Adult (11+ years)
$

45.00 / ticket
18
Normal
General price:
Adult (11+ years)
$

45.00 / ticket
19
Normal
General price:
Adult (11+ years)
$

45.00 / ticket
20
Normal
General price:
Adult (11+ years)
$

45.00 / ticket
21
Normal
General price:
Adult (11+ years)
$

45.00 / ticket
22
Normal
General price:
Adult (11+ years)
$

45.00 / ticket
23
Normal
General price:
Adult (11+ years)
$

45.00 / ticket
24
Normal
General price:
Adult (11+ years)
$

45.00 / ticket
25
Normal
General price:
Adult (11+ years)
$

45.00 / ticket
26
Normal
General price:
Adult (11+ years)
$

45.00 / ticket
27
Normal
General price:
Adult (11+ years)
$

45.00 / ticket
28
Normal
General price:
Adult (11+ years)
$

45.00 / ticket
29
Normal
General price:
Adult (11+ years)
$

45.00 / ticket
30
Normal
General price:
Adult (11+ years)
$

45.00 / ticket
1
Normal
General price:
Adult (11+ years)
$

45.00 / ticket
2
Normal
General price:
Adult (11+ years)
$

45.00 / ticket
3
Normal
General price:
Adult (11+ years)
$

45.00 / ticket
4
Normal
General price:
Adult (11+ years)
$

45.00 / ticket
5
Normal
General price:
Adult (11+ years)
$

45.00 / ticket
29
Normal
General price:
Adult (11+ years)
$

45.00 / ticket
30
Normal
General price:
Adult (11+ years)
$

45.00 / ticket
1
Normal
General price:
Adult (11+ years)
$

45.00 / ticket
2
Normal
General price:
Adult (11+ years)
$

45.00 / ticket
3
Normal
General price:
Adult (11+ years)
$

45.00 / ticket
4
Normal
General price:
Adult (11+ years)
$

45.00 / ticket
5
Normal
General price:
Adult (11+ years)
$

45.00 / ticket
6
Normal
General price:
Adult (11+ years)
$

45.00 / ticket
7
Normal
General price:
Adult (11+ years)
$

45.00 / ticket
8
Normal
General price:
Adult (11+ years)
$

45.00 / ticket
9
Normal
General price:
Adult (11+ years)
$

45.00 / ticket
10
Normal
General price:
Adult (11+ years)
$

45.00 / ticket
11
Normal
General price:
Adult (11+ years)
$

45.00 / ticket
12
Normal
General price:
Adult (11+ years)
$

45.00 / ticket
13
Normal
General price:
Adult (11+ years)
$

45.00 / ticket
14
Normal
General price:
Adult (11+ years)
$

45.00 / ticket
15
Normal
General price:
Adult (11+ years)
$

45.00 / ticket
16
Normal
General price:
Adult (11+ years)
$

45.00 / ticket
17
Normal
General price:
Adult (11+ years)
$

45.00 / ticket
18
Normal
General price:
Adult (11+ years)
$

45.00 / ticket
19
Normal
General price:
Adult (11+ years)
$

45.00 / ticket
20
Normal
General price:
Adult (11+ years)
$

45.00 / ticket
21
Normal
General price:
Adult (11+ years)
$

45.00 / ticket
22
Normal
General price:
Adult (11+ years)
$

45.00 / ticket
23
Normal
General price:
Adult (11+ years)
$

45.00 / ticket
24
Normal
General price:
Adult (11+ years)
$

45.00 / ticket
25
Normal
General price:
Adult (11+ years)
$

45.00 / ticket
26
Normal
General price:
Adult (11+ years)
$

45.00 / ticket
27
Normal
General price:
Adult (11+ years)
$

45.00 / ticket
28
Normal
General price:
Adult (11+ years)
$

45.00 / ticket
29
Normal
General price:
Adult (11+ years)
$

45.00 / ticket
30
Normal
General price:
Adult (11+ years)
$

45.00 / ticket
31
Normal
General price:
Adult (11+ years)
$

45.00 / ticket
1
Normal
General price:
Adult (11+ years)
$

45.00 / ticket
2
Normal
General price:
Adult (11+ years)
$

45.00 / ticket
27
Normal
General price:
Adult (11+ years)
$

45.00 / ticket
28
Normal
General price:
Adult (11+ years)
$

45.00 / ticket
29
Normal
General price:
Adult (11+ years)
$

45.00 / ticket
30
Normal
General price:
Adult (11+ years)
$

45.00 / ticket
31
Normal
General price:
Adult (11+ years)
$

45.00 / ticket
1
Normal
General price:
Adult (11+ years)
$

45.00 / ticket
2
Normal
General price:
Adult (11+ years)
$

45.00 / ticket
3
Normal
General price:
Adult (11+ years)
$

45.00 / ticket
4
Normal
General price:
Adult (11+ years)
$

45.00 / ticket
5
Normal
General price:
Adult (11+ years)
$

45.00 / ticket
6
Normal
General price:
Adult (11+ years)
$

45.00 / ticket
7
Normal
General price:
Adult (11+ years)
$

45.00 / ticket
8
Normal
General price:
Adult (11+ years)
$

45.00 / ticket
9
Normal
General price:
Adult (11+ years)
$

45.00 / ticket
10
Normal
General price:
Adult (11+ years)
$

45.00 / ticket
11
Normal
General price:
Adult (11+ years)
$

45.00 / ticket
12
Normal
General price:
Adult (11+ years)
$

45.00 / ticket
13
Normal
General price:
Adult (11+ years)
$

45.00 / ticket
14
Normal
General price:
Adult (11+ years)
$

45.00 / ticket
15
Normal
General price:
Adult (11+ years)
$

45.00 / ticket
16
Normal
General price:
Adult (11+ years)
$

45.00 / ticket
17
Normal
General price:
Adult (11+ years)
$

45.00 / ticket
18
Normal
General price:
Adult (11+ years)
$

45.00 / ticket
19
Normal
General price:
Adult (11+ years)
$

45.00 / ticket
20
Normal
General price:
Adult (11+ years)
$

45.00 / ticket
21
Normal
General price:
Adult (11+ years)
$

45.00 / ticket
22
Normal
General price:
Adult (11+ years)
$

45.00 / ticket
23
Normal
General price:
Adult (11+ years)
$

45.00 / ticket
24
Normal
General price:
Adult (11+ years)
$

45.00 / ticket
25
Normal
General price:
Adult (11+ years)
$

45.00 / ticket
26
Normal
General price:
Adult (11+ years)
$

45.00 / ticket
27
Normal
General price:
Adult (11+ years)
$

45.00 / ticket
28
Normal
General price:
Adult (11+ years)
$

45.00 / ticket
29
Normal
General price:
Adult (11+ years)
$

45.00 / ticket
30
Normal
General price:
Adult (11+ years)
$

45.00 / ticket
1
Normal
General price:
Adult (11+ years)
$

45.00 / ticket
2
Normal
General price:
Adult (11+ years)
$

45.00 / ticket
3
Normal
General price:
Adult (11+ years)
$

45.00 / ticket
4
Normal
General price:
Adult (11+ years)
$

45.00 / ticket
5
Normal
General price:
Adult (11+ years)
$

45.00 / ticket
6
Normal
General price:
Adult (11+ years)
$

45.00 / ticket
7
Normal
General price:
Adult (11+ years)
$

45.00 / ticket
8
Normal
General price:
Adult (11+ years)
$

45.00 / ticket
9
Normal
General price:
Adult (11+ years)
$

45.00 / ticket
10
Normal
General price:
Adult (11+ years)
$

45.00 / ticket
11
Normal
General price:
Adult (11+ years)
$

45.00 / ticket
12
Normal
General price:
Adult (11+ years)
$

45.00 / ticket
13
Normal
General price:
Adult (11+ years)
$

45.00 / ticket
14
Normal
General price:
Adult (11+ years)
$

45.00 / ticket
15
Normal
General price:
Adult (11+ years)
$

45.00 / ticket
16
Normal
General price:
Adult (11+ years)
$

45.00 / ticket
17
Normal
General price:
Adult (11+ years)
$

45.00 / ticket
18
Normal
General price:
Adult (11+ years)
$

45.00 / ticket
19
Normal
General price:
Adult (11+ years)
$

45.00 / ticket
20
Normal
General price:
Adult (11+ years)
$

45.00 / ticket
21
Normal
General price:
Adult (11+ years)
$

45.00 / ticket
22
Normal
General price:
Adult (11+ years)
$

45.00 / ticket
23
Normal
General price:
Adult (11+ years)
$

45.00 / ticket
24
Normal
General price:
Adult (11+ years)
$

45.00 / ticket
25
Normal
General price:
Adult (11+ years)
$

45.00 / ticket
26
Normal
General price:
Adult (11+ years)
$

45.00 / ticket
27
Normal
General price:
Adult (11+ years)
$

45.00 / ticket
28
Normal
General price:
Adult (11+ years)
$

45.00 / ticket
29
Normal
General price:
Adult (11+ years)
$

45.00 / ticket
30
Normal
General price:
Adult (11+ years)
$

45.00 / ticket
31
Normal
General price:
Adult (11+ years)
$

45.00 / ticket
1
Normal
General price:
Adult (11+ years)
$

45.00 / ticket
2
Normal
General price:
Adult (11+ years)
$

45.00 / ticket
3
Normal
General price:
Adult (11+ years)
$

45.00 / ticket
4
Normal
General price:
Adult (11+ years)
$

45.00 / ticket
29
Normal
General price:
Adult (11+ years)
$

45.00 / ticket
30
Normal
General price:
Adult (11+ years)
$

45.00 / ticket
31
Normal
General price:
Adult (11+ years)
$

45.00 / ticket
1
Normal
General price:
Adult (11+ years)
$

45.00 / ticket
2
Normal
General price:
Adult (11+ years)
$

45.00 / ticket
3
Normal
General price:
Adult (11+ years)
$

45.00 / ticket
4
Normal
General price:
Adult (11+ years)
$

45.00 / ticket
5
Normal
General price:
Adult (11+ years)
$

45.00 / ticket
6
Normal
General price:
Adult (11+ years)
$

45.00 / ticket
7
Normal
General price:
Adult (11+ years)
$

45.00 / ticket
8
Normal
General price:
Adult (11+ years)
$

45.00 / ticket
9
Normal
General price:
Adult (11+ years)
$

45.00 / ticket
10
Normal
General price:
Adult (11+ years)
$

45.00 / ticket
11
Normal
General price:
Adult (11+ years)
$

45.00 / ticket
12
Normal
General price:
Adult (11+ years)
$

45.00 / ticket
13
Normal
General price:
Adult (11+ years)
$

45.00 / ticket
14
Normal
General price:
Adult (11+ years)
$

45.00 / ticket
15
Normal
General price:
Adult (11+ years)
$

45.00 / ticket
16
Normal
General price:
Adult (11+ years)
$

45.00 / ticket
17
Normal
General price:
Adult (11+ years)
$

45.00 / ticket
18
Normal
General price:
Adult (11+ years)
$

45.00 / ticket
19
Normal
General price:
Adult (11+ years)
$

45.00 / ticket
20
Normal
General price:
Adult (11+ years)
$

45.00 / ticket
21
Normal
General price:
Adult (11+ years)
$

45.00 / ticket
22
Normal
General price:
Adult (11+ years)
$

45.00 / ticket
23
Normal
General price:
Adult (11+ years)
$

45.00 / ticket
24
Normal
General price:
Adult (11+ years)
$

45.00 / ticket
25
Normal
General price:
Adult (11+ years)
$

45.00 / ticket
26
Normal
General price:
Adult (11+ years)
$

45.00 / ticket
27
Normal
General price:
Adult (11+ years)
$

45.00 / ticket
28
Normal
General price:
Adult (11+ years)
$

45.00 / ticket
29
Normal
General price:
Adult (11+ years)
$

45.00 / ticket
30
Normal
General price:
Adult (11+ years)
$

45.00 / ticket
31
Normal
General price:
Adult (11+ years)
$

45.00 / ticket
1
Normal
General price:
Adult (11+ years)
$

45.00 / ticket
26
Normal
General price:
Adult (11+ years)
$

45.00 / ticket
27
Normal
General price:
Adult (11+ years)
$

45.00 / ticket
28
Normal
General price:
Adult (11+ years)
$

45.00 / ticket
29
Normal
General price:
Adult (11+ years)
$

45.00 / ticket
30
Normal
General price:
Adult (11+ years)
$

45.00 / ticket
31
Normal
General price:
Adult (11+ years)
$

45.00 / ticket
1
Normal
General price:
Adult (11+ years)
$

45.00 / ticket
2
Normal
General price:
Adult (11+ years)
$

45.00 / ticket
3
Normal
General price:
Adult (11+ years)
$

45.00 / ticket
4
Normal
General price:
Adult (11+ years)
$

45.00 / ticket
5
Normal
General price:
Adult (11+ years)
$

45.00 / ticket
6
Normal
General price:
Adult (11+ years)
$

45.00 / ticket
7
Normal
General price:
Adult (11+ years)
$

45.00 / ticket
8
Normal
General price:
Adult (11+ years)
$

45.00 / ticket
9
Normal
General price:
Adult (11+ years)
$

45.00 / ticket
10
Normal
General price:
Adult (11+ years)
$

45.00 / ticket
11
Normal
General price:
Adult (11+ years)
$

45.00 / ticket
12
Normal
General price:
Adult (11+ years)
$

45.00 / ticket
13
Normal
General price:
Adult (11+ years)
$

45.00 / ticket
14
Normal
General price:
Adult (11+ years)
$

45.00 / ticket
15
Normal
General price:
Adult (11+ years)
$

45.00 / ticket
16
Normal
General price:
Adult (11+ years)
$

45.00 / ticket
17
Normal
General price:
Adult (11+ years)
$

45.00 / ticket
18
Normal
General price:
Adult (11+ years)
$

45.00 / ticket
19
Normal
General price:
Adult (11+ years)
$

45.00 / ticket
20
Normal
General price:
Adult (11+ years)
$

45.00 / ticket
21
Normal
General price:
Adult (11+ years)
$

45.00 / ticket
22
Normal
General price:
Adult (11+ years)
$

45.00 / ticket
23
Normal
General price:
Adult (11+ years)
$

45.00 / ticket
24
Normal
General price:
Adult (11+ years)
$

45.00 / ticket
25
Normal
General price:
Adult (11+ years)
$

45.00 / ticket
26
Normal
General price:
Adult (11+ years)
$

45.00 / ticket
27
Normal
General price:
Adult (11+ years)
$

45.00 / ticket
28
Normal
General price:
Adult (11+ years)
$

45.00 / ticket
29
Normal
General price:
Adult (11+ years)
$

45.00 / ticket
30
Normal
General price:
Adult (11+ years)
$

45.00 / ticket
1
Normal
General price:
Adult (11+ years)
$

45.00 / ticket
2
Normal
General price:
Adult (11+ years)
$

45.00 / ticket
3
Normal
General price:
Adult (11+ years)
$

45.00 / ticket
4
Normal
General price:
Adult (11+ years)
$

45.00 / ticket
5
Normal
General price:
Adult (11+ years)
$

45.00 / ticket
6
Normal
General price:
Adult (11+ years)
$

45.00 / ticket
30
Normal
General price:
Adult (11+ years)
$

45.00 / ticket
1
Normal
General price:
Adult (11+ years)
$

45.00 / ticket
2
Normal
General price:
Adult (11+ years)
$

45.00 / ticket
3
Normal
General price:
Adult (11+ years)
$

45.00 / ticket
4
Normal
General price:
Adult (11+ years)
$

45.00 / ticket
5
Normal
General price:
Adult (11+ years)
$

45.00 / ticket
6
Normal
General price:
Adult (11+ years)
$

45.00 / ticket
7
Normal
General price:
Adult (11+ years)
$

45.00 / ticket
8
Normal
General price:
Adult (11+ years)
$

45.00 / ticket
9
Normal
General price:
Adult (11+ years)
$

45.00 / ticket
10
Normal
General price:
Adult (11+ years)
$

45.00 / ticket
11
Normal
General price:
Adult (11+ years)
$

45.00 / ticket
12
Normal
General price:
Adult (11+ years)
$

45.00 / ticket
13
Normal
General price:
Adult (11+ years)
$

45.00 / ticket
14
Normal
General price:
Adult (11+ years)
$

45.00 / ticket
15
Normal
General price:
Adult (11+ years)
$

45.00 / ticket
16
Normal
General price:
Adult (11+ years)
$

45.00 / ticket
17
Normal
General price:
Adult (11+ years)
$

45.00 / ticket
18
Normal
General price:
Adult (11+ years)
$

45.00 / ticket
19
Normal
General price:
Adult (11+ years)
$

45.00 / ticket
20
Normal
General price:
Adult (11+ years)
$

45.00 / ticket
21
Normal
General price:
Adult (11+ years)
$

45.00 / ticket
22
Normal
General price:
Adult (11+ years)
$

45.00 / ticket
23
Normal
General price:
Adult (11+ years)
$

45.00 / ticket
24
Normal
General price:
Adult (11+ years)
$

45.00 / ticket
25
Normal
General price:
Adult (11+ years)
$

45.00 / ticket
26
Normal
General price:
Adult (11+ years)
$

45.00 / ticket
27
Normal
General price:
Adult (11+ years)
$

45.00 / ticket
28
Normal
General price:
Adult (11+ years)
$

45.00 / ticket
29
Normal
General price:
Adult (11+ years)
$

45.00 / ticket
30
Normal
General price:
Adult (11+ years)
$

45.00 / ticket
31
Normal
General price:
Adult (11+ years)
$

45.00 / ticket
1
Normal
General price:
Adult (11+ years)
$

45.00 / ticket
2
Normal
General price:
Adult (11+ years)
$

45.00 / ticket
3
Normal
General price:
Adult (11+ years)
$

45.00 / ticket
28
Normal
General price:
Adult (11+ years)
$

45.00 / ticket
29
Normal
General price:
Adult (11+ years)
$

45.00 / ticket
30
Normal
General price:
Adult (11+ years)
$

45.00 / ticket
31
Normal
General price:
Adult (11+ years)
$

45.00 / ticket
1
Normal
General price:
Adult (11+ years)
$

45.00 / ticket
2
Normal
General price:
Adult (11+ years)
$

45.00 / ticket
3
Normal
General price:
Adult (11+ years)
$

45.00 / ticket
4
Normal
General price:
Adult (11+ years)
$

45.00 / ticket
5
Normal
General price:
Adult (11+ years)
$

45.00 / ticket
6
Normal
General price:
Adult (11+ years)
$

45.00 / ticket
7
Normal
General price:
Adult (11+ years)
$

45.00 / ticket
8
Normal
General price:
Adult (11+ years)
$

45.00 / ticket
9
Normal
General price:
Adult (11+ years)
$

45.00 / ticket
10
Normal
General price:
Adult (11+ years)
$

45.00 / ticket
11
Normal
General price:
Adult (11+ years)
$

45.00 / ticket
12
Normal
General price:
Adult (11+ years)
$

45.00 / ticket
13
Normal
General price:
Adult (11+ years)
$

45.00 / ticket
14
Normal
General price:
Adult (11+ years)
$

45.00 / ticket
15
Normal
General price:
Adult (11+ years)
$

45.00 / ticket
16
Normal
General price:
Adult (11+ years)
$

45.00 / ticket
17
Normal
General price:
Adult (11+ years)
$

45.00 / ticket
18
Normal
General price:
Adult (11+ years)
$

45.00 / ticket
19
Normal
General price:
Adult (11+ years)
$

45.00 / ticket
20
Normal
General price:
Adult (11+ years)
$

45.00 / ticket
21
Normal
General price:
Adult (11+ years)
$

45.00 / ticket
22
Normal
General price:
Adult (11+ years)
$

45.00 / ticket
23
Normal
General price:
Adult (11+ years)
$

45.00 / ticket
24
Normal
General price:
Adult (11+ years)
$

45.00 / ticket
25
Normal
General price:
Adult (11+ years)
$

45.00 / ticket
26
Normal
General price:
Adult (11+ years)
$

45.00 / ticket
27
Normal
General price:
Adult (11+ years)
$

45.00 / ticket
28
Normal
General price:
Adult (11+ years)
$

45.00 / ticket
29
Normal
General price:
Adult (11+ years)
$

45.00 / ticket
30
Normal
General price:
Adult (11+ years)
$

45.00 / ticket
1
Normal
General price:
Adult (11+ years)
$

45.00 / ticket
25
Normal
General price:
Adult (11+ years)
$

45.00 / ticket
26
Normal
General price:
Adult (11+ years)
$

45.00 / ticket
27
Normal
General price:
Adult (11+ years)
$

45.00 / ticket
28
Normal
General price:
Adult (11+ years)
$

45.00 / ticket
29
Normal
General price:
Adult (11+ years)
$

45.00 / ticket
30
Normal
General price:
Adult (11+ years)
$

45.00 / ticket
1
Normal
General price:
Adult (11+ years)
$

45.00 / ticket
2
Normal
General price:
Adult (11+ years)
$

45.00 / ticket
3
Normal
General price:
Adult (11+ years)
$

45.00 / ticket
4
Normal
General price:
Adult (11+ years)
$

45.00 / ticket
5
Normal
General price:
Adult (11+ years)
$

45.00 / ticket
6
Normal
General price:
Adult (11+ years)
$

45.00 / ticket
7
Normal
General price:
Adult (11+ years)
$

45.00 / ticket
8
Normal
General price:
Adult (11+ years)
$

45.00 / ticket
9
Normal
General price:
Adult (11+ years)
$

45.00 / ticket
10
Normal
General price:
Adult (11+ years)
$

45.00 / ticket
11
Normal
General price:
Adult (11+ years)
$

45.00 / ticket
12
Normal
General price:
Adult (11+ years)
$

45.00 / ticket
13
Normal
General price:
Adult (11+ years)
$

45.00 / ticket
14
Normal
General price:
Adult (11+ years)
$

45.00 / ticket
15
Normal
General price:
Adult (11+ years)
$

45.00 / ticket
16
Normal
General price:
Adult (11+ years)
$

45.00 / ticket
17
Normal
General price:
Adult (11+ years)
$

45.00 / ticket
18
Normal
General price:
Adult (11+ years)
$

45.00 / ticket
19
Normal
General price:
Adult (11+ years)
$

45.00 / ticket
20
Normal
General price:
Adult (11+ years)
$

45.00 / ticket
21
Normal
General price:
Adult (11+ years)
$

45.00 / ticket
22
Normal
General price:
Adult (11+ years)
$

45.00 / ticket
23
Normal
General price:
Adult (11+ years)
$

45.00 / ticket
24
Normal
General price:
Adult (11+ years)
$

45.00 / ticket
25
Normal
General price:
Adult (11+ years)
$

45.00 / ticket
26
Normal
General price:
Adult (11+ years)
$

45.00 / ticket
27
Normal
General price:
Adult (11+ years)
$

45.00 / ticket
28
Normal
General price:
Adult (11+ years)
$

45.00 / ticket
29
Normal
General price:
Adult (11+ years)
$

45.00 / ticket
30
Normal
General price:
Adult (11+ years)
$

45.00 / ticket
31
Normal
General price:
Adult (11+ years)
$

45.00 / ticket
1
Normal
General price:
Adult (11+ years)
$

45.00 / ticket
2
Normal
General price:
Adult (11+ years)
$

45.00 / ticket
3
Normal
General price:
Adult (11+ years)
$

45.00 / ticket
4
Normal
General price:
Adult (11+ years)
$

45.00 / ticket
5
Normal
General price:
Adult (11+ years)
$

45.00 / ticket
30
Normal
General price:
Adult (11+ years)
$

45.00 / ticket
31
Normal
General price:
Adult (11+ years)
$

45.00 / ticket
1
Normal
General price:
Adult (11+ years)
$

45.00 / ticket
2
Normal
General price:
Adult (11+ years)
$

45.00 / ticket
3
Normal
General price:
Adult (11+ years)
$

45.00 / ticket
4
Normal
General price:
Adult (11+ years)
$

45.00 / ticket
5
Normal
General price:
Adult (11+ years)
$

45.00 / ticket
6
Normal
General price:
Adult (11+ years)
$

45.00 / ticket
7
Normal
General price:
Adult (11+ years)
$

45.00 / ticket
8
Normal
General price:
Adult (11+ years)
$

45.00 / ticket
9
Normal
General price:
Adult (11+ years)
$

45.00 / ticket
10
Normal
General price:
Adult (11+ years)
$

45.00 / ticket
11
Normal
General price:
Adult (11+ years)
$

45.00 / ticket
12
Normal
General price:
Adult (11+ years)
$

45.00 / ticket
13
Normal
General price:
Adult (11+ years)
$

45.00 / ticket
14
Normal
General price:
Adult (11+ years)
$

45.00 / ticket
15
Normal
General price:
Adult (11+ years)
$

45.00 / ticket
16
Normal
General price:
Adult (11+ years)
$

45.00 / ticket
17
Normal
General price:
Adult (11+ years)
$

45.00 / ticket
18
Normal
General price:
Adult (11+ years)
$

45.00 / ticket
19
Normal
General price:
Adult (11+ years)
$

45.00 / ticket
20
Normal
General price:
Adult (11+ years)
$

45.00 / ticket
21
Normal
General price:
Adult (11+ years)
$

45.00 / ticket
22
Normal
General price:
Adult (11+ years)
$

45.00 / ticket
23
Normal
General price:
Adult (11+ years)
$

45.00 / ticket
24
Normal
General price:
Adult (11+ years)
$

45.00 / ticket
25
Normal
General price:
Adult (11+ years)
$

45.00 / ticket
26
Normal
General price:
Adult (11+ years)
$

45.00 / ticket
27
Normal
General price:
Adult (11+ years)
$

45.00 / ticket
28
Normal
General price:
Adult (11+ years)
$

45.00 / ticket
29
Normal
General price:
Adult (11+ years)
$

45.00 / ticket
30
Normal
General price:
Adult (11+ years)
$

45.00 / ticket
31
Normal
General price:
Adult (11+ years)
$

45.00 / ticket
27
Normal
General price:
Adult (11+ years)
$

45.00 / ticket
28
Normal
General price:
Adult (11+ years)
$

45.00 / ticket
29
Normal
General price:
Adult (11+ years)
$

45.00 / ticket
30
Normal
General price:
Adult (11+ years)
$

45.00 / ticket
31
Normal
General price:
Adult (11+ years)
$

45.00 / ticket