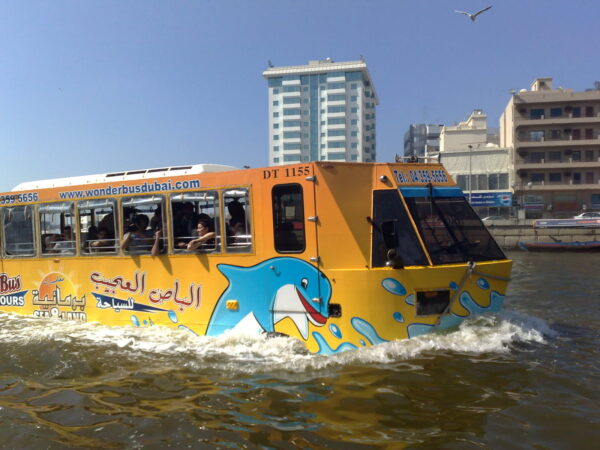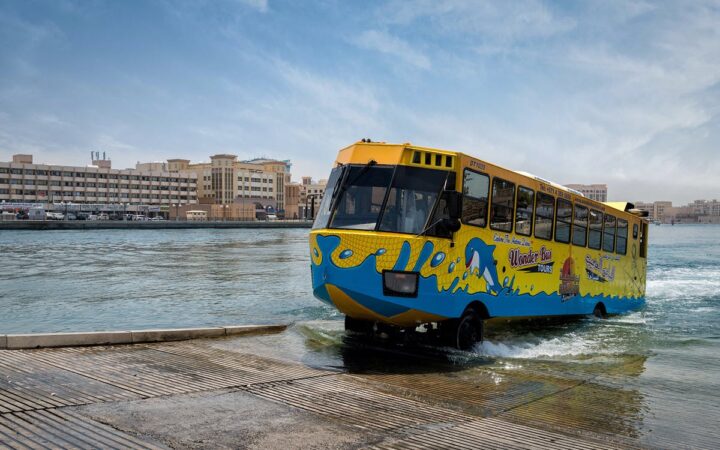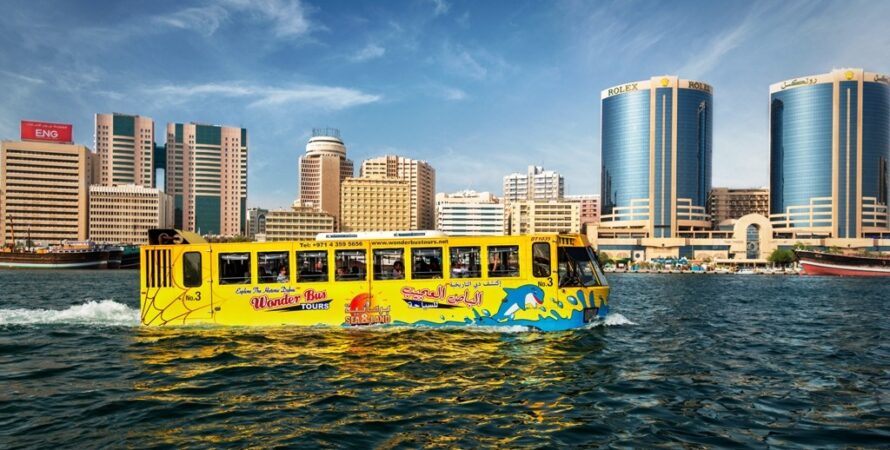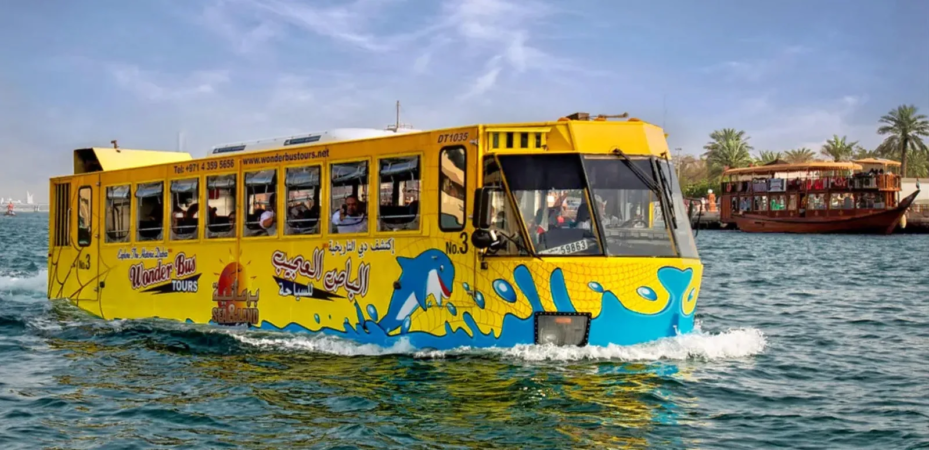 Wonder Bus Tour (2 Hours)
Description
Itinerary
Reviews
Description
Wonder Bus Tours is another Dubai city bus touring company, which was established in 2002 with a 44-seater bus manufactured in the United States. The air-conditioned bus is spacious with a large TV screen, an internal bathroom and refreshments are served during the tour of Dubai. The unique experience about riding this bus is that the tour of Dubai takes you around Dubai and also takes you on water, up and down the Dubai Creek. For safety measures, a life jacket is found under each seat and the bus has an automatic fire extinguishing system. The tour starts from the Bur Juman shopping center and takes a round of Shaikh Khalifa Road, Al Wasl Bridge, Wafi City Centre, Al Boom Restaurant before splashing into the Dubai Creek. The tour continues up and the down the Dubai creek before getting back on land, which then takes you past the Creek Park, Dubai Courts, Al Maktoum Bridge, Sheikha Maryam's Palace and then along Seef Road and Sheikh Khalifa Road before returning to BurJuman Centre.
The tour lasts for 2 hours and operates twice a day (11am and 4pm), departing from the Bur Juman shopping mall. Passengers need to arrive atleast 20 minutes before departure and the tour costs Dhs. 115 (US$ 33) for adults and Dhs. 75 (US$ 22) for children between 3 and 12. Pick-up and drop-off services are available for people staying in Dubai for a fee of Dhs. 30 (US$ 8.50) per person.
Useful Info
Seating arrangement for all transfers are as per the availability & it is allotted by Representative.
The pickup/drop off timing can be modified as per the trip schedule. This also may change depending on traffic conditions and your location.
Some of the mentioned inclusions may remain closed on weekends or specific days as per the government norms for which Saifco Travel does not holds the responsibility.
Infants under 03 years can be carried by parents at their own safety & must be carried on lap if the seats are not reserved on sharing basis.
Summer clothing is suitable for most of the year, but sweaters or jackets may be needed for the winter months.
Having good quality sunglasses, sunscreen and hat are advisable when in direct sunlight.
Private Transport can be organized on request for all tours.
Leaving of your personal belongings like Media equipment, wallets or any other valuable items in our vehicles or tour sites is solely at your own responsibility. Our drivers and tour guides will not be responsible for it.
All the tours/excursion doesn't include Lunch in the mentioned price provided. We can organize upon request at additional cost.
No strollers allowed inside the vehicles without prior information to RTT at the time of making the reservation.
Children from 3 to 12 years must be accompanied by an adult in the water in any of the water activities.
Prices shown are in AED (UAE Currency) based on rates in effect at the time of booking and are subject to change without notice.
The actual transfer timing may vary up to 30/60 minutes to the time listed on the website.
On Islamic occasions and National holidays the tour will not serve alcohol and there will be no live entertainment.
Please read carefully and understand the contents of the Tour Brochure / itinerary, the 'Terms and Conditions', Price Grid and such other documents as may be applicable, as all these will form part of your contract with us once you effect the booking.
Photography of UAE residence especially ladies, military institutions, government buildings and installations, is strictly prohibited.
Littering is a punishable offence and offenders may face penalties in the form of fines.
Smoking inside public areas is not allowed.
Please always avoid public displays of affection as a mark of respect for local customs.
All promotions are subject to terms and conditions. Promotion can be availed by corresponding to our representative directly at +971505474132for more information.
*Cancellation / Amendment / Refund policy*
100% refund for cancellations made at least 72 hours in advance of the start date of the experience.
50% refund for cancellations made at least 48 hours in advance of the start date of the experience.
Cancellations made within 48 hours of the start date of the experience will receive no refund.
No refunds are available once a tour or service has commenced, or in respect of any package or any other services utilized.
Refund will be made within the 7 working days from the cancellation date and refundable amount will depend on above mentioned cancellation policy.
Itinerary
Reviews
8
General
General price:
Adult (11+ years)
$

45.00 / ticket
9
General
General price:
Adult (11+ years)
$

45.00 / ticket
10
General
General price:
Adult (11+ years)
$

45.00 / ticket
11
General
General price:
Adult (11+ years)
$

45.00 / ticket
12
General
General price:
Adult (11+ years)
$

45.00 / ticket
13
General
General price:
Adult (11+ years)
$

45.00 / ticket
14
General
General price:
Adult (11+ years)
$

45.00 / ticket
15
General
General price:
Adult (11+ years)
$

45.00 / ticket
16
General
General price:
Adult (11+ years)
$

45.00 / ticket
17
General
General price:
Adult (11+ years)
$

45.00 / ticket
18
General
General price:
Adult (11+ years)
$

45.00 / ticket
19
General
General price:
Adult (11+ years)
$

45.00 / ticket
20
General
General price:
Adult (11+ years)
$

45.00 / ticket
21
General
General price:
Adult (11+ years)
$

45.00 / ticket
22
General
General price:
Adult (11+ years)
$

45.00 / ticket
23
General
General price:
Adult (11+ years)
$

45.00 / ticket
24
General
General price:
Adult (11+ years)
$

45.00 / ticket
25
General
General price:
Adult (11+ years)
$

45.00 / ticket
26
General
General price:
Adult (11+ years)
$

45.00 / ticket
27
General
General price:
Adult (11+ years)
$

45.00 / ticket
28
General
General price:
Adult (11+ years)
$

45.00 / ticket
29
General
General price:
Adult (11+ years)
$

45.00 / ticket
30
General
General price:
Adult (11+ years)
$

45.00 / ticket
31
General
General price:
Adult (11+ years)
$

45.00 / ticket
1
General
General price:
Adult (11+ years)
$

45.00 / ticket
2
General
General price:
Adult (11+ years)
$

45.00 / ticket
3
General
General price:
Adult (11+ years)
$

45.00 / ticket
4
General
General price:
Adult (11+ years)
$

45.00 / ticket
5
General
General price:
Adult (11+ years)
$

45.00 / ticket
6
General
General price:
Adult (11+ years)
$

45.00 / ticket
7
General
General price:
Adult (11+ years)
$

45.00 / ticket
8
General
General price:
Adult (11+ years)
$

45.00 / ticket
9
General
General price:
Adult (11+ years)
$

45.00 / ticket
10
General
General price:
Adult (11+ years)
$

45.00 / ticket
11
General
General price:
Adult (11+ years)
$

45.00 / ticket
12
General
General price:
Adult (11+ years)
$

45.00 / ticket
13
General
General price:
Adult (11+ years)
$

45.00 / ticket
14
General
General price:
Adult (11+ years)
$

45.00 / ticket
15
General
General price:
Adult (11+ years)
$

45.00 / ticket
16
General
General price:
Adult (11+ years)
$

45.00 / ticket
17
General
General price:
Adult (11+ years)
$

45.00 / ticket
18
General
General price:
Adult (11+ years)
$

45.00 / ticket
19
General
General price:
Adult (11+ years)
$

45.00 / ticket
20
General
General price:
Adult (11+ years)
$

45.00 / ticket
21
General
General price:
Adult (11+ years)
$

45.00 / ticket
22
General
General price:
Adult (11+ years)
$

45.00 / ticket
23
General
General price:
Adult (11+ years)
$

45.00 / ticket
24
General
General price:
Adult (11+ years)
$

45.00 / ticket
25
General
General price:
Adult (11+ years)
$

45.00 / ticket
26
General
General price:
Adult (11+ years)
$

45.00 / ticket
27
General
General price:
Adult (11+ years)
$

45.00 / ticket
28
General
General price:
Adult (11+ years)
$

45.00 / ticket
29
General
General price:
Adult (11+ years)
$

45.00 / ticket
30
General
General price:
Adult (11+ years)
$

45.00 / ticket
31
General
General price:
Adult (11+ years)
$

45.00 / ticket
1
General
General price:
Adult (11+ years)
$

45.00 / ticket
2
General
General price:
Adult (11+ years)
$

45.00 / ticket
3
General
General price:
Adult (11+ years)
$

45.00 / ticket
4
General
General price:
Adult (11+ years)
$

45.00 / ticket
29
General
General price:
Adult (11+ years)
$

45.00 / ticket
30
General
General price:
Adult (11+ years)
$

45.00 / ticket
31
General
General price:
Adult (11+ years)
$

45.00 / ticket
1
General
General price:
Adult (11+ years)
$

45.00 / ticket
2
General
General price:
Adult (11+ years)
$

45.00 / ticket
3
General
General price:
Adult (11+ years)
$

45.00 / ticket
4
General
General price:
Adult (11+ years)
$

45.00 / ticket
5
General
General price:
Adult (11+ years)
$

45.00 / ticket
6
General
General price:
Adult (11+ years)
$

45.00 / ticket
7
General
General price:
Adult (11+ years)
$

45.00 / ticket
8
General
General price:
Adult (11+ years)
$

45.00 / ticket
9
General
General price:
Adult (11+ years)
$

45.00 / ticket
10
General
General price:
Adult (11+ years)
$

45.00 / ticket
11
General
General price:
Adult (11+ years)
$

45.00 / ticket
12
General
General price:
Adult (11+ years)
$

45.00 / ticket
13
General
General price:
Adult (11+ years)
$

45.00 / ticket
14
General
General price:
Adult (11+ years)
$

45.00 / ticket
15
General
General price:
Adult (11+ years)
$

45.00 / ticket
16
General
General price:
Adult (11+ years)
$

45.00 / ticket
17
General
General price:
Adult (11+ years)
$

45.00 / ticket
18
General
General price:
Adult (11+ years)
$

45.00 / ticket
19
General
General price:
Adult (11+ years)
$

45.00 / ticket
20
General
General price:
Adult (11+ years)
$

45.00 / ticket
21
General
General price:
Adult (11+ years)
$

45.00 / ticket
22
General
General price:
Adult (11+ years)
$

45.00 / ticket
23
General
General price:
Adult (11+ years)
$

45.00 / ticket
24
General
General price:
Adult (11+ years)
$

45.00 / ticket
25
General
General price:
Adult (11+ years)
$

45.00 / ticket
26
General
General price:
Adult (11+ years)
$

45.00 / ticket
27
General
General price:
Adult (11+ years)
$

45.00 / ticket
28
General
General price:
Adult (11+ years)
$

45.00 / ticket
29
General
General price:
Adult (11+ years)
$

45.00 / ticket
1
General
General price:
Adult (11+ years)
$

45.00 / ticket
2
General
General price:
Adult (11+ years)
$

45.00 / ticket
3
General
General price:
Adult (11+ years)
$

45.00 / ticket
26
General
General price:
Adult (11+ years)
$

45.00 / ticket
27
General
General price:
Adult (11+ years)
$

45.00 / ticket
28
General
General price:
Adult (11+ years)
$

45.00 / ticket
29
General
General price:
Adult (11+ years)
$

45.00 / ticket
1
General
General price:
Adult (11+ years)
$

45.00 / ticket
2
General
General price:
Adult (11+ years)
$

45.00 / ticket
3
General
General price:
Adult (11+ years)
$

45.00 / ticket
4
General
General price:
Adult (11+ years)
$

45.00 / ticket
5
General
General price:
Adult (11+ years)
$

45.00 / ticket
6
General
General price:
Adult (11+ years)
$

45.00 / ticket
7
General
General price:
Adult (11+ years)
$

45.00 / ticket
8
General
General price:
Adult (11+ years)
$

45.00 / ticket
9
General
General price:
Adult (11+ years)
$

45.00 / ticket
10
General
General price:
Adult (11+ years)
$

45.00 / ticket
11
General
General price:
Adult (11+ years)
$

45.00 / ticket
12
General
General price:
Adult (11+ years)
$

45.00 / ticket
13
General
General price:
Adult (11+ years)
$

45.00 / ticket
14
General
General price:
Adult (11+ years)
$

45.00 / ticket
15
General
General price:
Adult (11+ years)
$

45.00 / ticket
16
General
General price:
Adult (11+ years)
$

45.00 / ticket
17
General
General price:
Adult (11+ years)
$

45.00 / ticket
18
General
General price:
Adult (11+ years)
$

45.00 / ticket
19
General
General price:
Adult (11+ years)
$

45.00 / ticket
20
General
General price:
Adult (11+ years)
$

45.00 / ticket
21
General
General price:
Adult (11+ years)
$

45.00 / ticket
22
General
General price:
Adult (11+ years)
$

45.00 / ticket
23
General
General price:
Adult (11+ years)
$

45.00 / ticket
24
General
General price:
Adult (11+ years)
$

45.00 / ticket
25
General
General price:
Adult (11+ years)
$

45.00 / ticket
26
General
General price:
Adult (11+ years)
$

45.00 / ticket
27
General
General price:
Adult (11+ years)
$

45.00 / ticket
28
General
General price:
Adult (11+ years)
$

45.00 / ticket
29
General
General price:
Adult (11+ years)
$

45.00 / ticket
30
General
General price:
Adult (11+ years)
$

45.00 / ticket
31
General
General price:
Adult (11+ years)
$

45.00 / ticket
1
General
General price:
Adult (11+ years)
$

45.00 / ticket
2
General
General price:
Adult (11+ years)
$

45.00 / ticket
3
General
General price:
Adult (11+ years)
$

45.00 / ticket
4
General
General price:
Adult (11+ years)
$

45.00 / ticket
5
General
General price:
Adult (11+ years)
$

45.00 / ticket
6
General
General price:
Adult (11+ years)
$

45.00 / ticket
7
General
General price:
Adult (11+ years)
$

45.00 / ticket
8
General
General price:
Adult (11+ years)
$

45.00 / ticket
9
General
General price:
Adult (11+ years)
$

45.00 / ticket
10
General
General price:
Adult (11+ years)
$

45.00 / ticket
11
General
General price:
Adult (11+ years)
$

45.00 / ticket
12
General
General price:
Adult (11+ years)
$

45.00 / ticket
13
General
General price:
Adult (11+ years)
$

45.00 / ticket
14
General
General price:
Adult (11+ years)
$

45.00 / ticket
15
General
General price:
Adult (11+ years)
$

45.00 / ticket
16
General
General price:
Adult (11+ years)
$

45.00 / ticket
17
General
General price:
Adult (11+ years)
$

45.00 / ticket
18
General
General price:
Adult (11+ years)
$

45.00 / ticket
19
General
General price:
Adult (11+ years)
$

45.00 / ticket
20
General
General price:
Adult (11+ years)
$

45.00 / ticket
21
General
General price:
Adult (11+ years)
$

45.00 / ticket
22
General
General price:
Adult (11+ years)
$

45.00 / ticket
23
General
General price:
Adult (11+ years)
$

45.00 / ticket
24
General
General price:
Adult (11+ years)
$

45.00 / ticket
25
General
General price:
Adult (11+ years)
$

45.00 / ticket
26
General
General price:
Adult (11+ years)
$

45.00 / ticket
27
General
General price:
Adult (11+ years)
$

45.00 / ticket
28
General
General price:
Adult (11+ years)
$

45.00 / ticket
29
General
General price:
Adult (11+ years)
$

45.00 / ticket
30
General
General price:
Adult (11+ years)
$

45.00 / ticket
1
General
General price:
Adult (11+ years)
$

45.00 / ticket
2
General
General price:
Adult (11+ years)
$

45.00 / ticket
3
General
General price:
Adult (11+ years)
$

45.00 / ticket
4
General
General price:
Adult (11+ years)
$

45.00 / ticket
5
General
General price:
Adult (11+ years)
$

45.00 / ticket
29
General
General price:
Adult (11+ years)
$

45.00 / ticket
30
General
General price:
Adult (11+ years)
$

45.00 / ticket
1
General
General price:
Adult (11+ years)
$

45.00 / ticket
2
General
General price:
Adult (11+ years)
$

45.00 / ticket
3
General
General price:
Adult (11+ years)
$

45.00 / ticket
4
General
General price:
Adult (11+ years)
$

45.00 / ticket
5
General
General price:
Adult (11+ years)
$

45.00 / ticket
6
General
General price:
Adult (11+ years)
$

45.00 / ticket
7
General
General price:
Adult (11+ years)
$

45.00 / ticket
8
General
General price:
Adult (11+ years)
$

45.00 / ticket
9
General
General price:
Adult (11+ years)
$

45.00 / ticket
10
General
General price:
Adult (11+ years)
$

45.00 / ticket
11
General
General price:
Adult (11+ years)
$

45.00 / ticket
12
General
General price:
Adult (11+ years)
$

45.00 / ticket
13
General
General price:
Adult (11+ years)
$

45.00 / ticket
14
General
General price:
Adult (11+ years)
$

45.00 / ticket
15
General
General price:
Adult (11+ years)
$

45.00 / ticket
16
General
General price:
Adult (11+ years)
$

45.00 / ticket
17
General
General price:
Adult (11+ years)
$

45.00 / ticket
18
General
General price:
Adult (11+ years)
$

45.00 / ticket
19
General
General price:
Adult (11+ years)
$

45.00 / ticket
20
General
General price:
Adult (11+ years)
$

45.00 / ticket
21
General
General price:
Adult (11+ years)
$

45.00 / ticket
22
General
General price:
Adult (11+ years)
$

45.00 / ticket
23
General
General price:
Adult (11+ years)
$

45.00 / ticket
24
General
General price:
Adult (11+ years)
$

45.00 / ticket
25
General
General price:
Adult (11+ years)
$

45.00 / ticket
26
General
General price:
Adult (11+ years)
$

45.00 / ticket
27
General
General price:
Adult (11+ years)
$

45.00 / ticket
28
General
General price:
Adult (11+ years)
$

45.00 / ticket
29
General
General price:
Adult (11+ years)
$

45.00 / ticket
30
General
General price:
Adult (11+ years)
$

45.00 / ticket
31
General
General price:
Adult (11+ years)
$

45.00 / ticket
1
General
General price:
Adult (11+ years)
$

45.00 / ticket
2
General
General price:
Adult (11+ years)
$

45.00 / ticket
27
General
General price:
Adult (11+ years)
$

45.00 / ticket
28
General
General price:
Adult (11+ years)
$

45.00 / ticket
29
General
General price:
Adult (11+ years)
$

45.00 / ticket
30
General
General price:
Adult (11+ years)
$

45.00 / ticket
31
General
General price:
Adult (11+ years)
$

45.00 / ticket
1
General
General price:
Adult (11+ years)
$

45.00 / ticket
2
General
General price:
Adult (11+ years)
$

45.00 / ticket
3
General
General price:
Adult (11+ years)
$

45.00 / ticket
4
General
General price:
Adult (11+ years)
$

45.00 / ticket
5
General
General price:
Adult (11+ years)
$

45.00 / ticket
6
General
General price:
Adult (11+ years)
$

45.00 / ticket
7
General
General price:
Adult (11+ years)
$

45.00 / ticket
8
General
General price:
Adult (11+ years)
$

45.00 / ticket
9
General
General price:
Adult (11+ years)
$

45.00 / ticket
10
General
General price:
Adult (11+ years)
$

45.00 / ticket
11
General
General price:
Adult (11+ years)
$

45.00 / ticket
12
General
General price:
Adult (11+ years)
$

45.00 / ticket
13
General
General price:
Adult (11+ years)
$

45.00 / ticket
14
General
General price:
Adult (11+ years)
$

45.00 / ticket
15
General
General price:
Adult (11+ years)
$

45.00 / ticket
16
General
General price:
Adult (11+ years)
$

45.00 / ticket
17
General
General price:
Adult (11+ years)
$

45.00 / ticket
18
General
General price:
Adult (11+ years)
$

45.00 / ticket
19
General
General price:
Adult (11+ years)
$

45.00 / ticket
20
General
General price:
Adult (11+ years)
$

45.00 / ticket
21
General
General price:
Adult (11+ years)
$

45.00 / ticket
22
General
General price:
Adult (11+ years)
$

45.00 / ticket
23
General
General price:
Adult (11+ years)
$

45.00 / ticket
24
General
General price:
Adult (11+ years)
$

45.00 / ticket
25
General
General price:
Adult (11+ years)
$

45.00 / ticket
26
General
General price:
Adult (11+ years)
$

45.00 / ticket
27
General
General price:
Adult (11+ years)
$

45.00 / ticket
28
General
General price:
Adult (11+ years)
$

45.00 / ticket
29
General
General price:
Adult (11+ years)
$

45.00 / ticket
30
General
General price:
Adult (11+ years)
$

45.00 / ticket
1
General
General price:
Adult (11+ years)
$

45.00 / ticket
2
General
General price:
Adult (11+ years)
$

45.00 / ticket
3
General
General price:
Adult (11+ years)
$

45.00 / ticket
4
General
General price:
Adult (11+ years)
$

45.00 / ticket
5
General
General price:
Adult (11+ years)
$

45.00 / ticket
6
General
General price:
Adult (11+ years)
$

45.00 / ticket
7
General
General price:
Adult (11+ years)
$

45.00 / ticket
8
General
General price:
Adult (11+ years)
$

45.00 / ticket
9
General
General price:
Adult (11+ years)
$

45.00 / ticket
10
General
General price:
Adult (11+ years)
$

45.00 / ticket
11
General
General price:
Adult (11+ years)
$

45.00 / ticket
12
General
General price:
Adult (11+ years)
$

45.00 / ticket
13
General
General price:
Adult (11+ years)
$

45.00 / ticket
14
General
General price:
Adult (11+ years)
$

45.00 / ticket
15
General
General price:
Adult (11+ years)
$

45.00 / ticket
16
General
General price:
Adult (11+ years)
$

45.00 / ticket
17
General
General price:
Adult (11+ years)
$

45.00 / ticket
18
General
General price:
Adult (11+ years)
$

45.00 / ticket
19
General
General price:
Adult (11+ years)
$

45.00 / ticket
20
General
General price:
Adult (11+ years)
$

45.00 / ticket
21
General
General price:
Adult (11+ years)
$

45.00 / ticket
22
General
General price:
Adult (11+ years)
$

45.00 / ticket
23
General
General price:
Adult (11+ years)
$

45.00 / ticket
24
General
General price:
Adult (11+ years)
$

45.00 / ticket
25
General
General price:
Adult (11+ years)
$

45.00 / ticket
26
General
General price:
Adult (11+ years)
$

45.00 / ticket
27
General
General price:
Adult (11+ years)
$

45.00 / ticket
28
General
General price:
Adult (11+ years)
$

45.00 / ticket
29
General
General price:
Adult (11+ years)
$

45.00 / ticket
30
General
General price:
Adult (11+ years)
$

45.00 / ticket
31
General
General price:
Adult (11+ years)
$

45.00 / ticket
1
General
General price:
Adult (11+ years)
$

45.00 / ticket
2
General
General price:
Adult (11+ years)
$

45.00 / ticket
3
General
General price:
Adult (11+ years)
$

45.00 / ticket
4
General
General price:
Adult (11+ years)
$

45.00 / ticket
29
General
General price:
Adult (11+ years)
$

45.00 / ticket
30
General
General price:
Adult (11+ years)
$

45.00 / ticket
31
General
General price:
Adult (11+ years)
$

45.00 / ticket
1
General
General price:
Adult (11+ years)
$

45.00 / ticket
2
General
General price:
Adult (11+ years)
$

45.00 / ticket
3
General
General price:
Adult (11+ years)
$

45.00 / ticket
4
General
General price:
Adult (11+ years)
$

45.00 / ticket
5
General
General price:
Adult (11+ years)
$

45.00 / ticket
6
General
General price:
Adult (11+ years)
$

45.00 / ticket
7
General
General price:
Adult (11+ years)
$

45.00 / ticket
8
General
General price:
Adult (11+ years)
$

45.00 / ticket
9
General
General price:
Adult (11+ years)
$

45.00 / ticket
10
General
General price:
Adult (11+ years)
$

45.00 / ticket
11
General
General price:
Adult (11+ years)
$

45.00 / ticket
12
General
General price:
Adult (11+ years)
$

45.00 / ticket
13
General
General price:
Adult (11+ years)
$

45.00 / ticket
14
General
General price:
Adult (11+ years)
$

45.00 / ticket
15
General
General price:
Adult (11+ years)
$

45.00 / ticket
16
General
General price:
Adult (11+ years)
$

45.00 / ticket
17
General
General price:
Adult (11+ years)
$

45.00 / ticket
18
General
General price:
Adult (11+ years)
$

45.00 / ticket
19
General
General price:
Adult (11+ years)
$

45.00 / ticket
20
General
General price:
Adult (11+ years)
$

45.00 / ticket
21
General
General price:
Adult (11+ years)
$

45.00 / ticket
22
General
General price:
Adult (11+ years)
$

45.00 / ticket
23
General
General price:
Adult (11+ years)
$

45.00 / ticket
24
General
General price:
Adult (11+ years)
$

45.00 / ticket
25
General
General price:
Adult (11+ years)
$

45.00 / ticket
26
General
General price:
Adult (11+ years)
$

45.00 / ticket
27
General
General price:
Adult (11+ years)
$

45.00 / ticket
28
General
General price:
Adult (11+ years)
$

45.00 / ticket
29
General
General price:
Adult (11+ years)
$

45.00 / ticket
30
General
General price:
Adult (11+ years)
$

45.00 / ticket
31
General
General price:
Adult (11+ years)
$

45.00 / ticket
1
General
General price:
Adult (11+ years)
$

45.00 / ticket
26
General
General price:
Adult (11+ years)
$

45.00 / ticket
27
General
General price:
Adult (11+ years)
$

45.00 / ticket
28
General
General price:
Adult (11+ years)
$

45.00 / ticket
29
General
General price:
Adult (11+ years)
$

45.00 / ticket
30
General
General price:
Adult (11+ years)
$

45.00 / ticket
31
General
General price:
Adult (11+ years)
$

45.00 / ticket
1
General
General price:
Adult (11+ years)
$

45.00 / ticket
2
General
General price:
Adult (11+ years)
$

45.00 / ticket
3
General
General price:
Adult (11+ years)
$

45.00 / ticket
4
General
General price:
Adult (11+ years)
$

45.00 / ticket
5
General
General price:
Adult (11+ years)
$

45.00 / ticket
6
General
General price:
Adult (11+ years)
$

45.00 / ticket
7
General
General price:
Adult (11+ years)
$

45.00 / ticket
8
General
General price:
Adult (11+ years)
$

45.00 / ticket
9
General
General price:
Adult (11+ years)
$

45.00 / ticket
10
General
General price:
Adult (11+ years)
$

45.00 / ticket
11
General
General price:
Adult (11+ years)
$

45.00 / ticket
12
General
General price:
Adult (11+ years)
$

45.00 / ticket
13
General
General price:
Adult (11+ years)
$

45.00 / ticket
14
General
General price:
Adult (11+ years)
$

45.00 / ticket
15
General
General price:
Adult (11+ years)
$

45.00 / ticket
16
General
General price:
Adult (11+ years)
$

45.00 / ticket
17
General
General price:
Adult (11+ years)
$

45.00 / ticket
18
General
General price:
Adult (11+ years)
$

45.00 / ticket
19
General
General price:
Adult (11+ years)
$

45.00 / ticket
20
General
General price:
Adult (11+ years)
$

45.00 / ticket
21
General
General price:
Adult (11+ years)
$

45.00 / ticket
22
General
General price:
Adult (11+ years)
$

45.00 / ticket
23
General
General price:
Adult (11+ years)
$

45.00 / ticket
24
General
General price:
Adult (11+ years)
$

45.00 / ticket
25
General
General price:
Adult (11+ years)
$

45.00 / ticket
26
General
General price:
Adult (11+ years)
$

45.00 / ticket
27
General
General price:
Adult (11+ years)
$

45.00 / ticket
28
General
General price:
Adult (11+ years)
$

45.00 / ticket
29
General
General price:
Adult (11+ years)
$

45.00 / ticket
30
General
General price:
Adult (11+ years)
$

45.00 / ticket
1
General
General price:
Adult (11+ years)
$

45.00 / ticket
2
General
General price:
Adult (11+ years)
$

45.00 / ticket
3
General
General price:
Adult (11+ years)
$

45.00 / ticket
4
General
General price:
Adult (11+ years)
$

45.00 / ticket
5
General
General price:
Adult (11+ years)
$

45.00 / ticket
6
General
General price:
Adult (11+ years)
$

45.00 / ticket
30
General
General price:
Adult (11+ years)
$

45.00 / ticket
1
General
General price:
Adult (11+ years)
$

45.00 / ticket
2
General
General price:
Adult (11+ years)
$

45.00 / ticket
3
General
General price:
Adult (11+ years)
$

45.00 / ticket
4
General
General price:
Adult (11+ years)
$

45.00 / ticket
5
General
General price:
Adult (11+ years)
$

45.00 / ticket
6
General
General price:
Adult (11+ years)
$

45.00 / ticket
7
General
General price:
Adult (11+ years)
$

45.00 / ticket
8
General
General price:
Adult (11+ years)
$

45.00 / ticket
9
General
General price:
Adult (11+ years)
$

45.00 / ticket
10
General
General price:
Adult (11+ years)
$

45.00 / ticket
11
General
General price:
Adult (11+ years)
$

45.00 / ticket
12
General
General price:
Adult (11+ years)
$

45.00 / ticket
13
General
General price:
Adult (11+ years)
$

45.00 / ticket
14
General
General price:
Adult (11+ years)
$

45.00 / ticket
15
General
General price:
Adult (11+ years)
$

45.00 / ticket
16
General
General price:
Adult (11+ years)
$

45.00 / ticket
17
General
General price:
Adult (11+ years)
$

45.00 / ticket
18
General
General price:
Adult (11+ years)
$

45.00 / ticket
19
General
General price:
Adult (11+ years)
$

45.00 / ticket
20
General
General price:
Adult (11+ years)
$

45.00 / ticket
21
General
General price:
Adult (11+ years)
$

45.00 / ticket
22
General
General price:
Adult (11+ years)
$

45.00 / ticket
23
General
General price:
Adult (11+ years)
$

45.00 / ticket
24
General
General price:
Adult (11+ years)
$

45.00 / ticket
25
General
General price:
Adult (11+ years)
$

45.00 / ticket
26
General
General price:
Adult (11+ years)
$

45.00 / ticket
27
General
General price:
Adult (11+ years)
$

45.00 / ticket
28
General
General price:
Adult (11+ years)
$

45.00 / ticket
29
General
General price:
Adult (11+ years)
$

45.00 / ticket
30
General
General price:
Adult (11+ years)
$

45.00 / ticket
31
General
General price:
Adult (11+ years)
$

45.00 / ticket
1
General
General price:
Adult (11+ years)
$

45.00 / ticket
2
General
General price:
Adult (11+ years)
$

45.00 / ticket
3
General
General price:
Adult (11+ years)
$

45.00 / ticket
28
General
General price:
Adult (11+ years)
$

45.00 / ticket
29
General
General price:
Adult (11+ years)
$

45.00 / ticket
30
General
General price:
Adult (11+ years)
$

45.00 / ticket
31
General
General price:
Adult (11+ years)
$

45.00 / ticket
1
General
General price:
Adult (11+ years)
$

45.00 / ticket
2
General
General price:
Adult (11+ years)
$

45.00 / ticket
3
General
General price:
Adult (11+ years)
$

45.00 / ticket
4
General
General price:
Adult (11+ years)
$

45.00 / ticket
5
General
General price:
Adult (11+ years)
$

45.00 / ticket
6
General
General price:
Adult (11+ years)
$

45.00 / ticket
7
General
General price:
Adult (11+ years)
$

45.00 / ticket
8
General
General price:
Adult (11+ years)
$

45.00 / ticket
9
General
General price:
Adult (11+ years)
$

45.00 / ticket
10
General
General price:
Adult (11+ years)
$

45.00 / ticket
11
General
General price:
Adult (11+ years)
$

45.00 / ticket
12
General
General price:
Adult (11+ years)
$

45.00 / ticket
13
General
General price:
Adult (11+ years)
$

45.00 / ticket
14
General
General price:
Adult (11+ years)
$

45.00 / ticket
15
General
General price:
Adult (11+ years)
$

45.00 / ticket
16
General
General price:
Adult (11+ years)
$

45.00 / ticket
17
General
General price:
Adult (11+ years)
$

45.00 / ticket
18
General
General price:
Adult (11+ years)
$

45.00 / ticket
19
General
General price:
Adult (11+ years)
$

45.00 / ticket
20
General
General price:
Adult (11+ years)
$

45.00 / ticket
21
General
General price:
Adult (11+ years)
$

45.00 / ticket
22
General
General price:
Adult (11+ years)
$

45.00 / ticket
23
General
General price:
Adult (11+ years)
$

45.00 / ticket
24
General
General price:
Adult (11+ years)
$

45.00 / ticket
25
General
General price:
Adult (11+ years)
$

45.00 / ticket
26
General
General price:
Adult (11+ years)
$

45.00 / ticket
27
General
General price:
Adult (11+ years)
$

45.00 / ticket
28
General
General price:
Adult (11+ years)
$

45.00 / ticket
29
General
General price:
Adult (11+ years)
$

45.00 / ticket
30
General
General price:
Adult (11+ years)
$

45.00 / ticket
1
General
General price:
Adult (11+ years)
$

45.00 / ticket
25
General
General price:
Adult (11+ years)
$

45.00 / ticket
26
General
General price:
Adult (11+ years)
$

45.00 / ticket
27
General
General price:
Adult (11+ years)
$

45.00 / ticket
28
General
General price:
Adult (11+ years)
$

45.00 / ticket
29
General
General price:
Adult (11+ years)
$

45.00 / ticket
30
General
General price:
Adult (11+ years)
$

45.00 / ticket
1
General
General price:
Adult (11+ years)
$

45.00 / ticket
2
General
General price:
Adult (11+ years)
$

45.00 / ticket
3
General
General price:
Adult (11+ years)
$

45.00 / ticket
4
General
General price:
Adult (11+ years)
$

45.00 / ticket
5
General
General price:
Adult (11+ years)
$

45.00 / ticket
6
General
General price:
Adult (11+ years)
$

45.00 / ticket
7
General
General price:
Adult (11+ years)
$

45.00 / ticket
8
General
General price:
Adult (11+ years)
$

45.00 / ticket
9
General
General price:
Adult (11+ years)
$

45.00 / ticket
10
General
General price:
Adult (11+ years)
$

45.00 / ticket
11
General
General price:
Adult (11+ years)
$

45.00 / ticket
12
General
General price:
Adult (11+ years)
$

45.00 / ticket
13
General
General price:
Adult (11+ years)
$

45.00 / ticket
14
General
General price:
Adult (11+ years)
$

45.00 / ticket
15
General
General price:
Adult (11+ years)
$

45.00 / ticket
16
General
General price:
Adult (11+ years)
$

45.00 / ticket
17
General
General price:
Adult (11+ years)
$

45.00 / ticket
18
General
General price:
Adult (11+ years)
$

45.00 / ticket
19
General
General price:
Adult (11+ years)
$

45.00 / ticket
20
General
General price:
Adult (11+ years)
$

45.00 / ticket
21
General
General price:
Adult (11+ years)
$

45.00 / ticket
22
General
General price:
Adult (11+ years)
$

45.00 / ticket
23
General
General price:
Adult (11+ years)
$

45.00 / ticket
24
General
General price:
Adult (11+ years)
$

45.00 / ticket
25
General
General price:
Adult (11+ years)
$

45.00 / ticket
26
General
General price:
Adult (11+ years)
$

45.00 / ticket
27
General
General price:
Adult (11+ years)
$

45.00 / ticket
28
General
General price:
Adult (11+ years)
$

45.00 / ticket
29
General
General price:
Adult (11+ years)
$

45.00 / ticket
30
General
General price:
Adult (11+ years)
$

45.00 / ticket
31
General
General price:
Adult (11+ years)
$

45.00 / ticket
1
General
General price:
Adult (11+ years)
$

45.00 / ticket
2
General
General price:
Adult (11+ years)
$

45.00 / ticket
3
General
General price:
Adult (11+ years)
$

45.00 / ticket
4
General
General price:
Adult (11+ years)
$

45.00 / ticket
5
General
General price:
Adult (11+ years)
$

45.00 / ticket
30
General
General price:
Adult (11+ years)
$

45.00 / ticket
31
General
General price:
Adult (11+ years)
$

45.00 / ticket
1
General
General price:
Adult (11+ years)
$

45.00 / ticket
2
General
General price:
Adult (11+ years)
$

45.00 / ticket
3
General
General price:
Adult (11+ years)
$

45.00 / ticket
4
General
General price:
Adult (11+ years)
$

45.00 / ticket
5
General
General price:
Adult (11+ years)
$

45.00 / ticket
6
General
General price:
Adult (11+ years)
$

45.00 / ticket
7
General
General price:
Adult (11+ years)
$

45.00 / ticket
8
General
General price:
Adult (11+ years)
$

45.00 / ticket
9
General
General price:
Adult (11+ years)
$

45.00 / ticket
10
General
General price:
Adult (11+ years)
$

45.00 / ticket
11
General
General price:
Adult (11+ years)
$

45.00 / ticket
12
General
General price:
Adult (11+ years)
$

45.00 / ticket
13
General
General price:
Adult (11+ years)
$

45.00 / ticket
14
General
General price:
Adult (11+ years)
$

45.00 / ticket
15
General
General price:
Adult (11+ years)
$

45.00 / ticket
16
General
General price:
Adult (11+ years)
$

45.00 / ticket
17
General
General price:
Adult (11+ years)
$

45.00 / ticket
18
General
General price:
Adult (11+ years)
$

45.00 / ticket
19
General
General price:
Adult (11+ years)
$

45.00 / ticket
20
General
General price:
Adult (11+ years)
$

45.00 / ticket
21
General
General price:
Adult (11+ years)
$

45.00 / ticket
22
General
General price:
Adult (11+ years)
$

45.00 / ticket
23
General
General price:
Adult (11+ years)
$

45.00 / ticket
24
General
General price:
Adult (11+ years)
$

45.00 / ticket
25
General
General price:
Adult (11+ years)
$

45.00 / ticket
26
General
General price:
Adult (11+ years)
$

45.00 / ticket
27
General
General price:
Adult (11+ years)
$

45.00 / ticket
28
General
General price:
Adult (11+ years)
$

45.00 / ticket
29
General
General price:
Adult (11+ years)
$

45.00 / ticket
30
General
General price:
Adult (11+ years)
$

45.00 / ticket
31
General
General price:
Adult (11+ years)
$

45.00 / ticket
27
General
General price:
Adult (11+ years)
$

45.00 / ticket
28
General
General price:
Adult (11+ years)
$

45.00 / ticket
29
General
General price:
Adult (11+ years)
$

45.00 / ticket
30
General
General price:
Adult (11+ years)
$

45.00 / ticket
31
General
General price:
Adult (11+ years)
$

45.00 / ticket