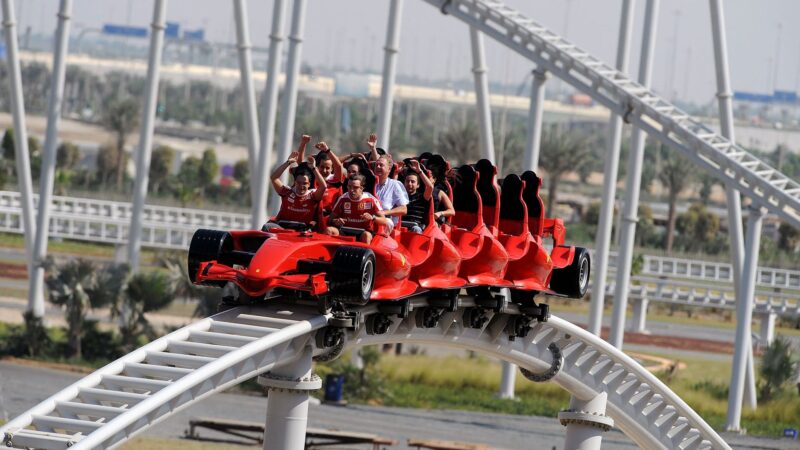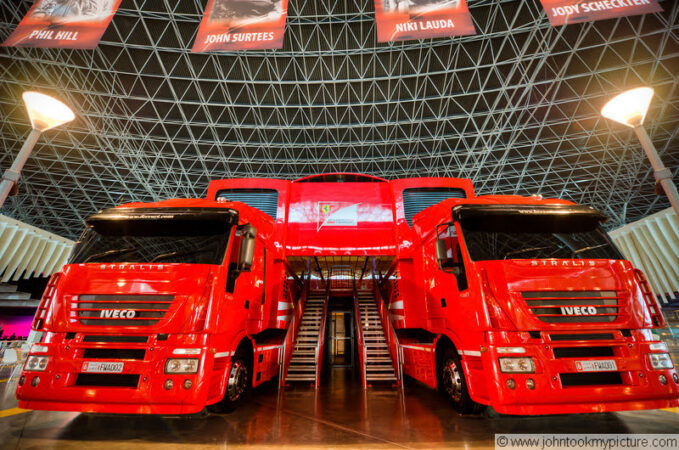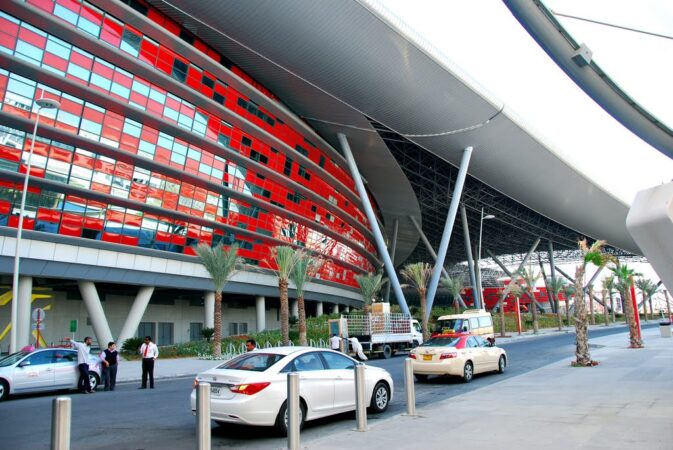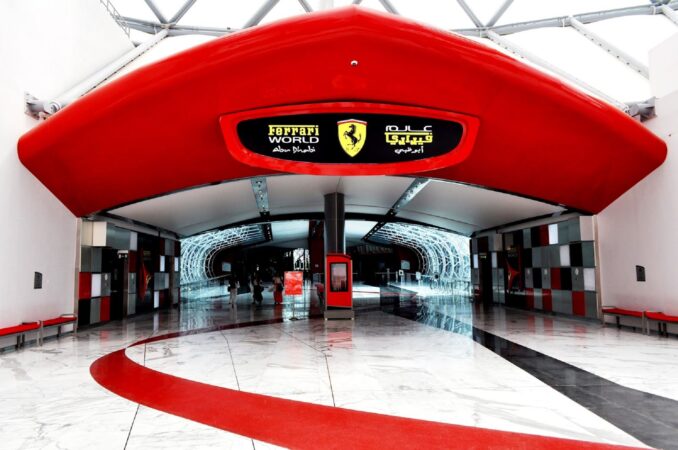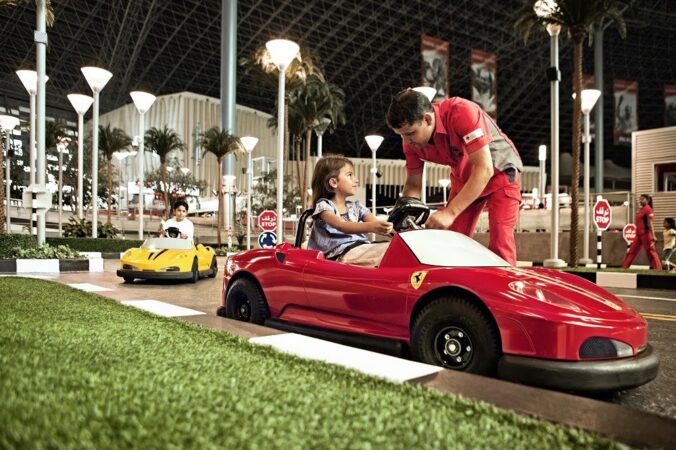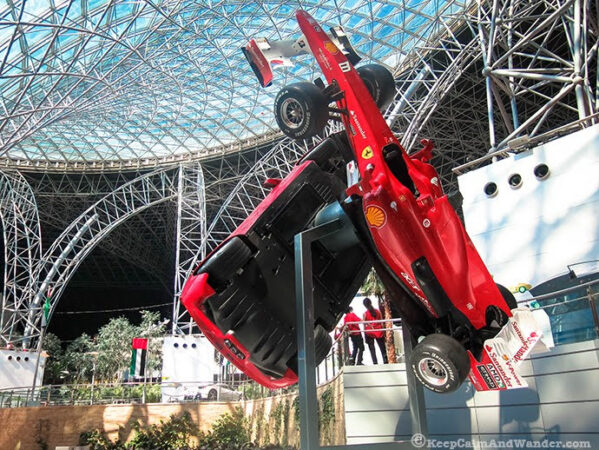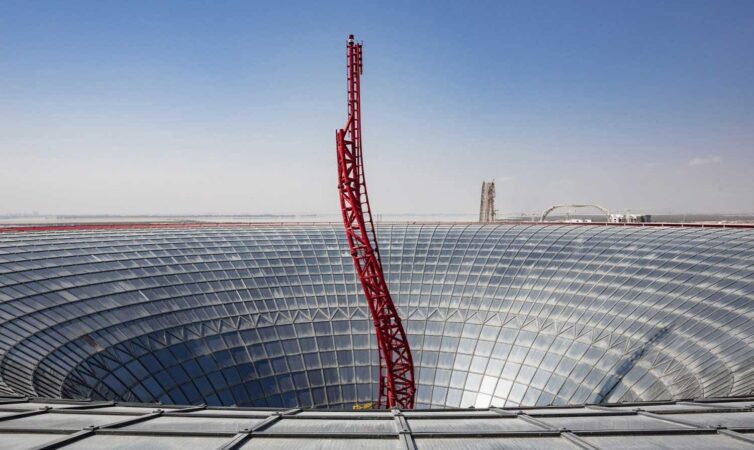 Ferrari World Tour and Sheikh Zayed Mosque
Description
Itinerary
Reviews
Description
Marvel the beauty of the the United Arab Emirates' capital – Abu Dhabi. Also known as one of the riches cities in the middle east and world's largest producer of oil. It is also home to the world's most expensive hotel, the Emirates Palace. This amazing tour starts with a pick up from your hotel, with an approximately 2 hour drive south.
On the way to your Ferrari World Tour and Sheikh Zayed Mosque you will pass through an industrial area called Jebel Ali free zone. Further along the way are superb villages and beautiful plantations on the wayside. Your first stop will be at Sheikh Zayed Grand Mosque, the 3rd largest Mosque in the world and one of the best architectural landmarks of the capital featuring an exceptional collection of marble works and the largest carpet in the world.
Next stop is the Ferrari World Theme park. Experience the ultimate thrill at the world's fastest roller coaster – Formula Rossa.
The world's largest indoor themed park designed to bring adventure, thrill and fun to every walk of life. The complex is lined up with more than 20 different rides and racing simulators for adult and children alike to pump up the adrenaline and leave everyone with unforgettable fun and an experience to cherish for a lifetime.
Itinerary
Reviews
7
Normal
General price:
Adult (11+ years)
$

145.00 / ticket
|
Children (2-10 Years)
$

145.00 / ticket
8
Normal
General price:
Adult (11+ years)
$

145.00 / ticket
|
Children (2-10 Years)
$

145.00 / ticket
9
Normal
General price:
Adult (11+ years)
$

145.00 / ticket
|
Children (2-10 Years)
$

145.00 / ticket
10
Normal
General price:
Adult (11+ years)
$

145.00 / ticket
|
Children (2-10 Years)
$

145.00 / ticket
11
Normal
General price:
Adult (11+ years)
$

145.00 / ticket
|
Children (2-10 Years)
$

145.00 / ticket
12
Normal
General price:
Adult (11+ years)
$

145.00 / ticket
|
Children (2-10 Years)
$

145.00 / ticket
13
Normal
General price:
Adult (11+ years)
$

145.00 / ticket
|
Children (2-10 Years)
$

145.00 / ticket
14
Normal
General price:
Adult (11+ years)
$

145.00 / ticket
|
Children (2-10 Years)
$

145.00 / ticket
15
Normal
General price:
Adult (11+ years)
$

145.00 / ticket
|
Children (2-10 Years)
$

145.00 / ticket
16
Normal
General price:
Adult (11+ years)
$

145.00 / ticket
|
Children (2-10 Years)
$

145.00 / ticket
17
Normal
General price:
Adult (11+ years)
$

145.00 / ticket
|
Children (2-10 Years)
$

145.00 / ticket
18
Normal
General price:
Adult (11+ years)
$

145.00 / ticket
|
Children (2-10 Years)
$

145.00 / ticket
19
Normal
General price:
Adult (11+ years)
$

145.00 / ticket
|
Children (2-10 Years)
$

145.00 / ticket
20
Normal
General price:
Adult (11+ years)
$

145.00 / ticket
|
Children (2-10 Years)
$

145.00 / ticket
21
Normal
General price:
Adult (11+ years)
$

145.00 / ticket
|
Children (2-10 Years)
$

145.00 / ticket
22
Normal
General price:
Adult (11+ years)
$

145.00 / ticket
|
Children (2-10 Years)
$

145.00 / ticket
23
Normal
General price:
Adult (11+ years)
$

145.00 / ticket
|
Children (2-10 Years)
$

145.00 / ticket
24
Normal
General price:
Adult (11+ years)
$

145.00 / ticket
|
Children (2-10 Years)
$

145.00 / ticket
25
Normal
General price:
Adult (11+ years)
$

145.00 / ticket
|
Children (2-10 Years)
$

145.00 / ticket
26
Normal
General price:
Adult (11+ years)
$

145.00 / ticket
|
Children (2-10 Years)
$

145.00 / ticket
27
Normal
General price:
Adult (11+ years)
$

145.00 / ticket
|
Children (2-10 Years)
$

145.00 / ticket
28
Normal
General price:
Adult (11+ years)
$

145.00 / ticket
|
Children (2-10 Years)
$

145.00 / ticket
29
Normal
General price:
Adult (11+ years)
$

145.00 / ticket
|
Children (2-10 Years)
$

145.00 / ticket
30
Normal
General price:
Adult (11+ years)
$

145.00 / ticket
|
Children (2-10 Years)
$

145.00 / ticket
31
Normal
General price:
Adult (11+ years)
$

145.00 / ticket
|
Children (2-10 Years)
$

145.00 / ticket
1
Normal
General price:
Adult (11+ years)
$

145.00 / ticket
|
Children (2-10 Years)
$

145.00 / ticket
2
Normal
General price:
Adult (11+ years)
$

145.00 / ticket
|
Children (2-10 Years)
$

145.00 / ticket
3
Normal
General price:
Adult (11+ years)
$

145.00 / ticket
|
Children (2-10 Years)
$

145.00 / ticket
4
Normal
General price:
Adult (11+ years)
$

145.00 / ticket
|
Children (2-10 Years)
$

145.00 / ticket
5
Normal
General price:
Adult (11+ years)
$

145.00 / ticket
|
Children (2-10 Years)
$

145.00 / ticket
6
Normal
General price:
Adult (11+ years)
$

145.00 / ticket
|
Children (2-10 Years)
$

145.00 / ticket
7
Normal
General price:
Adult (11+ years)
$

145.00 / ticket
|
Children (2-10 Years)
$

145.00 / ticket
8
Normal
General price:
Adult (11+ years)
$

145.00 / ticket
|
Children (2-10 Years)
$

145.00 / ticket
9
Normal
General price:
Adult (11+ years)
$

145.00 / ticket
|
Children (2-10 Years)
$

145.00 / ticket
10
Normal
General price:
Adult (11+ years)
$

145.00 / ticket
|
Children (2-10 Years)
$

145.00 / ticket
11
Normal
General price:
Adult (11+ years)
$

145.00 / ticket
|
Children (2-10 Years)
$

145.00 / ticket
12
Normal
General price:
Adult (11+ years)
$

145.00 / ticket
|
Children (2-10 Years)
$

145.00 / ticket
13
Normal
General price:
Adult (11+ years)
$

145.00 / ticket
|
Children (2-10 Years)
$

145.00 / ticket
14
Normal
General price:
Adult (11+ years)
$

145.00 / ticket
|
Children (2-10 Years)
$

145.00 / ticket
15
Normal
General price:
Adult (11+ years)
$

145.00 / ticket
|
Children (2-10 Years)
$

145.00 / ticket
16
Normal
General price:
Adult (11+ years)
$

145.00 / ticket
|
Children (2-10 Years)
$

145.00 / ticket
17
Normal
General price:
Adult (11+ years)
$

145.00 / ticket
|
Children (2-10 Years)
$

145.00 / ticket
18
Normal
General price:
Adult (11+ years)
$

145.00 / ticket
|
Children (2-10 Years)
$

145.00 / ticket
19
Normal
General price:
Adult (11+ years)
$

145.00 / ticket
|
Children (2-10 Years)
$

145.00 / ticket
20
Normal
General price:
Adult (11+ years)
$

145.00 / ticket
|
Children (2-10 Years)
$

145.00 / ticket
21
Normal
General price:
Adult (11+ years)
$

145.00 / ticket
|
Children (2-10 Years)
$

145.00 / ticket
22
Normal
General price:
Adult (11+ years)
$

145.00 / ticket
|
Children (2-10 Years)
$

145.00 / ticket
23
Normal
General price:
Adult (11+ years)
$

145.00 / ticket
|
Children (2-10 Years)
$

145.00 / ticket
24
Normal
General price:
Adult (11+ years)
$

145.00 / ticket
|
Children (2-10 Years)
$

145.00 / ticket
25
Normal
General price:
Adult (11+ years)
$

145.00 / ticket
|
Children (2-10 Years)
$

145.00 / ticket
26
Normal
General price:
Adult (11+ years)
$

145.00 / ticket
|
Children (2-10 Years)
$

145.00 / ticket
27
Normal
General price:
Adult (11+ years)
$

145.00 / ticket
|
Children (2-10 Years)
$

145.00 / ticket
28
Normal
General price:
Adult (11+ years)
$

145.00 / ticket
|
Children (2-10 Years)
$

145.00 / ticket
29
Normal
General price:
Adult (11+ years)
$

145.00 / ticket
|
Children (2-10 Years)
$

145.00 / ticket
30
Normal
General price:
Adult (11+ years)
$

145.00 / ticket
|
Children (2-10 Years)
$

145.00 / ticket
31
Normal
General price:
Adult (11+ years)
$

145.00 / ticket
|
Children (2-10 Years)
$

145.00 / ticket
1
Normal
General price:
Adult (11+ years)
$

145.00 / ticket
|
Children (2-10 Years)
$

145.00 / ticket
2
Normal
General price:
Adult (11+ years)
$

145.00 / ticket
|
Children (2-10 Years)
$

145.00 / ticket
3
Normal
General price:
Adult (11+ years)
$

145.00 / ticket
|
Children (2-10 Years)
$

145.00 / ticket
4
Normal
General price:
Adult (11+ years)
$

145.00 / ticket
|
Children (2-10 Years)
$

145.00 / ticket
29
Normal
General price:
Adult (11+ years)
$

145.00 / ticket
|
Children (2-10 Years)
$

145.00 / ticket
30
Normal
General price:
Adult (11+ years)
$

145.00 / ticket
|
Children (2-10 Years)
$

145.00 / ticket
31
Normal
General price:
Adult (11+ years)
$

145.00 / ticket
|
Children (2-10 Years)
$

145.00 / ticket
1
Normal
General price:
Adult (11+ years)
$

145.00 / ticket
|
Children (2-10 Years)
$

145.00 / ticket
2
Normal
General price:
Adult (11+ years)
$

145.00 / ticket
|
Children (2-10 Years)
$

145.00 / ticket
3
Normal
General price:
Adult (11+ years)
$

145.00 / ticket
|
Children (2-10 Years)
$

145.00 / ticket
4
Normal
General price:
Adult (11+ years)
$

145.00 / ticket
|
Children (2-10 Years)
$

145.00 / ticket
5
Normal
General price:
Adult (11+ years)
$

145.00 / ticket
|
Children (2-10 Years)
$

145.00 / ticket
6
Normal
General price:
Adult (11+ years)
$

145.00 / ticket
|
Children (2-10 Years)
$

145.00 / ticket
7
Normal
General price:
Adult (11+ years)
$

145.00 / ticket
|
Children (2-10 Years)
$

145.00 / ticket
8
Normal
General price:
Adult (11+ years)
$

145.00 / ticket
|
Children (2-10 Years)
$

145.00 / ticket
9
Normal
General price:
Adult (11+ years)
$

145.00 / ticket
|
Children (2-10 Years)
$

145.00 / ticket
10
Normal
General price:
Adult (11+ years)
$

145.00 / ticket
|
Children (2-10 Years)
$

145.00 / ticket
11
Normal
General price:
Adult (11+ years)
$

145.00 / ticket
|
Children (2-10 Years)
$

145.00 / ticket
12
Normal
General price:
Adult (11+ years)
$

145.00 / ticket
|
Children (2-10 Years)
$

145.00 / ticket
13
Normal
General price:
Adult (11+ years)
$

145.00 / ticket
|
Children (2-10 Years)
$

145.00 / ticket
14
Normal
General price:
Adult (11+ years)
$

145.00 / ticket
|
Children (2-10 Years)
$

145.00 / ticket
15
Normal
General price:
Adult (11+ years)
$

145.00 / ticket
|
Children (2-10 Years)
$

145.00 / ticket
16
Normal
General price:
Adult (11+ years)
$

145.00 / ticket
|
Children (2-10 Years)
$

145.00 / ticket
17
Normal
General price:
Adult (11+ years)
$

145.00 / ticket
|
Children (2-10 Years)
$

145.00 / ticket
18
Normal
General price:
Adult (11+ years)
$

145.00 / ticket
|
Children (2-10 Years)
$

145.00 / ticket
19
Normal
General price:
Adult (11+ years)
$

145.00 / ticket
|
Children (2-10 Years)
$

145.00 / ticket
20
Normal
General price:
Adult (11+ years)
$

145.00 / ticket
|
Children (2-10 Years)
$

145.00 / ticket
21
Normal
General price:
Adult (11+ years)
$

145.00 / ticket
|
Children (2-10 Years)
$

145.00 / ticket
22
Normal
General price:
Adult (11+ years)
$

145.00 / ticket
|
Children (2-10 Years)
$

145.00 / ticket
23
Normal
General price:
Adult (11+ years)
$

145.00 / ticket
|
Children (2-10 Years)
$

145.00 / ticket
24
Normal
General price:
Adult (11+ years)
$

145.00 / ticket
|
Children (2-10 Years)
$

145.00 / ticket
25
Normal
General price:
Adult (11+ years)
$

145.00 / ticket
|
Children (2-10 Years)
$

145.00 / ticket
26
Normal
General price:
Adult (11+ years)
$

145.00 / ticket
|
Children (2-10 Years)
$

145.00 / ticket
27
Normal
General price:
Adult (11+ years)
$

145.00 / ticket
|
Children (2-10 Years)
$

145.00 / ticket
28
Normal
General price:
Adult (11+ years)
$

145.00 / ticket
|
Children (2-10 Years)
$

145.00 / ticket
29
Normal
General price:
Adult (11+ years)
$

145.00 / ticket
|
Children (2-10 Years)
$

145.00 / ticket
1
Normal
General price:
Adult (11+ years)
$

145.00 / ticket
|
Children (2-10 Years)
$

145.00 / ticket
2
Normal
General price:
Adult (11+ years)
$

145.00 / ticket
|
Children (2-10 Years)
$

145.00 / ticket
3
Normal
General price:
Adult (11+ years)
$

145.00 / ticket
|
Children (2-10 Years)
$

145.00 / ticket
26
Normal
General price:
Adult (11+ years)
$

145.00 / ticket
|
Children (2-10 Years)
$

145.00 / ticket
27
Normal
General price:
Adult (11+ years)
$

145.00 / ticket
|
Children (2-10 Years)
$

145.00 / ticket
28
Normal
General price:
Adult (11+ years)
$

145.00 / ticket
|
Children (2-10 Years)
$

145.00 / ticket
29
Normal
General price:
Adult (11+ years)
$

145.00 / ticket
|
Children (2-10 Years)
$

145.00 / ticket
1
Normal
General price:
Adult (11+ years)
$

145.00 / ticket
|
Children (2-10 Years)
$

145.00 / ticket
2
Normal
General price:
Adult (11+ years)
$

145.00 / ticket
|
Children (2-10 Years)
$

145.00 / ticket
3
Normal
General price:
Adult (11+ years)
$

145.00 / ticket
|
Children (2-10 Years)
$

145.00 / ticket
4
Normal
General price:
Adult (11+ years)
$

145.00 / ticket
|
Children (2-10 Years)
$

145.00 / ticket
5
Normal
General price:
Adult (11+ years)
$

145.00 / ticket
|
Children (2-10 Years)
$

145.00 / ticket
6
Normal
General price:
Adult (11+ years)
$

145.00 / ticket
|
Children (2-10 Years)
$

145.00 / ticket
7
Normal
General price:
Adult (11+ years)
$

145.00 / ticket
|
Children (2-10 Years)
$

145.00 / ticket
8
Normal
General price:
Adult (11+ years)
$

145.00 / ticket
|
Children (2-10 Years)
$

145.00 / ticket
9
Normal
General price:
Adult (11+ years)
$

145.00 / ticket
|
Children (2-10 Years)
$

145.00 / ticket
10
Normal
General price:
Adult (11+ years)
$

145.00 / ticket
|
Children (2-10 Years)
$

145.00 / ticket
11
Normal
General price:
Adult (11+ years)
$

145.00 / ticket
|
Children (2-10 Years)
$

145.00 / ticket
12
Normal
General price:
Adult (11+ years)
$

145.00 / ticket
|
Children (2-10 Years)
$

145.00 / ticket
13
Normal
General price:
Adult (11+ years)
$

145.00 / ticket
|
Children (2-10 Years)
$

145.00 / ticket
14
Normal
General price:
Adult (11+ years)
$

145.00 / ticket
|
Children (2-10 Years)
$

145.00 / ticket
15
Normal
General price:
Adult (11+ years)
$

145.00 / ticket
|
Children (2-10 Years)
$

145.00 / ticket
16
Normal
General price:
Adult (11+ years)
$

145.00 / ticket
|
Children (2-10 Years)
$

145.00 / ticket
17
Normal
General price:
Adult (11+ years)
$

145.00 / ticket
|
Children (2-10 Years)
$

145.00 / ticket
18
Normal
General price:
Adult (11+ years)
$

145.00 / ticket
|
Children (2-10 Years)
$

145.00 / ticket
19
Normal
General price:
Adult (11+ years)
$

145.00 / ticket
|
Children (2-10 Years)
$

145.00 / ticket
20
Normal
General price:
Adult (11+ years)
$

145.00 / ticket
|
Children (2-10 Years)
$

145.00 / ticket
21
Normal
General price:
Adult (11+ years)
$

145.00 / ticket
|
Children (2-10 Years)
$

145.00 / ticket
22
Normal
General price:
Adult (11+ years)
$

145.00 / ticket
|
Children (2-10 Years)
$

145.00 / ticket
23
Normal
General price:
Adult (11+ years)
$

145.00 / ticket
|
Children (2-10 Years)
$

145.00 / ticket
24
Normal
General price:
Adult (11+ years)
$

145.00 / ticket
|
Children (2-10 Years)
$

145.00 / ticket
25
Normal
General price:
Adult (11+ years)
$

145.00 / ticket
|
Children (2-10 Years)
$

145.00 / ticket
26
Normal
General price:
Adult (11+ years)
$

145.00 / ticket
|
Children (2-10 Years)
$

145.00 / ticket
27
Normal
General price:
Adult (11+ years)
$

145.00 / ticket
|
Children (2-10 Years)
$

145.00 / ticket
28
Normal
General price:
Adult (11+ years)
$

145.00 / ticket
|
Children (2-10 Years)
$

145.00 / ticket
29
Normal
General price:
Adult (11+ years)
$

145.00 / ticket
|
Children (2-10 Years)
$

145.00 / ticket
30
Normal
General price:
Adult (11+ years)
$

145.00 / ticket
|
Children (2-10 Years)
$

145.00 / ticket
31
Normal
General price:
Adult (11+ years)
$

145.00 / ticket
|
Children (2-10 Years)
$

145.00 / ticket
1
Normal
General price:
Adult (11+ years)
$

145.00 / ticket
|
Children (2-10 Years)
$

145.00 / ticket
2
Normal
General price:
Adult (11+ years)
$

145.00 / ticket
|
Children (2-10 Years)
$

145.00 / ticket
3
Normal
General price:
Adult (11+ years)
$

145.00 / ticket
|
Children (2-10 Years)
$

145.00 / ticket
4
Normal
General price:
Adult (11+ years)
$

145.00 / ticket
|
Children (2-10 Years)
$

145.00 / ticket
5
Normal
General price:
Adult (11+ years)
$

145.00 / ticket
|
Children (2-10 Years)
$

145.00 / ticket
6
Normal
General price:
Adult (11+ years)
$

145.00 / ticket
|
Children (2-10 Years)
$

145.00 / ticket
7
Normal
General price:
Adult (11+ years)
$

145.00 / ticket
|
Children (2-10 Years)
$

145.00 / ticket
8
Normal
General price:
Adult (11+ years)
$

145.00 / ticket
|
Children (2-10 Years)
$

145.00 / ticket
9
Normal
General price:
Adult (11+ years)
$

145.00 / ticket
|
Children (2-10 Years)
$

145.00 / ticket
10
Normal
General price:
Adult (11+ years)
$

145.00 / ticket
|
Children (2-10 Years)
$

145.00 / ticket
11
Normal
General price:
Adult (11+ years)
$

145.00 / ticket
|
Children (2-10 Years)
$

145.00 / ticket
12
Normal
General price:
Adult (11+ years)
$

145.00 / ticket
|
Children (2-10 Years)
$

145.00 / ticket
13
Normal
General price:
Adult (11+ years)
$

145.00 / ticket
|
Children (2-10 Years)
$

145.00 / ticket
14
Normal
General price:
Adult (11+ years)
$

145.00 / ticket
|
Children (2-10 Years)
$

145.00 / ticket
15
Normal
General price:
Adult (11+ years)
$

145.00 / ticket
|
Children (2-10 Years)
$

145.00 / ticket
16
Normal
General price:
Adult (11+ years)
$

145.00 / ticket
|
Children (2-10 Years)
$

145.00 / ticket
17
Normal
General price:
Adult (11+ years)
$

145.00 / ticket
|
Children (2-10 Years)
$

145.00 / ticket
18
Normal
General price:
Adult (11+ years)
$

145.00 / ticket
|
Children (2-10 Years)
$

145.00 / ticket
19
Normal
General price:
Adult (11+ years)
$

145.00 / ticket
|
Children (2-10 Years)
$

145.00 / ticket
20
Normal
General price:
Adult (11+ years)
$

145.00 / ticket
|
Children (2-10 Years)
$

145.00 / ticket
21
Normal
General price:
Adult (11+ years)
$

145.00 / ticket
|
Children (2-10 Years)
$

145.00 / ticket
22
Normal
General price:
Adult (11+ years)
$

145.00 / ticket
|
Children (2-10 Years)
$

145.00 / ticket
23
Normal
General price:
Adult (11+ years)
$

145.00 / ticket
|
Children (2-10 Years)
$

145.00 / ticket
24
Normal
General price:
Adult (11+ years)
$

145.00 / ticket
|
Children (2-10 Years)
$

145.00 / ticket
25
Normal
General price:
Adult (11+ years)
$

145.00 / ticket
|
Children (2-10 Years)
$

145.00 / ticket
26
Normal
General price:
Adult (11+ years)
$

145.00 / ticket
|
Children (2-10 Years)
$

145.00 / ticket
27
Normal
General price:
Adult (11+ years)
$

145.00 / ticket
|
Children (2-10 Years)
$

145.00 / ticket
28
Normal
General price:
Adult (11+ years)
$

145.00 / ticket
|
Children (2-10 Years)
$

145.00 / ticket
29
Normal
General price:
Adult (11+ years)
$

145.00 / ticket
|
Children (2-10 Years)
$

145.00 / ticket
30
Normal
General price:
Adult (11+ years)
$

145.00 / ticket
|
Children (2-10 Years)
$

145.00 / ticket
1
Normal
General price:
Adult (11+ years)
$

145.00 / ticket
|
Children (2-10 Years)
$

145.00 / ticket
2
Normal
General price:
Adult (11+ years)
$

145.00 / ticket
|
Children (2-10 Years)
$

145.00 / ticket
3
Normal
General price:
Adult (11+ years)
$

145.00 / ticket
|
Children (2-10 Years)
$

145.00 / ticket
4
Normal
General price:
Adult (11+ years)
$

145.00 / ticket
|
Children (2-10 Years)
$

145.00 / ticket
5
Normal
General price:
Adult (11+ years)
$

145.00 / ticket
|
Children (2-10 Years)
$

145.00 / ticket
29
Normal
General price:
Adult (11+ years)
$

145.00 / ticket
|
Children (2-10 Years)
$

145.00 / ticket
30
Normal
General price:
Adult (11+ years)
$

145.00 / ticket
|
Children (2-10 Years)
$

145.00 / ticket
1
Normal
General price:
Adult (11+ years)
$

145.00 / ticket
|
Children (2-10 Years)
$

145.00 / ticket
2
Normal
General price:
Adult (11+ years)
$

145.00 / ticket
|
Children (2-10 Years)
$

145.00 / ticket
3
Normal
General price:
Adult (11+ years)
$

145.00 / ticket
|
Children (2-10 Years)
$

145.00 / ticket
4
Normal
General price:
Adult (11+ years)
$

145.00 / ticket
|
Children (2-10 Years)
$

145.00 / ticket
5
Normal
General price:
Adult (11+ years)
$

145.00 / ticket
|
Children (2-10 Years)
$

145.00 / ticket
6
Normal
General price:
Adult (11+ years)
$

145.00 / ticket
|
Children (2-10 Years)
$

145.00 / ticket
7
Normal
General price:
Adult (11+ years)
$

145.00 / ticket
|
Children (2-10 Years)
$

145.00 / ticket
8
Normal
General price:
Adult (11+ years)
$

145.00 / ticket
|
Children (2-10 Years)
$

145.00 / ticket
9
Normal
General price:
Adult (11+ years)
$

145.00 / ticket
|
Children (2-10 Years)
$

145.00 / ticket
10
Normal
General price:
Adult (11+ years)
$

145.00 / ticket
|
Children (2-10 Years)
$

145.00 / ticket
11
Normal
General price:
Adult (11+ years)
$

145.00 / ticket
|
Children (2-10 Years)
$

145.00 / ticket
12
Normal
General price:
Adult (11+ years)
$

145.00 / ticket
|
Children (2-10 Years)
$

145.00 / ticket
13
Normal
General price:
Adult (11+ years)
$

145.00 / ticket
|
Children (2-10 Years)
$

145.00 / ticket
14
Normal
General price:
Adult (11+ years)
$

145.00 / ticket
|
Children (2-10 Years)
$

145.00 / ticket
15
Normal
General price:
Adult (11+ years)
$

145.00 / ticket
|
Children (2-10 Years)
$

145.00 / ticket
16
Normal
General price:
Adult (11+ years)
$

145.00 / ticket
|
Children (2-10 Years)
$

145.00 / ticket
17
Normal
General price:
Adult (11+ years)
$

145.00 / ticket
|
Children (2-10 Years)
$

145.00 / ticket
18
Normal
General price:
Adult (11+ years)
$

145.00 / ticket
|
Children (2-10 Years)
$

145.00 / ticket
19
Normal
General price:
Adult (11+ years)
$

145.00 / ticket
|
Children (2-10 Years)
$

145.00 / ticket
20
Normal
General price:
Adult (11+ years)
$

145.00 / ticket
|
Children (2-10 Years)
$

145.00 / ticket
21
Normal
General price:
Adult (11+ years)
$

145.00 / ticket
|
Children (2-10 Years)
$

145.00 / ticket
22
Normal
General price:
Adult (11+ years)
$

145.00 / ticket
|
Children (2-10 Years)
$

145.00 / ticket
23
Normal
General price:
Adult (11+ years)
$

145.00 / ticket
|
Children (2-10 Years)
$

145.00 / ticket
24
Normal
General price:
Adult (11+ years)
$

145.00 / ticket
|
Children (2-10 Years)
$

145.00 / ticket
25
Normal
General price:
Adult (11+ years)
$

145.00 / ticket
|
Children (2-10 Years)
$

145.00 / ticket
26
Normal
General price:
Adult (11+ years)
$

145.00 / ticket
|
Children (2-10 Years)
$

145.00 / ticket
27
Normal
General price:
Adult (11+ years)
$

145.00 / ticket
|
Children (2-10 Years)
$

145.00 / ticket
28
Normal
General price:
Adult (11+ years)
$

145.00 / ticket
|
Children (2-10 Years)
$

145.00 / ticket
29
Normal
General price:
Adult (11+ years)
$

145.00 / ticket
|
Children (2-10 Years)
$

145.00 / ticket
30
Normal
General price:
Adult (11+ years)
$

145.00 / ticket
|
Children (2-10 Years)
$

145.00 / ticket
31
Normal
General price:
Adult (11+ years)
$

145.00 / ticket
|
Children (2-10 Years)
$

145.00 / ticket
1
Normal
General price:
Adult (11+ years)
$

145.00 / ticket
|
Children (2-10 Years)
$

145.00 / ticket
2
Normal
General price:
Adult (11+ years)
$

145.00 / ticket
|
Children (2-10 Years)
$

145.00 / ticket
27
Normal
General price:
Adult (11+ years)
$

145.00 / ticket
|
Children (2-10 Years)
$

145.00 / ticket
28
Normal
General price:
Adult (11+ years)
$

145.00 / ticket
|
Children (2-10 Years)
$

145.00 / ticket
29
Normal
General price:
Adult (11+ years)
$

145.00 / ticket
|
Children (2-10 Years)
$

145.00 / ticket
30
Normal
General price:
Adult (11+ years)
$

145.00 / ticket
|
Children (2-10 Years)
$

145.00 / ticket
31
Normal
General price:
Adult (11+ years)
$

145.00 / ticket
|
Children (2-10 Years)
$

145.00 / ticket
1
Normal
General price:
Adult (11+ years)
$

145.00 / ticket
|
Children (2-10 Years)
$

145.00 / ticket
2
Normal
General price:
Adult (11+ years)
$

145.00 / ticket
|
Children (2-10 Years)
$

145.00 / ticket
3
Normal
General price:
Adult (11+ years)
$

145.00 / ticket
|
Children (2-10 Years)
$

145.00 / ticket
4
Normal
General price:
Adult (11+ years)
$

145.00 / ticket
|
Children (2-10 Years)
$

145.00 / ticket
5
Normal
General price:
Adult (11+ years)
$

145.00 / ticket
|
Children (2-10 Years)
$

145.00 / ticket
6
Normal
General price:
Adult (11+ years)
$

145.00 / ticket
|
Children (2-10 Years)
$

145.00 / ticket
7
Normal
General price:
Adult (11+ years)
$

145.00 / ticket
|
Children (2-10 Years)
$

145.00 / ticket
8
Normal
General price:
Adult (11+ years)
$

145.00 / ticket
|
Children (2-10 Years)
$

145.00 / ticket
9
Normal
General price:
Adult (11+ years)
$

145.00 / ticket
|
Children (2-10 Years)
$

145.00 / ticket
10
Normal
General price:
Adult (11+ years)
$

145.00 / ticket
|
Children (2-10 Years)
$

145.00 / ticket
11
Normal
General price:
Adult (11+ years)
$

145.00 / ticket
|
Children (2-10 Years)
$

145.00 / ticket
12
Normal
General price:
Adult (11+ years)
$

145.00 / ticket
|
Children (2-10 Years)
$

145.00 / ticket
13
Normal
General price:
Adult (11+ years)
$

145.00 / ticket
|
Children (2-10 Years)
$

145.00 / ticket
14
Normal
General price:
Adult (11+ years)
$

145.00 / ticket
|
Children (2-10 Years)
$

145.00 / ticket
15
Normal
General price:
Adult (11+ years)
$

145.00 / ticket
|
Children (2-10 Years)
$

145.00 / ticket
16
Normal
General price:
Adult (11+ years)
$

145.00 / ticket
|
Children (2-10 Years)
$

145.00 / ticket
17
Normal
General price:
Adult (11+ years)
$

145.00 / ticket
|
Children (2-10 Years)
$

145.00 / ticket
18
Normal
General price:
Adult (11+ years)
$

145.00 / ticket
|
Children (2-10 Years)
$

145.00 / ticket
19
Normal
General price:
Adult (11+ years)
$

145.00 / ticket
|
Children (2-10 Years)
$

145.00 / ticket
20
Normal
General price:
Adult (11+ years)
$

145.00 / ticket
|
Children (2-10 Years)
$

145.00 / ticket
21
Normal
General price:
Adult (11+ years)
$

145.00 / ticket
|
Children (2-10 Years)
$

145.00 / ticket
22
Normal
General price:
Adult (11+ years)
$

145.00 / ticket
|
Children (2-10 Years)
$

145.00 / ticket
23
Normal
General price:
Adult (11+ years)
$

145.00 / ticket
|
Children (2-10 Years)
$

145.00 / ticket
24
Normal
General price:
Adult (11+ years)
$

145.00 / ticket
|
Children (2-10 Years)
$

145.00 / ticket
25
Normal
General price:
Adult (11+ years)
$

145.00 / ticket
|
Children (2-10 Years)
$

145.00 / ticket
26
Normal
General price:
Adult (11+ years)
$

145.00 / ticket
|
Children (2-10 Years)
$

145.00 / ticket
27
Normal
General price:
Adult (11+ years)
$

145.00 / ticket
|
Children (2-10 Years)
$

145.00 / ticket
28
Normal
General price:
Adult (11+ years)
$

145.00 / ticket
|
Children (2-10 Years)
$

145.00 / ticket
29
Normal
General price:
Adult (11+ years)
$

145.00 / ticket
|
Children (2-10 Years)
$

145.00 / ticket
30
Normal
General price:
Adult (11+ years)
$

145.00 / ticket
|
Children (2-10 Years)
$

145.00 / ticket
1
Normal
General price:
Adult (11+ years)
$

145.00 / ticket
|
Children (2-10 Years)
$

145.00 / ticket
2
Normal
General price:
Adult (11+ years)
$

145.00 / ticket
|
Children (2-10 Years)
$

145.00 / ticket
3
Normal
General price:
Adult (11+ years)
$

145.00 / ticket
|
Children (2-10 Years)
$

145.00 / ticket
4
Normal
General price:
Adult (11+ years)
$

145.00 / ticket
|
Children (2-10 Years)
$

145.00 / ticket
5
Normal
General price:
Adult (11+ years)
$

145.00 / ticket
|
Children (2-10 Years)
$

145.00 / ticket
6
Normal
General price:
Adult (11+ years)
$

145.00 / ticket
|
Children (2-10 Years)
$

145.00 / ticket
7
Normal
General price:
Adult (11+ years)
$

145.00 / ticket
|
Children (2-10 Years)
$

145.00 / ticket
8
Normal
General price:
Adult (11+ years)
$

145.00 / ticket
|
Children (2-10 Years)
$

145.00 / ticket
9
Normal
General price:
Adult (11+ years)
$

145.00 / ticket
|
Children (2-10 Years)
$

145.00 / ticket
10
Normal
General price:
Adult (11+ years)
$

145.00 / ticket
|
Children (2-10 Years)
$

145.00 / ticket
11
Normal
General price:
Adult (11+ years)
$

145.00 / ticket
|
Children (2-10 Years)
$

145.00 / ticket
12
Normal
General price:
Adult (11+ years)
$

145.00 / ticket
|
Children (2-10 Years)
$

145.00 / ticket
13
Normal
General price:
Adult (11+ years)
$

145.00 / ticket
|
Children (2-10 Years)
$

145.00 / ticket
14
Normal
General price:
Adult (11+ years)
$

145.00 / ticket
|
Children (2-10 Years)
$

145.00 / ticket
15
Normal
General price:
Adult (11+ years)
$

145.00 / ticket
|
Children (2-10 Years)
$

145.00 / ticket
16
Normal
General price:
Adult (11+ years)
$

145.00 / ticket
|
Children (2-10 Years)
$

145.00 / ticket
17
Normal
General price:
Adult (11+ years)
$

145.00 / ticket
|
Children (2-10 Years)
$

145.00 / ticket
18
Normal
General price:
Adult (11+ years)
$

145.00 / ticket
|
Children (2-10 Years)
$

145.00 / ticket
19
Normal
General price:
Adult (11+ years)
$

145.00 / ticket
|
Children (2-10 Years)
$

145.00 / ticket
20
Normal
General price:
Adult (11+ years)
$

145.00 / ticket
|
Children (2-10 Years)
$

145.00 / ticket
21
Normal
General price:
Adult (11+ years)
$

145.00 / ticket
|
Children (2-10 Years)
$

145.00 / ticket
22
Normal
General price:
Adult (11+ years)
$

145.00 / ticket
|
Children (2-10 Years)
$

145.00 / ticket
23
Normal
General price:
Adult (11+ years)
$

145.00 / ticket
|
Children (2-10 Years)
$

145.00 / ticket
24
Normal
General price:
Adult (11+ years)
$

145.00 / ticket
|
Children (2-10 Years)
$

145.00 / ticket
25
Normal
General price:
Adult (11+ years)
$

145.00 / ticket
|
Children (2-10 Years)
$

145.00 / ticket
26
Normal
General price:
Adult (11+ years)
$

145.00 / ticket
|
Children (2-10 Years)
$

145.00 / ticket
27
Normal
General price:
Adult (11+ years)
$

145.00 / ticket
|
Children (2-10 Years)
$

145.00 / ticket
28
Normal
General price:
Adult (11+ years)
$

145.00 / ticket
|
Children (2-10 Years)
$

145.00 / ticket
29
Normal
General price:
Adult (11+ years)
$

145.00 / ticket
|
Children (2-10 Years)
$

145.00 / ticket
30
Normal
General price:
Adult (11+ years)
$

145.00 / ticket
|
Children (2-10 Years)
$

145.00 / ticket
31
Normal
General price:
Adult (11+ years)
$

145.00 / ticket
|
Children (2-10 Years)
$

145.00 / ticket
1
Normal
General price:
Adult (11+ years)
$

145.00 / ticket
|
Children (2-10 Years)
$

145.00 / ticket
2
Normal
General price:
Adult (11+ years)
$

145.00 / ticket
|
Children (2-10 Years)
$

145.00 / ticket
3
Normal
General price:
Adult (11+ years)
$

145.00 / ticket
|
Children (2-10 Years)
$

145.00 / ticket
4
Normal
General price:
Adult (11+ years)
$

145.00 / ticket
|
Children (2-10 Years)
$

145.00 / ticket
29
Normal
General price:
Adult (11+ years)
$

145.00 / ticket
|
Children (2-10 Years)
$

145.00 / ticket
30
Normal
General price:
Adult (11+ years)
$

145.00 / ticket
|
Children (2-10 Years)
$

145.00 / ticket
31
Normal
General price:
Adult (11+ years)
$

145.00 / ticket
|
Children (2-10 Years)
$

145.00 / ticket
1
Normal
General price:
Adult (11+ years)
$

145.00 / ticket
|
Children (2-10 Years)
$

145.00 / ticket
2
Normal
General price:
Adult (11+ years)
$

145.00 / ticket
|
Children (2-10 Years)
$

145.00 / ticket
3
Normal
General price:
Adult (11+ years)
$

145.00 / ticket
|
Children (2-10 Years)
$

145.00 / ticket
4
Normal
General price:
Adult (11+ years)
$

145.00 / ticket
|
Children (2-10 Years)
$

145.00 / ticket
5
Normal
General price:
Adult (11+ years)
$

145.00 / ticket
|
Children (2-10 Years)
$

145.00 / ticket
6
Normal
General price:
Adult (11+ years)
$

145.00 / ticket
|
Children (2-10 Years)
$

145.00 / ticket
7
Normal
General price:
Adult (11+ years)
$

145.00 / ticket
|
Children (2-10 Years)
$

145.00 / ticket
8
Normal
General price:
Adult (11+ years)
$

145.00 / ticket
|
Children (2-10 Years)
$

145.00 / ticket
9
Normal
General price:
Adult (11+ years)
$

145.00 / ticket
|
Children (2-10 Years)
$

145.00 / ticket
10
Normal
General price:
Adult (11+ years)
$

145.00 / ticket
|
Children (2-10 Years)
$

145.00 / ticket
11
Normal
General price:
Adult (11+ years)
$

145.00 / ticket
|
Children (2-10 Years)
$

145.00 / ticket
12
Normal
General price:
Adult (11+ years)
$

145.00 / ticket
|
Children (2-10 Years)
$

145.00 / ticket
13
Normal
General price:
Adult (11+ years)
$

145.00 / ticket
|
Children (2-10 Years)
$

145.00 / ticket
14
Normal
General price:
Adult (11+ years)
$

145.00 / ticket
|
Children (2-10 Years)
$

145.00 / ticket
15
Normal
General price:
Adult (11+ years)
$

145.00 / ticket
|
Children (2-10 Years)
$

145.00 / ticket
16
Normal
General price:
Adult (11+ years)
$

145.00 / ticket
|
Children (2-10 Years)
$

145.00 / ticket
17
Normal
General price:
Adult (11+ years)
$

145.00 / ticket
|
Children (2-10 Years)
$

145.00 / ticket
18
Normal
General price:
Adult (11+ years)
$

145.00 / ticket
|
Children (2-10 Years)
$

145.00 / ticket
19
Normal
General price:
Adult (11+ years)
$

145.00 / ticket
|
Children (2-10 Years)
$

145.00 / ticket
20
Normal
General price:
Adult (11+ years)
$

145.00 / ticket
|
Children (2-10 Years)
$

145.00 / ticket
21
Normal
General price:
Adult (11+ years)
$

145.00 / ticket
|
Children (2-10 Years)
$

145.00 / ticket
22
Normal
General price:
Adult (11+ years)
$

145.00 / ticket
|
Children (2-10 Years)
$

145.00 / ticket
23
Normal
General price:
Adult (11+ years)
$

145.00 / ticket
|
Children (2-10 Years)
$

145.00 / ticket
24
Normal
General price:
Adult (11+ years)
$

145.00 / ticket
|
Children (2-10 Years)
$

145.00 / ticket
25
Normal
General price:
Adult (11+ years)
$

145.00 / ticket
|
Children (2-10 Years)
$

145.00 / ticket
26
Normal
General price:
Adult (11+ years)
$

145.00 / ticket
|
Children (2-10 Years)
$

145.00 / ticket
27
Normal
General price:
Adult (11+ years)
$

145.00 / ticket
|
Children (2-10 Years)
$

145.00 / ticket
28
Normal
General price:
Adult (11+ years)
$

145.00 / ticket
|
Children (2-10 Years)
$

145.00 / ticket
29
Normal
General price:
Adult (11+ years)
$

145.00 / ticket
|
Children (2-10 Years)
$

145.00 / ticket
30
Normal
General price:
Adult (11+ years)
$

145.00 / ticket
|
Children (2-10 Years)
$

145.00 / ticket
31
Normal
General price:
Adult (11+ years)
$

145.00 / ticket
|
Children (2-10 Years)
$

145.00 / ticket
1
Normal
General price:
Adult (11+ years)
$

145.00 / ticket
|
Children (2-10 Years)
$

145.00 / ticket
26
Normal
General price:
Adult (11+ years)
$

145.00 / ticket
|
Children (2-10 Years)
$

145.00 / ticket
27
Normal
General price:
Adult (11+ years)
$

145.00 / ticket
|
Children (2-10 Years)
$

145.00 / ticket
28
Normal
General price:
Adult (11+ years)
$

145.00 / ticket
|
Children (2-10 Years)
$

145.00 / ticket
29
Normal
General price:
Adult (11+ years)
$

145.00 / ticket
|
Children (2-10 Years)
$

145.00 / ticket
30
Normal
General price:
Adult (11+ years)
$

145.00 / ticket
|
Children (2-10 Years)
$

145.00 / ticket
31
Normal
General price:
Adult (11+ years)
$

145.00 / ticket
|
Children (2-10 Years)
$

145.00 / ticket
1
Normal
General price:
Adult (11+ years)
$

145.00 / ticket
|
Children (2-10 Years)
$

145.00 / ticket
2
Normal
General price:
Adult (11+ years)
$

145.00 / ticket
|
Children (2-10 Years)
$

145.00 / ticket
3
Normal
General price:
Adult (11+ years)
$

145.00 / ticket
|
Children (2-10 Years)
$

145.00 / ticket
4
Normal
General price:
Adult (11+ years)
$

145.00 / ticket
|
Children (2-10 Years)
$

145.00 / ticket
5
Normal
General price:
Adult (11+ years)
$

145.00 / ticket
|
Children (2-10 Years)
$

145.00 / ticket
6
Normal
General price:
Adult (11+ years)
$

145.00 / ticket
|
Children (2-10 Years)
$

145.00 / ticket
7
Normal
General price:
Adult (11+ years)
$

145.00 / ticket
|
Children (2-10 Years)
$

145.00 / ticket
8
Normal
General price:
Adult (11+ years)
$

145.00 / ticket
|
Children (2-10 Years)
$

145.00 / ticket
9
Normal
General price:
Adult (11+ years)
$

145.00 / ticket
|
Children (2-10 Years)
$

145.00 / ticket
10
Normal
General price:
Adult (11+ years)
$

145.00 / ticket
|
Children (2-10 Years)
$

145.00 / ticket
11
Normal
General price:
Adult (11+ years)
$

145.00 / ticket
|
Children (2-10 Years)
$

145.00 / ticket
12
Normal
General price:
Adult (11+ years)
$

145.00 / ticket
|
Children (2-10 Years)
$

145.00 / ticket
13
Normal
General price:
Adult (11+ years)
$

145.00 / ticket
|
Children (2-10 Years)
$

145.00 / ticket
14
Normal
General price:
Adult (11+ years)
$

145.00 / ticket
|
Children (2-10 Years)
$

145.00 / ticket
15
Normal
General price:
Adult (11+ years)
$

145.00 / ticket
|
Children (2-10 Years)
$

145.00 / ticket
16
Normal
General price:
Adult (11+ years)
$

145.00 / ticket
|
Children (2-10 Years)
$

145.00 / ticket
17
Normal
General price:
Adult (11+ years)
$

145.00 / ticket
|
Children (2-10 Years)
$

145.00 / ticket
18
Normal
General price:
Adult (11+ years)
$

145.00 / ticket
|
Children (2-10 Years)
$

145.00 / ticket
19
Normal
General price:
Adult (11+ years)
$

145.00 / ticket
|
Children (2-10 Years)
$

145.00 / ticket
20
Normal
General price:
Adult (11+ years)
$

145.00 / ticket
|
Children (2-10 Years)
$

145.00 / ticket
21
Normal
General price:
Adult (11+ years)
$

145.00 / ticket
|
Children (2-10 Years)
$

145.00 / ticket
22
Normal
General price:
Adult (11+ years)
$

145.00 / ticket
|
Children (2-10 Years)
$

145.00 / ticket
23
Normal
General price:
Adult (11+ years)
$

145.00 / ticket
|
Children (2-10 Years)
$

145.00 / ticket
24
Normal
General price:
Adult (11+ years)
$

145.00 / ticket
|
Children (2-10 Years)
$

145.00 / ticket
25
Normal
General price:
Adult (11+ years)
$

145.00 / ticket
|
Children (2-10 Years)
$

145.00 / ticket
26
Normal
General price:
Adult (11+ years)
$

145.00 / ticket
|
Children (2-10 Years)
$

145.00 / ticket
27
Normal
General price:
Adult (11+ years)
$

145.00 / ticket
|
Children (2-10 Years)
$

145.00 / ticket
28
Normal
General price:
Adult (11+ years)
$

145.00 / ticket
|
Children (2-10 Years)
$

145.00 / ticket
29
Normal
General price:
Adult (11+ years)
$

145.00 / ticket
|
Children (2-10 Years)
$

145.00 / ticket
30
Normal
General price:
Adult (11+ years)
$

145.00 / ticket
|
Children (2-10 Years)
$

145.00 / ticket
1
Normal
General price:
Adult (11+ years)
$

145.00 / ticket
|
Children (2-10 Years)
$

145.00 / ticket
2
Normal
General price:
Adult (11+ years)
$

145.00 / ticket
|
Children (2-10 Years)
$

145.00 / ticket
3
Normal
General price:
Adult (11+ years)
$

145.00 / ticket
|
Children (2-10 Years)
$

145.00 / ticket
4
Normal
General price:
Adult (11+ years)
$

145.00 / ticket
|
Children (2-10 Years)
$

145.00 / ticket
5
Normal
General price:
Adult (11+ years)
$

145.00 / ticket
|
Children (2-10 Years)
$

145.00 / ticket
6
Normal
General price:
Adult (11+ years)
$

145.00 / ticket
|
Children (2-10 Years)
$

145.00 / ticket
30
Normal
General price:
Adult (11+ years)
$

145.00 / ticket
|
Children (2-10 Years)
$

145.00 / ticket
1
Normal
General price:
Adult (11+ years)
$

145.00 / ticket
|
Children (2-10 Years)
$

145.00 / ticket
2
Normal
General price:
Adult (11+ years)
$

145.00 / ticket
|
Children (2-10 Years)
$

145.00 / ticket
3
Normal
General price:
Adult (11+ years)
$

145.00 / ticket
|
Children (2-10 Years)
$

145.00 / ticket
4
Normal
General price:
Adult (11+ years)
$

145.00 / ticket
|
Children (2-10 Years)
$

145.00 / ticket
5
Normal
General price:
Adult (11+ years)
$

145.00 / ticket
|
Children (2-10 Years)
$

145.00 / ticket
6
Normal
General price:
Adult (11+ years)
$

145.00 / ticket
|
Children (2-10 Years)
$

145.00 / ticket
7
Normal
General price:
Adult (11+ years)
$

145.00 / ticket
|
Children (2-10 Years)
$

145.00 / ticket
8
Normal
General price:
Adult (11+ years)
$

145.00 / ticket
|
Children (2-10 Years)
$

145.00 / ticket
9
Normal
General price:
Adult (11+ years)
$

145.00 / ticket
|
Children (2-10 Years)
$

145.00 / ticket
10
Normal
General price:
Adult (11+ years)
$

145.00 / ticket
|
Children (2-10 Years)
$

145.00 / ticket
11
Normal
General price:
Adult (11+ years)
$

145.00 / ticket
|
Children (2-10 Years)
$

145.00 / ticket
12
Normal
General price:
Adult (11+ years)
$

145.00 / ticket
|
Children (2-10 Years)
$

145.00 / ticket
13
Normal
General price:
Adult (11+ years)
$

145.00 / ticket
|
Children (2-10 Years)
$

145.00 / ticket
14
Normal
General price:
Adult (11+ years)
$

145.00 / ticket
|
Children (2-10 Years)
$

145.00 / ticket
15
Normal
General price:
Adult (11+ years)
$

145.00 / ticket
|
Children (2-10 Years)
$

145.00 / ticket
16
Normal
General price:
Adult (11+ years)
$

145.00 / ticket
|
Children (2-10 Years)
$

145.00 / ticket
17
Normal
General price:
Adult (11+ years)
$

145.00 / ticket
|
Children (2-10 Years)
$

145.00 / ticket
18
Normal
General price:
Adult (11+ years)
$

145.00 / ticket
|
Children (2-10 Years)
$

145.00 / ticket
19
Normal
General price:
Adult (11+ years)
$

145.00 / ticket
|
Children (2-10 Years)
$

145.00 / ticket
20
Normal
General price:
Adult (11+ years)
$

145.00 / ticket
|
Children (2-10 Years)
$

145.00 / ticket
21
Normal
General price:
Adult (11+ years)
$

145.00 / ticket
|
Children (2-10 Years)
$

145.00 / ticket
22
Normal
General price:
Adult (11+ years)
$

145.00 / ticket
|
Children (2-10 Years)
$

145.00 / ticket
23
Normal
General price:
Adult (11+ years)
$

145.00 / ticket
|
Children (2-10 Years)
$

145.00 / ticket
24
Normal
General price:
Adult (11+ years)
$

145.00 / ticket
|
Children (2-10 Years)
$

145.00 / ticket
25
Normal
General price:
Adult (11+ years)
$

145.00 / ticket
|
Children (2-10 Years)
$

145.00 / ticket
26
Normal
General price:
Adult (11+ years)
$

145.00 / ticket
|
Children (2-10 Years)
$

145.00 / ticket
27
Normal
General price:
Adult (11+ years)
$

145.00 / ticket
|
Children (2-10 Years)
$

145.00 / ticket
28
Normal
General price:
Adult (11+ years)
$

145.00 / ticket
|
Children (2-10 Years)
$

145.00 / ticket
29
Normal
General price:
Adult (11+ years)
$

145.00 / ticket
|
Children (2-10 Years)
$

145.00 / ticket
30
Normal
General price:
Adult (11+ years)
$

145.00 / ticket
|
Children (2-10 Years)
$

145.00 / ticket
31
Normal
General price:
Adult (11+ years)
$

145.00 / ticket
|
Children (2-10 Years)
$

145.00 / ticket
1
Normal
General price:
Adult (11+ years)
$

145.00 / ticket
|
Children (2-10 Years)
$

145.00 / ticket
2
Normal
General price:
Adult (11+ years)
$

145.00 / ticket
|
Children (2-10 Years)
$

145.00 / ticket
3
Normal
General price:
Adult (11+ years)
$

145.00 / ticket
|
Children (2-10 Years)
$

145.00 / ticket
28
Normal
General price:
Adult (11+ years)
$

145.00 / ticket
|
Children (2-10 Years)
$

145.00 / ticket
29
Normal
General price:
Adult (11+ years)
$

145.00 / ticket
|
Children (2-10 Years)
$

145.00 / ticket
30
Normal
General price:
Adult (11+ years)
$

145.00 / ticket
|
Children (2-10 Years)
$

145.00 / ticket
31
Normal
General price:
Adult (11+ years)
$

145.00 / ticket
|
Children (2-10 Years)
$

145.00 / ticket
1
Normal
General price:
Adult (11+ years)
$

145.00 / ticket
|
Children (2-10 Years)
$

145.00 / ticket
2
Normal
General price:
Adult (11+ years)
$

145.00 / ticket
|
Children (2-10 Years)
$

145.00 / ticket
3
Normal
General price:
Adult (11+ years)
$

145.00 / ticket
|
Children (2-10 Years)
$

145.00 / ticket
4
Normal
General price:
Adult (11+ years)
$

145.00 / ticket
|
Children (2-10 Years)
$

145.00 / ticket
5
Normal
General price:
Adult (11+ years)
$

145.00 / ticket
|
Children (2-10 Years)
$

145.00 / ticket
6
Normal
General price:
Adult (11+ years)
$

145.00 / ticket
|
Children (2-10 Years)
$

145.00 / ticket
7
Normal
General price:
Adult (11+ years)
$

145.00 / ticket
|
Children (2-10 Years)
$

145.00 / ticket
8
Normal
General price:
Adult (11+ years)
$

145.00 / ticket
|
Children (2-10 Years)
$

145.00 / ticket
9
Normal
General price:
Adult (11+ years)
$

145.00 / ticket
|
Children (2-10 Years)
$

145.00 / ticket
10
Normal
General price:
Adult (11+ years)
$

145.00 / ticket
|
Children (2-10 Years)
$

145.00 / ticket
11
Normal
General price:
Adult (11+ years)
$

145.00 / ticket
|
Children (2-10 Years)
$

145.00 / ticket
12
Normal
General price:
Adult (11+ years)
$

145.00 / ticket
|
Children (2-10 Years)
$

145.00 / ticket
13
Normal
General price:
Adult (11+ years)
$

145.00 / ticket
|
Children (2-10 Years)
$

145.00 / ticket
14
Normal
General price:
Adult (11+ years)
$

145.00 / ticket
|
Children (2-10 Years)
$

145.00 / ticket
15
Normal
General price:
Adult (11+ years)
$

145.00 / ticket
|
Children (2-10 Years)
$

145.00 / ticket
16
Normal
General price:
Adult (11+ years)
$

145.00 / ticket
|
Children (2-10 Years)
$

145.00 / ticket
17
Normal
General price:
Adult (11+ years)
$

145.00 / ticket
|
Children (2-10 Years)
$

145.00 / ticket
18
Normal
General price:
Adult (11+ years)
$

145.00 / ticket
|
Children (2-10 Years)
$

145.00 / ticket
19
Normal
General price:
Adult (11+ years)
$

145.00 / ticket
|
Children (2-10 Years)
$

145.00 / ticket
20
Normal
General price:
Adult (11+ years)
$

145.00 / ticket
|
Children (2-10 Years)
$

145.00 / ticket
21
Normal
General price:
Adult (11+ years)
$

145.00 / ticket
|
Children (2-10 Years)
$

145.00 / ticket
22
Normal
General price:
Adult (11+ years)
$

145.00 / ticket
|
Children (2-10 Years)
$

145.00 / ticket
23
Normal
General price:
Adult (11+ years)
$

145.00 / ticket
|
Children (2-10 Years)
$

145.00 / ticket
24
Normal
General price:
Adult (11+ years)
$

145.00 / ticket
|
Children (2-10 Years)
$

145.00 / ticket
25
Normal
General price:
Adult (11+ years)
$

145.00 / ticket
|
Children (2-10 Years)
$

145.00 / ticket
26
Normal
General price:
Adult (11+ years)
$

145.00 / ticket
|
Children (2-10 Years)
$

145.00 / ticket
27
Normal
General price:
Adult (11+ years)
$

145.00 / ticket
|
Children (2-10 Years)
$

145.00 / ticket
28
Normal
General price:
Adult (11+ years)
$

145.00 / ticket
|
Children (2-10 Years)
$

145.00 / ticket
29
Normal
General price:
Adult (11+ years)
$

145.00 / ticket
|
Children (2-10 Years)
$

145.00 / ticket
30
Normal
General price:
Adult (11+ years)
$

145.00 / ticket
|
Children (2-10 Years)
$

145.00 / ticket
1
Normal
General price:
Adult (11+ years)
$

145.00 / ticket
|
Children (2-10 Years)
$

145.00 / ticket
25
Normal
General price:
Adult (11+ years)
$

145.00 / ticket
|
Children (2-10 Years)
$

145.00 / ticket
26
Normal
General price:
Adult (11+ years)
$

145.00 / ticket
|
Children (2-10 Years)
$

145.00 / ticket
27
Normal
General price:
Adult (11+ years)
$

145.00 / ticket
|
Children (2-10 Years)
$

145.00 / ticket
28
Normal
General price:
Adult (11+ years)
$

145.00 / ticket
|
Children (2-10 Years)
$

145.00 / ticket
29
Normal
General price:
Adult (11+ years)
$

145.00 / ticket
|
Children (2-10 Years)
$

145.00 / ticket
30
Normal
General price:
Adult (11+ years)
$

145.00 / ticket
|
Children (2-10 Years)
$

145.00 / ticket
1
Normal
General price:
Adult (11+ years)
$

145.00 / ticket
|
Children (2-10 Years)
$

145.00 / ticket
2
Normal
General price:
Adult (11+ years)
$

145.00 / ticket
|
Children (2-10 Years)
$

145.00 / ticket
3
Normal
General price:
Adult (11+ years)
$

145.00 / ticket
|
Children (2-10 Years)
$

145.00 / ticket
4
Normal
General price:
Adult (11+ years)
$

145.00 / ticket
|
Children (2-10 Years)
$

145.00 / ticket
5
Normal
General price:
Adult (11+ years)
$

145.00 / ticket
|
Children (2-10 Years)
$

145.00 / ticket
6
Normal
General price:
Adult (11+ years)
$

145.00 / ticket
|
Children (2-10 Years)
$

145.00 / ticket
7
Normal
General price:
Adult (11+ years)
$

145.00 / ticket
|
Children (2-10 Years)
$

145.00 / ticket
8
Normal
General price:
Adult (11+ years)
$

145.00 / ticket
|
Children (2-10 Years)
$

145.00 / ticket
9
Normal
General price:
Adult (11+ years)
$

145.00 / ticket
|
Children (2-10 Years)
$

145.00 / ticket
10
Normal
General price:
Adult (11+ years)
$

145.00 / ticket
|
Children (2-10 Years)
$

145.00 / ticket
11
Normal
General price:
Adult (11+ years)
$

145.00 / ticket
|
Children (2-10 Years)
$

145.00 / ticket
12
Normal
General price:
Adult (11+ years)
$

145.00 / ticket
|
Children (2-10 Years)
$

145.00 / ticket
13
Normal
General price:
Adult (11+ years)
$

145.00 / ticket
|
Children (2-10 Years)
$

145.00 / ticket
14
Normal
General price:
Adult (11+ years)
$

145.00 / ticket
|
Children (2-10 Years)
$

145.00 / ticket
15
Normal
General price:
Adult (11+ years)
$

145.00 / ticket
|
Children (2-10 Years)
$

145.00 / ticket
16
Normal
General price:
Adult (11+ years)
$

145.00 / ticket
|
Children (2-10 Years)
$

145.00 / ticket
17
Normal
General price:
Adult (11+ years)
$

145.00 / ticket
|
Children (2-10 Years)
$

145.00 / ticket
18
Normal
General price:
Adult (11+ years)
$

145.00 / ticket
|
Children (2-10 Years)
$

145.00 / ticket
19
Normal
General price:
Adult (11+ years)
$

145.00 / ticket
|
Children (2-10 Years)
$

145.00 / ticket
20
Normal
General price:
Adult (11+ years)
$

145.00 / ticket
|
Children (2-10 Years)
$

145.00 / ticket
21
Normal
General price:
Adult (11+ years)
$

145.00 / ticket
|
Children (2-10 Years)
$

145.00 / ticket
22
Normal
General price:
Adult (11+ years)
$

145.00 / ticket
|
Children (2-10 Years)
$

145.00 / ticket
23
Normal
General price:
Adult (11+ years)
$

145.00 / ticket
|
Children (2-10 Years)
$

145.00 / ticket
24
Normal
General price:
Adult (11+ years)
$

145.00 / ticket
|
Children (2-10 Years)
$

145.00 / ticket
25
Normal
General price:
Adult (11+ years)
$

145.00 / ticket
|
Children (2-10 Years)
$

145.00 / ticket
26
Normal
General price:
Adult (11+ years)
$

145.00 / ticket
|
Children (2-10 Years)
$

145.00 / ticket
27
Normal
General price:
Adult (11+ years)
$

145.00 / ticket
|
Children (2-10 Years)
$

145.00 / ticket
28
Normal
General price:
Adult (11+ years)
$

145.00 / ticket
|
Children (2-10 Years)
$

145.00 / ticket
29
Normal
General price:
Adult (11+ years)
$

145.00 / ticket
|
Children (2-10 Years)
$

145.00 / ticket
30
Normal
General price:
Adult (11+ years)
$

145.00 / ticket
|
Children (2-10 Years)
$

145.00 / ticket
31
Normal
General price:
Adult (11+ years)
$

145.00 / ticket
|
Children (2-10 Years)
$

145.00 / ticket
1
Normal
General price:
Adult (11+ years)
$

145.00 / ticket
|
Children (2-10 Years)
$

145.00 / ticket
2
Normal
General price:
Adult (11+ years)
$

145.00 / ticket
|
Children (2-10 Years)
$

145.00 / ticket
3
Normal
General price:
Adult (11+ years)
$

145.00 / ticket
|
Children (2-10 Years)
$

145.00 / ticket
4
Normal
General price:
Adult (11+ years)
$

145.00 / ticket
|
Children (2-10 Years)
$

145.00 / ticket
5
Normal
General price:
Adult (11+ years)
$

145.00 / ticket
|
Children (2-10 Years)
$

145.00 / ticket
30
Normal
General price:
Adult (11+ years)
$

145.00 / ticket
|
Children (2-10 Years)
$

145.00 / ticket
31
Normal
General price:
Adult (11+ years)
$

145.00 / ticket
|
Children (2-10 Years)
$

145.00 / ticket
1
Normal
General price:
Adult (11+ years)
$

145.00 / ticket
|
Children (2-10 Years)
$

145.00 / ticket
2
Normal
General price:
Adult (11+ years)
$

145.00 / ticket
|
Children (2-10 Years)
$

145.00 / ticket
3
Normal
General price:
Adult (11+ years)
$

145.00 / ticket
|
Children (2-10 Years)
$

145.00 / ticket
4
Normal
General price:
Adult (11+ years)
$

145.00 / ticket
|
Children (2-10 Years)
$

145.00 / ticket
5
Normal
General price:
Adult (11+ years)
$

145.00 / ticket
|
Children (2-10 Years)
$

145.00 / ticket
6
Normal
General price:
Adult (11+ years)
$

145.00 / ticket
|
Children (2-10 Years)
$

145.00 / ticket
7
Normal
General price:
Adult (11+ years)
$

145.00 / ticket
|
Children (2-10 Years)
$

145.00 / ticket
8
Normal
General price:
Adult (11+ years)
$

145.00 / ticket
|
Children (2-10 Years)
$

145.00 / ticket
9
Normal
General price:
Adult (11+ years)
$

145.00 / ticket
|
Children (2-10 Years)
$

145.00 / ticket
10
Normal
General price:
Adult (11+ years)
$

145.00 / ticket
|
Children (2-10 Years)
$

145.00 / ticket
11
Normal
General price:
Adult (11+ years)
$

145.00 / ticket
|
Children (2-10 Years)
$

145.00 / ticket
12
Normal
General price:
Adult (11+ years)
$

145.00 / ticket
|
Children (2-10 Years)
$

145.00 / ticket
13
Normal
General price:
Adult (11+ years)
$

145.00 / ticket
|
Children (2-10 Years)
$

145.00 / ticket
14
Normal
General price:
Adult (11+ years)
$

145.00 / ticket
|
Children (2-10 Years)
$

145.00 / ticket
15
Normal
General price:
Adult (11+ years)
$

145.00 / ticket
|
Children (2-10 Years)
$

145.00 / ticket
16
Normal
General price:
Adult (11+ years)
$

145.00 / ticket
|
Children (2-10 Years)
$

145.00 / ticket
17
Normal
General price:
Adult (11+ years)
$

145.00 / ticket
|
Children (2-10 Years)
$

145.00 / ticket
18
Normal
General price:
Adult (11+ years)
$

145.00 / ticket
|
Children (2-10 Years)
$

145.00 / ticket
19
Normal
General price:
Adult (11+ years)
$

145.00 / ticket
|
Children (2-10 Years)
$

145.00 / ticket
20
Normal
General price:
Adult (11+ years)
$

145.00 / ticket
|
Children (2-10 Years)
$

145.00 / ticket
21
Normal
General price:
Adult (11+ years)
$

145.00 / ticket
|
Children (2-10 Years)
$

145.00 / ticket
22
Normal
General price:
Adult (11+ years)
$

145.00 / ticket
|
Children (2-10 Years)
$

145.00 / ticket
23
Normal
General price:
Adult (11+ years)
$

145.00 / ticket
|
Children (2-10 Years)
$

145.00 / ticket
24
Normal
General price:
Adult (11+ years)
$

145.00 / ticket
|
Children (2-10 Years)
$

145.00 / ticket
25
Normal
General price:
Adult (11+ years)
$

145.00 / ticket
|
Children (2-10 Years)
$

145.00 / ticket
26
Normal
General price:
Adult (11+ years)
$

145.00 / ticket
|
Children (2-10 Years)
$

145.00 / ticket
27
Normal
General price:
Adult (11+ years)
$

145.00 / ticket
|
Children (2-10 Years)
$

145.00 / ticket
28
Normal
General price:
Adult (11+ years)
$

145.00 / ticket
|
Children (2-10 Years)
$

145.00 / ticket
29
Normal
General price:
Adult (11+ years)
$

145.00 / ticket
|
Children (2-10 Years)
$

145.00 / ticket
30
Normal
General price:
Adult (11+ years)
$

145.00 / ticket
|
Children (2-10 Years)
$

145.00 / ticket
31
Normal
General price:
Adult (11+ years)
$

145.00 / ticket
|
Children (2-10 Years)
$

145.00 / ticket
1
Normal
General price:
Adult (11+ years)
$

145.00 / ticket
|
Children (2-10 Years)
$

145.00 / ticket
2
Normal
General price:
Adult (11+ years)
$

145.00 / ticket
|
Children (2-10 Years)
$

145.00 / ticket
27
Normal
General price:
Adult (11+ years)
$

145.00 / ticket
|
Children (2-10 Years)
$

145.00 / ticket
28
Normal
General price:
Adult (11+ years)
$

145.00 / ticket
|
Children (2-10 Years)
$

145.00 / ticket
29
Normal
General price:
Adult (11+ years)
$

145.00 / ticket
|
Children (2-10 Years)
$

145.00 / ticket
30
Normal
General price:
Adult (11+ years)
$

145.00 / ticket
|
Children (2-10 Years)
$

145.00 / ticket
31
Normal
General price:
Adult (11+ years)
$

145.00 / ticket
|
Children (2-10 Years)
$

145.00 / ticket
1
Normal
General price:
Adult (11+ years)
$

145.00 / ticket
|
Children (2-10 Years)
$

145.00 / ticket
2
Normal
General price:
Adult (11+ years)
$

145.00 / ticket
|
Children (2-10 Years)
$

145.00 / ticket
3
Normal
General price:
Adult (11+ years)
$

145.00 / ticket
|
Children (2-10 Years)
$

145.00 / ticket
4
Normal
General price:
Adult (11+ years)
$

145.00 / ticket
|
Children (2-10 Years)
$

145.00 / ticket
5
Normal
General price:
Adult (11+ years)
$

145.00 / ticket
|
Children (2-10 Years)
$

145.00 / ticket
6
Normal
General price:
Adult (11+ years)
$

145.00 / ticket
|
Children (2-10 Years)
$

145.00 / ticket
7
Normal
General price:
Adult (11+ years)
$

145.00 / ticket
|
Children (2-10 Years)
$

145.00 / ticket
8
Normal
General price:
Adult (11+ years)
$

145.00 / ticket
|
Children (2-10 Years)
$

145.00 / ticket
9
Normal
General price:
Adult (11+ years)
$

145.00 / ticket
|
Children (2-10 Years)
$

145.00 / ticket
10
Normal
General price:
Adult (11+ years)
$

145.00 / ticket
|
Children (2-10 Years)
$

145.00 / ticket
11
Normal
General price:
Adult (11+ years)
$

145.00 / ticket
|
Children (2-10 Years)
$

145.00 / ticket
12
Normal
General price:
Adult (11+ years)
$

145.00 / ticket
|
Children (2-10 Years)
$

145.00 / ticket
13
Normal
General price:
Adult (11+ years)
$

145.00 / ticket
|
Children (2-10 Years)
$

145.00 / ticket
14
Normal
General price:
Adult (11+ years)
$

145.00 / ticket
|
Children (2-10 Years)
$

145.00 / ticket
15
Normal
General price:
Adult (11+ years)
$

145.00 / ticket
|
Children (2-10 Years)
$

145.00 / ticket
16
Normal
General price:
Adult (11+ years)
$

145.00 / ticket
|
Children (2-10 Years)
$

145.00 / ticket
17
Normal
General price:
Adult (11+ years)
$

145.00 / ticket
|
Children (2-10 Years)
$

145.00 / ticket
18
Normal
General price:
Adult (11+ years)
$

145.00 / ticket
|
Children (2-10 Years)
$

145.00 / ticket
19
Normal
General price:
Adult (11+ years)
$

145.00 / ticket
|
Children (2-10 Years)
$

145.00 / ticket
20
Normal
General price:
Adult (11+ years)
$

145.00 / ticket
|
Children (2-10 Years)
$

145.00 / ticket
21
Normal
General price:
Adult (11+ years)
$

145.00 / ticket
|
Children (2-10 Years)
$

145.00 / ticket
22
Normal
General price:
Adult (11+ years)
$

145.00 / ticket
|
Children (2-10 Years)
$

145.00 / ticket
23
Normal
General price:
Adult (11+ years)
$

145.00 / ticket
|
Children (2-10 Years)
$

145.00 / ticket
24
Normal
General price:
Adult (11+ years)
$

145.00 / ticket
|
Children (2-10 Years)
$

145.00 / ticket
25
Normal
General price:
Adult (11+ years)
$

145.00 / ticket
|
Children (2-10 Years)
$

145.00 / ticket
26
Normal
General price:
Adult (11+ years)
$

145.00 / ticket
|
Children (2-10 Years)
$

145.00 / ticket
27
Normal
General price:
Adult (11+ years)
$

145.00 / ticket
|
Children (2-10 Years)
$

145.00 / ticket
28
Normal
General price:
Adult (11+ years)
$

145.00 / ticket
|
Children (2-10 Years)
$

145.00 / ticket
1
Normal
General price:
Adult (11+ years)
$

145.00 / ticket
|
Children (2-10 Years)
$

145.00 / ticket
2
Normal
General price:
Adult (11+ years)
$

145.00 / ticket
|
Children (2-10 Years)
$

145.00 / ticket
24
Normal
General price:
Adult (11+ years)
$

145.00 / ticket
|
Children (2-10 Years)
$

145.00 / ticket
25
Normal
General price:
Adult (11+ years)
$

145.00 / ticket
|
Children (2-10 Years)
$

145.00 / ticket
26
Normal
General price:
Adult (11+ years)
$

145.00 / ticket
|
Children (2-10 Years)
$

145.00 / ticket
27
Normal
General price:
Adult (11+ years)
$

145.00 / ticket
|
Children (2-10 Years)
$

145.00 / ticket
28
Normal
General price:
Adult (11+ years)
$

145.00 / ticket
|
Children (2-10 Years)
$

145.00 / ticket
1
Normal
General price:
Adult (11+ years)
$

145.00 / ticket
|
Children (2-10 Years)
$

145.00 / ticket
2
Normal
General price:
Adult (11+ years)
$

145.00 / ticket
|
Children (2-10 Years)
$

145.00 / ticket
3
Normal
General price:
Adult (11+ years)
$

145.00 / ticket
|
Children (2-10 Years)
$

145.00 / ticket
4
Normal
General price:
Adult (11+ years)
$

145.00 / ticket
|
Children (2-10 Years)
$

145.00 / ticket
5
Normal
General price:
Adult (11+ years)
$

145.00 / ticket
|
Children (2-10 Years)
$

145.00 / ticket
6
Normal
General price:
Adult (11+ years)
$

145.00 / ticket
|
Children (2-10 Years)
$

145.00 / ticket
7
Normal
General price:
Adult (11+ years)
$

145.00 / ticket
|
Children (2-10 Years)
$

145.00 / ticket
8
Normal
General price:
Adult (11+ years)
$

145.00 / ticket
|
Children (2-10 Years)
$

145.00 / ticket
9
Normal
General price:
Adult (11+ years)
$

145.00 / ticket
|
Children (2-10 Years)
$

145.00 / ticket
10
Normal
General price:
Adult (11+ years)
$

145.00 / ticket
|
Children (2-10 Years)
$

145.00 / ticket
11
Normal
General price:
Adult (11+ years)
$

145.00 / ticket
|
Children (2-10 Years)
$

145.00 / ticket
12
Normal
General price:
Adult (11+ years)
$

145.00 / ticket
|
Children (2-10 Years)
$

145.00 / ticket
13
Normal
General price:
Adult (11+ years)
$

145.00 / ticket
|
Children (2-10 Years)
$

145.00 / ticket
14
Normal
General price:
Adult (11+ years)
$

145.00 / ticket
|
Children (2-10 Years)
$

145.00 / ticket
15
Normal
General price:
Adult (11+ years)
$

145.00 / ticket
|
Children (2-10 Years)
$

145.00 / ticket
16
Normal
General price:
Adult (11+ years)
$

145.00 / ticket
|
Children (2-10 Years)
$

145.00 / ticket
17
Normal
General price:
Adult (11+ years)
$

145.00 / ticket
|
Children (2-10 Years)
$

145.00 / ticket
18
Normal
General price:
Adult (11+ years)
$

145.00 / ticket
|
Children (2-10 Years)
$

145.00 / ticket
19
Normal
General price:
Adult (11+ years)
$

145.00 / ticket
|
Children (2-10 Years)
$

145.00 / ticket
20
Normal
General price:
Adult (11+ years)
$

145.00 / ticket
|
Children (2-10 Years)
$

145.00 / ticket
21
Normal
General price:
Adult (11+ years)
$

145.00 / ticket
|
Children (2-10 Years)
$

145.00 / ticket
22
Normal
General price:
Adult (11+ years)
$

145.00 / ticket
|
Children (2-10 Years)
$

145.00 / ticket
23
Normal
General price:
Adult (11+ years)
$

145.00 / ticket
|
Children (2-10 Years)
$

145.00 / ticket
24
Normal
General price:
Adult (11+ years)
$

145.00 / ticket
|
Children (2-10 Years)
$

145.00 / ticket
25
Normal
General price:
Adult (11+ years)
$

145.00 / ticket
|
Children (2-10 Years)
$

145.00 / ticket
26
Normal
General price:
Adult (11+ years)
$

145.00 / ticket
|
Children (2-10 Years)
$

145.00 / ticket
27
Normal
General price:
Adult (11+ years)
$

145.00 / ticket
|
Children (2-10 Years)
$

145.00 / ticket
28
Normal
General price:
Adult (11+ years)
$

145.00 / ticket
|
Children (2-10 Years)
$

145.00 / ticket
29
Normal
General price:
Adult (11+ years)
$

145.00 / ticket
|
Children (2-10 Years)
$

145.00 / ticket
30
Normal
General price:
Adult (11+ years)
$

145.00 / ticket
|
Children (2-10 Years)
$

145.00 / ticket
31
Normal
General price:
Adult (11+ years)
$

145.00 / ticket
|
Children (2-10 Years)
$

145.00 / ticket
1
Normal
General price:
Adult (11+ years)
$

145.00 / ticket
|
Children (2-10 Years)
$

145.00 / ticket
2
Normal
General price:
Adult (11+ years)
$

145.00 / ticket
|
Children (2-10 Years)
$

145.00 / ticket
3
Normal
General price:
Adult (11+ years)
$

145.00 / ticket
|
Children (2-10 Years)
$

145.00 / ticket
4
Normal
General price:
Adult (11+ years)
$

145.00 / ticket
|
Children (2-10 Years)
$

145.00 / ticket
5
Normal
General price:
Adult (11+ years)
$

145.00 / ticket
|
Children (2-10 Years)
$

145.00 / ticket
6
Normal
General price:
Adult (11+ years)
$

145.00 / ticket
|
Children (2-10 Years)
$

145.00 / ticket
31
Normal
General price:
Adult (11+ years)
$

145.00 / ticket
|
Children (2-10 Years)
$

145.00 / ticket
1
Normal
General price:
Adult (11+ years)
$

145.00 / ticket
|
Children (2-10 Years)
$

145.00 / ticket
2
Normal
General price:
Adult (11+ years)
$

145.00 / ticket
|
Children (2-10 Years)
$

145.00 / ticket
3
Normal
General price:
Adult (11+ years)
$

145.00 / ticket
|
Children (2-10 Years)
$

145.00 / ticket
4
Normal
General price:
Adult (11+ years)
$

145.00 / ticket
|
Children (2-10 Years)
$

145.00 / ticket
5
Normal
General price:
Adult (11+ years)
$

145.00 / ticket
|
Children (2-10 Years)
$

145.00 / ticket
6
Normal
General price:
Adult (11+ years)
$

145.00 / ticket
|
Children (2-10 Years)
$

145.00 / ticket
7
Normal
General price:
Adult (11+ years)
$

145.00 / ticket
|
Children (2-10 Years)
$

145.00 / ticket
8
Normal
General price:
Adult (11+ years)
$

145.00 / ticket
|
Children (2-10 Years)
$

145.00 / ticket
9
Normal
General price:
Adult (11+ years)
$

145.00 / ticket
|
Children (2-10 Years)
$

145.00 / ticket
10
Normal
General price:
Adult (11+ years)
$

145.00 / ticket
|
Children (2-10 Years)
$

145.00 / ticket
11
Normal
General price:
Adult (11+ years)
$

145.00 / ticket
|
Children (2-10 Years)
$

145.00 / ticket
12
Normal
General price:
Adult (11+ years)
$

145.00 / ticket
|
Children (2-10 Years)
$

145.00 / ticket
13
Normal
General price:
Adult (11+ years)
$

145.00 / ticket
|
Children (2-10 Years)
$

145.00 / ticket
14
Normal
General price:
Adult (11+ years)
$

145.00 / ticket
|
Children (2-10 Years)
$

145.00 / ticket
15
Normal
General price:
Adult (11+ years)
$

145.00 / ticket
|
Children (2-10 Years)
$

145.00 / ticket
16
Normal
General price:
Adult (11+ years)
$

145.00 / ticket
|
Children (2-10 Years)
$

145.00 / ticket
17
Normal
General price:
Adult (11+ years)
$

145.00 / ticket
|
Children (2-10 Years)
$

145.00 / ticket
18
Normal
General price:
Adult (11+ years)
$

145.00 / ticket
|
Children (2-10 Years)
$

145.00 / ticket
19
Normal
General price:
Adult (11+ years)
$

145.00 / ticket
|
Children (2-10 Years)
$

145.00 / ticket
20
Normal
General price:
Adult (11+ years)
$

145.00 / ticket
|
Children (2-10 Years)
$

145.00 / ticket
21
Normal
General price:
Adult (11+ years)
$

145.00 / ticket
|
Children (2-10 Years)
$

145.00 / ticket
22
Normal
General price:
Adult (11+ years)
$

145.00 / ticket
|
Children (2-10 Years)
$

145.00 / ticket
23
Normal
General price:
Adult (11+ years)
$

145.00 / ticket
|
Children (2-10 Years)
$

145.00 / ticket
24
Normal
General price:
Adult (11+ years)
$

145.00 / ticket
|
Children (2-10 Years)
$

145.00 / ticket
25
Normal
General price:
Adult (11+ years)
$

145.00 / ticket
|
Children (2-10 Years)
$

145.00 / ticket
26
Normal
General price:
Adult (11+ years)
$

145.00 / ticket
|
Children (2-10 Years)
$

145.00 / ticket
27
Normal
General price:
Adult (11+ years)
$

145.00 / ticket
|
Children (2-10 Years)
$

145.00 / ticket
28
Normal
General price:
Adult (11+ years)
$

145.00 / ticket
|
Children (2-10 Years)
$

145.00 / ticket
29
Normal
General price:
Adult (11+ years)
$

145.00 / ticket
|
Children (2-10 Years)
$

145.00 / ticket
30
Normal
General price:
Adult (11+ years)
$

145.00 / ticket
|
Children (2-10 Years)
$

145.00 / ticket
1
Normal
General price:
Adult (11+ years)
$

145.00 / ticket
|
Children (2-10 Years)
$

145.00 / ticket
2
Normal
General price:
Adult (11+ years)
$

145.00 / ticket
|
Children (2-10 Years)
$

145.00 / ticket
3
Normal
General price:
Adult (11+ years)
$

145.00 / ticket
|
Children (2-10 Years)
$

145.00 / ticket
4
Normal
General price:
Adult (11+ years)
$

145.00 / ticket
|
Children (2-10 Years)
$

145.00 / ticket
28
Normal
General price:
Adult (11+ years)
$

145.00 / ticket
|
Children (2-10 Years)
$

145.00 / ticket
29
Normal
General price:
Adult (11+ years)
$

145.00 / ticket
|
Children (2-10 Years)
$

145.00 / ticket
30
Normal
General price:
Adult (11+ years)
$

145.00 / ticket
|
Children (2-10 Years)
$

145.00 / ticket
1
Normal
General price:
Adult (11+ years)
$

145.00 / ticket
|
Children (2-10 Years)
$

145.00 / ticket
2
Normal
General price:
Adult (11+ years)
$

145.00 / ticket
|
Children (2-10 Years)
$

145.00 / ticket
3
Normal
General price:
Adult (11+ years)
$

145.00 / ticket
|
Children (2-10 Years)
$

145.00 / ticket
4
Normal
General price:
Adult (11+ years)
$

145.00 / ticket
|
Children (2-10 Years)
$

145.00 / ticket
5
Normal
General price:
Adult (11+ years)
$

145.00 / ticket
|
Children (2-10 Years)
$

145.00 / ticket
6
Normal
General price:
Adult (11+ years)
$

145.00 / ticket
|
Children (2-10 Years)
$

145.00 / ticket
7
Normal
General price:
Adult (11+ years)
$

145.00 / ticket
|
Children (2-10 Years)
$

145.00 / ticket
8
Normal
General price:
Adult (11+ years)
$

145.00 / ticket
|
Children (2-10 Years)
$

145.00 / ticket
9
Normal
General price:
Adult (11+ years)
$

145.00 / ticket
|
Children (2-10 Years)
$

145.00 / ticket
10
Normal
General price:
Adult (11+ years)
$

145.00 / ticket
|
Children (2-10 Years)
$

145.00 / ticket
11
Normal
General price:
Adult (11+ years)
$

145.00 / ticket
|
Children (2-10 Years)
$

145.00 / ticket
12
Normal
General price:
Adult (11+ years)
$

145.00 / ticket
|
Children (2-10 Years)
$

145.00 / ticket
13
Normal
General price:
Adult (11+ years)
$

145.00 / ticket
|
Children (2-10 Years)
$

145.00 / ticket
14
Normal
General price:
Adult (11+ years)
$

145.00 / ticket
|
Children (2-10 Years)
$

145.00 / ticket
15
Normal
General price:
Adult (11+ years)
$

145.00 / ticket
|
Children (2-10 Years)
$

145.00 / ticket
16
Normal
General price:
Adult (11+ years)
$

145.00 / ticket
|
Children (2-10 Years)
$

145.00 / ticket
17
Normal
General price:
Adult (11+ years)
$

145.00 / ticket
|
Children (2-10 Years)
$

145.00 / ticket
18
Normal
General price:
Adult (11+ years)
$

145.00 / ticket
|
Children (2-10 Years)
$

145.00 / ticket
19
Normal
General price:
Adult (11+ years)
$

145.00 / ticket
|
Children (2-10 Years)
$

145.00 / ticket
20
Normal
General price:
Adult (11+ years)
$

145.00 / ticket
|
Children (2-10 Years)
$

145.00 / ticket
21
Normal
General price:
Adult (11+ years)
$

145.00 / ticket
|
Children (2-10 Years)
$

145.00 / ticket
22
Normal
General price:
Adult (11+ years)
$

145.00 / ticket
|
Children (2-10 Years)
$

145.00 / ticket
23
Normal
General price:
Adult (11+ years)
$

145.00 / ticket
|
Children (2-10 Years)
$

145.00 / ticket
24
Normal
General price:
Adult (11+ years)
$

145.00 / ticket
|
Children (2-10 Years)
$

145.00 / ticket
25
Normal
General price:
Adult (11+ years)
$

145.00 / ticket
|
Children (2-10 Years)
$

145.00 / ticket
26
Normal
General price:
Adult (11+ years)
$

145.00 / ticket
|
Children (2-10 Years)
$

145.00 / ticket
27
Normal
General price:
Adult (11+ years)
$

145.00 / ticket
|
Children (2-10 Years)
$

145.00 / ticket
28
Normal
General price:
Adult (11+ years)
$

145.00 / ticket
|
Children (2-10 Years)
$

145.00 / ticket
29
Normal
General price:
Adult (11+ years)
$

145.00 / ticket
|
Children (2-10 Years)
$

145.00 / ticket
30
Normal
General price:
Adult (11+ years)
$

145.00 / ticket
|
Children (2-10 Years)
$

145.00 / ticket
31
Normal
General price:
Adult (11+ years)
$

145.00 / ticket
|
Children (2-10 Years)
$

145.00 / ticket
1
Normal
General price:
Adult (11+ years)
$

145.00 / ticket
|
Children (2-10 Years)
$

145.00 / ticket
26
Normal
General price:
Adult (11+ years)
$

145.00 / ticket
|
Children (2-10 Years)
$

145.00 / ticket
27
Normal
General price:
Adult (11+ years)
$

145.00 / ticket
|
Children (2-10 Years)
$

145.00 / ticket
28
Normal
General price:
Adult (11+ years)
$

145.00 / ticket
|
Children (2-10 Years)
$

145.00 / ticket
29
Normal
General price:
Adult (11+ years)
$

145.00 / ticket
|
Children (2-10 Years)
$

145.00 / ticket
30
Normal
General price:
Adult (11+ years)
$

145.00 / ticket
|
Children (2-10 Years)
$

145.00 / ticket
31
Normal
General price:
Adult (11+ years)
$

145.00 / ticket
|
Children (2-10 Years)
$

145.00 / ticket
1
Normal
General price:
Adult (11+ years)
$

145.00 / ticket
|
Children (2-10 Years)
$

145.00 / ticket
2
Normal
General price:
Adult (11+ years)
$

145.00 / ticket
|
Children (2-10 Years)
$

145.00 / ticket
3
Normal
General price:
Adult (11+ years)
$

145.00 / ticket
|
Children (2-10 Years)
$

145.00 / ticket
4
Normal
General price:
Adult (11+ years)
$

145.00 / ticket
|
Children (2-10 Years)
$

145.00 / ticket
5
Normal
General price:
Adult (11+ years)
$

145.00 / ticket
|
Children (2-10 Years)
$

145.00 / ticket
6
Normal
General price:
Adult (11+ years)
$

145.00 / ticket
|
Children (2-10 Years)
$

145.00 / ticket
7
Normal
General price:
Adult (11+ years)
$

145.00 / ticket
|
Children (2-10 Years)
$

145.00 / ticket
8
Normal
General price:
Adult (11+ years)
$

145.00 / ticket
|
Children (2-10 Years)
$

145.00 / ticket
9
Normal
General price:
Adult (11+ years)
$

145.00 / ticket
|
Children (2-10 Years)
$

145.00 / ticket
10
Normal
General price:
Adult (11+ years)
$

145.00 / ticket
|
Children (2-10 Years)
$

145.00 / ticket
11
Normal
General price:
Adult (11+ years)
$

145.00 / ticket
|
Children (2-10 Years)
$

145.00 / ticket
12
Normal
General price:
Adult (11+ years)
$

145.00 / ticket
|
Children (2-10 Years)
$

145.00 / ticket
13
Normal
General price:
Adult (11+ years)
$

145.00 / ticket
|
Children (2-10 Years)
$

145.00 / ticket
14
Normal
General price:
Adult (11+ years)
$

145.00 / ticket
|
Children (2-10 Years)
$

145.00 / ticket
15
Normal
General price:
Adult (11+ years)
$

145.00 / ticket
|
Children (2-10 Years)
$

145.00 / ticket
16
Normal
General price:
Adult (11+ years)
$

145.00 / ticket
|
Children (2-10 Years)
$

145.00 / ticket
17
Normal
General price:
Adult (11+ years)
$

145.00 / ticket
|
Children (2-10 Years)
$

145.00 / ticket
18
Normal
General price:
Adult (11+ years)
$

145.00 / ticket
|
Children (2-10 Years)
$

145.00 / ticket
19
Normal
General price:
Adult (11+ years)
$

145.00 / ticket
|
Children (2-10 Years)
$

145.00 / ticket
20
Normal
General price:
Adult (11+ years)
$

145.00 / ticket
|
Children (2-10 Years)
$

145.00 / ticket
21
Normal
General price:
Adult (11+ years)
$

145.00 / ticket
|
Children (2-10 Years)
$

145.00 / ticket
22
Normal
General price:
Adult (11+ years)
$

145.00 / ticket
|
Children (2-10 Years)
$

145.00 / ticket
23
Normal
General price:
Adult (11+ years)
$

145.00 / ticket
|
Children (2-10 Years)
$

145.00 / ticket
24
Normal
General price:
Adult (11+ years)
$

145.00 / ticket
|
Children (2-10 Years)
$

145.00 / ticket
25
Normal
General price:
Adult (11+ years)
$

145.00 / ticket
|
Children (2-10 Years)
$

145.00 / ticket
26
Normal
General price:
Adult (11+ years)
$

145.00 / ticket
|
Children (2-10 Years)
$

145.00 / ticket
27
Normal
General price:
Adult (11+ years)
$

145.00 / ticket
|
Children (2-10 Years)
$

145.00 / ticket
28
Normal
General price:
Adult (11+ years)
$

145.00 / ticket
|
Children (2-10 Years)
$

145.00 / ticket
29
Normal
General price:
Adult (11+ years)
$

145.00 / ticket
|
Children (2-10 Years)
$

145.00 / ticket
30
Normal
General price:
Adult (11+ years)
$

145.00 / ticket
|
Children (2-10 Years)
$

145.00 / ticket
1
Normal
General price:
Adult (11+ years)
$

145.00 / ticket
|
Children (2-10 Years)
$

145.00 / ticket
2
Normal
General price:
Adult (11+ years)
$

145.00 / ticket
|
Children (2-10 Years)
$

145.00 / ticket
3
Normal
General price:
Adult (11+ years)
$

145.00 / ticket
|
Children (2-10 Years)
$

145.00 / ticket
4
Normal
General price:
Adult (11+ years)
$

145.00 / ticket
|
Children (2-10 Years)
$

145.00 / ticket
5
Normal
General price:
Adult (11+ years)
$

145.00 / ticket
|
Children (2-10 Years)
$

145.00 / ticket
6
Normal
General price:
Adult (11+ years)
$

145.00 / ticket
|
Children (2-10 Years)
$

145.00 / ticket
30
Normal
General price:
Adult (11+ years)
$

145.00 / ticket
|
Children (2-10 Years)
$

145.00 / ticket
1
Normal
General price:
Adult (11+ years)
$

145.00 / ticket
|
Children (2-10 Years)
$

145.00 / ticket
2
Normal
General price:
Adult (11+ years)
$

145.00 / ticket
|
Children (2-10 Years)
$

145.00 / ticket
3
Normal
General price:
Adult (11+ years)
$

145.00 / ticket
|
Children (2-10 Years)
$

145.00 / ticket
4
Normal
General price:
Adult (11+ years)
$

145.00 / ticket
|
Children (2-10 Years)
$

145.00 / ticket
5
Normal
General price:
Adult (11+ years)
$

145.00 / ticket
|
Children (2-10 Years)
$

145.00 / ticket
6
Normal
General price:
Adult (11+ years)
$

145.00 / ticket
|
Children (2-10 Years)
$

145.00 / ticket
7
Normal
General price:
Adult (11+ years)
$

145.00 / ticket
|
Children (2-10 Years)
$

145.00 / ticket
8
Normal
General price:
Adult (11+ years)
$

145.00 / ticket
|
Children (2-10 Years)
$

145.00 / ticket
9
Normal
General price:
Adult (11+ years)
$

145.00 / ticket
|
Children (2-10 Years)
$

145.00 / ticket
10
Normal
General price:
Adult (11+ years)
$

145.00 / ticket
|
Children (2-10 Years)
$

145.00 / ticket
11
Normal
General price:
Adult (11+ years)
$

145.00 / ticket
|
Children (2-10 Years)
$

145.00 / ticket
12
Normal
General price:
Adult (11+ years)
$

145.00 / ticket
|
Children (2-10 Years)
$

145.00 / ticket
13
Normal
General price:
Adult (11+ years)
$

145.00 / ticket
|
Children (2-10 Years)
$

145.00 / ticket
14
Normal
General price:
Adult (11+ years)
$

145.00 / ticket
|
Children (2-10 Years)
$

145.00 / ticket
15
Normal
General price:
Adult (11+ years)
$

145.00 / ticket
|
Children (2-10 Years)
$

145.00 / ticket
16
Normal
General price:
Adult (11+ years)
$

145.00 / ticket
|
Children (2-10 Years)
$

145.00 / ticket
17
Normal
General price:
Adult (11+ years)
$

145.00 / ticket
|
Children (2-10 Years)
$

145.00 / ticket
18
Normal
General price:
Adult (11+ years)
$

145.00 / ticket
|
Children (2-10 Years)
$

145.00 / ticket
19
Normal
General price:
Adult (11+ years)
$

145.00 / ticket
|
Children (2-10 Years)
$

145.00 / ticket
20
Normal
General price:
Adult (11+ years)
$

145.00 / ticket
|
Children (2-10 Years)
$

145.00 / ticket
21
Normal
General price:
Adult (11+ years)
$

145.00 / ticket
|
Children (2-10 Years)
$

145.00 / ticket
22
Normal
General price:
Adult (11+ years)
$

145.00 / ticket
|
Children (2-10 Years)
$

145.00 / ticket
23
Normal
General price:
Adult (11+ years)
$

145.00 / ticket
|
Children (2-10 Years)
$

145.00 / ticket
24
Normal
General price:
Adult (11+ years)
$

145.00 / ticket
|
Children (2-10 Years)
$

145.00 / ticket
25
Normal
General price:
Adult (11+ years)
$

145.00 / ticket
|
Children (2-10 Years)
$

145.00 / ticket
26
Normal
General price:
Adult (11+ years)
$

145.00 / ticket
|
Children (2-10 Years)
$

145.00 / ticket
27
Normal
General price:
Adult (11+ years)
$

145.00 / ticket
|
Children (2-10 Years)
$

145.00 / ticket
28
Normal
General price:
Adult (11+ years)
$

145.00 / ticket
|
Children (2-10 Years)
$

145.00 / ticket
29
Normal
General price:
Adult (11+ years)
$

145.00 / ticket
|
Children (2-10 Years)
$

145.00 / ticket
30
Normal
General price:
Adult (11+ years)
$

145.00 / ticket
|
Children (2-10 Years)
$

145.00 / ticket
31
Normal
General price:
Adult (11+ years)
$

145.00 / ticket
|
Children (2-10 Years)
$

145.00 / ticket
1
Normal
General price:
Adult (11+ years)
$

145.00 / ticket
|
Children (2-10 Years)
$

145.00 / ticket
2
Normal
General price:
Adult (11+ years)
$

145.00 / ticket
|
Children (2-10 Years)
$

145.00 / ticket
3
Normal
General price:
Adult (11+ years)
$

145.00 / ticket
|
Children (2-10 Years)
$

145.00 / ticket
28
Normal
General price:
Adult (11+ years)
$

145.00 / ticket
|
Children (2-10 Years)
$

145.00 / ticket
29
Normal
General price:
Adult (11+ years)
$

145.00 / ticket
|
Children (2-10 Years)
$

145.00 / ticket
30
Normal
General price:
Adult (11+ years)
$

145.00 / ticket
|
Children (2-10 Years)
$

145.00 / ticket
31
Normal
General price:
Adult (11+ years)
$

145.00 / ticket
|
Children (2-10 Years)
$

145.00 / ticket
1
Normal
General price:
Adult (11+ years)
$

145.00 / ticket
|
Children (2-10 Years)
$

145.00 / ticket
2
Normal
General price:
Adult (11+ years)
$

145.00 / ticket
|
Children (2-10 Years)
$

145.00 / ticket
3
Normal
General price:
Adult (11+ years)
$

145.00 / ticket
|
Children (2-10 Years)
$

145.00 / ticket
4
Normal
General price:
Adult (11+ years)
$

145.00 / ticket
|
Children (2-10 Years)
$

145.00 / ticket
5
Normal
General price:
Adult (11+ years)
$

145.00 / ticket
|
Children (2-10 Years)
$

145.00 / ticket
6
Normal
General price:
Adult (11+ years)
$

145.00 / ticket
|
Children (2-10 Years)
$

145.00 / ticket
7
Normal
General price:
Adult (11+ years)
$

145.00 / ticket
|
Children (2-10 Years)
$

145.00 / ticket
8
Normal
General price:
Adult (11+ years)
$

145.00 / ticket
|
Children (2-10 Years)
$

145.00 / ticket
9
Normal
General price:
Adult (11+ years)
$

145.00 / ticket
|
Children (2-10 Years)
$

145.00 / ticket
10
Normal
General price:
Adult (11+ years)
$

145.00 / ticket
|
Children (2-10 Years)
$

145.00 / ticket
11
Normal
General price:
Adult (11+ years)
$

145.00 / ticket
|
Children (2-10 Years)
$

145.00 / ticket
12
Normal
General price:
Adult (11+ years)
$

145.00 / ticket
|
Children (2-10 Years)
$

145.00 / ticket
13
Normal
General price:
Adult (11+ years)
$

145.00 / ticket
|
Children (2-10 Years)
$

145.00 / ticket
14
Normal
General price:
Adult (11+ years)
$

145.00 / ticket
|
Children (2-10 Years)
$

145.00 / ticket
15
Normal
General price:
Adult (11+ years)
$

145.00 / ticket
|
Children (2-10 Years)
$

145.00 / ticket
16
Normal
General price:
Adult (11+ years)
$

145.00 / ticket
|
Children (2-10 Years)
$

145.00 / ticket
17
Normal
General price:
Adult (11+ years)
$

145.00 / ticket
|
Children (2-10 Years)
$

145.00 / ticket
18
Normal
General price:
Adult (11+ years)
$

145.00 / ticket
|
Children (2-10 Years)
$

145.00 / ticket
19
Normal
General price:
Adult (11+ years)
$

145.00 / ticket
|
Children (2-10 Years)
$

145.00 / ticket
20
Normal
General price:
Adult (11+ years)
$

145.00 / ticket
|
Children (2-10 Years)
$

145.00 / ticket
21
Normal
General price:
Adult (11+ years)
$

145.00 / ticket
|
Children (2-10 Years)
$

145.00 / ticket
22
Normal
General price:
Adult (11+ years)
$

145.00 / ticket
|
Children (2-10 Years)
$

145.00 / ticket
23
Normal
General price:
Adult (11+ years)
$

145.00 / ticket
|
Children (2-10 Years)
$

145.00 / ticket
24
Normal
General price:
Adult (11+ years)
$

145.00 / ticket
|
Children (2-10 Years)
$

145.00 / ticket
25
Normal
General price:
Adult (11+ years)
$

145.00 / ticket
|
Children (2-10 Years)
$

145.00 / ticket
26
Normal
General price:
Adult (11+ years)
$

145.00 / ticket
|
Children (2-10 Years)
$

145.00 / ticket
27
Normal
General price:
Adult (11+ years)
$

145.00 / ticket
|
Children (2-10 Years)
$

145.00 / ticket
28
Normal
General price:
Adult (11+ years)
$

145.00 / ticket
|
Children (2-10 Years)
$

145.00 / ticket
29
Normal
General price:
Adult (11+ years)
$

145.00 / ticket
|
Children (2-10 Years)
$

145.00 / ticket
30
Normal
General price:
Adult (11+ years)
$

145.00 / ticket
|
Children (2-10 Years)
$

145.00 / ticket
31
Normal
General price:
Adult (11+ years)
$

145.00 / ticket
|
Children (2-10 Years)
$

145.00 / ticket
1
Normal
General price:
Adult (11+ years)
$

145.00 / ticket
|
Children (2-10 Years)
$

145.00 / ticket
2
Normal
General price:
Adult (11+ years)
$

145.00 / ticket
|
Children (2-10 Years)
$

145.00 / ticket
3
Normal
General price:
Adult (11+ years)
$

145.00 / ticket
|
Children (2-10 Years)
$

145.00 / ticket
4
Normal
General price:
Adult (11+ years)
$

145.00 / ticket
|
Children (2-10 Years)
$

145.00 / ticket
5
Normal
General price:
Adult (11+ years)
$

145.00 / ticket
|
Children (2-10 Years)
$

145.00 / ticket
6
Normal
General price:
Adult (11+ years)
$

145.00 / ticket
|
Children (2-10 Years)
$

145.00 / ticket
7
Normal
General price:
Adult (11+ years)
$

145.00 / ticket
|
Children (2-10 Years)
$

145.00 / ticket
8
Normal
General price:
Adult (11+ years)
$

145.00 / ticket
|
Children (2-10 Years)
$

145.00 / ticket
9
Normal
General price:
Adult (11+ years)
$

145.00 / ticket
|
Children (2-10 Years)
$

145.00 / ticket
10
Normal
General price:
Adult (11+ years)
$

145.00 / ticket
|
Children (2-10 Years)
$

145.00 / ticket
11
Normal
General price:
Adult (11+ years)
$

145.00 / ticket
|
Children (2-10 Years)
$

145.00 / ticket
12
Normal
General price:
Adult (11+ years)
$

145.00 / ticket
|
Children (2-10 Years)
$

145.00 / ticket
13
Normal
General price:
Adult (11+ years)
$

145.00 / ticket
|
Children (2-10 Years)
$

145.00 / ticket
14
Normal
General price:
Adult (11+ years)
$

145.00 / ticket
|
Children (2-10 Years)
$

145.00 / ticket
15
Normal
General price:
Adult (11+ years)
$

145.00 / ticket
|
Children (2-10 Years)
$

145.00 / ticket
16
Normal
General price:
Adult (11+ years)
$

145.00 / ticket
|
Children (2-10 Years)
$

145.00 / ticket
17
Normal
General price:
Adult (11+ years)
$

145.00 / ticket
|
Children (2-10 Years)
$

145.00 / ticket
18
Normal
General price:
Adult (11+ years)
$

145.00 / ticket
|
Children (2-10 Years)
$

145.00 / ticket
19
Normal
General price:
Adult (11+ years)
$

145.00 / ticket
|
Children (2-10 Years)
$

145.00 / ticket
20
Normal
General price:
Adult (11+ years)
$

145.00 / ticket
|
Children (2-10 Years)
$

145.00 / ticket
21
Normal
General price:
Adult (11+ years)
$

145.00 / ticket
|
Children (2-10 Years)
$

145.00 / ticket
22
Normal
General price:
Adult (11+ years)
$

145.00 / ticket
|
Children (2-10 Years)
$

145.00 / ticket
23
Normal
General price:
Adult (11+ years)
$

145.00 / ticket
|
Children (2-10 Years)
$

145.00 / ticket
24
Normal
General price:
Adult (11+ years)
$

145.00 / ticket
|
Children (2-10 Years)
$

145.00 / ticket
25
Normal
General price:
Adult (11+ years)
$

145.00 / ticket
|
Children (2-10 Years)
$

145.00 / ticket
26
Normal
General price:
Adult (11+ years)
$

145.00 / ticket
|
Children (2-10 Years)
$

145.00 / ticket
27
Normal
General price:
Adult (11+ years)
$

145.00 / ticket
|
Children (2-10 Years)
$

145.00 / ticket
28
Normal
General price:
Adult (11+ years)
$

145.00 / ticket
|
Children (2-10 Years)
$

145.00 / ticket
29
Normal
General price:
Adult (11+ years)
$

145.00 / ticket
|
Children (2-10 Years)
$

145.00 / ticket
30
Normal
General price:
Adult (11+ years)
$

145.00 / ticket
|
Children (2-10 Years)
$

145.00 / ticket
1
Normal
General price:
Adult (11+ years)
$

145.00 / ticket
|
Children (2-10 Years)
$

145.00 / ticket
2
Normal
General price:
Adult (11+ years)
$

145.00 / ticket
|
Children (2-10 Years)
$

145.00 / ticket
3
Normal
General price:
Adult (11+ years)
$

145.00 / ticket
|
Children (2-10 Years)
$

145.00 / ticket
4
Normal
General price:
Adult (11+ years)
$

145.00 / ticket
|
Children (2-10 Years)
$

145.00 / ticket
5
Normal
General price:
Adult (11+ years)
$

145.00 / ticket
|
Children (2-10 Years)
$

145.00 / ticket
29
Normal
General price:
Adult (11+ years)
$

145.00 / ticket
|
Children (2-10 Years)
$

145.00 / ticket
30
Normal
General price:
Adult (11+ years)
$

145.00 / ticket
|
Children (2-10 Years)
$

145.00 / ticket
1
Normal
General price:
Adult (11+ years)
$

145.00 / ticket
|
Children (2-10 Years)
$

145.00 / ticket
2
Normal
General price:
Adult (11+ years)
$

145.00 / ticket
|
Children (2-10 Years)
$

145.00 / ticket
3
Normal
General price:
Adult (11+ years)
$

145.00 / ticket
|
Children (2-10 Years)
$

145.00 / ticket
4
Normal
General price:
Adult (11+ years)
$

145.00 / ticket
|
Children (2-10 Years)
$

145.00 / ticket
5
Normal
General price:
Adult (11+ years)
$

145.00 / ticket
|
Children (2-10 Years)
$

145.00 / ticket
6
Normal
General price:
Adult (11+ years)
$

145.00 / ticket
|
Children (2-10 Years)
$

145.00 / ticket
7
Normal
General price:
Adult (11+ years)
$

145.00 / ticket
|
Children (2-10 Years)
$

145.00 / ticket
8
Normal
General price:
Adult (11+ years)
$

145.00 / ticket
|
Children (2-10 Years)
$

145.00 / ticket
9
Normal
General price:
Adult (11+ years)
$

145.00 / ticket
|
Children (2-10 Years)
$

145.00 / ticket
10
Normal
General price:
Adult (11+ years)
$

145.00 / ticket
|
Children (2-10 Years)
$

145.00 / ticket
11
Normal
General price:
Adult (11+ years)
$

145.00 / ticket
|
Children (2-10 Years)
$

145.00 / ticket
12
Normal
General price:
Adult (11+ years)
$

145.00 / ticket
|
Children (2-10 Years)
$

145.00 / ticket
13
Normal
General price:
Adult (11+ years)
$

145.00 / ticket
|
Children (2-10 Years)
$

145.00 / ticket
14
Normal
General price:
Adult (11+ years)
$

145.00 / ticket
|
Children (2-10 Years)
$

145.00 / ticket
15
Normal
General price:
Adult (11+ years)
$

145.00 / ticket
|
Children (2-10 Years)
$

145.00 / ticket
16
Normal
General price:
Adult (11+ years)
$

145.00 / ticket
|
Children (2-10 Years)
$

145.00 / ticket
17
Normal
General price:
Adult (11+ years)
$

145.00 / ticket
|
Children (2-10 Years)
$

145.00 / ticket
18
Normal
General price:
Adult (11+ years)
$

145.00 / ticket
|
Children (2-10 Years)
$

145.00 / ticket
19
Normal
General price:
Adult (11+ years)
$

145.00 / ticket
|
Children (2-10 Years)
$

145.00 / ticket
20
Normal
General price:
Adult (11+ years)
$

145.00 / ticket
|
Children (2-10 Years)
$

145.00 / ticket
21
Normal
General price:
Adult (11+ years)
$

145.00 / ticket
|
Children (2-10 Years)
$

145.00 / ticket
22
Normal
General price:
Adult (11+ years)
$

145.00 / ticket
|
Children (2-10 Years)
$

145.00 / ticket
23
Normal
General price:
Adult (11+ years)
$

145.00 / ticket
|
Children (2-10 Years)
$

145.00 / ticket
24
Normal
General price:
Adult (11+ years)
$

145.00 / ticket
|
Children (2-10 Years)
$

145.00 / ticket
25
Normal
General price:
Adult (11+ years)
$

145.00 / ticket
|
Children (2-10 Years)
$

145.00 / ticket
26
Normal
General price:
Adult (11+ years)
$

145.00 / ticket
|
Children (2-10 Years)
$

145.00 / ticket
27
Normal
General price:
Adult (11+ years)
$

145.00 / ticket
|
Children (2-10 Years)
$

145.00 / ticket
28
Normal
General price:
Adult (11+ years)
$

145.00 / ticket
|
Children (2-10 Years)
$

145.00 / ticket
29
Normal
General price:
Adult (11+ years)
$

145.00 / ticket
|
Children (2-10 Years)
$

145.00 / ticket
30
Normal
General price:
Adult (11+ years)
$

145.00 / ticket
|
Children (2-10 Years)
$

145.00 / ticket
31
Normal
General price:
Adult (11+ years)
$

145.00 / ticket
|
Children (2-10 Years)
$

145.00 / ticket
1
Normal
General price:
Adult (11+ years)
$

145.00 / ticket
|
Children (2-10 Years)
$

145.00 / ticket
2
Normal
General price:
Adult (11+ years)
$

145.00 / ticket
|
Children (2-10 Years)
$

145.00 / ticket
27
Normal
General price:
Adult (11+ years)
$

145.00 / ticket
|
Children (2-10 Years)
$

145.00 / ticket
28
Normal
General price:
Adult (11+ years)
$

145.00 / ticket
|
Children (2-10 Years)
$

145.00 / ticket
29
Normal
General price:
Adult (11+ years)
$

145.00 / ticket
|
Children (2-10 Years)
$

145.00 / ticket
30
Normal
General price:
Adult (11+ years)
$

145.00 / ticket
|
Children (2-10 Years)
$

145.00 / ticket
31
Normal
General price:
Adult (11+ years)
$

145.00 / ticket
|
Children (2-10 Years)
$

145.00 / ticket
1
Normal
General price:
Adult (11+ years)
$

145.00 / ticket
|
Children (2-10 Years)
$

145.00 / ticket
2
Normal
General price:
Adult (11+ years)
$

145.00 / ticket
|
Children (2-10 Years)
$

145.00 / ticket
3
Normal
General price:
Adult (11+ years)
$

145.00 / ticket
|
Children (2-10 Years)
$

145.00 / ticket
4
Normal
General price:
Adult (11+ years)
$

145.00 / ticket
|
Children (2-10 Years)
$

145.00 / ticket
5
Normal
General price:
Adult (11+ years)
$

145.00 / ticket
|
Children (2-10 Years)
$

145.00 / ticket
6
Normal
General price:
Adult (11+ years)
$

145.00 / ticket
|
Children (2-10 Years)
$

145.00 / ticket
7
Normal
General price:
Adult (11+ years)
$

145.00 / ticket
|
Children (2-10 Years)
$

145.00 / ticket
8
Normal
General price:
Adult (11+ years)
$

145.00 / ticket
|
Children (2-10 Years)
$

145.00 / ticket
9
Normal
General price:
Adult (11+ years)
$

145.00 / ticket
|
Children (2-10 Years)
$

145.00 / ticket
10
Normal
General price:
Adult (11+ years)
$

145.00 / ticket
|
Children (2-10 Years)
$

145.00 / ticket
11
Normal
General price:
Adult (11+ years)
$

145.00 / ticket
|
Children (2-10 Years)
$

145.00 / ticket
12
Normal
General price:
Adult (11+ years)
$

145.00 / ticket
|
Children (2-10 Years)
$

145.00 / ticket
13
Normal
General price:
Adult (11+ years)
$

145.00 / ticket
|
Children (2-10 Years)
$

145.00 / ticket
14
Normal
General price:
Adult (11+ years)
$

145.00 / ticket
|
Children (2-10 Years)
$

145.00 / ticket
15
Normal
General price:
Adult (11+ years)
$

145.00 / ticket
|
Children (2-10 Years)
$

145.00 / ticket
16
Normal
General price:
Adult (11+ years)
$

145.00 / ticket
|
Children (2-10 Years)
$

145.00 / ticket
17
Normal
General price:
Adult (11+ years)
$

145.00 / ticket
|
Children (2-10 Years)
$

145.00 / ticket
18
Normal
General price:
Adult (11+ years)
$

145.00 / ticket
|
Children (2-10 Years)
$

145.00 / ticket
19
Normal
General price:
Adult (11+ years)
$

145.00 / ticket
|
Children (2-10 Years)
$

145.00 / ticket
20
Normal
General price:
Adult (11+ years)
$

145.00 / ticket
|
Children (2-10 Years)
$

145.00 / ticket
21
Normal
General price:
Adult (11+ years)
$

145.00 / ticket
|
Children (2-10 Years)
$

145.00 / ticket
22
Normal
General price:
Adult (11+ years)
$

145.00 / ticket
|
Children (2-10 Years)
$

145.00 / ticket
23
Normal
General price:
Adult (11+ years)
$

145.00 / ticket
|
Children (2-10 Years)
$

145.00 / ticket
24
Normal
General price:
Adult (11+ years)
$

145.00 / ticket
|
Children (2-10 Years)
$

145.00 / ticket
25
Normal
General price:
Adult (11+ years)
$

145.00 / ticket
|
Children (2-10 Years)
$

145.00 / ticket
26
Normal
General price:
Adult (11+ years)
$

145.00 / ticket
|
Children (2-10 Years)
$

145.00 / ticket
27
Normal
General price:
Adult (11+ years)
$

145.00 / ticket
|
Children (2-10 Years)
$

145.00 / ticket
28
Normal
General price:
Adult (11+ years)
$

145.00 / ticket
|
Children (2-10 Years)
$

145.00 / ticket
29
Normal
General price:
Adult (11+ years)
$

145.00 / ticket
|
Children (2-10 Years)
$

145.00 / ticket
30
Normal
General price:
Adult (11+ years)
$

145.00 / ticket
|
Children (2-10 Years)
$

145.00 / ticket
1
Normal
General price:
Adult (11+ years)
$

145.00 / ticket
|
Children (2-10 Years)
$

145.00 / ticket
2
Normal
General price:
Adult (11+ years)
$

145.00 / ticket
|
Children (2-10 Years)
$

145.00 / ticket
3
Normal
General price:
Adult (11+ years)
$

145.00 / ticket
|
Children (2-10 Years)
$

145.00 / ticket
4
Normal
General price:
Adult (11+ years)
$

145.00 / ticket
|
Children (2-10 Years)
$

145.00 / ticket
5
Normal
General price:
Adult (11+ years)
$

145.00 / ticket
|
Children (2-10 Years)
$

145.00 / ticket
6
Normal
General price:
Adult (11+ years)
$

145.00 / ticket
|
Children (2-10 Years)
$

145.00 / ticket
7
Normal
General price:
Adult (11+ years)
$

145.00 / ticket
|
Children (2-10 Years)
$

145.00 / ticket
8
Normal
General price:
Adult (11+ years)
$

145.00 / ticket
|
Children (2-10 Years)
$

145.00 / ticket
9
Normal
General price:
Adult (11+ years)
$

145.00 / ticket
|
Children (2-10 Years)
$

145.00 / ticket
10
Normal
General price:
Adult (11+ years)
$

145.00 / ticket
|
Children (2-10 Years)
$

145.00 / ticket
11
Normal
General price:
Adult (11+ years)
$

145.00 / ticket
|
Children (2-10 Years)
$

145.00 / ticket
12
Normal
General price:
Adult (11+ years)
$

145.00 / ticket
|
Children (2-10 Years)
$

145.00 / ticket
13
Normal
General price:
Adult (11+ years)
$

145.00 / ticket
|
Children (2-10 Years)
$

145.00 / ticket
14
Normal
General price:
Adult (11+ years)
$

145.00 / ticket
|
Children (2-10 Years)
$

145.00 / ticket
15
Normal
General price:
Adult (11+ years)
$

145.00 / ticket
|
Children (2-10 Years)
$

145.00 / ticket
16
Normal
General price:
Adult (11+ years)
$

145.00 / ticket
|
Children (2-10 Years)
$

145.00 / ticket
17
Normal
General price:
Adult (11+ years)
$

145.00 / ticket
|
Children (2-10 Years)
$

145.00 / ticket
18
Normal
General price:
Adult (11+ years)
$

145.00 / ticket
|
Children (2-10 Years)
$

145.00 / ticket
19
Normal
General price:
Adult (11+ years)
$

145.00 / ticket
|
Children (2-10 Years)
$

145.00 / ticket
20
Normal
General price:
Adult (11+ years)
$

145.00 / ticket
|
Children (2-10 Years)
$

145.00 / ticket
21
Normal
General price:
Adult (11+ years)
$

145.00 / ticket
|
Children (2-10 Years)
$

145.00 / ticket
22
Normal
General price:
Adult (11+ years)
$

145.00 / ticket
|
Children (2-10 Years)
$

145.00 / ticket
23
Normal
General price:
Adult (11+ years)
$

145.00 / ticket
|
Children (2-10 Years)
$

145.00 / ticket
24
Normal
General price:
Adult (11+ years)
$

145.00 / ticket
|
Children (2-10 Years)
$

145.00 / ticket
25
Normal
General price:
Adult (11+ years)
$

145.00 / ticket
|
Children (2-10 Years)
$

145.00 / ticket
26
Normal
General price:
Adult (11+ years)
$

145.00 / ticket
|
Children (2-10 Years)
$

145.00 / ticket
27
Normal
General price:
Adult (11+ years)
$

145.00 / ticket
|
Children (2-10 Years)
$

145.00 / ticket
28
Normal
General price:
Adult (11+ years)
$

145.00 / ticket
|
Children (2-10 Years)
$

145.00 / ticket
29
Normal
General price:
Adult (11+ years)
$

145.00 / ticket
|
Children (2-10 Years)
$

145.00 / ticket
30
Normal
General price:
Adult (11+ years)
$

145.00 / ticket
|
Children (2-10 Years)
$

145.00 / ticket
31
Normal
General price:
Adult (11+ years)
$

145.00 / ticket
|
Children (2-10 Years)
$

145.00 / ticket
1
Normal
General price:
Adult (11+ years)
$

145.00 / ticket
|
Children (2-10 Years)
$

145.00 / ticket
2
Normal
General price:
Adult (11+ years)
$

145.00 / ticket
|
Children (2-10 Years)
$

145.00 / ticket
3
Normal
General price:
Adult (11+ years)
$

145.00 / ticket
|
Children (2-10 Years)
$

145.00 / ticket
4
Normal
General price:
Adult (11+ years)
$

145.00 / ticket
|
Children (2-10 Years)
$

145.00 / ticket
29
Normal
General price:
Adult (11+ years)
$

145.00 / ticket
|
Children (2-10 Years)
$

145.00 / ticket
30
Normal
General price:
Adult (11+ years)
$

145.00 / ticket
|
Children (2-10 Years)
$

145.00 / ticket
31
Normal
General price:
Adult (11+ years)
$

145.00 / ticket
|
Children (2-10 Years)
$

145.00 / ticket
1
Normal
General price:
Adult (11+ years)
$

145.00 / ticket
|
Children (2-10 Years)
$

145.00 / ticket
2
Normal
General price:
Adult (11+ years)
$

145.00 / ticket
|
Children (2-10 Years)
$

145.00 / ticket
3
Normal
General price:
Adult (11+ years)
$

145.00 / ticket
|
Children (2-10 Years)
$

145.00 / ticket
4
Normal
General price:
Adult (11+ years)
$

145.00 / ticket
|
Children (2-10 Years)
$

145.00 / ticket
5
Normal
General price:
Adult (11+ years)
$

145.00 / ticket
|
Children (2-10 Years)
$

145.00 / ticket
6
Normal
General price:
Adult (11+ years)
$

145.00 / ticket
|
Children (2-10 Years)
$

145.00 / ticket
7
Normal
General price:
Adult (11+ years)
$

145.00 / ticket
|
Children (2-10 Years)
$

145.00 / ticket
8
Normal
General price:
Adult (11+ years)
$

145.00 / ticket
|
Children (2-10 Years)
$

145.00 / ticket
9
Normal
General price:
Adult (11+ years)
$

145.00 / ticket
|
Children (2-10 Years)