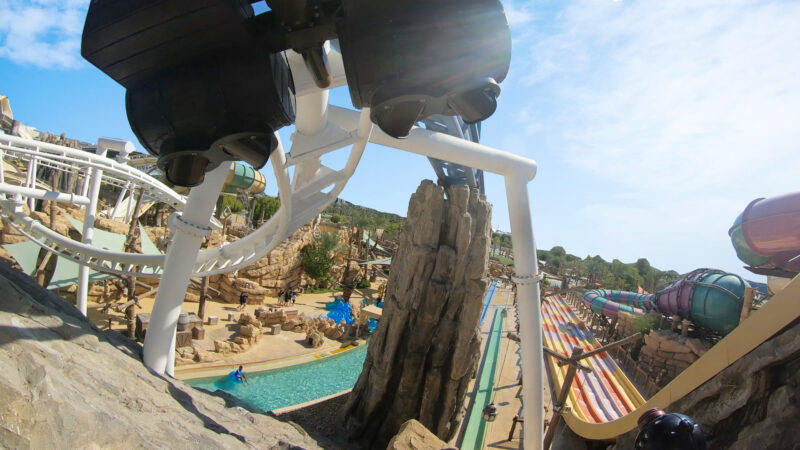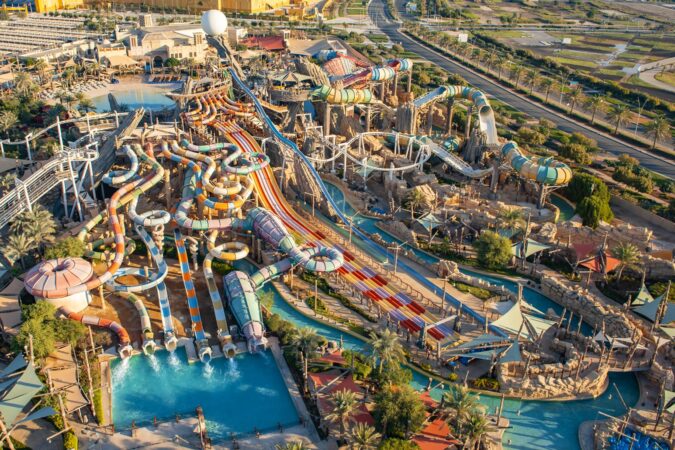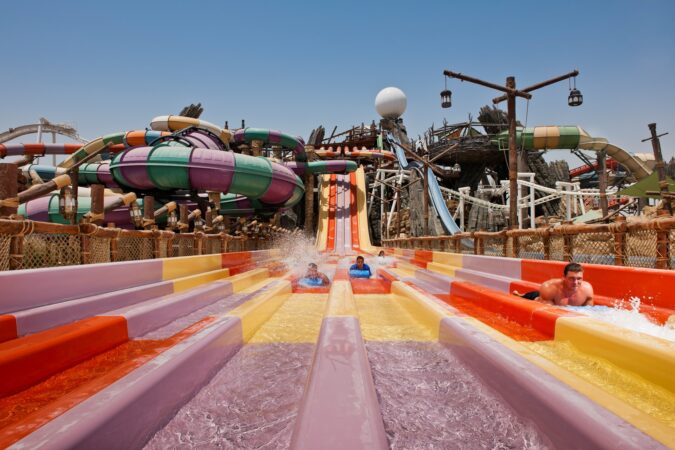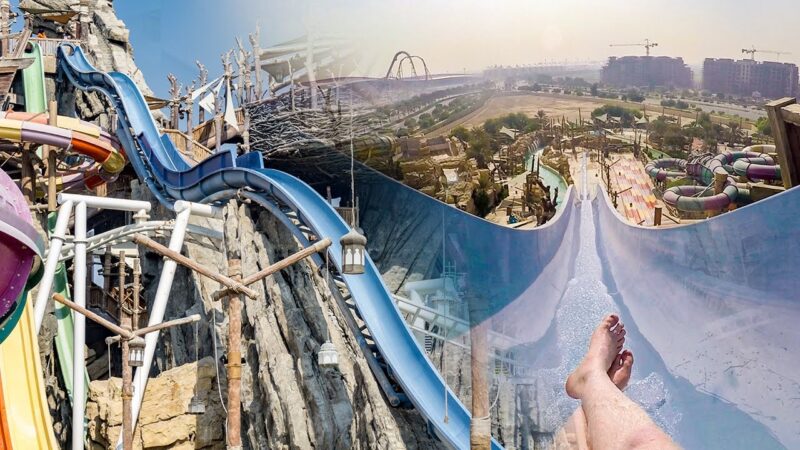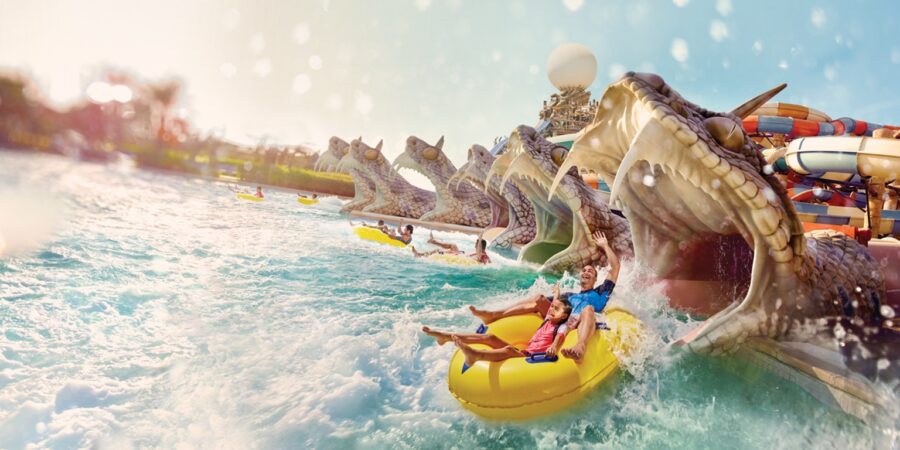 Yas Waterworld Abu Dhabi Tour
Description
Itinerary
Reviews
Description
*Activity Details*
Yas Waterworld Abu Dhabi offers waves of excitement. Spend the day cooling off at the park that features 40 thrilling rides, including the Pearl Dive that allows you to experience the pearl diving culture and a Treasure Hunt game.
The park also features the Bandit Bomber roller coaster. While riding the coaster, use the laser gun on your car to shoot targets and create water effects below. Ride the Liwa Loop, a high-intensity waterslide that begins by dropping you through a trap door at a near-vertical descent. Or try the Dawwama tornado ride which will send you and five others on a raft through a 20-meter funnel. Children can also play in Marah Fortress, which is the biggest children's play area in any Middle East waterpark.
Enjoy a smooth access to the largest water park, Yas Waterworld Abu Dhabi Wave after wave of experiences with over 40 rides, slides and attractions can be enjoyed. Besides the rides, you will also see authentic souk-style shopping, live entertainment and even pearl diving exhibits where you can create your own pearl jewelry. 
Itinerary
Reviews
7
Normal
General price:
Adult (11+ years)
$

150.00 / ticket
|
Children (2-10 Years)
$

150.00 / ticket
8
Normal
General price:
Adult (11+ years)
$

150.00 / ticket
|
Children (2-10 Years)
$

150.00 / ticket
9
Normal
General price:
Adult (11+ years)
$

150.00 / ticket
|
Children (2-10 Years)
$

150.00 / ticket
10
Normal
General price:
Adult (11+ years)
$

150.00 / ticket
|
Children (2-10 Years)
$

150.00 / ticket
11
Normal
General price:
Adult (11+ years)
$

150.00 / ticket
|
Children (2-10 Years)
$

150.00 / ticket
12
Normal
General price:
Adult (11+ years)
$

150.00 / ticket
|
Children (2-10 Years)
$

150.00 / ticket
13
Normal
General price:
Adult (11+ years)
$

150.00 / ticket
|
Children (2-10 Years)
$

150.00 / ticket
14
Normal
General price:
Adult (11+ years)
$

150.00 / ticket
|
Children (2-10 Years)
$

150.00 / ticket
15
Normal
General price:
Adult (11+ years)
$

150.00 / ticket
|
Children (2-10 Years)
$

150.00 / ticket
16
Normal
General price:
Adult (11+ years)
$

150.00 / ticket
|
Children (2-10 Years)
$

150.00 / ticket
17
Normal
General price:
Adult (11+ years)
$

150.00 / ticket
|
Children (2-10 Years)
$

150.00 / ticket
18
Normal
General price:
Adult (11+ years)
$

150.00 / ticket
|
Children (2-10 Years)
$

150.00 / ticket
19
Normal
General price:
Adult (11+ years)
$

150.00 / ticket
|
Children (2-10 Years)
$

150.00 / ticket
20
Normal
General price:
Adult (11+ years)
$

150.00 / ticket
|
Children (2-10 Years)
$

150.00 / ticket
21
Normal
General price:
Adult (11+ years)
$

150.00 / ticket
|
Children (2-10 Years)
$

150.00 / ticket
22
Normal
General price:
Adult (11+ years)
$

150.00 / ticket
|
Children (2-10 Years)
$

150.00 / ticket
23
Normal
General price:
Adult (11+ years)
$

150.00 / ticket
|
Children (2-10 Years)
$

150.00 / ticket
24
Normal
General price:
Adult (11+ years)
$

150.00 / ticket
|
Children (2-10 Years)
$

150.00 / ticket
25
Normal
General price:
Adult (11+ years)
$

150.00 / ticket
|
Children (2-10 Years)
$

150.00 / ticket
26
Normal
General price:
Adult (11+ years)
$

150.00 / ticket
|
Children (2-10 Years)
$

150.00 / ticket
27
Normal
General price:
Adult (11+ years)
$

150.00 / ticket
|
Children (2-10 Years)
$

150.00 / ticket
28
Normal
General price:
Adult (11+ years)
$

150.00 / ticket
|
Children (2-10 Years)
$

150.00 / ticket
29
Normal
General price:
Adult (11+ years)
$

150.00 / ticket
|
Children (2-10 Years)
$

150.00 / ticket
30
Normal
General price:
Adult (11+ years)
$

150.00 / ticket
|
Children (2-10 Years)
$

150.00 / ticket
31
Normal
General price:
Adult (11+ years)
$

150.00 / ticket
|
Children (2-10 Years)
$

150.00 / ticket
1
Normal
General price:
Adult (11+ years)
$

150.00 / ticket
|
Children (2-10 Years)
$

150.00 / ticket
2
Normal
General price:
Adult (11+ years)
$

150.00 / ticket
|
Children (2-10 Years)
$

150.00 / ticket
3
Normal
General price:
Adult (11+ years)
$

150.00 / ticket
|
Children (2-10 Years)
$

150.00 / ticket
4
Normal
General price:
Adult (11+ years)
$

150.00 / ticket
|
Children (2-10 Years)
$

150.00 / ticket
5
Normal
General price:
Adult (11+ years)
$

150.00 / ticket
|
Children (2-10 Years)
$

150.00 / ticket
6
Normal
General price:
Adult (11+ years)
$

150.00 / ticket
|
Children (2-10 Years)
$

150.00 / ticket
7
Normal
General price:
Adult (11+ years)
$

150.00 / ticket
|
Children (2-10 Years)
$

150.00 / ticket
8
Normal
General price:
Adult (11+ years)
$

150.00 / ticket
|
Children (2-10 Years)
$

150.00 / ticket
9
Normal
General price:
Adult (11+ years)
$

150.00 / ticket
|
Children (2-10 Years)
$

150.00 / ticket
10
Normal
General price:
Adult (11+ years)
$

150.00 / ticket
|
Children (2-10 Years)
$

150.00 / ticket
11
Normal
General price:
Adult (11+ years)
$

150.00 / ticket
|
Children (2-10 Years)
$

150.00 / ticket
12
Normal
General price:
Adult (11+ years)
$

150.00 / ticket
|
Children (2-10 Years)
$

150.00 / ticket
13
Normal
General price:
Adult (11+ years)
$

150.00 / ticket
|
Children (2-10 Years)
$

150.00 / ticket
14
Normal
General price:
Adult (11+ years)
$

150.00 / ticket
|
Children (2-10 Years)
$

150.00 / ticket
15
Normal
General price:
Adult (11+ years)
$

150.00 / ticket
|
Children (2-10 Years)
$

150.00 / ticket
16
Normal
General price:
Adult (11+ years)
$

150.00 / ticket
|
Children (2-10 Years)
$

150.00 / ticket
17
Normal
General price:
Adult (11+ years)
$

150.00 / ticket
|
Children (2-10 Years)
$

150.00 / ticket
18
Normal
General price:
Adult (11+ years)
$

150.00 / ticket
|
Children (2-10 Years)
$

150.00 / ticket
19
Normal
General price:
Adult (11+ years)
$

150.00 / ticket
|
Children (2-10 Years)
$

150.00 / ticket
20
Normal
General price:
Adult (11+ years)
$

150.00 / ticket
|
Children (2-10 Years)
$

150.00 / ticket
21
Normal
General price:
Adult (11+ years)
$

150.00 / ticket
|
Children (2-10 Years)
$

150.00 / ticket
22
Normal
General price:
Adult (11+ years)
$

150.00 / ticket
|
Children (2-10 Years)
$

150.00 / ticket
23
Normal
General price:
Adult (11+ years)
$

150.00 / ticket
|
Children (2-10 Years)
$

150.00 / ticket
24
Normal
General price:
Adult (11+ years)
$

150.00 / ticket
|
Children (2-10 Years)
$

150.00 / ticket
25
Normal
General price:
Adult (11+ years)
$

150.00 / ticket
|
Children (2-10 Years)
$

150.00 / ticket
26
Normal
General price:
Adult (11+ years)
$

150.00 / ticket
|
Children (2-10 Years)
$

150.00 / ticket
27
Normal
General price:
Adult (11+ years)
$

150.00 / ticket
|
Children (2-10 Years)
$

150.00 / ticket
28
Normal
General price:
Adult (11+ years)
$

150.00 / ticket
|
Children (2-10 Years)
$

150.00 / ticket
29
Normal
General price:
Adult (11+ years)
$

150.00 / ticket
|
Children (2-10 Years)
$

150.00 / ticket
30
Normal
General price:
Adult (11+ years)
$

150.00 / ticket
|
Children (2-10 Years)
$

150.00 / ticket
31
Normal
General price:
Adult (11+ years)
$

150.00 / ticket
|
Children (2-10 Years)
$

150.00 / ticket
1
Normal
General price:
Adult (11+ years)
$

150.00 / ticket
|
Children (2-10 Years)
$

150.00 / ticket
2
Normal
General price:
Adult (11+ years)
$

150.00 / ticket
|
Children (2-10 Years)
$

150.00 / ticket
3
Normal
General price:
Adult (11+ years)
$

150.00 / ticket
|
Children (2-10 Years)
$

150.00 / ticket
4
Normal
General price:
Adult (11+ years)
$

150.00 / ticket
|
Children (2-10 Years)
$

150.00 / ticket
29
Normal
General price:
Adult (11+ years)
$

150.00 / ticket
|
Children (2-10 Years)
$

150.00 / ticket
30
Normal
General price:
Adult (11+ years)
$

150.00 / ticket
|
Children (2-10 Years)
$

150.00 / ticket
31
Normal
General price:
Adult (11+ years)
$

150.00 / ticket
|
Children (2-10 Years)
$

150.00 / ticket
1
Normal
General price:
Adult (11+ years)
$

150.00 / ticket
|
Children (2-10 Years)
$

150.00 / ticket
2
Normal
General price:
Adult (11+ years)
$

150.00 / ticket
|
Children (2-10 Years)
$

150.00 / ticket
3
Normal
General price:
Adult (11+ years)
$

150.00 / ticket
|
Children (2-10 Years)
$

150.00 / ticket
4
Normal
General price:
Adult (11+ years)
$

150.00 / ticket
|
Children (2-10 Years)
$

150.00 / ticket
5
Normal
General price:
Adult (11+ years)
$

150.00 / ticket
|
Children (2-10 Years)
$

150.00 / ticket
6
Normal
General price:
Adult (11+ years)
$

150.00 / ticket
|
Children (2-10 Years)
$

150.00 / ticket
7
Normal
General price:
Adult (11+ years)
$

150.00 / ticket
|
Children (2-10 Years)
$

150.00 / ticket
8
Normal
General price:
Adult (11+ years)
$

150.00 / ticket
|
Children (2-10 Years)
$

150.00 / ticket
9
Normal
General price:
Adult (11+ years)
$

150.00 / ticket
|
Children (2-10 Years)
$

150.00 / ticket
10
Normal
General price:
Adult (11+ years)
$

150.00 / ticket
|
Children (2-10 Years)
$

150.00 / ticket
11
Normal
General price:
Adult (11+ years)
$

150.00 / ticket
|
Children (2-10 Years)
$

150.00 / ticket
12
Normal
General price:
Adult (11+ years)
$

150.00 / ticket
|
Children (2-10 Years)
$

150.00 / ticket
13
Normal
General price:
Adult (11+ years)
$

150.00 / ticket
|
Children (2-10 Years)
$

150.00 / ticket
14
Normal
General price:
Adult (11+ years)
$

150.00 / ticket
|
Children (2-10 Years)
$

150.00 / ticket
15
Normal
General price:
Adult (11+ years)
$

150.00 / ticket
|
Children (2-10 Years)
$

150.00 / ticket
16
Normal
General price:
Adult (11+ years)
$

150.00 / ticket
|
Children (2-10 Years)
$

150.00 / ticket
17
Normal
General price:
Adult (11+ years)
$

150.00 / ticket
|
Children (2-10 Years)
$

150.00 / ticket
18
Normal
General price:
Adult (11+ years)
$

150.00 / ticket
|
Children (2-10 Years)
$

150.00 / ticket
19
Normal
General price:
Adult (11+ years)
$

150.00 / ticket
|
Children (2-10 Years)
$

150.00 / ticket
20
Normal
General price:
Adult (11+ years)
$

150.00 / ticket
|
Children (2-10 Years)
$

150.00 / ticket
21
Normal
General price:
Adult (11+ years)
$

150.00 / ticket
|
Children (2-10 Years)
$

150.00 / ticket
22
Normal
General price:
Adult (11+ years)
$

150.00 / ticket
|
Children (2-10 Years)
$

150.00 / ticket
23
Normal
General price:
Adult (11+ years)
$

150.00 / ticket
|
Children (2-10 Years)
$

150.00 / ticket
24
Normal
General price:
Adult (11+ years)
$

150.00 / ticket
|
Children (2-10 Years)
$

150.00 / ticket
25
Normal
General price:
Adult (11+ years)
$

150.00 / ticket
|
Children (2-10 Years)
$

150.00 / ticket
26
Normal
General price:
Adult (11+ years)
$

150.00 / ticket
|
Children (2-10 Years)
$

150.00 / ticket
27
Normal
General price:
Adult (11+ years)
$

150.00 / ticket
|
Children (2-10 Years)
$

150.00 / ticket
28
Normal
General price:
Adult (11+ years)
$

150.00 / ticket
|
Children (2-10 Years)
$

150.00 / ticket
29
Normal
General price:
Adult (11+ years)
$

150.00 / ticket
|
Children (2-10 Years)
$

150.00 / ticket
1
Normal
General price:
Adult (11+ years)
$

150.00 / ticket
|
Children (2-10 Years)
$

150.00 / ticket
2
Normal
General price:
Adult (11+ years)
$

150.00 / ticket
|
Children (2-10 Years)
$

150.00 / ticket
3
Normal
General price:
Adult (11+ years)
$

150.00 / ticket
|
Children (2-10 Years)
$

150.00 / ticket
26
Normal
General price:
Adult (11+ years)
$

150.00 / ticket
|
Children (2-10 Years)
$

150.00 / ticket
27
Normal
General price:
Adult (11+ years)
$

150.00 / ticket
|
Children (2-10 Years)
$

150.00 / ticket
28
Normal
General price:
Adult (11+ years)
$

150.00 / ticket
|
Children (2-10 Years)
$

150.00 / ticket
29
Normal
General price:
Adult (11+ years)
$

150.00 / ticket
|
Children (2-10 Years)
$

150.00 / ticket
1
Normal
General price:
Adult (11+ years)
$

150.00 / ticket
|
Children (2-10 Years)
$

150.00 / ticket
2
Normal
General price:
Adult (11+ years)
$

150.00 / ticket
|
Children (2-10 Years)
$

150.00 / ticket
3
Normal
General price:
Adult (11+ years)
$

150.00 / ticket
|
Children (2-10 Years)
$

150.00 / ticket
4
Normal
General price:
Adult (11+ years)
$

150.00 / ticket
|
Children (2-10 Years)
$

150.00 / ticket
5
Normal
General price:
Adult (11+ years)
$

150.00 / ticket
|
Children (2-10 Years)
$

150.00 / ticket
6
Normal
General price:
Adult (11+ years)
$

150.00 / ticket
|
Children (2-10 Years)
$

150.00 / ticket
7
Normal
General price:
Adult (11+ years)
$

150.00 / ticket
|
Children (2-10 Years)
$

150.00 / ticket
8
Normal
General price:
Adult (11+ years)
$

150.00 / ticket
|
Children (2-10 Years)
$

150.00 / ticket
9
Normal
General price:
Adult (11+ years)
$

150.00 / ticket
|
Children (2-10 Years)
$

150.00 / ticket
10
Normal
General price:
Adult (11+ years)
$

150.00 / ticket
|
Children (2-10 Years)
$

150.00 / ticket
11
Normal
General price:
Adult (11+ years)
$

150.00 / ticket
|
Children (2-10 Years)
$

150.00 / ticket
12
Normal
General price:
Adult (11+ years)
$

150.00 / ticket
|
Children (2-10 Years)
$

150.00 / ticket
13
Normal
General price:
Adult (11+ years)
$

150.00 / ticket
|
Children (2-10 Years)
$

150.00 / ticket
14
Normal
General price:
Adult (11+ years)
$

150.00 / ticket
|
Children (2-10 Years)
$

150.00 / ticket
15
Normal
General price:
Adult (11+ years)
$

150.00 / ticket
|
Children (2-10 Years)
$

150.00 / ticket
16
Normal
General price:
Adult (11+ years)
$

150.00 / ticket
|
Children (2-10 Years)
$

150.00 / ticket
17
Normal
General price:
Adult (11+ years)
$

150.00 / ticket
|
Children (2-10 Years)
$

150.00 / ticket
18
Normal
General price:
Adult (11+ years)
$

150.00 / ticket
|
Children (2-10 Years)
$

150.00 / ticket
19
Normal
General price:
Adult (11+ years)
$

150.00 / ticket
|
Children (2-10 Years)
$

150.00 / ticket
20
Normal
General price:
Adult (11+ years)
$

150.00 / ticket
|
Children (2-10 Years)
$

150.00 / ticket
21
Normal
General price:
Adult (11+ years)
$

150.00 / ticket
|
Children (2-10 Years)
$

150.00 / ticket
22
Normal
General price:
Adult (11+ years)
$

150.00 / ticket
|
Children (2-10 Years)
$

150.00 / ticket
23
Normal
General price:
Adult (11+ years)
$

150.00 / ticket
|
Children (2-10 Years)
$

150.00 / ticket
24
Normal
General price:
Adult (11+ years)
$

150.00 / ticket
|
Children (2-10 Years)
$

150.00 / ticket
25
Normal
General price:
Adult (11+ years)
$

150.00 / ticket
|
Children (2-10 Years)
$

150.00 / ticket
26
Normal
General price:
Adult (11+ years)
$

150.00 / ticket
|
Children (2-10 Years)
$

150.00 / ticket
27
Normal
General price:
Adult (11+ years)
$

150.00 / ticket
|
Children (2-10 Years)
$

150.00 / ticket
28
Normal
General price:
Adult (11+ years)
$

150.00 / ticket
|
Children (2-10 Years)
$

150.00 / ticket
29
Normal
General price:
Adult (11+ years)
$

150.00 / ticket
|
Children (2-10 Years)
$

150.00 / ticket
30
Normal
General price:
Adult (11+ years)
$

150.00 / ticket
|
Children (2-10 Years)
$

150.00 / ticket
31
Normal
General price:
Adult (11+ years)
$

150.00 / ticket
|
Children (2-10 Years)
$

150.00 / ticket
1
Normal
General price:
Adult (11+ years)
$

150.00 / ticket
|
Children (2-10 Years)
$

150.00 / ticket
2
Normal
General price:
Adult (11+ years)
$

150.00 / ticket
|
Children (2-10 Years)
$

150.00 / ticket
3
Normal
General price:
Adult (11+ years)
$

150.00 / ticket
|
Children (2-10 Years)
$

150.00 / ticket
4
Normal
General price:
Adult (11+ years)
$

150.00 / ticket
|
Children (2-10 Years)
$

150.00 / ticket
5
Normal
General price:
Adult (11+ years)
$

150.00 / ticket
|
Children (2-10 Years)
$

150.00 / ticket
6
Normal
General price:
Adult (11+ years)
$

150.00 / ticket
|
Children (2-10 Years)
$

150.00 / ticket
7
Normal
General price:
Adult (11+ years)
$

150.00 / ticket
|
Children (2-10 Years)
$

150.00 / ticket
8
Normal
General price:
Adult (11+ years)
$

150.00 / ticket
|
Children (2-10 Years)
$

150.00 / ticket
9
Normal
General price:
Adult (11+ years)
$

150.00 / ticket
|
Children (2-10 Years)
$

150.00 / ticket
10
Normal
General price:
Adult (11+ years)
$

150.00 / ticket
|
Children (2-10 Years)
$

150.00 / ticket
11
Normal
General price:
Adult (11+ years)
$

150.00 / ticket
|
Children (2-10 Years)
$

150.00 / ticket
12
Normal
General price:
Adult (11+ years)
$

150.00 / ticket
|
Children (2-10 Years)
$

150.00 / ticket
13
Normal
General price:
Adult (11+ years)
$

150.00 / ticket
|
Children (2-10 Years)
$

150.00 / ticket
14
Normal
General price:
Adult (11+ years)
$

150.00 / ticket
|
Children (2-10 Years)
$

150.00 / ticket
15
Normal
General price:
Adult (11+ years)
$

150.00 / ticket
|
Children (2-10 Years)
$

150.00 / ticket
16
Normal
General price:
Adult (11+ years)
$

150.00 / ticket
|
Children (2-10 Years)
$

150.00 / ticket
17
Normal
General price:
Adult (11+ years)
$

150.00 / ticket
|
Children (2-10 Years)
$

150.00 / ticket
18
Normal
General price:
Adult (11+ years)
$

150.00 / ticket
|
Children (2-10 Years)
$

150.00 / ticket
19
Normal
General price:
Adult (11+ years)
$

150.00 / ticket
|
Children (2-10 Years)
$

150.00 / ticket
20
Normal
General price:
Adult (11+ years)
$

150.00 / ticket
|
Children (2-10 Years)
$

150.00 / ticket
21
Normal
General price:
Adult (11+ years)
$

150.00 / ticket
|
Children (2-10 Years)
$

150.00 / ticket
22
Normal
General price:
Adult (11+ years)
$

150.00 / ticket
|
Children (2-10 Years)
$

150.00 / ticket
23
Normal
General price:
Adult (11+ years)
$

150.00 / ticket
|
Children (2-10 Years)
$

150.00 / ticket
24
Normal
General price:
Adult (11+ years)
$

150.00 / ticket
|
Children (2-10 Years)
$

150.00 / ticket
25
Normal
General price:
Adult (11+ years)
$

150.00 / ticket
|
Children (2-10 Years)
$

150.00 / ticket
26
Normal
General price:
Adult (11+ years)
$

150.00 / ticket
|
Children (2-10 Years)
$

150.00 / ticket
27
Normal
General price:
Adult (11+ years)
$

150.00 / ticket
|
Children (2-10 Years)
$

150.00 / ticket
28
Normal
General price:
Adult (11+ years)
$

150.00 / ticket
|
Children (2-10 Years)
$

150.00 / ticket
29
Normal
General price:
Adult (11+ years)
$

150.00 / ticket
|
Children (2-10 Years)
$

150.00 / ticket
30
Normal
General price:
Adult (11+ years)
$

150.00 / ticket
|
Children (2-10 Years)
$

150.00 / ticket
1
Normal
General price:
Adult (11+ years)
$

150.00 / ticket
|
Children (2-10 Years)
$

150.00 / ticket
2
Normal
General price:
Adult (11+ years)
$

150.00 / ticket
|
Children (2-10 Years)
$

150.00 / ticket
3
Normal
General price:
Adult (11+ years)
$

150.00 / ticket
|
Children (2-10 Years)
$

150.00 / ticket
4
Normal
General price:
Adult (11+ years)
$

150.00 / ticket
|
Children (2-10 Years)
$

150.00 / ticket
5
Normal
General price:
Adult (11+ years)
$

150.00 / ticket
|
Children (2-10 Years)
$

150.00 / ticket
29
Normal
General price:
Adult (11+ years)
$

150.00 / ticket
|
Children (2-10 Years)
$

150.00 / ticket
30
Normal
General price:
Adult (11+ years)
$

150.00 / ticket
|
Children (2-10 Years)
$

150.00 / ticket
1
Normal
General price:
Adult (11+ years)
$

150.00 / ticket
|
Children (2-10 Years)
$

150.00 / ticket
2
Normal
General price:
Adult (11+ years)
$

150.00 / ticket
|
Children (2-10 Years)
$

150.00 / ticket
3
Normal
General price:
Adult (11+ years)
$

150.00 / ticket
|
Children (2-10 Years)
$

150.00 / ticket
4
Normal
General price:
Adult (11+ years)
$

150.00 / ticket
|
Children (2-10 Years)
$

150.00 / ticket
5
Normal
General price:
Adult (11+ years)
$

150.00 / ticket
|
Children (2-10 Years)
$

150.00 / ticket
6
Normal
General price:
Adult (11+ years)
$

150.00 / ticket
|
Children (2-10 Years)
$

150.00 / ticket
7
Normal
General price:
Adult (11+ years)
$

150.00 / ticket
|
Children (2-10 Years)
$

150.00 / ticket
8
Normal
General price:
Adult (11+ years)
$

150.00 / ticket
|
Children (2-10 Years)
$

150.00 / ticket
9
Normal
General price:
Adult (11+ years)
$

150.00 / ticket
|
Children (2-10 Years)
$

150.00 / ticket
10
Normal
General price:
Adult (11+ years)
$

150.00 / ticket
|
Children (2-10 Years)
$

150.00 / ticket
11
Normal
General price:
Adult (11+ years)
$

150.00 / ticket
|
Children (2-10 Years)
$

150.00 / ticket
12
Normal
General price:
Adult (11+ years)
$

150.00 / ticket
|
Children (2-10 Years)
$

150.00 / ticket
13
Normal
General price:
Adult (11+ years)
$

150.00 / ticket
|
Children (2-10 Years)
$

150.00 / ticket
14
Normal
General price:
Adult (11+ years)
$

150.00 / ticket
|
Children (2-10 Years)
$

150.00 / ticket
15
Normal
General price:
Adult (11+ years)
$

150.00 / ticket
|
Children (2-10 Years)
$

150.00 / ticket
16
Normal
General price:
Adult (11+ years)
$

150.00 / ticket
|
Children (2-10 Years)
$

150.00 / ticket
17
Normal
General price:
Adult (11+ years)
$

150.00 / ticket
|
Children (2-10 Years)
$

150.00 / ticket
18
Normal
General price:
Adult (11+ years)
$

150.00 / ticket
|
Children (2-10 Years)
$

150.00 / ticket
19
Normal
General price:
Adult (11+ years)
$

150.00 / ticket
|
Children (2-10 Years)
$

150.00 / ticket
20
Normal
General price:
Adult (11+ years)
$

150.00 / ticket
|
Children (2-10 Years)
$

150.00 / ticket
21
Normal
General price:
Adult (11+ years)
$

150.00 / ticket
|
Children (2-10 Years)
$

150.00 / ticket
22
Normal
General price:
Adult (11+ years)
$

150.00 / ticket
|
Children (2-10 Years)
$

150.00 / ticket
23
Normal
General price:
Adult (11+ years)
$

150.00 / ticket
|
Children (2-10 Years)
$

150.00 / ticket
24
Normal
General price:
Adult (11+ years)
$

150.00 / ticket
|
Children (2-10 Years)
$

150.00 / ticket
25
Normal
General price:
Adult (11+ years)
$

150.00 / ticket
|
Children (2-10 Years)
$

150.00 / ticket
26
Normal
General price:
Adult (11+ years)
$

150.00 / ticket
|
Children (2-10 Years)
$

150.00 / ticket
27
Normal
General price:
Adult (11+ years)
$

150.00 / ticket
|
Children (2-10 Years)
$

150.00 / ticket
28
Normal
General price:
Adult (11+ years)
$

150.00 / ticket
|
Children (2-10 Years)
$

150.00 / ticket
29
Normal
General price:
Adult (11+ years)
$

150.00 / ticket
|
Children (2-10 Years)
$

150.00 / ticket
30
Normal
General price:
Adult (11+ years)
$

150.00 / ticket
|
Children (2-10 Years)
$

150.00 / ticket
31
Normal
General price:
Adult (11+ years)
$

150.00 / ticket
|
Children (2-10 Years)
$

150.00 / ticket
1
Normal
General price:
Adult (11+ years)
$

150.00 / ticket
|
Children (2-10 Years)
$

150.00 / ticket
2
Normal
General price:
Adult (11+ years)
$

150.00 / ticket
|
Children (2-10 Years)
$

150.00 / ticket
27
Normal
General price:
Adult (11+ years)
$

150.00 / ticket
|
Children (2-10 Years)
$

150.00 / ticket
28
Normal
General price:
Adult (11+ years)
$

150.00 / ticket
|
Children (2-10 Years)
$

150.00 / ticket
29
Normal
General price:
Adult (11+ years)
$

150.00 / ticket
|
Children (2-10 Years)
$

150.00 / ticket
30
Normal
General price:
Adult (11+ years)
$

150.00 / ticket
|
Children (2-10 Years)
$

150.00 / ticket
31
Normal
General price:
Adult (11+ years)
$

150.00 / ticket
|
Children (2-10 Years)
$

150.00 / ticket
1
Normal
General price:
Adult (11+ years)
$

150.00 / ticket
|
Children (2-10 Years)
$

150.00 / ticket
2
Normal
General price:
Adult (11+ years)
$

150.00 / ticket
|
Children (2-10 Years)
$

150.00 / ticket
3
Normal
General price:
Adult (11+ years)
$

150.00 / ticket
|
Children (2-10 Years)
$

150.00 / ticket
4
Normal
General price:
Adult (11+ years)
$

150.00 / ticket
|
Children (2-10 Years)
$

150.00 / ticket
5
Normal
General price:
Adult (11+ years)
$

150.00 / ticket
|
Children (2-10 Years)
$

150.00 / ticket
6
Normal
General price:
Adult (11+ years)
$

150.00 / ticket
|
Children (2-10 Years)
$

150.00 / ticket
7
Normal
General price:
Adult (11+ years)
$

150.00 / ticket
|
Children (2-10 Years)
$

150.00 / ticket
8
Normal
General price:
Adult (11+ years)
$

150.00 / ticket
|
Children (2-10 Years)
$

150.00 / ticket
9
Normal
General price:
Adult (11+ years)
$

150.00 / ticket
|
Children (2-10 Years)
$

150.00 / ticket
10
Normal
General price:
Adult (11+ years)
$

150.00 / ticket
|
Children (2-10 Years)
$

150.00 / ticket
11
Normal
General price:
Adult (11+ years)
$

150.00 / ticket
|
Children (2-10 Years)
$

150.00 / ticket
12
Normal
General price:
Adult (11+ years)
$

150.00 / ticket
|
Children (2-10 Years)
$

150.00 / ticket
13
Normal
General price:
Adult (11+ years)
$

150.00 / ticket
|
Children (2-10 Years)
$

150.00 / ticket
14
Normal
General price:
Adult (11+ years)
$

150.00 / ticket
|
Children (2-10 Years)
$

150.00 / ticket
15
Normal
General price:
Adult (11+ years)
$

150.00 / ticket
|
Children (2-10 Years)
$

150.00 / ticket
16
Normal
General price:
Adult (11+ years)
$

150.00 / ticket
|
Children (2-10 Years)
$

150.00 / ticket
17
Normal
General price:
Adult (11+ years)
$

150.00 / ticket
|
Children (2-10 Years)
$

150.00 / ticket
18
Normal
General price:
Adult (11+ years)
$

150.00 / ticket
|
Children (2-10 Years)
$

150.00 / ticket
19
Normal
General price:
Adult (11+ years)
$

150.00 / ticket
|
Children (2-10 Years)
$

150.00 / ticket
20
Normal
General price:
Adult (11+ years)
$

150.00 / ticket
|
Children (2-10 Years)
$

150.00 / ticket
21
Normal
General price:
Adult (11+ years)
$

150.00 / ticket
|
Children (2-10 Years)
$

150.00 / ticket
22
Normal
General price:
Adult (11+ years)
$

150.00 / ticket
|
Children (2-10 Years)
$

150.00 / ticket
23
Normal
General price:
Adult (11+ years)
$

150.00 / ticket
|
Children (2-10 Years)
$

150.00 / ticket
24
Normal
General price:
Adult (11+ years)
$

150.00 / ticket
|
Children (2-10 Years)
$

150.00 / ticket
25
Normal
General price:
Adult (11+ years)
$

150.00 / ticket
|
Children (2-10 Years)
$

150.00 / ticket
26
Normal
General price:
Adult (11+ years)
$

150.00 / ticket
|
Children (2-10 Years)
$

150.00 / ticket
27
Normal
General price:
Adult (11+ years)
$

150.00 / ticket
|
Children (2-10 Years)
$

150.00 / ticket
28
Normal
General price:
Adult (11+ years)
$

150.00 / ticket
|
Children (2-10 Years)
$

150.00 / ticket
29
Normal
General price:
Adult (11+ years)
$

150.00 / ticket
|
Children (2-10 Years)
$

150.00 / ticket
30
Normal
General price:
Adult (11+ years)
$

150.00 / ticket
|
Children (2-10 Years)
$

150.00 / ticket
1
Normal
General price:
Adult (11+ years)
$

150.00 / ticket
|
Children (2-10 Years)
$

150.00 / ticket
2
Normal
General price:
Adult (11+ years)
$

150.00 / ticket
|
Children (2-10 Years)
$

150.00 / ticket
3
Normal
General price:
Adult (11+ years)
$

150.00 / ticket
|
Children (2-10 Years)
$

150.00 / ticket
4
Normal
General price:
Adult (11+ years)
$

150.00 / ticket
|
Children (2-10 Years)
$

150.00 / ticket
5
Normal
General price:
Adult (11+ years)
$

150.00 / ticket
|
Children (2-10 Years)
$

150.00 / ticket
6
Normal
General price:
Adult (11+ years)
$

150.00 / ticket
|
Children (2-10 Years)
$

150.00 / ticket
7
Normal
General price:
Adult (11+ years)
$

150.00 / ticket
|
Children (2-10 Years)
$

150.00 / ticket
8
Normal
General price:
Adult (11+ years)
$

150.00 / ticket
|
Children (2-10 Years)
$

150.00 / ticket
9
Normal
General price:
Adult (11+ years)
$

150.00 / ticket
|
Children (2-10 Years)
$

150.00 / ticket
10
Normal
General price:
Adult (11+ years)
$

150.00 / ticket
|
Children (2-10 Years)
$

150.00 / ticket
11
Normal
General price:
Adult (11+ years)
$

150.00 / ticket
|
Children (2-10 Years)
$

150.00 / ticket
12
Normal
General price:
Adult (11+ years)
$

150.00 / ticket
|
Children (2-10 Years)
$

150.00 / ticket
13
Normal
General price:
Adult (11+ years)
$

150.00 / ticket
|
Children (2-10 Years)
$

150.00 / ticket
14
Normal
General price:
Adult (11+ years)
$

150.00 / ticket
|
Children (2-10 Years)
$

150.00 / ticket
15
Normal
General price:
Adult (11+ years)
$

150.00 / ticket
|
Children (2-10 Years)
$

150.00 / ticket
16
Normal
General price:
Adult (11+ years)
$

150.00 / ticket
|
Children (2-10 Years)
$

150.00 / ticket
17
Normal
General price:
Adult (11+ years)
$

150.00 / ticket
|
Children (2-10 Years)
$

150.00 / ticket
18
Normal
General price:
Adult (11+ years)
$

150.00 / ticket
|
Children (2-10 Years)
$

150.00 / ticket
19
Normal
General price:
Adult (11+ years)
$

150.00 / ticket
|
Children (2-10 Years)
$

150.00 / ticket
20
Normal
General price:
Adult (11+ years)
$

150.00 / ticket
|
Children (2-10 Years)
$

150.00 / ticket
21
Normal
General price:
Adult (11+ years)
$

150.00 / ticket
|
Children (2-10 Years)
$

150.00 / ticket
22
Normal
General price:
Adult (11+ years)
$

150.00 / ticket
|
Children (2-10 Years)
$

150.00 / ticket
23
Normal
General price:
Adult (11+ years)
$

150.00 / ticket
|
Children (2-10 Years)
$

150.00 / ticket
24
Normal
General price:
Adult (11+ years)
$

150.00 / ticket
|
Children (2-10 Years)
$

150.00 / ticket
25
Normal
General price:
Adult (11+ years)
$

150.00 / ticket
|
Children (2-10 Years)
$

150.00 / ticket
26
Normal
General price:
Adult (11+ years)
$

150.00 / ticket
|
Children (2-10 Years)
$

150.00 / ticket
27
Normal
General price:
Adult (11+ years)
$

150.00 / ticket
|
Children (2-10 Years)
$

150.00 / ticket
28
Normal
General price:
Adult (11+ years)
$

150.00 / ticket
|
Children (2-10 Years)
$

150.00 / ticket
29
Normal
General price:
Adult (11+ years)
$

150.00 / ticket
|
Children (2-10 Years)
$

150.00 / ticket
30
Normal
General price:
Adult (11+ years)
$

150.00 / ticket
|
Children (2-10 Years)
$

150.00 / ticket
31
Normal
General price:
Adult (11+ years)
$

150.00 / ticket
|
Children (2-10 Years)
$

150.00 / ticket
1
Normal
General price:
Adult (11+ years)
$

150.00 / ticket
|
Children (2-10 Years)
$

150.00 / ticket
2
Normal
General price:
Adult (11+ years)
$

150.00 / ticket
|
Children (2-10 Years)
$

150.00 / ticket
3
Normal
General price:
Adult (11+ years)
$

150.00 / ticket
|
Children (2-10 Years)
$

150.00 / ticket
4
Normal
General price:
Adult (11+ years)
$

150.00 / ticket
|
Children (2-10 Years)
$

150.00 / ticket
29
Normal
General price:
Adult (11+ years)
$

150.00 / ticket
|
Children (2-10 Years)
$

150.00 / ticket
30
Normal
General price:
Adult (11+ years)
$

150.00 / ticket
|
Children (2-10 Years)
$

150.00 / ticket
31
Normal
General price:
Adult (11+ years)
$

150.00 / ticket
|
Children (2-10 Years)
$

150.00 / ticket
1
Normal
General price:
Adult (11+ years)
$

150.00 / ticket
|
Children (2-10 Years)
$

150.00 / ticket
2
Normal
General price:
Adult (11+ years)
$

150.00 / ticket
|
Children (2-10 Years)
$

150.00 / ticket
3
Normal
General price:
Adult (11+ years)
$

150.00 / ticket
|
Children (2-10 Years)
$

150.00 / ticket
4
Normal
General price:
Adult (11+ years)
$

150.00 / ticket
|
Children (2-10 Years)
$

150.00 / ticket
5
Normal
General price:
Adult (11+ years)
$

150.00 / ticket
|
Children (2-10 Years)
$

150.00 / ticket
6
Normal
General price:
Adult (11+ years)
$

150.00 / ticket
|
Children (2-10 Years)
$

150.00 / ticket
7
Normal
General price:
Adult (11+ years)
$

150.00 / ticket
|
Children (2-10 Years)
$

150.00 / ticket
8
Normal
General price:
Adult (11+ years)
$

150.00 / ticket
|
Children (2-10 Years)
$

150.00 / ticket
9
Normal
General price:
Adult (11+ years)
$

150.00 / ticket
|
Children (2-10 Years)
$

150.00 / ticket
10
Normal
General price:
Adult (11+ years)
$

150.00 / ticket
|
Children (2-10 Years)
$

150.00 / ticket
11
Normal
General price:
Adult (11+ years)
$

150.00 / ticket
|
Children (2-10 Years)
$

150.00 / ticket
12
Normal
General price:
Adult (11+ years)
$

150.00 / ticket
|
Children (2-10 Years)
$

150.00 / ticket
13
Normal
General price:
Adult (11+ years)
$

150.00 / ticket
|
Children (2-10 Years)
$

150.00 / ticket
14
Normal
General price:
Adult (11+ years)
$

150.00 / ticket
|
Children (2-10 Years)
$

150.00 / ticket
15
Normal
General price:
Adult (11+ years)
$

150.00 / ticket
|
Children (2-10 Years)
$

150.00 / ticket
16
Normal
General price:
Adult (11+ years)
$

150.00 / ticket
|
Children (2-10 Years)
$

150.00 / ticket
17
Normal
General price:
Adult (11+ years)
$

150.00 / ticket
|
Children (2-10 Years)
$

150.00 / ticket
18
Normal
General price:
Adult (11+ years)
$

150.00 / ticket
|
Children (2-10 Years)
$

150.00 / ticket
19
Normal
General price:
Adult (11+ years)
$

150.00 / ticket
|
Children (2-10 Years)
$

150.00 / ticket
20
Normal
General price:
Adult (11+ years)
$

150.00 / ticket
|
Children (2-10 Years)
$

150.00 / ticket
21
Normal
General price:
Adult (11+ years)
$

150.00 / ticket
|
Children (2-10 Years)
$

150.00 / ticket
22
Normal
General price:
Adult (11+ years)
$

150.00 / ticket
|
Children (2-10 Years)
$

150.00 / ticket
23
Normal
General price:
Adult (11+ years)
$

150.00 / ticket
|
Children (2-10 Years)
$

150.00 / ticket
24
Normal
General price:
Adult (11+ years)
$

150.00 / ticket
|
Children (2-10 Years)
$

150.00 / ticket
25
Normal
General price:
Adult (11+ years)
$

150.00 / ticket
|
Children (2-10 Years)
$

150.00 / ticket
26
Normal
General price:
Adult (11+ years)
$

150.00 / ticket
|
Children (2-10 Years)
$

150.00 / ticket
27
Normal
General price:
Adult (11+ years)
$

150.00 / ticket
|
Children (2-10 Years)
$

150.00 / ticket
28
Normal
General price:
Adult (11+ years)
$

150.00 / ticket
|
Children (2-10 Years)
$

150.00 / ticket
29
Normal
General price:
Adult (11+ years)
$

150.00 / ticket
|
Children (2-10 Years)
$

150.00 / ticket
30
Normal
General price:
Adult (11+ years)
$

150.00 / ticket
|
Children (2-10 Years)
$

150.00 / ticket
31
Normal
General price:
Adult (11+ years)
$

150.00 / ticket
|
Children (2-10 Years)
$

150.00 / ticket
1
Normal
General price:
Adult (11+ years)
$

150.00 / ticket
|
Children (2-10 Years)
$

150.00 / ticket
26
Normal
General price:
Adult (11+ years)
$

150.00 / ticket
|
Children (2-10 Years)
$

150.00 / ticket
27
Normal
General price:
Adult (11+ years)
$

150.00 / ticket
|
Children (2-10 Years)
$

150.00 / ticket
28
Normal
General price:
Adult (11+ years)
$

150.00 / ticket
|
Children (2-10 Years)
$

150.00 / ticket
29
Normal
General price:
Adult (11+ years)
$

150.00 / ticket
|
Children (2-10 Years)
$

150.00 / ticket
30
Normal
General price:
Adult (11+ years)
$

150.00 / ticket
|
Children (2-10 Years)
$

150.00 / ticket
31
Normal
General price:
Adult (11+ years)
$

150.00 / ticket
|
Children (2-10 Years)
$

150.00 / ticket
1
Normal
General price:
Adult (11+ years)
$

150.00 / ticket
|
Children (2-10 Years)
$

150.00 / ticket
2
Normal
General price:
Adult (11+ years)
$

150.00 / ticket
|
Children (2-10 Years)
$

150.00 / ticket
3
Normal
General price:
Adult (11+ years)
$

150.00 / ticket
|
Children (2-10 Years)
$

150.00 / ticket
4
Normal
General price:
Adult (11+ years)
$

150.00 / ticket
|
Children (2-10 Years)
$

150.00 / ticket
5
Normal
General price:
Adult (11+ years)
$

150.00 / ticket
|
Children (2-10 Years)
$

150.00 / ticket
6
Normal
General price:
Adult (11+ years)
$

150.00 / ticket
|
Children (2-10 Years)
$

150.00 / ticket
7
Normal
General price:
Adult (11+ years)
$

150.00 / ticket
|
Children (2-10 Years)
$

150.00 / ticket
8
Normal
General price:
Adult (11+ years)
$

150.00 / ticket
|
Children (2-10 Years)
$

150.00 / ticket
9
Normal
General price:
Adult (11+ years)
$

150.00 / ticket
|
Children (2-10 Years)
$

150.00 / ticket
10
Normal
General price:
Adult (11+ years)
$

150.00 / ticket
|
Children (2-10 Years)
$

150.00 / ticket
11
Normal
General price:
Adult (11+ years)
$

150.00 / ticket
|
Children (2-10 Years)
$

150.00 / ticket
12
Normal
General price:
Adult (11+ years)
$

150.00 / ticket
|
Children (2-10 Years)
$

150.00 / ticket
13
Normal
General price:
Adult (11+ years)
$

150.00 / ticket
|
Children (2-10 Years)
$

150.00 / ticket
14
Normal
General price:
Adult (11+ years)
$

150.00 / ticket
|
Children (2-10 Years)
$

150.00 / ticket
15
Normal
General price:
Adult (11+ years)
$

150.00 / ticket
|
Children (2-10 Years)
$

150.00 / ticket
16
Normal
General price:
Adult (11+ years)
$

150.00 / ticket
|
Children (2-10 Years)
$

150.00 / ticket
17
Normal
General price:
Adult (11+ years)
$

150.00 / ticket
|
Children (2-10 Years)
$

150.00 / ticket
18
Normal
General price:
Adult (11+ years)
$

150.00 / ticket
|
Children (2-10 Years)
$

150.00 / ticket
19
Normal
General price:
Adult (11+ years)
$

150.00 / ticket
|
Children (2-10 Years)
$

150.00 / ticket
20
Normal
General price:
Adult (11+ years)
$

150.00 / ticket
|
Children (2-10 Years)
$

150.00 / ticket
21
Normal
General price:
Adult (11+ years)
$

150.00 / ticket
|
Children (2-10 Years)
$

150.00 / ticket
22
Normal
General price:
Adult (11+ years)
$

150.00 / ticket
|
Children (2-10 Years)
$

150.00 / ticket
23
Normal
General price:
Adult (11+ years)
$

150.00 / ticket
|
Children (2-10 Years)
$

150.00 / ticket
24
Normal
General price:
Adult (11+ years)
$

150.00 / ticket
|
Children (2-10 Years)
$

150.00 / ticket
25
Normal
General price:
Adult (11+ years)
$

150.00 / ticket
|
Children (2-10 Years)
$

150.00 / ticket
26
Normal
General price:
Adult (11+ years)
$

150.00 / ticket
|
Children (2-10 Years)
$

150.00 / ticket
27
Normal
General price:
Adult (11+ years)
$

150.00 / ticket
|
Children (2-10 Years)
$

150.00 / ticket
28
Normal
General price:
Adult (11+ years)
$

150.00 / ticket
|
Children (2-10 Years)
$

150.00 / ticket
29
Normal
General price:
Adult (11+ years)
$

150.00 / ticket
|
Children (2-10 Years)
$

150.00 / ticket
30
Normal
General price:
Adult (11+ years)
$

150.00 / ticket
|
Children (2-10 Years)
$

150.00 / ticket
1
Normal
General price:
Adult (11+ years)
$

150.00 / ticket
|
Children (2-10 Years)
$

150.00 / ticket
2
Normal
General price:
Adult (11+ years)
$

150.00 / ticket
|
Children (2-10 Years)
$

150.00 / ticket
3
Normal
General price:
Adult (11+ years)
$

150.00 / ticket
|
Children (2-10 Years)
$

150.00 / ticket
4
Normal
General price:
Adult (11+ years)
$

150.00 / ticket
|
Children (2-10 Years)
$

150.00 / ticket
5
Normal
General price:
Adult (11+ years)
$

150.00 / ticket
|
Children (2-10 Years)
$

150.00 / ticket
6
Normal
General price:
Adult (11+ years)
$

150.00 / ticket
|
Children (2-10 Years)
$

150.00 / ticket
30
Normal
General price:
Adult (11+ years)
$

150.00 / ticket
|
Children (2-10 Years)
$

150.00 / ticket
1
Normal
General price:
Adult (11+ years)
$

150.00 / ticket
|
Children (2-10 Years)
$

150.00 / ticket
2
Normal
General price:
Adult (11+ years)
$

150.00 / ticket
|
Children (2-10 Years)
$

150.00 / ticket
3
Normal
General price:
Adult (11+ years)
$

150.00 / ticket
|
Children (2-10 Years)
$

150.00 / ticket
4
Normal
General price:
Adult (11+ years)
$

150.00 / ticket
|
Children (2-10 Years)
$

150.00 / ticket
5
Normal
General price:
Adult (11+ years)
$

150.00 / ticket
|
Children (2-10 Years)
$

150.00 / ticket
6
Normal
General price:
Adult (11+ years)
$

150.00 / ticket
|
Children (2-10 Years)
$

150.00 / ticket
7
Normal
General price:
Adult (11+ years)
$

150.00 / ticket
|
Children (2-10 Years)
$

150.00 / ticket
8
Normal
General price:
Adult (11+ years)
$

150.00 / ticket
|
Children (2-10 Years)
$

150.00 / ticket
9
Normal
General price:
Adult (11+ years)
$

150.00 / ticket
|
Children (2-10 Years)
$

150.00 / ticket
10
Normal
General price:
Adult (11+ years)
$

150.00 / ticket
|
Children (2-10 Years)
$

150.00 / ticket
11
Normal
General price:
Adult (11+ years)
$

150.00 / ticket
|
Children (2-10 Years)
$

150.00 / ticket
12
Normal
General price:
Adult (11+ years)
$

150.00 / ticket
|
Children (2-10 Years)
$

150.00 / ticket
13
Normal
General price:
Adult (11+ years)
$

150.00 / ticket
|
Children (2-10 Years)
$

150.00 / ticket
14
Normal
General price:
Adult (11+ years)
$

150.00 / ticket
|
Children (2-10 Years)
$

150.00 / ticket
15
Normal
General price:
Adult (11+ years)
$

150.00 / ticket
|
Children (2-10 Years)
$

150.00 / ticket
16
Normal
General price:
Adult (11+ years)
$

150.00 / ticket
|
Children (2-10 Years)
$

150.00 / ticket
17
Normal
General price:
Adult (11+ years)
$

150.00 / ticket
|
Children (2-10 Years)
$

150.00 / ticket
18
Normal
General price:
Adult (11+ years)
$

150.00 / ticket
|
Children (2-10 Years)
$

150.00 / ticket
19
Normal
General price:
Adult (11+ years)
$

150.00 / ticket
|
Children (2-10 Years)
$

150.00 / ticket
20
Normal
General price:
Adult (11+ years)
$

150.00 / ticket
|
Children (2-10 Years)
$

150.00 / ticket
21
Normal
General price:
Adult (11+ years)
$

150.00 / ticket
|
Children (2-10 Years)
$

150.00 / ticket
22
Normal
General price:
Adult (11+ years)
$

150.00 / ticket
|
Children (2-10 Years)
$

150.00 / ticket
23
Normal
General price:
Adult (11+ years)
$

150.00 / ticket
|
Children (2-10 Years)
$

150.00 / ticket
24
Normal
General price:
Adult (11+ years)
$

150.00 / ticket
|
Children (2-10 Years)
$

150.00 / ticket
25
Normal
General price:
Adult (11+ years)
$

150.00 / ticket
|
Children (2-10 Years)
$

150.00 / ticket
26
Normal
General price:
Adult (11+ years)
$

150.00 / ticket
|
Children (2-10 Years)
$

150.00 / ticket
27
Normal
General price:
Adult (11+ years)
$

150.00 / ticket
|
Children (2-10 Years)
$

150.00 / ticket
28
Normal
General price:
Adult (11+ years)
$

150.00 / ticket
|
Children (2-10 Years)
$

150.00 / ticket
29
Normal
General price:
Adult (11+ years)
$

150.00 / ticket
|
Children (2-10 Years)
$

150.00 / ticket
30
Normal
General price:
Adult (11+ years)
$

150.00 / ticket
|
Children (2-10 Years)
$

150.00 / ticket
31
Normal
General price:
Adult (11+ years)
$

150.00 / ticket
|
Children (2-10 Years)
$

150.00 / ticket
1
Normal
General price:
Adult (11+ years)
$

150.00 / ticket
|
Children (2-10 Years)
$

150.00 / ticket
2
Normal
General price:
Adult (11+ years)
$

150.00 / ticket
|
Children (2-10 Years)
$

150.00 / ticket
3
Normal
General price:
Adult (11+ years)
$

150.00 / ticket
|
Children (2-10 Years)
$

150.00 / ticket
28
Normal
General price:
Adult (11+ years)
$

150.00 / ticket
|
Children (2-10 Years)
$

150.00 / ticket
29
Normal
General price:
Adult (11+ years)
$

150.00 / ticket
|
Children (2-10 Years)
$

150.00 / ticket
30
Normal
General price:
Adult (11+ years)
$

150.00 / ticket
|
Children (2-10 Years)
$

150.00 / ticket
31
Normal
General price:
Adult (11+ years)
$

150.00 / ticket
|
Children (2-10 Years)
$

150.00 / ticket
1
Normal
General price:
Adult (11+ years)
$

150.00 / ticket
|
Children (2-10 Years)
$

150.00 / ticket
2
Normal
General price:
Adult (11+ years)
$

150.00 / ticket
|
Children (2-10 Years)
$

150.00 / ticket
3
Normal
General price:
Adult (11+ years)
$

150.00 / ticket
|
Children (2-10 Years)
$

150.00 / ticket
4
Normal
General price:
Adult (11+ years)
$

150.00 / ticket
|
Children (2-10 Years)
$

150.00 / ticket
5
Normal
General price:
Adult (11+ years)
$

150.00 / ticket
|
Children (2-10 Years)
$

150.00 / ticket
6
Normal
General price:
Adult (11+ years)
$

150.00 / ticket
|
Children (2-10 Years)
$

150.00 / ticket
7
Normal
General price:
Adult (11+ years)
$

150.00 / ticket
|
Children (2-10 Years)
$

150.00 / ticket
8
Normal
General price:
Adult (11+ years)
$

150.00 / ticket
|
Children (2-10 Years)
$

150.00 / ticket
9
Normal
General price:
Adult (11+ years)
$

150.00 / ticket
|
Children (2-10 Years)
$

150.00 / ticket
10
Normal
General price:
Adult (11+ years)
$

150.00 / ticket
|
Children (2-10 Years)
$

150.00 / ticket
11
Normal
General price:
Adult (11+ years)
$

150.00 / ticket
|
Children (2-10 Years)
$

150.00 / ticket
12
Normal
General price:
Adult (11+ years)
$

150.00 / ticket
|
Children (2-10 Years)
$

150.00 / ticket
13
Normal
General price:
Adult (11+ years)
$

150.00 / ticket
|
Children (2-10 Years)
$

150.00 / ticket
14
Normal
General price:
Adult (11+ years)
$

150.00 / ticket
|
Children (2-10 Years)
$

150.00 / ticket
15
Normal
General price:
Adult (11+ years)
$

150.00 / ticket
|
Children (2-10 Years)
$

150.00 / ticket
16
Normal
General price:
Adult (11+ years)
$

150.00 / ticket
|
Children (2-10 Years)
$

150.00 / ticket
17
Normal
General price:
Adult (11+ years)
$

150.00 / ticket
|
Children (2-10 Years)
$

150.00 / ticket
18
Normal
General price:
Adult (11+ years)
$

150.00 / ticket
|
Children (2-10 Years)
$

150.00 / ticket
19
Normal
General price:
Adult (11+ years)
$

150.00 / ticket
|
Children (2-10 Years)
$

150.00 / ticket
20
Normal
General price:
Adult (11+ years)
$

150.00 / ticket
|
Children (2-10 Years)
$

150.00 / ticket
21
Normal
General price:
Adult (11+ years)
$

150.00 / ticket
|
Children (2-10 Years)
$

150.00 / ticket
22
Normal
General price:
Adult (11+ years)
$

150.00 / ticket
|
Children (2-10 Years)
$

150.00 / ticket
23
Normal
General price:
Adult (11+ years)
$

150.00 / ticket
|
Children (2-10 Years)
$

150.00 / ticket
24
Normal
General price:
Adult (11+ years)
$

150.00 / ticket
|
Children (2-10 Years)
$

150.00 / ticket
25
Normal
General price:
Adult (11+ years)
$

150.00 / ticket
|
Children (2-10 Years)
$

150.00 / ticket
26
Normal
General price:
Adult (11+ years)
$

150.00 / ticket
|
Children (2-10 Years)
$

150.00 / ticket
27
Normal
General price:
Adult (11+ years)
$

150.00 / ticket
|
Children (2-10 Years)
$

150.00 / ticket
28
Normal
General price:
Adult (11+ years)
$

150.00 / ticket
|
Children (2-10 Years)
$

150.00 / ticket
29
Normal
General price:
Adult (11+ years)
$

150.00 / ticket
|
Children (2-10 Years)
$

150.00 / ticket
30
Normal
General price:
Adult (11+ years)
$

150.00 / ticket
|
Children (2-10 Years)
$

150.00 / ticket
1
Normal
General price:
Adult (11+ years)
$

150.00 / ticket
|
Children (2-10 Years)
$

150.00 / ticket
25
Normal
General price:
Adult (11+ years)
$

150.00 / ticket
|
Children (2-10 Years)
$

150.00 / ticket
26
Normal
General price:
Adult (11+ years)
$

150.00 / ticket
|
Children (2-10 Years)
$

150.00 / ticket
27
Normal
General price:
Adult (11+ years)
$

150.00 / ticket
|
Children (2-10 Years)
$

150.00 / ticket
28
Normal
General price:
Adult (11+ years)
$

150.00 / ticket
|
Children (2-10 Years)
$

150.00 / ticket
29
Normal
General price:
Adult (11+ years)
$

150.00 / ticket
|
Children (2-10 Years)
$

150.00 / ticket
30
Normal
General price:
Adult (11+ years)
$

150.00 / ticket
|
Children (2-10 Years)
$

150.00 / ticket
1
Normal
General price:
Adult (11+ years)
$

150.00 / ticket
|
Children (2-10 Years)
$

150.00 / ticket
2
Normal
General price:
Adult (11+ years)
$

150.00 / ticket
|
Children (2-10 Years)
$

150.00 / ticket
3
Normal
General price:
Adult (11+ years)
$

150.00 / ticket
|
Children (2-10 Years)
$

150.00 / ticket
4
Normal
General price:
Adult (11+ years)
$

150.00 / ticket
|
Children (2-10 Years)
$

150.00 / ticket
5
Normal
General price:
Adult (11+ years)
$

150.00 / ticket
|
Children (2-10 Years)
$

150.00 / ticket
6
Normal
General price:
Adult (11+ years)
$

150.00 / ticket
|
Children (2-10 Years)
$

150.00 / ticket
7
Normal
General price:
Adult (11+ years)
$

150.00 / ticket
|
Children (2-10 Years)
$

150.00 / ticket
8
Normal
General price:
Adult (11+ years)
$

150.00 / ticket
|
Children (2-10 Years)
$

150.00 / ticket
9
Normal
General price:
Adult (11+ years)
$

150.00 / ticket
|
Children (2-10 Years)
$

150.00 / ticket
10
Normal
General price:
Adult (11+ years)
$

150.00 / ticket
|
Children (2-10 Years)
$

150.00 / ticket
11
Normal
General price:
Adult (11+ years)
$

150.00 / ticket
|
Children (2-10 Years)
$

150.00 / ticket
12
Normal
General price:
Adult (11+ years)
$

150.00 / ticket
|
Children (2-10 Years)
$

150.00 / ticket
13
Normal
General price:
Adult (11+ years)
$

150.00 / ticket
|
Children (2-10 Years)
$

150.00 / ticket
14
Normal
General price:
Adult (11+ years)
$

150.00 / ticket
|
Children (2-10 Years)
$

150.00 / ticket
15
Normal
General price:
Adult (11+ years)
$

150.00 / ticket
|
Children (2-10 Years)
$

150.00 / ticket
16
Normal
General price:
Adult (11+ years)
$

150.00 / ticket
|
Children (2-10 Years)
$

150.00 / ticket
17
Normal
General price:
Adult (11+ years)
$

150.00 / ticket
|
Children (2-10 Years)
$

150.00 / ticket
18
Normal
General price:
Adult (11+ years)
$

150.00 / ticket
|
Children (2-10 Years)
$

150.00 / ticket
19
Normal
General price:
Adult (11+ years)
$

150.00 / ticket
|
Children (2-10 Years)
$

150.00 / ticket
20
Normal
General price:
Adult (11+ years)
$

150.00 / ticket
|
Children (2-10 Years)
$

150.00 / ticket
21
Normal
General price:
Adult (11+ years)
$

150.00 / ticket
|
Children (2-10 Years)
$

150.00 / ticket
22
Normal
General price:
Adult (11+ years)
$

150.00 / ticket
|
Children (2-10 Years)
$

150.00 / ticket
23
Normal
General price:
Adult (11+ years)
$

150.00 / ticket
|
Children (2-10 Years)
$

150.00 / ticket
24
Normal
General price:
Adult (11+ years)
$

150.00 / ticket
|
Children (2-10 Years)
$

150.00 / ticket
25
Normal
General price:
Adult (11+ years)
$

150.00 / ticket
|
Children (2-10 Years)
$

150.00 / ticket
26
Normal
General price:
Adult (11+ years)
$

150.00 / ticket
|
Children (2-10 Years)
$

150.00 / ticket
27
Normal
General price:
Adult (11+ years)
$

150.00 / ticket
|
Children (2-10 Years)
$

150.00 / ticket
28
Normal
General price:
Adult (11+ years)
$

150.00 / ticket
|
Children (2-10 Years)
$

150.00 / ticket
29
Normal
General price:
Adult (11+ years)
$

150.00 / ticket
|
Children (2-10 Years)
$

150.00 / ticket
30
Normal
General price:
Adult (11+ years)
$

150.00 / ticket
|
Children (2-10 Years)
$

150.00 / ticket
31
Normal
General price:
Adult (11+ years)
$

150.00 / ticket
|
Children (2-10 Years)
$

150.00 / ticket
1
Normal
General price:
Adult (11+ years)
$

150.00 / ticket
|
Children (2-10 Years)
$

150.00 / ticket
2
Normal
General price:
Adult (11+ years)
$

150.00 / ticket
|
Children (2-10 Years)
$

150.00 / ticket
3
Normal
General price:
Adult (11+ years)
$

150.00 / ticket
|
Children (2-10 Years)
$

150.00 / ticket
4
Normal
General price:
Adult (11+ years)
$

150.00 / ticket
|
Children (2-10 Years)
$

150.00 / ticket
5
Normal
General price:
Adult (11+ years)
$

150.00 / ticket
|
Children (2-10 Years)
$

150.00 / ticket
30
Normal
General price:
Adult (11+ years)
$

150.00 / ticket
|
Children (2-10 Years)
$

150.00 / ticket
31
Normal
General price:
Adult (11+ years)
$

150.00 / ticket
|
Children (2-10 Years)
$

150.00 / ticket
1
Normal
General price:
Adult (11+ years)
$

150.00 / ticket
|
Children (2-10 Years)
$

150.00 / ticket
2
Normal
General price:
Adult (11+ years)
$

150.00 / ticket
|
Children (2-10 Years)
$

150.00 / ticket
3
Normal
General price:
Adult (11+ years)
$

150.00 / ticket
|
Children (2-10 Years)
$

150.00 / ticket
4
Normal
General price:
Adult (11+ years)
$

150.00 / ticket
|
Children (2-10 Years)
$

150.00 / ticket
5
Normal
General price:
Adult (11+ years)
$

150.00 / ticket
|
Children (2-10 Years)
$

150.00 / ticket
6
Normal
General price:
Adult (11+ years)
$

150.00 / ticket
|
Children (2-10 Years)
$

150.00 / ticket
7
Normal
General price:
Adult (11+ years)
$

150.00 / ticket
|
Children (2-10 Years)
$

150.00 / ticket
8
Normal
General price:
Adult (11+ years)
$

150.00 / ticket
|
Children (2-10 Years)
$

150.00 / ticket
9
Normal
General price:
Adult (11+ years)
$

150.00 / ticket
|
Children (2-10 Years)
$

150.00 / ticket
10
Normal
General price:
Adult (11+ years)
$

150.00 / ticket
|
Children (2-10 Years)
$

150.00 / ticket
11
Normal
General price:
Adult (11+ years)
$

150.00 / ticket
|
Children (2-10 Years)
$

150.00 / ticket
12
Normal
General price:
Adult (11+ years)
$

150.00 / ticket
|
Children (2-10 Years)
$

150.00 / ticket
13
Normal
General price:
Adult (11+ years)
$

150.00 / ticket
|
Children (2-10 Years)
$

150.00 / ticket
14
Normal
General price:
Adult (11+ years)
$

150.00 / ticket
|
Children (2-10 Years)
$

150.00 / ticket
15
Normal
General price:
Adult (11+ years)
$

150.00 / ticket
|
Children (2-10 Years)
$

150.00 / ticket
16
Normal
General price:
Adult (11+ years)
$

150.00 / ticket
|
Children (2-10 Years)
$

150.00 / ticket
17
Normal
General price:
Adult (11+ years)
$

150.00 / ticket
|
Children (2-10 Years)
$

150.00 / ticket
18
Normal
General price:
Adult (11+ years)
$

150.00 / ticket
|
Children (2-10 Years)
$

150.00 / ticket
19
Normal
General price:
Adult (11+ years)
$

150.00 / ticket
|
Children (2-10 Years)
$

150.00 / ticket
20
Normal
General price:
Adult (11+ years)
$

150.00 / ticket
|
Children (2-10 Years)
$

150.00 / ticket
21
Normal
General price:
Adult (11+ years)
$

150.00 / ticket
|
Children (2-10 Years)
$

150.00 / ticket
22
Normal
General price:
Adult (11+ years)
$

150.00 / ticket
|
Children (2-10 Years)
$

150.00 / ticket
23
Normal
General price:
Adult (11+ years)
$

150.00 / ticket
|
Children (2-10 Years)
$

150.00 / ticket
24
Normal
General price:
Adult (11+ years)
$

150.00 / ticket
|
Children (2-10 Years)
$

150.00 / ticket
25
Normal
General price:
Adult (11+ years)
$

150.00 / ticket
|
Children (2-10 Years)
$

150.00 / ticket
26
Normal
General price:
Adult (11+ years)
$

150.00 / ticket
|
Children (2-10 Years)
$

150.00 / ticket
27
Normal
General price:
Adult (11+ years)
$

150.00 / ticket
|
Children (2-10 Years)
$

150.00 / ticket
28
Normal
General price:
Adult (11+ years)
$

150.00 / ticket
|
Children (2-10 Years)
$

150.00 / ticket
29
Normal
General price:
Adult (11+ years)
$

150.00 / ticket
|
Children (2-10 Years)
$

150.00 / ticket
30
Normal
General price:
Adult (11+ years)
$

150.00 / ticket
|
Children (2-10 Years)
$

150.00 / ticket
31
Normal
General price:
Adult (11+ years)
$

150.00 / ticket
|
Children (2-10 Years)
$

150.00 / ticket
1
Normal
General price:
Adult (11+ years)
$

150.00 / ticket
|
Children (2-10 Years)
$

150.00 / ticket
2
Normal
General price:
Adult (11+ years)
$

150.00 / ticket
|
Children (2-10 Years)
$

150.00 / ticket
27
Normal
General price:
Adult (11+ years)
$

150.00 / ticket
|
Children (2-10 Years)
$

150.00 / ticket
28
Normal
General price:
Adult (11+ years)
$

150.00 / ticket
|
Children (2-10 Years)
$

150.00 / ticket
29
Normal
General price:
Adult (11+ years)
$

150.00 / ticket
|
Children (2-10 Years)
$

150.00 / ticket
30
Normal
General price:
Adult (11+ years)
$

150.00 / ticket
|
Children (2-10 Years)
$

150.00 / ticket
31
Normal
General price:
Adult (11+ years)
$

150.00 / ticket
|
Children (2-10 Years)
$

150.00 / ticket
1
Normal
General price:
Adult (11+ years)
$

150.00 / ticket
|
Children (2-10 Years)
$

150.00 / ticket
2
Normal
General price:
Adult (11+ years)
$

150.00 / ticket
|
Children (2-10 Years)
$

150.00 / ticket
3
Normal
General price:
Adult (11+ years)
$

150.00 / ticket
|
Children (2-10 Years)
$

150.00 / ticket
4
Normal
General price:
Adult (11+ years)
$

150.00 / ticket
|
Children (2-10 Years)
$

150.00 / ticket
5
Normal
General price:
Adult (11+ years)
$

150.00 / ticket
|
Children (2-10 Years)
$

150.00 / ticket
6
Normal
General price:
Adult (11+ years)
$

150.00 / ticket
|
Children (2-10 Years)
$

150.00 / ticket
7
Normal
General price:
Adult (11+ years)
$

150.00 / ticket
|
Children (2-10 Years)
$

150.00 / ticket
8
Normal
General price:
Adult (11+ years)
$

150.00 / ticket
|
Children (2-10 Years)
$

150.00 / ticket
9
Normal
General price:
Adult (11+ years)
$

150.00 / ticket
|
Children (2-10 Years)
$

150.00 / ticket
10
Normal
General price:
Adult (11+ years)
$

150.00 / ticket
|
Children (2-10 Years)
$

150.00 / ticket
11
Normal
General price:
Adult (11+ years)
$

150.00 / ticket
|
Children (2-10 Years)
$

150.00 / ticket
12
Normal
General price:
Adult (11+ years)
$

150.00 / ticket
|
Children (2-10 Years)
$

150.00 / ticket
13
Normal
General price:
Adult (11+ years)
$

150.00 / ticket
|
Children (2-10 Years)
$

150.00 / ticket
14
Normal
General price:
Adult (11+ years)
$

150.00 / ticket
|
Children (2-10 Years)
$

150.00 / ticket
15
Normal
General price:
Adult (11+ years)
$

150.00 / ticket
|
Children (2-10 Years)
$

150.00 / ticket
16
Normal
General price:
Adult (11+ years)
$

150.00 / ticket
|
Children (2-10 Years)
$

150.00 / ticket
17
Normal
General price:
Adult (11+ years)
$

150.00 / ticket
|
Children (2-10 Years)
$

150.00 / ticket
18
Normal
General price:
Adult (11+ years)
$

150.00 / ticket
|
Children (2-10 Years)
$

150.00 / ticket
19
Normal
General price:
Adult (11+ years)
$

150.00 / ticket
|
Children (2-10 Years)
$

150.00 / ticket
20
Normal
General price:
Adult (11+ years)
$

150.00 / ticket
|
Children (2-10 Years)
$

150.00 / ticket
21
Normal
General price:
Adult (11+ years)
$

150.00 / ticket
|
Children (2-10 Years)
$

150.00 / ticket
22
Normal
General price:
Adult (11+ years)
$

150.00 / ticket
|
Children (2-10 Years)
$

150.00 / ticket
23
Normal
General price:
Adult (11+ years)
$

150.00 / ticket
|
Children (2-10 Years)
$

150.00 / ticket
24
Normal
General price:
Adult (11+ years)
$

150.00 / ticket
|
Children (2-10 Years)
$

150.00 / ticket
25
Normal
General price:
Adult (11+ years)
$

150.00 / ticket
|
Children (2-10 Years)
$

150.00 / ticket
26
Normal
General price:
Adult (11+ years)
$

150.00 / ticket
|
Children (2-10 Years)
$

150.00 / ticket
27
Normal
General price:
Adult (11+ years)
$

150.00 / ticket
|
Children (2-10 Years)
$

150.00 / ticket
28
Normal
General price:
Adult (11+ years)
$

150.00 / ticket
|
Children (2-10 Years)
$

150.00 / ticket
1
Normal
General price:
Adult (11+ years)
$

150.00 / ticket
|
Children (2-10 Years)
$

150.00 / ticket
2
Normal
General price:
Adult (11+ years)
$

150.00 / ticket
|
Children (2-10 Years)
$

150.00 / ticket
24
Normal
General price:
Adult (11+ years)
$

150.00 / ticket
|
Children (2-10 Years)
$

150.00 / ticket
25
Normal
General price:
Adult (11+ years)
$

150.00 / ticket
|
Children (2-10 Years)
$

150.00 / ticket
26
Normal
General price:
Adult (11+ years)
$

150.00 / ticket
|
Children (2-10 Years)
$

150.00 / ticket
27
Normal
General price:
Adult (11+ years)
$

150.00 / ticket
|
Children (2-10 Years)
$

150.00 / ticket
28
Normal
General price:
Adult (11+ years)
$

150.00 / ticket
|
Children (2-10 Years)
$

150.00 / ticket
1
Normal
General price:
Adult (11+ years)
$

150.00 / ticket
|
Children (2-10 Years)
$

150.00 / ticket
2
Normal
General price:
Adult (11+ years)
$

150.00 / ticket
|
Children (2-10 Years)
$

150.00 / ticket
3
Normal
General price:
Adult (11+ years)
$

150.00 / ticket
|
Children (2-10 Years)
$

150.00 / ticket
4
Normal
General price:
Adult (11+ years)
$

150.00 / ticket
|
Children (2-10 Years)
$

150.00 / ticket
5
Normal
General price:
Adult (11+ years)
$

150.00 / ticket
|
Children (2-10 Years)
$

150.00 / ticket
6
Normal
General price:
Adult (11+ years)
$

150.00 / ticket
|
Children (2-10 Years)
$

150.00 / ticket
7
Normal
General price:
Adult (11+ years)
$

150.00 / ticket
|
Children (2-10 Years)
$

150.00 / ticket
8
Normal
General price:
Adult (11+ years)
$

150.00 / ticket
|
Children (2-10 Years)
$

150.00 / ticket
9
Normal
General price:
Adult (11+ years)
$

150.00 / ticket
|
Children (2-10 Years)
$

150.00 / ticket
10
Normal
General price:
Adult (11+ years)
$

150.00 / ticket
|
Children (2-10 Years)
$

150.00 / ticket
11
Normal
General price:
Adult (11+ years)
$

150.00 / ticket
|
Children (2-10 Years)
$

150.00 / ticket
12
Normal
General price:
Adult (11+ years)
$

150.00 / ticket
|
Children (2-10 Years)
$

150.00 / ticket
13
Normal
General price:
Adult (11+ years)
$

150.00 / ticket
|
Children (2-10 Years)
$

150.00 / ticket
14
Normal
General price:
Adult (11+ years)
$

150.00 / ticket
|
Children (2-10 Years)
$

150.00 / ticket
15
Normal
General price:
Adult (11+ years)
$

150.00 / ticket
|
Children (2-10 Years)
$

150.00 / ticket
16
Normal
General price:
Adult (11+ years)
$

150.00 / ticket
|
Children (2-10 Years)
$

150.00 / ticket
17
Normal
General price:
Adult (11+ years)
$

150.00 / ticket
|
Children (2-10 Years)
$

150.00 / ticket
18
Normal
General price:
Adult (11+ years)
$

150.00 / ticket
|
Children (2-10 Years)
$

150.00 / ticket
19
Normal
General price:
Adult (11+ years)
$

150.00 / ticket
|
Children (2-10 Years)
$

150.00 / ticket
20
Normal
General price:
Adult (11+ years)
$

150.00 / ticket
|
Children (2-10 Years)
$

150.00 / ticket
21
Normal
General price:
Adult (11+ years)
$

150.00 / ticket
|
Children (2-10 Years)
$

150.00 / ticket
22
Normal
General price:
Adult (11+ years)
$

150.00 / ticket
|
Children (2-10 Years)
$

150.00 / ticket
23
Normal
General price:
Adult (11+ years)
$

150.00 / ticket
|
Children (2-10 Years)
$

150.00 / ticket
24
Normal
General price:
Adult (11+ years)
$

150.00 / ticket
|
Children (2-10 Years)
$

150.00 / ticket
25
Normal
General price:
Adult (11+ years)
$

150.00 / ticket
|
Children (2-10 Years)
$

150.00 / ticket
26
Normal
General price:
Adult (11+ years)
$

150.00 / ticket
|
Children (2-10 Years)
$

150.00 / ticket
27
Normal
General price:
Adult (11+ years)
$

150.00 / ticket
|
Children (2-10 Years)
$

150.00 / ticket
28
Normal
General price:
Adult (11+ years)
$

150.00 / ticket
|
Children (2-10 Years)
$

150.00 / ticket
29
Normal
General price:
Adult (11+ years)
$

150.00 / ticket
|
Children (2-10 Years)
$

150.00 / ticket
30
Normal
General price:
Adult (11+ years)
$

150.00 / ticket
|
Children (2-10 Years)
$

150.00 / ticket
31
Normal
General price:
Adult (11+ years)
$

150.00 / ticket
|
Children (2-10 Years)
$

150.00 / ticket
1
Normal
General price:
Adult (11+ years)
$

150.00 / ticket
|
Children (2-10 Years)
$

150.00 / ticket
2
Normal
General price:
Adult (11+ years)
$

150.00 / ticket
|
Children (2-10 Years)
$

150.00 / ticket
3
Normal
General price:
Adult (11+ years)
$

150.00 / ticket
|
Children (2-10 Years)
$

150.00 / ticket
4
Normal
General price:
Adult (11+ years)
$

150.00 / ticket
|
Children (2-10 Years)
$

150.00 / ticket
5
Normal
General price:
Adult (11+ years)
$

150.00 / ticket
|
Children (2-10 Years)
$

150.00 / ticket
6
Normal
General price:
Adult (11+ years)
$

150.00 / ticket
|
Children (2-10 Years)
$

150.00 / ticket
31
Normal
General price:
Adult (11+ years)
$

150.00 / ticket
|
Children (2-10 Years)
$

150.00 / ticket
1
Normal
General price:
Adult (11+ years)
$

150.00 / ticket
|
Children (2-10 Years)
$

150.00 / ticket
2
Normal
General price:
Adult (11+ years)
$

150.00 / ticket
|
Children (2-10 Years)
$

150.00 / ticket
3
Normal
General price:
Adult (11+ years)
$

150.00 / ticket
|
Children (2-10 Years)
$

150.00 / ticket
4
Normal
General price:
Adult (11+ years)
$

150.00 / ticket
|
Children (2-10 Years)
$

150.00 / ticket
5
Normal
General price:
Adult (11+ years)
$

150.00 / ticket
|
Children (2-10 Years)
$

150.00 / ticket
6
Normal
General price:
Adult (11+ years)
$

150.00 / ticket
|
Children (2-10 Years)
$

150.00 / ticket
7
Normal
General price:
Adult (11+ years)
$

150.00 / ticket
|
Children (2-10 Years)
$

150.00 / ticket
8
Normal
General price:
Adult (11+ years)
$

150.00 / ticket
|
Children (2-10 Years)
$

150.00 / ticket
9
Normal
General price:
Adult (11+ years)
$

150.00 / ticket
|
Children (2-10 Years)
$

150.00 / ticket
10
Normal
General price:
Adult (11+ years)
$

150.00 / ticket
|
Children (2-10 Years)
$

150.00 / ticket
11
Normal
General price:
Adult (11+ years)
$

150.00 / ticket
|
Children (2-10 Years)
$

150.00 / ticket
12
Normal
General price:
Adult (11+ years)
$

150.00 / ticket
|
Children (2-10 Years)
$

150.00 / ticket
13
Normal
General price:
Adult (11+ years)
$

150.00 / ticket
|
Children (2-10 Years)
$

150.00 / ticket
14
Normal
General price:
Adult (11+ years)
$

150.00 / ticket
|
Children (2-10 Years)
$

150.00 / ticket
15
Normal
General price:
Adult (11+ years)
$

150.00 / ticket
|
Children (2-10 Years)
$

150.00 / ticket
16
Normal
General price:
Adult (11+ years)
$

150.00 / ticket
|
Children (2-10 Years)
$

150.00 / ticket
17
Normal
General price:
Adult (11+ years)
$

150.00 / ticket
|
Children (2-10 Years)
$

150.00 / ticket
18
Normal
General price:
Adult (11+ years)
$

150.00 / ticket
|
Children (2-10 Years)
$

150.00 / ticket
19
Normal
General price:
Adult (11+ years)
$

150.00 / ticket
|
Children (2-10 Years)
$

150.00 / ticket
20
Normal
General price:
Adult (11+ years)
$

150.00 / ticket
|
Children (2-10 Years)
$

150.00 / ticket
21
Normal
General price:
Adult (11+ years)
$

150.00 / ticket
|
Children (2-10 Years)
$

150.00 / ticket
22
Normal
General price:
Adult (11+ years)
$

150.00 / ticket
|
Children (2-10 Years)
$

150.00 / ticket
23
Normal
General price:
Adult (11+ years)
$

150.00 / ticket
|
Children (2-10 Years)
$

150.00 / ticket
24
Normal
General price:
Adult (11+ years)
$

150.00 / ticket
|
Children (2-10 Years)
$

150.00 / ticket
25
Normal
General price:
Adult (11+ years)
$

150.00 / ticket
|
Children (2-10 Years)
$

150.00 / ticket
26
Normal
General price:
Adult (11+ years)
$

150.00 / ticket
|
Children (2-10 Years)
$

150.00 / ticket
27
Normal
General price:
Adult (11+ years)
$

150.00 / ticket
|
Children (2-10 Years)
$

150.00 / ticket
28
Normal
General price:
Adult (11+ years)
$

150.00 / ticket
|
Children (2-10 Years)
$

150.00 / ticket
29
Normal
General price:
Adult (11+ years)
$

150.00 / ticket
|
Children (2-10 Years)
$

150.00 / ticket
30
Normal
General price:
Adult (11+ years)
$

150.00 / ticket
|
Children (2-10 Years)
$

150.00 / ticket
1
Normal
General price:
Adult (11+ years)
$

150.00 / ticket
|
Children (2-10 Years)
$

150.00 / ticket
2
Normal
General price:
Adult (11+ years)
$

150.00 / ticket
|
Children (2-10 Years)
$

150.00 / ticket
3
Normal
General price:
Adult (11+ years)
$

150.00 / ticket
|
Children (2-10 Years)
$

150.00 / ticket
4
Normal
General price:
Adult (11+ years)
$

150.00 / ticket
|
Children (2-10 Years)
$

150.00 / ticket
28
Normal
General price:
Adult (11+ years)
$

150.00 / ticket
|
Children (2-10 Years)
$

150.00 / ticket
29
Normal
General price:
Adult (11+ years)
$

150.00 / ticket
|
Children (2-10 Years)
$

150.00 / ticket
30
Normal
General price:
Adult (11+ years)
$

150.00 / ticket
|
Children (2-10 Years)
$

150.00 / ticket
1
Normal
General price:
Adult (11+ years)
$

150.00 / ticket
|
Children (2-10 Years)
$

150.00 / ticket
2
Normal
General price:
Adult (11+ years)
$

150.00 / ticket
|
Children (2-10 Years)
$

150.00 / ticket
3
Normal
General price:
Adult (11+ years)
$

150.00 / ticket
|
Children (2-10 Years)
$

150.00 / ticket
4
Normal
General price:
Adult (11+ years)
$

150.00 / ticket
|
Children (2-10 Years)
$

150.00 / ticket
5
Normal
General price:
Adult (11+ years)
$

150.00 / ticket
|
Children (2-10 Years)
$

150.00 / ticket
6
Normal
General price:
Adult (11+ years)
$

150.00 / ticket
|
Children (2-10 Years)
$

150.00 / ticket
7
Normal
General price:
Adult (11+ years)
$

150.00 / ticket
|
Children (2-10 Years)
$

150.00 / ticket
8
Normal
General price:
Adult (11+ years)
$

150.00 / ticket
|
Children (2-10 Years)
$

150.00 / ticket
9
Normal
General price:
Adult (11+ years)
$

150.00 / ticket
|
Children (2-10 Years)
$

150.00 / ticket
10
Normal
General price:
Adult (11+ years)
$

150.00 / ticket
|
Children (2-10 Years)
$

150.00 / ticket
11
Normal
General price:
Adult (11+ years)
$

150.00 / ticket
|
Children (2-10 Years)
$

150.00 / ticket
12
Normal
General price:
Adult (11+ years)
$

150.00 / ticket
|
Children (2-10 Years)
$

150.00 / ticket
13
Normal
General price:
Adult (11+ years)
$

150.00 / ticket
|
Children (2-10 Years)
$

150.00 / ticket
14
Normal
General price:
Adult (11+ years)
$

150.00 / ticket
|
Children (2-10 Years)
$

150.00 / ticket
15
Normal
General price:
Adult (11+ years)
$

150.00 / ticket
|
Children (2-10 Years)
$

150.00 / ticket
16
Normal
General price:
Adult (11+ years)
$

150.00 / ticket
|
Children (2-10 Years)
$

150.00 / ticket
17
Normal
General price:
Adult (11+ years)
$

150.00 / ticket
|
Children (2-10 Years)
$

150.00 / ticket
18
Normal
General price:
Adult (11+ years)
$

150.00 / ticket
|
Children (2-10 Years)
$

150.00 / ticket
19
Normal
General price:
Adult (11+ years)
$

150.00 / ticket
|
Children (2-10 Years)
$

150.00 / ticket
20
Normal
General price:
Adult (11+ years)
$

150.00 / ticket
|
Children (2-10 Years)
$

150.00 / ticket
21
Normal
General price:
Adult (11+ years)
$

150.00 / ticket
|
Children (2-10 Years)
$

150.00 / ticket
22
Normal
General price:
Adult (11+ years)
$

150.00 / ticket
|
Children (2-10 Years)
$

150.00 / ticket
23
Normal
General price:
Adult (11+ years)
$

150.00 / ticket
|
Children (2-10 Years)
$

150.00 / ticket
24
Normal
General price:
Adult (11+ years)
$

150.00 / ticket
|
Children (2-10 Years)
$

150.00 / ticket
25
Normal
General price:
Adult (11+ years)
$

150.00 / ticket
|
Children (2-10 Years)
$

150.00 / ticket
26
Normal
General price:
Adult (11+ years)
$

150.00 / ticket
|
Children (2-10 Years)
$

150.00 / ticket
27
Normal
General price:
Adult (11+ years)
$

150.00 / ticket
|
Children (2-10 Years)
$

150.00 / ticket
28
Normal
General price:
Adult (11+ years)
$

150.00 / ticket
|
Children (2-10 Years)
$

150.00 / ticket
29
Normal
General price:
Adult (11+ years)
$

150.00 / ticket
|
Children (2-10 Years)
$

150.00 / ticket
30
Normal
General price:
Adult (11+ years)
$

150.00 / ticket
|
Children (2-10 Years)
$

150.00 / ticket
31
Normal
General price:
Adult (11+ years)
$

150.00 / ticket
|
Children (2-10 Years)
$

150.00 / ticket
1
Normal
General price:
Adult (11+ years)
$

150.00 / ticket
|
Children (2-10 Years)
$

150.00 / ticket
26
Normal
General price:
Adult (11+ years)
$

150.00 / ticket
|
Children (2-10 Years)
$

150.00 / ticket
27
Normal
General price:
Adult (11+ years)
$

150.00 / ticket
|
Children (2-10 Years)
$

150.00 / ticket
28
Normal
General price:
Adult (11+ years)
$

150.00 / ticket
|
Children (2-10 Years)
$

150.00 / ticket
29
Normal
General price:
Adult (11+ years)
$

150.00 / ticket
|
Children (2-10 Years)
$

150.00 / ticket
30
Normal
General price:
Adult (11+ years)
$

150.00 / ticket
|
Children (2-10 Years)
$

150.00 / ticket
31
Normal
General price:
Adult (11+ years)
$

150.00 / ticket
|
Children (2-10 Years)
$

150.00 / ticket
1
Normal
General price:
Adult (11+ years)
$

150.00 / ticket
|
Children (2-10 Years)
$

150.00 / ticket
2
Normal
General price:
Adult (11+ years)
$

150.00 / ticket
|
Children (2-10 Years)
$

150.00 / ticket
3
Normal
General price:
Adult (11+ years)
$

150.00 / ticket
|
Children (2-10 Years)
$

150.00 / ticket
4
Normal
General price:
Adult (11+ years)
$

150.00 / ticket
|
Children (2-10 Years)
$

150.00 / ticket
5
Normal
General price:
Adult (11+ years)
$

150.00 / ticket
|
Children (2-10 Years)
$

150.00 / ticket
6
Normal
General price:
Adult (11+ years)
$

150.00 / ticket
|
Children (2-10 Years)
$

150.00 / ticket
7
Normal
General price:
Adult (11+ years)
$

150.00 / ticket
|
Children (2-10 Years)
$

150.00 / ticket
8
Normal
General price:
Adult (11+ years)
$

150.00 / ticket
|
Children (2-10 Years)
$

150.00 / ticket
9
Normal
General price:
Adult (11+ years)
$

150.00 / ticket
|
Children (2-10 Years)
$

150.00 / ticket
10
Normal
General price:
Adult (11+ years)
$

150.00 / ticket
|
Children (2-10 Years)
$

150.00 / ticket
11
Normal
General price:
Adult (11+ years)
$

150.00 / ticket
|
Children (2-10 Years)
$

150.00 / ticket
12
Normal
General price:
Adult (11+ years)
$

150.00 / ticket
|
Children (2-10 Years)
$

150.00 / ticket
13
Normal
General price:
Adult (11+ years)
$

150.00 / ticket
|
Children (2-10 Years)
$

150.00 / ticket
14
Normal
General price:
Adult (11+ years)
$

150.00 / ticket
|
Children (2-10 Years)
$

150.00 / ticket
15
Normal
General price:
Adult (11+ years)
$

150.00 / ticket
|
Children (2-10 Years)
$

150.00 / ticket
16
Normal
General price:
Adult (11+ years)
$

150.00 / ticket
|
Children (2-10 Years)
$

150.00 / ticket
17
Normal
General price:
Adult (11+ years)
$

150.00 / ticket
|
Children (2-10 Years)
$

150.00 / ticket
18
Normal
General price:
Adult (11+ years)
$

150.00 / ticket
|
Children (2-10 Years)
$

150.00 / ticket
19
Normal
General price:
Adult (11+ years)
$

150.00 / ticket
|
Children (2-10 Years)
$

150.00 / ticket
20
Normal
General price:
Adult (11+ years)
$

150.00 / ticket
|
Children (2-10 Years)
$

150.00 / ticket
21
Normal
General price:
Adult (11+ years)
$

150.00 / ticket
|
Children (2-10 Years)
$

150.00 / ticket
22
Normal
General price:
Adult (11+ years)
$

150.00 / ticket
|
Children (2-10 Years)
$

150.00 / ticket
23
Normal
General price:
Adult (11+ years)
$

150.00 / ticket
|
Children (2-10 Years)
$

150.00 / ticket
24
Normal
General price:
Adult (11+ years)
$

150.00 / ticket
|
Children (2-10 Years)
$

150.00 / ticket
25
Normal
General price:
Adult (11+ years)
$

150.00 / ticket
|
Children (2-10 Years)
$

150.00 / ticket
26
Normal
General price:
Adult (11+ years)
$

150.00 / ticket
|
Children (2-10 Years)
$

150.00 / ticket
27
Normal
General price:
Adult (11+ years)
$

150.00 / ticket
|
Children (2-10 Years)
$

150.00 / ticket
28
Normal
General price:
Adult (11+ years)
$

150.00 / ticket
|
Children (2-10 Years)
$

150.00 / ticket
29
Normal
General price:
Adult (11+ years)
$

150.00 / ticket
|
Children (2-10 Years)
$

150.00 / ticket
30
Normal
General price:
Adult (11+ years)
$

150.00 / ticket
|
Children (2-10 Years)
$

150.00 / ticket
1
Normal
General price:
Adult (11+ years)
$

150.00 / ticket
|
Children (2-10 Years)
$

150.00 / ticket
2
Normal
General price:
Adult (11+ years)
$

150.00 / ticket
|
Children (2-10 Years)
$

150.00 / ticket
3
Normal
General price:
Adult (11+ years)
$

150.00 / ticket
|
Children (2-10 Years)
$

150.00 / ticket
4
Normal
General price:
Adult (11+ years)
$

150.00 / ticket
|
Children (2-10 Years)
$

150.00 / ticket
5
Normal
General price:
Adult (11+ years)
$

150.00 / ticket
|
Children (2-10 Years)
$

150.00 / ticket
6
Normal
General price:
Adult (11+ years)
$

150.00 / ticket
|
Children (2-10 Years)
$

150.00 / ticket
30
Normal
General price:
Adult (11+ years)
$

150.00 / ticket
|
Children (2-10 Years)
$

150.00 / ticket
1
Normal
General price:
Adult (11+ years)
$

150.00 / ticket
|
Children (2-10 Years)
$

150.00 / ticket
2
Normal
General price:
Adult (11+ years)
$

150.00 / ticket
|
Children (2-10 Years)
$

150.00 / ticket
3
Normal
General price:
Adult (11+ years)
$

150.00 / ticket
|
Children (2-10 Years)
$

150.00 / ticket
4
Normal
General price:
Adult (11+ years)
$

150.00 / ticket
|
Children (2-10 Years)
$

150.00 / ticket
5
Normal
General price:
Adult (11+ years)
$

150.00 / ticket
|
Children (2-10 Years)
$

150.00 / ticket
6
Normal
General price:
Adult (11+ years)
$

150.00 / ticket
|
Children (2-10 Years)
$

150.00 / ticket
7
Normal
General price:
Adult (11+ years)
$

150.00 / ticket
|
Children (2-10 Years)
$

150.00 / ticket
8
Normal
General price:
Adult (11+ years)
$

150.00 / ticket
|
Children (2-10 Years)
$

150.00 / ticket
9
Normal
General price:
Adult (11+ years)
$

150.00 / ticket
|
Children (2-10 Years)
$

150.00 / ticket
10
Normal
General price:
Adult (11+ years)
$

150.00 / ticket
|
Children (2-10 Years)
$

150.00 / ticket
11
Normal
General price:
Adult (11+ years)
$

150.00 / ticket
|
Children (2-10 Years)
$

150.00 / ticket
12
Normal
General price:
Adult (11+ years)
$

150.00 / ticket
|
Children (2-10 Years)
$

150.00 / ticket
13
Normal
General price:
Adult (11+ years)
$

150.00 / ticket
|
Children (2-10 Years)
$

150.00 / ticket
14
Normal
General price:
Adult (11+ years)
$

150.00 / ticket
|
Children (2-10 Years)
$

150.00 / ticket
15
Normal
General price:
Adult (11+ years)
$

150.00 / ticket
|
Children (2-10 Years)
$

150.00 / ticket
16
Normal
General price:
Adult (11+ years)
$

150.00 / ticket
|
Children (2-10 Years)
$

150.00 / ticket
17
Normal
General price:
Adult (11+ years)
$

150.00 / ticket
|
Children (2-10 Years)
$

150.00 / ticket
18
Normal
General price:
Adult (11+ years)
$

150.00 / ticket
|
Children (2-10 Years)
$

150.00 / ticket
19
Normal
General price:
Adult (11+ years)
$

150.00 / ticket
|
Children (2-10 Years)
$

150.00 / ticket
20
Normal
General price:
Adult (11+ years)
$

150.00 / ticket
|
Children (2-10 Years)
$

150.00 / ticket
21
Normal
General price:
Adult (11+ years)
$

150.00 / ticket
|
Children (2-10 Years)
$

150.00 / ticket
22
Normal
General price:
Adult (11+ years)
$

150.00 / ticket
|
Children (2-10 Years)
$

150.00 / ticket
23
Normal
General price:
Adult (11+ years)
$

150.00 / ticket
|
Children (2-10 Years)
$

150.00 / ticket
24
Normal
General price:
Adult (11+ years)
$

150.00 / ticket
|
Children (2-10 Years)
$

150.00 / ticket
25
Normal
General price:
Adult (11+ years)
$

150.00 / ticket
|
Children (2-10 Years)
$

150.00 / ticket
26
Normal
General price:
Adult (11+ years)
$

150.00 / ticket
|
Children (2-10 Years)
$

150.00 / ticket
27
Normal
General price:
Adult (11+ years)
$

150.00 / ticket
|
Children (2-10 Years)
$

150.00 / ticket
28
Normal
General price:
Adult (11+ years)
$

150.00 / ticket
|
Children (2-10 Years)
$

150.00 / ticket
29
Normal
General price:
Adult (11+ years)
$

150.00 / ticket
|
Children (2-10 Years)
$

150.00 / ticket
30
Normal
General price:
Adult (11+ years)
$

150.00 / ticket
|
Children (2-10 Years)
$

150.00 / ticket
31
Normal
General price:
Adult (11+ years)
$

150.00 / ticket
|
Children (2-10 Years)
$

150.00 / ticket
1
Normal
General price:
Adult (11+ years)
$

150.00 / ticket
|
Children (2-10 Years)
$

150.00 / ticket
2
Normal
General price:
Adult (11+ years)
$

150.00 / ticket
|
Children (2-10 Years)
$

150.00 / ticket
3
Normal
General price:
Adult (11+ years)
$

150.00 / ticket
|
Children (2-10 Years)
$

150.00 / ticket
28
Normal
General price:
Adult (11+ years)
$

150.00 / ticket
|
Children (2-10 Years)
$

150.00 / ticket
29
Normal
General price:
Adult (11+ years)
$

150.00 / ticket
|
Children (2-10 Years)
$

150.00 / ticket
30
Normal
General price:
Adult (11+ years)
$

150.00 / ticket
|
Children (2-10 Years)
$

150.00 / ticket
31
Normal
General price:
Adult (11+ years)
$

150.00 / ticket
|
Children (2-10 Years)
$

150.00 / ticket
1
Normal
General price:
Adult (11+ years)
$

150.00 / ticket
|
Children (2-10 Years)
$

150.00 / ticket
2
Normal
General price:
Adult (11+ years)
$

150.00 / ticket
|
Children (2-10 Years)
$

150.00 / ticket
3
Normal
General price:
Adult (11+ years)
$

150.00 / ticket
|
Children (2-10 Years)
$

150.00 / ticket
4
Normal
General price:
Adult (11+ years)
$

150.00 / ticket
|
Children (2-10 Years)
$

150.00 / ticket
5
Normal
General price:
Adult (11+ years)
$

150.00 / ticket
|
Children (2-10 Years)
$

150.00 / ticket
6
Normal
General price:
Adult (11+ years)
$

150.00 / ticket
|
Children (2-10 Years)
$

150.00 / ticket
7
Normal
General price:
Adult (11+ years)
$

150.00 / ticket
|
Children (2-10 Years)
$

150.00 / ticket
8
Normal
General price:
Adult (11+ years)
$

150.00 / ticket
|
Children (2-10 Years)
$

150.00 / ticket
9
Normal
General price:
Adult (11+ years)
$

150.00 / ticket
|
Children (2-10 Years)
$

150.00 / ticket
10
Normal
General price:
Adult (11+ years)
$

150.00 / ticket
|
Children (2-10 Years)
$

150.00 / ticket
11
Normal
General price:
Adult (11+ years)
$

150.00 / ticket
|
Children (2-10 Years)
$

150.00 / ticket
12
Normal
General price:
Adult (11+ years)
$

150.00 / ticket
|
Children (2-10 Years)
$

150.00 / ticket
13
Normal
General price:
Adult (11+ years)
$

150.00 / ticket
|
Children (2-10 Years)
$

150.00 / ticket
14
Normal
General price:
Adult (11+ years)
$

150.00 / ticket
|
Children (2-10 Years)
$

150.00 / ticket
15
Normal
General price:
Adult (11+ years)
$

150.00 / ticket
|
Children (2-10 Years)
$

150.00 / ticket
16
Normal
General price:
Adult (11+ years)
$

150.00 / ticket
|
Children (2-10 Years)
$

150.00 / ticket
17
Normal
General price:
Adult (11+ years)
$

150.00 / ticket
|
Children (2-10 Years)
$

150.00 / ticket
18
Normal
General price:
Adult (11+ years)
$

150.00 / ticket
|
Children (2-10 Years)
$

150.00 / ticket
19
Normal
General price:
Adult (11+ years)
$

150.00 / ticket
|
Children (2-10 Years)
$

150.00 / ticket
20
Normal
General price:
Adult (11+ years)
$

150.00 / ticket
|
Children (2-10 Years)
$

150.00 / ticket
21
Normal
General price:
Adult (11+ years)
$

150.00 / ticket
|
Children (2-10 Years)
$

150.00 / ticket
22
Normal
General price:
Adult (11+ years)
$

150.00 / ticket
|
Children (2-10 Years)
$

150.00 / ticket
23
Normal
General price:
Adult (11+ years)
$

150.00 / ticket
|
Children (2-10 Years)
$

150.00 / ticket
24
Normal
General price:
Adult (11+ years)
$

150.00 / ticket
|
Children (2-10 Years)
$

150.00 / ticket
25
Normal
General price:
Adult (11+ years)
$

150.00 / ticket
|
Children (2-10 Years)
$

150.00 / ticket
26
Normal
General price:
Adult (11+ years)
$

150.00 / ticket
|
Children (2-10 Years)
$

150.00 / ticket
27
Normal
General price:
Adult (11+ years)
$

150.00 / ticket
|
Children (2-10 Years)
$

150.00 / ticket
28
Normal
General price:
Adult (11+ years)
$

150.00 / ticket
|
Children (2-10 Years)
$

150.00 / ticket
29
Normal
General price:
Adult (11+ years)
$

150.00 / ticket
|
Children (2-10 Years)
$

150.00 / ticket
30
Normal
General price:
Adult (11+ years)
$

150.00 / ticket
|
Children (2-10 Years)
$

150.00 / ticket
31
Normal
General price:
Adult (11+ years)
$

150.00 / ticket
|
Children (2-10 Years)
$

150.00 / ticket
1
Normal
General price:
Adult (11+ years)
$

150.00 / ticket
|
Children (2-10 Years)
$

150.00 / ticket
2
Normal
General price:
Adult (11+ years)
$

150.00 / ticket
|
Children (2-10 Years)
$

150.00 / ticket
3
Normal
General price:
Adult (11+ years)
$

150.00 / ticket
|
Children (2-10 Years)
$

150.00 / ticket
4
Normal
General price:
Adult (11+ years)
$

150.00 / ticket
|
Children (2-10 Years)
$

150.00 / ticket
5
Normal
General price:
Adult (11+ years)
$

150.00 / ticket
|
Children (2-10 Years)
$

150.00 / ticket
6
Normal
General price:
Adult (11+ years)
$

150.00 / ticket
|
Children (2-10 Years)
$

150.00 / ticket
7
Normal
General price:
Adult (11+ years)
$

150.00 / ticket
|
Children (2-10 Years)
$

150.00 / ticket
8
Normal
General price:
Adult (11+ years)
$

150.00 / ticket
|
Children (2-10 Years)
$

150.00 / ticket
9
Normal
General price:
Adult (11+ years)
$

150.00 / ticket
|
Children (2-10 Years)
$

150.00 / ticket
10
Normal
General price:
Adult (11+ years)
$

150.00 / ticket
|
Children (2-10 Years)
$

150.00 / ticket
11
Normal
General price:
Adult (11+ years)
$

150.00 / ticket
|
Children (2-10 Years)
$

150.00 / ticket
12
Normal
General price:
Adult (11+ years)
$

150.00 / ticket
|
Children (2-10 Years)
$

150.00 / ticket
13
Normal
General price:
Adult (11+ years)
$

150.00 / ticket
|
Children (2-10 Years)
$

150.00 / ticket
14
Normal
General price:
Adult (11+ years)
$

150.00 / ticket
|
Children (2-10 Years)
$

150.00 / ticket
15
Normal
General price:
Adult (11+ years)
$

150.00 / ticket
|
Children (2-10 Years)
$

150.00 / ticket
16
Normal
General price:
Adult (11+ years)
$

150.00 / ticket
|
Children (2-10 Years)
$

150.00 / ticket
17
Normal
General price:
Adult (11+ years)
$

150.00 / ticket
|
Children (2-10 Years)
$

150.00 / ticket
18
Normal
General price:
Adult (11+ years)
$

150.00 / ticket
|
Children (2-10 Years)
$

150.00 / ticket
19
Normal
General price:
Adult (11+ years)
$

150.00 / ticket
|
Children (2-10 Years)
$

150.00 / ticket
20
Normal
General price:
Adult (11+ years)
$

150.00 / ticket
|
Children (2-10 Years)
$

150.00 / ticket
21
Normal
General price:
Adult (11+ years)
$

150.00 / ticket
|
Children (2-10 Years)
$

150.00 / ticket
22
Normal
General price:
Adult (11+ years)
$

150.00 / ticket
|
Children (2-10 Years)
$

150.00 / ticket
23
Normal
General price:
Adult (11+ years)
$

150.00 / ticket
|
Children (2-10 Years)
$

150.00 / ticket
24
Normal
General price:
Adult (11+ years)
$

150.00 / ticket
|
Children (2-10 Years)
$

150.00 / ticket
25
Normal
General price:
Adult (11+ years)
$

150.00 / ticket
|
Children (2-10 Years)
$

150.00 / ticket
26
Normal
General price:
Adult (11+ years)
$

150.00 / ticket
|
Children (2-10 Years)
$

150.00 / ticket
27
Normal
General price:
Adult (11+ years)
$

150.00 / ticket
|
Children (2-10 Years)
$

150.00 / ticket
28
Normal
General price:
Adult (11+ years)
$

150.00 / ticket
|
Children (2-10 Years)
$

150.00 / ticket
29
Normal
General price:
Adult (11+ years)
$

150.00 / ticket
|
Children (2-10 Years)
$

150.00 / ticket
30
Normal
General price:
Adult (11+ years)
$

150.00 / ticket
|
Children (2-10 Years)
$

150.00 / ticket
1
Normal
General price:
Adult (11+ years)
$

150.00 / ticket
|
Children (2-10 Years)
$

150.00 / ticket
2
Normal
General price:
Adult (11+ years)
$

150.00 / ticket
|
Children (2-10 Years)
$

150.00 / ticket
3
Normal
General price:
Adult (11+ years)
$

150.00 / ticket
|
Children (2-10 Years)
$

150.00 / ticket
4
Normal
General price:
Adult (11+ years)
$

150.00 / ticket
|
Children (2-10 Years)
$

150.00 / ticket
5
Normal
General price:
Adult (11+ years)
$

150.00 / ticket
|
Children (2-10 Years)
$

150.00 / ticket
29
Normal
General price:
Adult (11+ years)
$

150.00 / ticket
|
Children (2-10 Years)
$

150.00 / ticket
30
Normal
General price:
Adult (11+ years)
$

150.00 / ticket
|
Children (2-10 Years)
$

150.00 / ticket
1
Normal
General price:
Adult (11+ years)
$

150.00 / ticket
|
Children (2-10 Years)
$

150.00 / ticket
2
Normal
General price:
Adult (11+ years)
$

150.00 / ticket
|
Children (2-10 Years)
$

150.00 / ticket
3
Normal
General price:
Adult (11+ years)
$

150.00 / ticket
|
Children (2-10 Years)
$

150.00 / ticket
4
Normal
General price:
Adult (11+ years)
$

150.00 / ticket
|
Children (2-10 Years)
$

150.00 / ticket
5
Normal
General price:
Adult (11+ years)
$

150.00 / ticket
|
Children (2-10 Years)
$

150.00 / ticket
6
Normal
General price:
Adult (11+ years)
$

150.00 / ticket
|
Children (2-10 Years)
$

150.00 / ticket
7
Normal
General price:
Adult (11+ years)
$

150.00 / ticket
|
Children (2-10 Years)
$

150.00 / ticket
8
Normal
General price:
Adult (11+ years)
$

150.00 / ticket
|
Children (2-10 Years)
$

150.00 / ticket
9
Normal
General price:
Adult (11+ years)
$

150.00 / ticket
|
Children (2-10 Years)
$

150.00 / ticket
10
Normal
General price:
Adult (11+ years)
$

150.00 / ticket
|
Children (2-10 Years)
$

150.00 / ticket
11
Normal
General price:
Adult (11+ years)
$

150.00 / ticket
|
Children (2-10 Years)
$

150.00 / ticket
12
Normal
General price:
Adult (11+ years)
$

150.00 / ticket
|
Children (2-10 Years)
$

150.00 / ticket
13
Normal
General price:
Adult (11+ years)
$

150.00 / ticket
|
Children (2-10 Years)
$

150.00 / ticket
14
Normal
General price:
Adult (11+ years)
$

150.00 / ticket
|
Children (2-10 Years)
$

150.00 / ticket
15
Normal
General price:
Adult (11+ years)
$

150.00 / ticket
|
Children (2-10 Years)
$

150.00 / ticket
16
Normal
General price:
Adult (11+ years)
$

150.00 / ticket
|
Children (2-10 Years)
$

150.00 / ticket
17
Normal
General price:
Adult (11+ years)
$

150.00 / ticket
|
Children (2-10 Years)
$

150.00 / ticket
18
Normal
General price:
Adult (11+ years)
$

150.00 / ticket
|
Children (2-10 Years)
$

150.00 / ticket
19
Normal
General price:
Adult (11+ years)
$

150.00 / ticket
|
Children (2-10 Years)
$

150.00 / ticket
20
Normal
General price:
Adult (11+ years)
$

150.00 / ticket
|
Children (2-10 Years)
$

150.00 / ticket
21
Normal
General price:
Adult (11+ years)
$

150.00 / ticket
|
Children (2-10 Years)
$

150.00 / ticket
22
Normal
General price:
Adult (11+ years)
$

150.00 / ticket
|
Children (2-10 Years)
$

150.00 / ticket
23
Normal
General price:
Adult (11+ years)
$

150.00 / ticket
|
Children (2-10 Years)
$

150.00 / ticket
24
Normal
General price:
Adult (11+ years)
$

150.00 / ticket
|
Children (2-10 Years)
$

150.00 / ticket
25
Normal
General price:
Adult (11+ years)
$

150.00 / ticket
|
Children (2-10 Years)
$

150.00 / ticket
26
Normal
General price:
Adult (11+ years)
$

150.00 / ticket
|
Children (2-10 Years)
$

150.00 / ticket
27
Normal
General price:
Adult (11+ years)
$

150.00 / ticket
|
Children (2-10 Years)
$

150.00 / ticket
28
Normal
General price:
Adult (11+ years)
$

150.00 / ticket
|
Children (2-10 Years)
$

150.00 / ticket
29
Normal
General price:
Adult (11+ years)
$

150.00 / ticket
|
Children (2-10 Years)
$

150.00 / ticket
30
Normal
General price:
Adult (11+ years)
$

150.00 / ticket
|
Children (2-10 Years)
$

150.00 / ticket
31
Normal
General price:
Adult (11+ years)
$

150.00 / ticket
|
Children (2-10 Years)
$

150.00 / ticket
1
Normal
General price:
Adult (11+ years)
$

150.00 / ticket
|
Children (2-10 Years)
$

150.00 / ticket
2
Normal
General price:
Adult (11+ years)
$

150.00 / ticket
|
Children (2-10 Years)
$

150.00 / ticket
27
Normal
General price:
Adult (11+ years)
$

150.00 / ticket
|
Children (2-10 Years)
$

150.00 / ticket
28
Normal
General price:
Adult (11+ years)
$

150.00 / ticket
|
Children (2-10 Years)
$

150.00 / ticket
29
Normal
General price:
Adult (11+ years)
$

150.00 / ticket
|
Children (2-10 Years)
$

150.00 / ticket
30
Normal
General price:
Adult (11+ years)
$

150.00 / ticket
|
Children (2-10 Years)
$

150.00 / ticket
31
Normal
General price:
Adult (11+ years)
$

150.00 / ticket
|
Children (2-10 Years)
$

150.00 / ticket
1
Normal
General price:
Adult (11+ years)
$

150.00 / ticket
|
Children (2-10 Years)
$

150.00 / ticket
2
Normal
General price:
Adult (11+ years)
$

150.00 / ticket
|
Children (2-10 Years)
$

150.00 / ticket
3
Normal
General price:
Adult (11+ years)
$

150.00 / ticket
|
Children (2-10 Years)
$

150.00 / ticket
4
Normal
General price:
Adult (11+ years)
$

150.00 / ticket
|
Children (2-10 Years)
$

150.00 / ticket
5
Normal
General price:
Adult (11+ years)
$

150.00 / ticket
|
Children (2-10 Years)
$

150.00 / ticket
6
Normal
General price:
Adult (11+ years)
$

150.00 / ticket
|
Children (2-10 Years)
$

150.00 / ticket
7
Normal
General price:
Adult (11+ years)
$

150.00 / ticket
|
Children (2-10 Years)
$

150.00 / ticket
8
Normal
General price:
Adult (11+ years)
$

150.00 / ticket
|
Children (2-10 Years)
$

150.00 / ticket
9
Normal
General price:
Adult (11+ years)
$

150.00 / ticket
|
Children (2-10 Years)
$

150.00 / ticket
10
Normal
General price:
Adult (11+ years)
$

150.00 / ticket
|
Children (2-10 Years)
$

150.00 / ticket
11
Normal
General price:
Adult (11+ years)
$

150.00 / ticket
|
Children (2-10 Years)
$

150.00 / ticket
12
Normal
General price:
Adult (11+ years)
$

150.00 / ticket
|
Children (2-10 Years)
$

150.00 / ticket
13
Normal
General price:
Adult (11+ years)
$

150.00 / ticket
|
Children (2-10 Years)
$

150.00 / ticket
14
Normal
General price:
Adult (11+ years)
$

150.00 / ticket
|
Children (2-10 Years)
$

150.00 / ticket
15
Normal
General price:
Adult (11+ years)
$

150.00 / ticket
|
Children (2-10 Years)
$

150.00 / ticket
16
Normal
General price:
Adult (11+ years)
$

150.00 / ticket
|
Children (2-10 Years)
$

150.00 / ticket
17
Normal
General price:
Adult (11+ years)
$

150.00 / ticket
|
Children (2-10 Years)
$

150.00 / ticket
18
Normal
General price:
Adult (11+ years)
$

150.00 / ticket
|
Children (2-10 Years)
$

150.00 / ticket
19
Normal
General price:
Adult (11+ years)
$

150.00 / ticket
|
Children (2-10 Years)
$

150.00 / ticket
20
Normal
General price:
Adult (11+ years)
$

150.00 / ticket
|
Children (2-10 Years)
$

150.00 / ticket
21
Normal
General price:
Adult (11+ years)
$

150.00 / ticket
|
Children (2-10 Years)
$

150.00 / ticket
22
Normal
General price:
Adult (11+ years)
$

150.00 / ticket
|
Children (2-10 Years)
$

150.00 / ticket
23
Normal
General price:
Adult (11+ years)
$

150.00 / ticket
|
Children (2-10 Years)
$

150.00 / ticket
24
Normal
General price:
Adult (11+ years)
$

150.00 / ticket
|
Children (2-10 Years)
$

150.00 / ticket
25
Normal
General price:
Adult (11+ years)
$

150.00 / ticket
|
Children (2-10 Years)
$

150.00 / ticket
26
Normal
General price:
Adult (11+ years)
$

150.00 / ticket
|
Children (2-10 Years)
$

150.00 / ticket
27
Normal
General price:
Adult (11+ years)
$

150.00 / ticket
|
Children (2-10 Years)
$

150.00 / ticket
28
Normal
General price:
Adult (11+ years)
$

150.00 / ticket
|
Children (2-10 Years)
$

150.00 / ticket
29
Normal
General price:
Adult (11+ years)
$

150.00 / ticket
|
Children (2-10 Years)
$

150.00 / ticket
30
Normal
General price:
Adult (11+ years)
$

150.00 / ticket
|
Children (2-10 Years)
$

150.00 / ticket
1
Normal
General price:
Adult (11+ years)
$

150.00 / ticket
|
Children (2-10 Years)
$

150.00 / ticket
2
Normal
General price:
Adult (11+ years)
$

150.00 / ticket
|
Children (2-10 Years)
$

150.00 / ticket
3
Normal
General price:
Adult (11+ years)
$

150.00 / ticket
|
Children (2-10 Years)
$

150.00 / ticket
4
Normal
General price:
Adult (11+ years)
$

150.00 / ticket
|
Children (2-10 Years)
$

150.00 / ticket
5
Normal
General price:
Adult (11+ years)
$

150.00 / ticket
|
Children (2-10 Years)
$

150.00 / ticket
6
Normal
General price:
Adult (11+ years)
$

150.00 / ticket
|
Children (2-10 Years)
$

150.00 / ticket
7
Normal
General price:
Adult (11+ years)
$

150.00 / ticket
|
Children (2-10 Years)
$

150.00 / ticket
8
Normal
General price:
Adult (11+ years)
$

150.00 / ticket
|
Children (2-10 Years)
$

150.00 / ticket
9
Normal
General price:
Adult (11+ years)
$

150.00 / ticket
|
Children (2-10 Years)
$

150.00 / ticket
10
Normal
General price:
Adult (11+ years)
$

150.00 / ticket
|
Children (2-10 Years)
$

150.00 / ticket
11
Normal
General price:
Adult (11+ years)
$

150.00 / ticket
|
Children (2-10 Years)
$

150.00 / ticket
12
Normal
General price:
Adult (11+ years)
$

150.00 / ticket
|
Children (2-10 Years)
$

150.00 / ticket
13
Normal
General price:
Adult (11+ years)
$

150.00 / ticket
|
Children (2-10 Years)
$

150.00 / ticket
14
Normal
General price:
Adult (11+ years)
$

150.00 / ticket
|
Children (2-10 Years)
$

150.00 / ticket
15
Normal
General price:
Adult (11+ years)
$

150.00 / ticket
|
Children (2-10 Years)
$

150.00 / ticket
16
Normal
General price:
Adult (11+ years)
$

150.00 / ticket
|
Children (2-10 Years)
$

150.00 / ticket
17
Normal
General price:
Adult (11+ years)
$

150.00 / ticket
|
Children (2-10 Years)
$

150.00 / ticket
18
Normal
General price:
Adult (11+ years)
$

150.00 / ticket
|
Children (2-10 Years)
$

150.00 / ticket
19
Normal
General price:
Adult (11+ years)
$

150.00 / ticket
|
Children (2-10 Years)
$

150.00 / ticket
20
Normal
General price:
Adult (11+ years)
$

150.00 / ticket
|
Children (2-10 Years)
$

150.00 / ticket
21
Normal
General price:
Adult (11+ years)
$

150.00 / ticket
|
Children (2-10 Years)
$

150.00 / ticket
22
Normal
General price:
Adult (11+ years)
$

150.00 / ticket
|
Children (2-10 Years)
$

150.00 / ticket
23
Normal
General price:
Adult (11+ years)
$

150.00 / ticket
|
Children (2-10 Years)
$

150.00 / ticket
24
Normal
General price:
Adult (11+ years)
$

150.00 / ticket
|
Children (2-10 Years)
$

150.00 / ticket
25
Normal
General price:
Adult (11+ years)
$

150.00 / ticket
|
Children (2-10 Years)
$

150.00 / ticket
26
Normal
General price:
Adult (11+ years)
$

150.00 / ticket
|
Children (2-10 Years)
$

150.00 / ticket
27
Normal
General price:
Adult (11+ years)
$

150.00 / ticket
|
Children (2-10 Years)
$

150.00 / ticket
28
Normal
General price:
Adult (11+ years)
$

150.00 / ticket
|
Children (2-10 Years)
$

150.00 / ticket
29
Normal
General price:
Adult (11+ years)
$

150.00 / ticket
|
Children (2-10 Years)
$

150.00 / ticket
30
Normal
General price:
Adult (11+ years)
$

150.00 / ticket
|
Children (2-10 Years)
$

150.00 / ticket
31
Normal
General price:
Adult (11+ years)
$

150.00 / ticket
|
Children (2-10 Years)
$

150.00 / ticket
1
Normal
General price:
Adult (11+ years)
$

150.00 / ticket
|
Children (2-10 Years)
$

150.00 / ticket
2
Normal
General price:
Adult (11+ years)
$

150.00 / ticket
|
Children (2-10 Years)
$

150.00 / ticket
3
Normal
General price:
Adult (11+ years)
$

150.00 / ticket
|
Children (2-10 Years)
$

150.00 / ticket
4
Normal
General price:
Adult (11+ years)
$

150.00 / ticket
|
Children (2-10 Years)
$

150.00 / ticket
29
Normal
General price:
Adult (11+ years)
$

150.00 / ticket
|
Children (2-10 Years)
$

150.00 / ticket
30
Normal
General price:
Adult (11+ years)
$

150.00 / ticket
|
Children (2-10 Years)
$

150.00 / ticket
31
Normal
General price:
Adult (11+ years)
$

150.00 / ticket
|
Children (2-10 Years)
$

150.00 / ticket
1
Normal
General price:
Adult (11+ years)
$

150.00 / ticket
|
Children (2-10 Years)
$

150.00 / ticket
2
Normal
General price:
Adult (11+ years)
$

150.00 / ticket
|
Children (2-10 Years)
$

150.00 / ticket
3
Normal
General price:
Adult (11+ years)
$

150.00 / ticket
|
Children (2-10 Years)
$

150.00 / ticket
4
Normal
General price:
Adult (11+ years)
$

150.00 / ticket
|
Children (2-10 Years)
$

150.00 / ticket
5
Normal
General price:
Adult (11+ years)
$

150.00 / ticket
|
Children (2-10 Years)
$

150.00 / ticket
6
Normal
General price:
Adult (11+ years)
$

150.00 / ticket
|
Children (2-10 Years)
$

150.00 / ticket
7
Normal
General price:
Adult (11+ years)
$

150.00 / ticket
|
Children (2-10 Years)
$

150.00 / ticket
8
Normal
General price:
Adult (11+ years)
$

150.00 / ticket
|
Children (2-10 Years)
$

150.00 / ticket
9
Normal
General price:
Adult (11+ years)
$

150.00 / ticket
|
Children (2-10 Years)
$

150.00 / ticket
10
Normal
General price:
Adult (11+ years)
$

150.00 / ticket
|
Children (2-10 Years)
$

150.00 / ticket
11
Normal
General price:
Adult (11+ years)
$

150.00 / ticket
|
Children (2-10 Years)
$

150.00 / ticket
12
Normal
General price:
Adult (11+ years)
$

150.00 / ticket
|
Children (2-10 Years)
$

150.00 / ticket
13
Normal
General price:
Adult (11+ years)
$

150.00 / ticket
|
Children (2-10 Years)
$

150.00 / ticket
14
Normal
General price:
Adult (11+ years)
$

150.00 / ticket
|
Children (2-10 Years)
$

150.00 / ticket
15
Normal
General price:
Adult (11+ years)
$

150.00 / ticket
|
Children (2-10 Years)
$

150.00 / ticket
16
Normal
General price:
Adult (11+ years)
$

150.00 / ticket
|
Children (2-10 Years)
$

150.00 / ticket
17
Normal
General price:
Adult (11+ years)
$

150.00 / ticket
|
Children (2-10 Years)
$

150.00 / ticket
18
Normal
General price:
Adult (11+ years)
$

150.00 / ticket
|
Children (2-10 Years)
$

150.00 / ticket
19
Normal
General price:
Adult (11+ years)
$

150.00 / ticket
|
Children (2-10 Years)
$

150.00 / ticket
20
Normal
General price:
Adult (11+ years)
$

150.00 / ticket
|
Children (2-10 Years)
$

150.00 / ticket
21
Normal
General price:
Adult (11+ years)
$

150.00 / ticket
|
Children (2-10 Years)
$

150.00 / ticket
22
Normal
General price:
Adult (11+ years)
$

150.00 / ticket
|
Children (2-10 Years)
$

150.00 / ticket
23
Normal
General price:
Adult (11+ years)
$

150.00 / ticket
|
Children (2-10 Years)
$

150.00 / ticket
24
Normal
General price:
Adult (11+ years)
$

150.00 / ticket
|
Children (2-10 Years)
$

150.00 / ticket
25
Normal
General price:
Adult (11+ years)
$

150.00 / ticket
|
Children (2-10 Years)
$

150.00 / ticket
26
Normal
General price:
Adult (11+ years)
$

150.00 / ticket
|
Children (2-10 Years)
$

150.00 / ticket
27
Normal
General price:
Adult (11+ years)
$

150.00 / ticket
|
Children (2-10 Years)
$

150.00 / ticket
28
Normal
General price:
Adult (11+ years)
$

150.00 / ticket
|
Children (2-10 Years)
$

150.00 / ticket
29
Normal
General price:
Adult (11+ years)
$

150.00 / ticket
|
Children (2-10 Years)
$

150.00 / ticket
30
Normal
General price:
Adult (11+ years)
$

150.00 / ticket
|
Children (2-10 Years)
$

150.00 / ticket
31
Normal
General price:
Adult (11+ years)
$

150.00 / ticket
|
Children (2-10 Years)
$

150.00 / ticket
1
Normal
General price:
Adult (11+ years)
$

150.00 / ticket
|
Children (2-10 Years)
$

150.00 / ticket
26
Normal
General price:
Adult (11+ years)
$

150.00 / ticket
|
Children (2-10 Years)
$

150.00 / ticket
27
Normal
General price:
Adult (11+ years)
$

150.00 / ticket
|
Children (2-10 Years)
$

150.00 / ticket
28
Normal
General price:
Adult (11+ years)
$

150.00 / ticket
|
Children (2-10 Years)
$

150.00 / ticket